It's still hard to believe that almost another entire year has passed. As I was looking through my posts, I saw one I'd written last year about this time, and I thought it would be great to share again.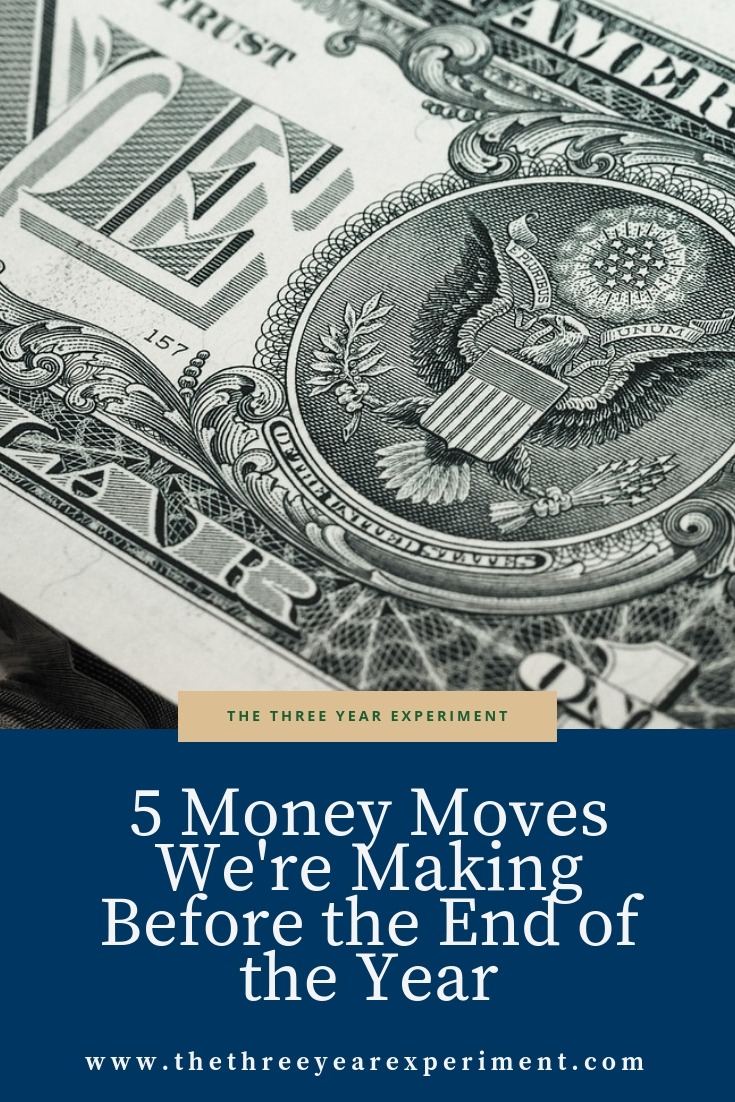 The funny thing is, our money moves this year are almost exactly the same as last year's. We're creatures of habit, for sure! 
The biggest difference between this year's end-of-the-year money moves and last year's is that last December, we paid off all non-mortgage debt so this year, we have nothing to pay off. It feels amazing, and has felt amazing since we did it last December. We feel so much more in control of our finances this year, in large part because we keep more of our money and are able to save and invest more. 
I'd love to hear your end-of-the-year money moves! Let me know in the comments!
While we're still over a month-and-a-half from the end of the year, we know that soon, December 31st will be upon us, so the ThreeYears are currently working on end-of-the-year money moves to make sure our finances are in good shape.
Here's what we're doing to close this year out:
1. Contribute as much as possible to my i401k
Since I'm self-employed, I have an i401k (if you're interested in the particulars of opening one, read this post). I am playing catch-up with my contributions since we had so many cash goals that we funded with my income this year. So, in the final quarter of the year, and in the first quarter of next year (or at least until we file our taxes), I'll be contributing a lot to my 401K. Even though the market is high now, I don't want to miss the tax contributions of these contributions. I estimate we'll save several thousand dollars on our taxes if I reach my contribution goal for the year.
2. Fulfill our outstanding financial obligations
We've got a few outstanding financial obligations, including completing our yearly pledge with our church. We usually wait and pay the majority of our pledge in the fourth quarter of the year, when our cash flow's better (as a teacher, I don't get paid in the summer and it takes a month or so after school starts to begin getting paid, so our income rises in October, November, and December).
I also have to pay my fourth quarter taxes for income earned from September through December. I have until January 16th, 2018, to file the taxes, but I'll probably go ahead and pay what I estimate I'll owe before the end of the year. I set aside 20% of my income as it comes in, in my business account, so that money is ready to send in anytime I decide to pay the bill.
3. See where we stand with our current year's financial goals
At the beginning of the year, we set our complete set of yearly goals that included all of our financial goals. Without a doubt, our biggest goal was to increase our net worth by 33.33%. That is a way bigger percentage than we increased it the year before. It's all part of our BHAG to double our net worth in three years. We aren't there yet, and I don't know if we'll get the entire way there, but I expect we'll be a stone's throw from the finish line, at least. We had several other money goals as well–to fund our new roof with cash (done in July), to pay off our apartment in Chile, and to pay off our outstanding car loan. The last two won't be done until Mr. ThreeYear receives his year-end bonus, but those are the first two goals on our list, so we're confident we'll check them off.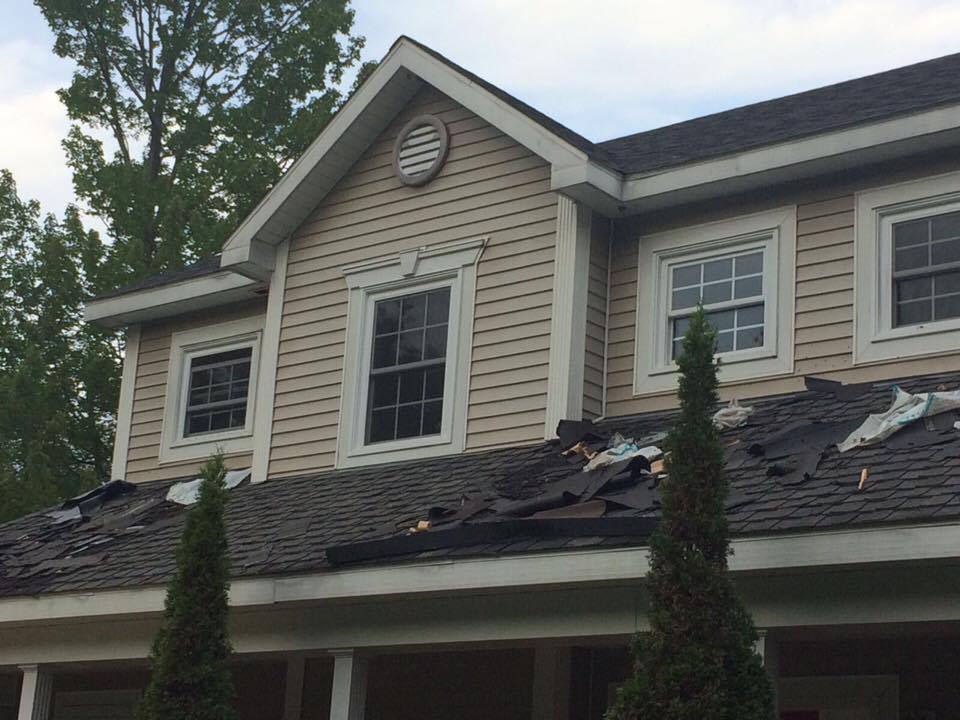 In order to pay off our apartment in Chile, and get the title, we also have to make a large transfer to our Chilean bank (we've been using Xoom, a PayPal company, to make transfers). The company charges us $9.99 per $3000 we send, but there is a monthly transfer limit. We'll have to call and talk to someone about increasing our limit so that we can pay off the total during our trip in December and January.
Paying off our car loan will be much easier. We'll just use the company's call-in line to find out the total payoff amount, and send that amount from our bank's bill pay service, which is free for us to use.
Not only will we evaluate our progress on our financial goals, we'll talk about how realistic all our goals were, if they still make sense based on where we stand as a family now, and how they compare to next year's goals, which we're in the process of completing.
4. Make 529 plan contributions
While we don't receive tax breaks on our 529 contributions for the Junior ThreeYears, we will make sure that we've contributed our target amounts to their accounts for the year. We have several generous relatives that give the boys cash gifts at Christmas, so we'll add that money to their accounts before the end of the year.
I used Personal Capital's college savings calculator the other day to check and see how much we needed to save for the boys' college expenses (it was a lot more than we had been saving). If you have Personal Capital and want to check it out, go to the "Planning" section, go to "Retirement Planner" and create a new scenario for college. It's the most detailed calculator I've seen for college savings, and it told us we were woefully underfunding our kids' accounts. We've adjusted our savings here to make sure we'll have enough to fund their accounts.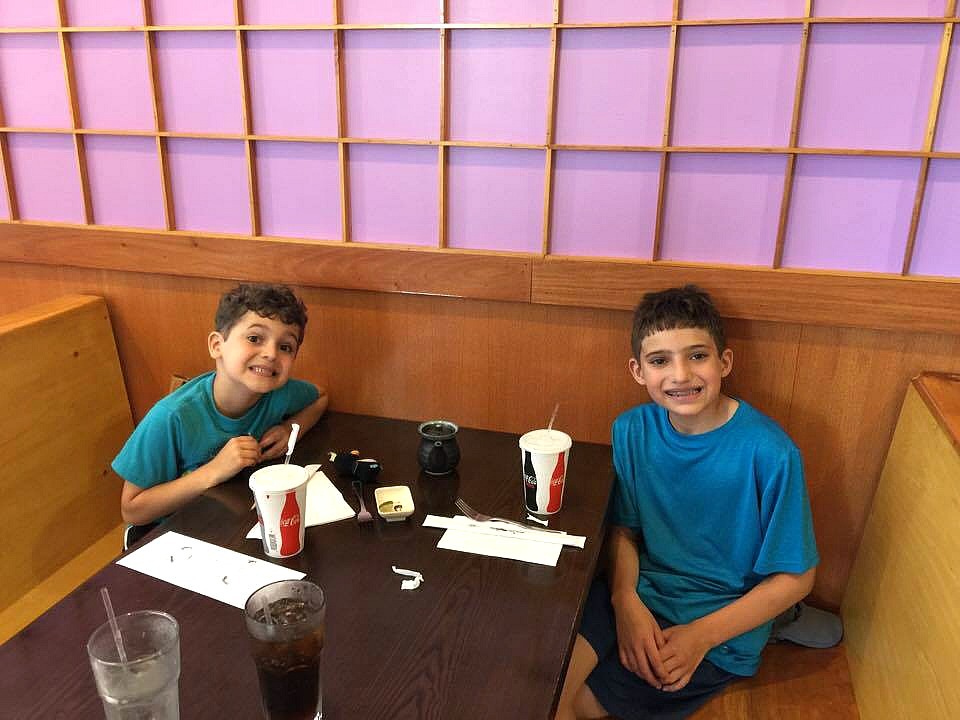 Chief Mom Officer wrote a detailed article about how she created a college contract for her son. She plans to fund his college up to a certain amount, and let him decide how to use that money. I think this is a great way to teach your kids financial responsibility and about the idea of trade offs.
5. Set next year's goals and get our automated savings plan into place
We're starting to think about next year's goals (ok, I've been thinking about them a lot and have already started a rough draft. There are few things that make me happier than making and setting goals!). The way that we set up our goals for the year is to create several goals in each of the seven following areas: career, financial, health, family, faith, marriage, travel. I tend to get too focused on the financial side of things, and forget about the rest of life, so making sure we have goals in each of these areas is important. I try to set one (or two, max) goals in each of these areas. Then we review our top values, making sure that the goals are in line with what we ultimately want for our family. It's really important for us to take a step back and look at the big picture when we goal set, or we get lost in the minutiae of our yearly goals. Finally, we set our quarterly checklists, to make sure we're making progress each quarter and show us where we need to be.
Next year, we plan to save all the money we've been spending on payoffs and saving for the roof this year. We're going to automatically draft half of our monthly cash savings into our emergency fund and half into a taxable account at Vanguard. We'll go ahead and set up the automatic bi-weekly deductions so they come out right as our paychecks are deposited. That way, the savings are automatic.
So that's what's happening these days at our house. What about yours?