Happy May! How are things going for you? We finally have no snow on the ground as of yesterday, and that is not an exaggeration. Winter definitely held on as long as it's ever held on this year, which is my eighth winter in New Hampshire. For the past seven winters, we've had all snow melted by April 23rd (even if we've gotten a freak snow storm in May afterwards) but this year, we had snow cover for a whole extra week (lucky us!).
We did get some beautiful 70-degree days at the tail end of this month, which made everything feel hopeful and Springy. Our crocuses have bloomed (all 2 of them) and our daffodils are pushing up, as well as our alliums and the dahlias. We spent this month doing a variety of activities, some of which I'll be revealing down the road (hint hint!). It's been a busy month. Over Spring Break, Mr. ThreeYear and I took a fun trip to Portland, Oregon, while my mom flew up from sunny South Carolina to watch the boys. She had horrible snowy, icy, weather, so we appreciate her sacrifice even more!
If you're just joining, our family of four is on a three-year journey to double our net worth and become location independent. Each month, I record our progress on our net worth and our spending. Last year, we increased our net worth by 32% over the year before. This year, we're trying to increase it by more than 65% from where we started in December 2016. Given the wild ride the market's likely to take us on this year, I'm not sure it's doable. But we're going to try.
Last month, even though we enjoyed more lackluster results from the stock market, we got a huge jump in net worth since Mr. ThreeYear's annual stock gift was given out. Each December, his privately-owned company, which is 100% employee-owned, invites outside auditors to set the stock price. Given the wild surge the stock prices took in December, his company's stock was given a much higher valuation than the year before. That meant all of the stock we currently hold in the company rose substantially, and we received more stock (valued at more money).
Our Progress
As of April 30th, our net worth has increased by a total of 45.7% from our starting point in December of 2016. The end of June will mark the halfway point of our experiment, one-and-a-half years of saving and investing. It would be very cool if we were able to increase our net worth by exactly 50%; we'll see. We're making good progress, and it's very exciting to have our net worth jump over 10% in just one month.
Here's a graph to track our progress: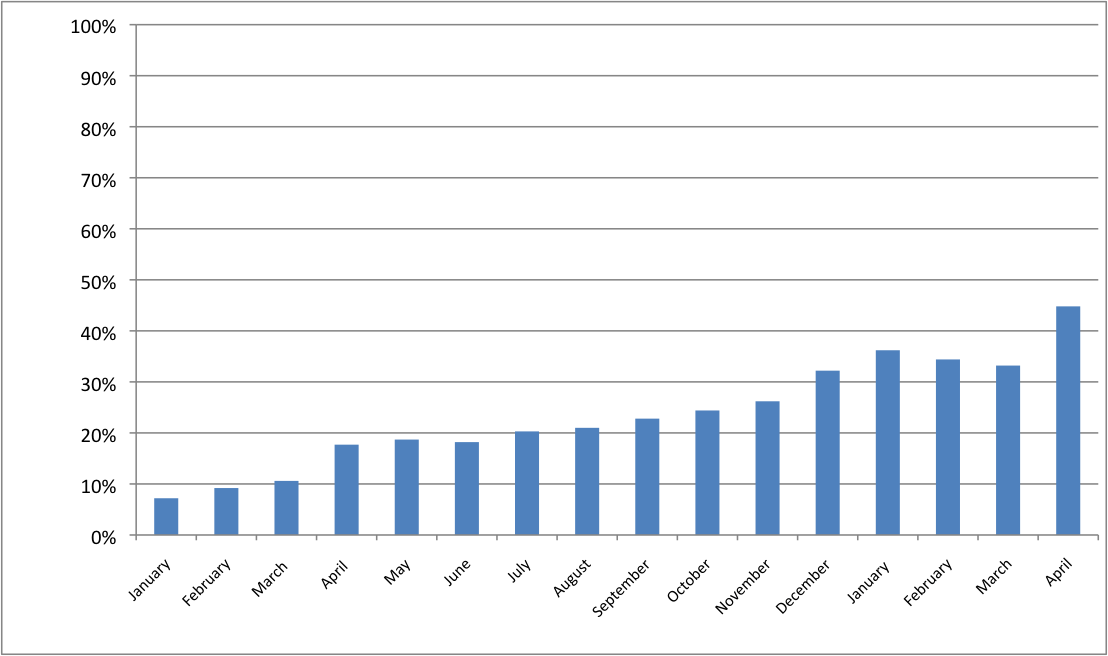 This is as a percentage of our total goal:
Spending Update
APRIL SPENDING:
Housing: $1775. One fifteen-year mortgage payment. Taxes and insurance are not escrowed–we pay those twice a year.
Gas: $175.55. This was slightly higher than norm this month, but we drove to the airport several times.
Auto maintenance: $0. 
Auto insurance: $0.
Home insurance: $0. 
Groceries: $670.50. This was the fourth month of our Year of Good Food challenge, and we stayed way under our monthly goal of $772. Mr. ThreeYear was traveling this month, though, and gone for two full weeks, so we ate significantly less than normal.
Eating Out: $198.79. I let this cost creep up for the second month in a row. Next month we're going to do better!
Household goods: $71.84. We bought rechargeable batteries because of this post by Mr. Tako.
Home maintenance: $19.99 for our curbside composting service.
Entertainment: $53.23. We went to see a movie this month.
Kids' expenses: $273.83. Piano lessons, after school and before school care, Easter baskets.
Camp: $323. This month was the final installment of Junior ThreeYear's sleepover camp in August.
Mr. ThreeYear's spending: $246.95. This was a lot higher because Mr. ThreeYear got to go some really cool places this month and bought souvenirs. He spent a week in Dubai and he's currently in Mexico City, visiting his nephew between work trips. You can watch him eating grasshoppers here.
Mrs. ThreeYear's spending: $62.34. I was more of a random spender this month. This includes one yoga class (because of all of Mr. ThreeYear's traveling, I couldn't make most classes), breakfast out, and several purchases on Amazon.
Propane: $360.52. Will winter ever end?
Other utilities: $317.05. electricity, internet.
Clothing: $623.65. Umm, this is not a typo, unfortunately. We went to our local factory outlet and basically bought Mr. ThreeYear a new wardrobe for all his trips. He has been wearing a lot of the same clothes for the past 5 years and they're getting frayed. This also includes extra belts we had to buy when we left his in Portland and two pairs of shoes for me from the thrift store.
Vacation: $252.28. Our costs from our trip to Portland. We got lucky and had most of our costs covered.
Haircare: $169.85. The trifecta this month–I got my hair cut and colored, as per my quarterly plan and Mr. ThreeYear and the boys got their hair cut too.
Fitness: $131.50. Mr. ThreeYear got a third check back for $111.50 as an incentive for going to the gym over 12 times last month, but this is the last month of the promotion.
Housekeeper: $120. 
Subscriptions: $29. Netflix, Spotify, Skype.
Gifts: $180.78. We sent a gift to my uncle who does our taxes for free every year, gave a gift to my mom for keeping the kids, and sent gifts to our nephews in Mexico.
Total: $6025.65
Total without mortgage: $4250.65
While our expenses are higher than many in the personal finance community, we've still been able to pay off $38,000 in debt and build a high net worth in less than ten years. We started investing early, worked hard to increase our household income, and currently focus on keeping spending on the Big Three (housing, cars, and food) low.
May the Spring Be With You
We are optimistic about the future and excited for the summer. Now that the snow is gone, our gardens and grass are blooming. Although it's rainy, it a great time of year. We're making summer plans and look forward to sharing them with you.
How is everything going in your world? Hope you have a happy May!