I've been thinking a lot about the dumb luck of being born in one of the world's wealthiest countries. It reminded me of this post, which is one of my favorites. Every once in a while, I find it really helpful to go drone-like and fly up above my privileged circumstances to reflect on how fortunate I and my family really are. Videos like the one below help me to take a few minutes to put things in perspective.
Last night, my son asked me to replay a video I'd shown him last year. It's called If the World Were 100 People. Maybe you've seen it. One of my professors in my Master's course introduced me to the video last Spring.
If you've got two and a half minutes, it's a great watch.
The company that developed the video, GOOD Magazine, used research from the Central Intelligence Agency's World Factbook to give us an idea of what our world would look like if its almost 7.5 billion inhabitants were reduced to a mere 100 people. 100 is a number we can wrap our brains around fairly easily. We all know 100 people. We're probably friends with 100 people.
The video shows the statistics of our world's gender, religion, language, economics, and age, spread out over 100 people.
Some statistics really put my Americas-centric worldview to test. I learned that there are more people in Africa than in North and South America combined. The Americas, combined, would contribute 14 to our world population of 100. Africa would contribute 15. Asia would contribute 60–more than half. More than the Americas, Africa, and Europe combined.
When Mr. ThreeYear and I visited Southeast Asia in 2016, we got a small sense of this reality. There was an entire continent of people living their lives, a vast swath of the Earth, that we had never visited, never experienced. Most had never visited my continent and never would. There was a whole world, or half a world, at least, that I had been entirely oblivious of until that point, that was entirely oblivious of me.
The Financial Part
Since this is a Personal Finance blog and I am a Personal Finance nerd, I was most struck by the economic data in the video. It breaks down our world's daily earnings. The worst–15 people of 100–make less than $2 per day. While that is a sobering statistic, it is one that has improved over the last decade. Bill and Melinda Gates have highlighted the gains the Gates Foundation and others have made in combating extreme poverty in their Annual Letters (here's the 2017 letter).
56 people, more than half, make between $2 and $10 per day. This is a vast difference in income, though. $730 and $3650 are very different sums to live on. But, wow. More than half of the people in the world live on, in one year, a tiny fraction of what many in the developed world live on in a month.
Only 6 people of 100 make between $50 and $90 per day. That is $18,250-$32,850 per year or $1520-$2737 per month.
And ONE person of 100 makes more than $90 per day. That same person controls 50% of the wealth in our world.
One person. $33,000 a year. 50% of all the world's wealth.
Do you feel a little richer now?
Only one percent of the entire world makes more than $33,000 per year.
Does that shock you? It does me. The vast majority of the people I know make more than $33,000 per year in the US. A first year teacher's salary is around $42,000 in my school district, for a frame of reference.
I don't know about you, but I certainly don't feel rich most of the time. But for most of the readers of this blog, we're not just rich, we're uber rich. We are the 1%.
Weforum explains further using net worth, rather than income, statistics:
The Global Wealth Report 2015 highlights another unexpected fact: that the world's wealthiest 1% is not entirely made up of billionaires, but contains a significant number of people whose assets amount to $759,900 or over. Indeed, there are only 123,000 ultra high net worth individuals (defined as those whose assets exceed $50 million) worldwide. As a group, however, they lay claim to 45% of the world's wealth.
They explain that a full 71% of the world's population have assets that amount to less than $10,000 (so if you have debt, you're not alone).
If you have around $100,000 in assets, count yourself among the top 21% of the world.
If you have anywhere between $100,000 to $1 million, you're in the top 7.4% of the world, and if you have a net worth of over $1 million, you are in the top .7% of the world and are among the group that controls 45.2% of the world's wealth.
For me, statistics like this help me do a reset. They give me a sense of place in this grand world. It is inconceivably vast and we are small. Our lives don't feel small, of course. We get wrapped up in our day-to-day routines and lose all kinds of perspective (my alarm clock didn't go off and I can't fit in a morning run! Arghh!). It can be easy to compare yourself to only those who are in your immediate vicinity. If you're saving a large portion of your income, like we're trying to do, it's also easy to become discouraged. It often feels like we can't do everything we want with the money we have, because we choose to spend so much on our future.
However, when we look at just how good we actually have it, it's flat-out humbling. It also makes it easier to stand by our frugal ways, in my opinion.
There's a great section in The Poisonwood Bible, the classic novel by Barbara Kingsolver about a missionary family who raised their daughters in Africa, in which Leah, the middle daughter, moves back to the US for grad school with her African husband and lives on a small grant. She and her husband Anatole are constantly shocked by the abundance of America. The other students find it difficult to live on the small amount of money they have, but Leah and Anatole find their lifestyle lavish. They have their own apartment, for just the two of them. With electric appliances. And a huge variety of food in endless supply. Because they have the perspective of having lived in the developing nation of Angola for years, they're able to see the incredible abundance in front of them for what it is.
Ok, let me step down from my soapbox, here, because I certainly don't feel like we live in a pool of incredible abundance all the time. I'm not constantly caressing my microwave or dishwasher and I'm not marveling that I have clean tap water anytime I want (but when you really think about it, how luxurious). But, when I take a moment to remember that I have food, shelter, transportation, health care, and money to spare! then my FOMO urges dissipate a bit.
Because let's be honest–it can be challenging to be frugal. Sometimes it feels like we're the only ones who don't buy new cars every two years (I know we aren't but it can feel like it!). But when we reset and realize that our frugal lifestyle is considered outright lavish living by most of the rest of the world, then anything other than careful spending feels, honestly, wasteful.
We believe traveling to other parts of the world where people have different standards of living, and actually experiencing those ways of life, is a great way for us to help our kids with this reset. My husband grew up in a developing country and I spent years living in one (and visiting others) so for us it's now less of a shock to see how little it takes to live happily in many parts of the world. But our kids have a different worldview. They have only lived in an economically prosperous area with little diversity. So we feel it's imperative for them to see how privileged our lives really are.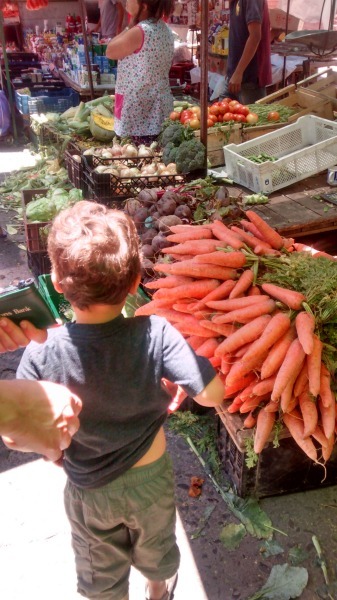 We work to feel grateful for our beautiful lives, and also help others where we can. I hope our location independence opens up the possibility of showing our kids the big, beautiful, diverse world so that we can nurture frugal, careful, kind, and compassionate citizens of the world.
What about you? How do these statistics make you feel?