In the months leading up to our move to North Carolina from New Hampshire, I was a little crazy. There was so much to pack, so many details to remember, and so many expenses!
Nevertheless, when I came across this post from Financial Panther on earning money through bank bonuses (well, it was really a sub-topic of the post, but it piqued my interest), I bookmarked it. I found this site that showed me banks in my new town (in North Carolina) that were offering bank bonuses.
Low and behold, when we moved in to our house in July, we received a pamphlet from Fifth Third Bank offering a $550 bank bonus!
Fifth Third Bank
Here were the details:
We had to be a resident of one of ten states (North Carolina was one, so we were good there).
We had to set up two accounts, a checking and a savings account.
We had to deposit a minimum of $500 in the checking account and $15,000 in the savings account. The savings account paid a minimum amount of interest.
After 60 days, if we kept a minimum balance of $500 in our checking account, we'd receive a bonus of $250!
After 90 days, if we kept a minimum of $15,000 in our savings account, we'd receive an additional bonus of $300.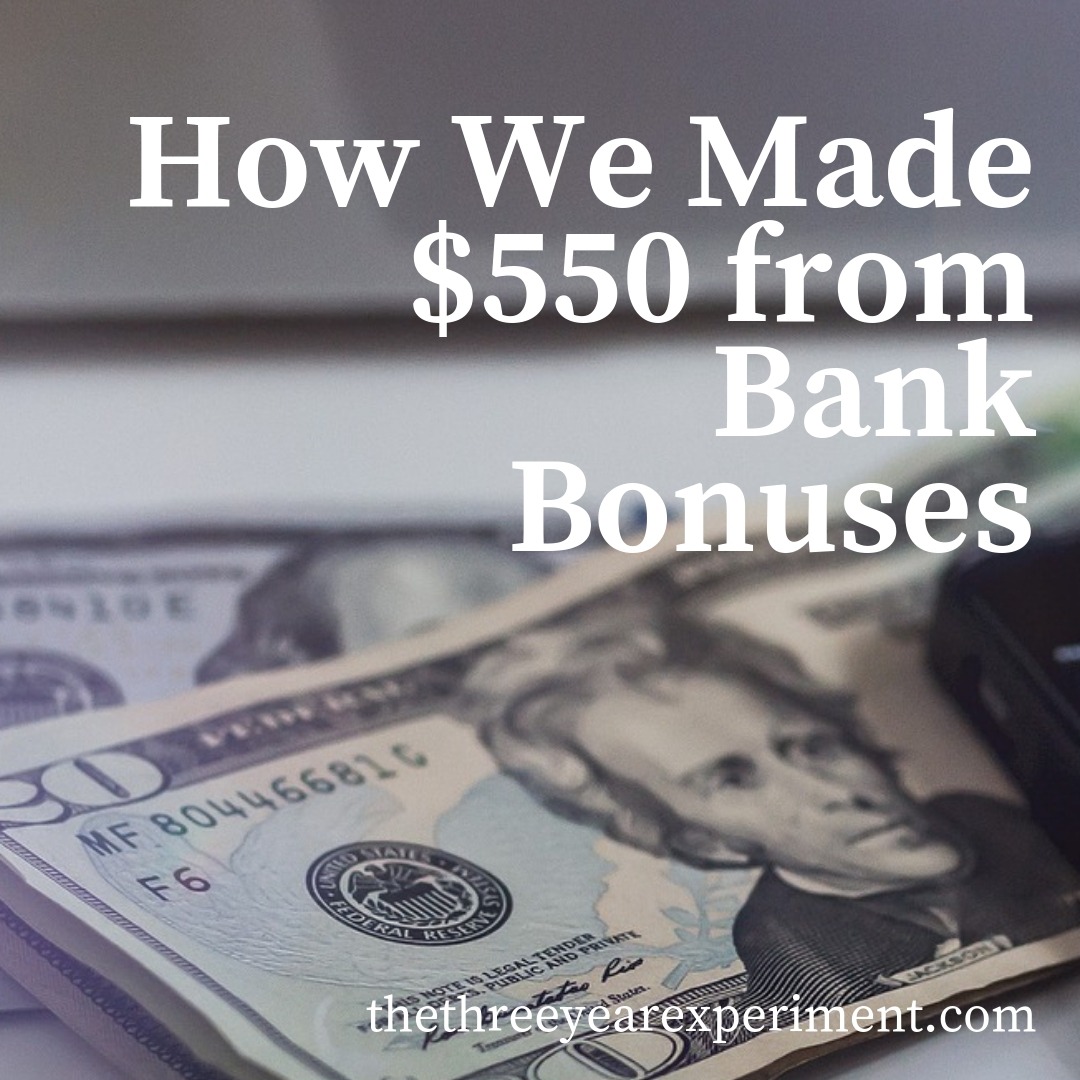 Since we needed a new bank anyway in North Carolina, and Davidson, our town, had two branches nearby, we decided this was the best choice for us.
I was a little worried that the deal was too good to be true, but no, Fifth Third promptly paid my $250 and $300 bonuses a few days after the 60- and 90-day periods. So far, the bank has been great. They have good customer service and an easy-to-use website and mobile app. The only negative is that there aren't a ton of branches outside of our area, and if you take out cash from a non-networked ATM, they charge you $2.45 in addition to the fee that the ATM charges you. So, we make a point of taking out cash to have on hand if we go out of town. Advanced planning for the win!
Fifth Third Bank is still offering the bonus (although it's now up to $400), if you're eligible and interested. Here is the link.
Suntrust
Suntrust Bank also had a similar bonus of $500 that we considered, but since we didn't have any Suntrust Banks near us, we decided against it.
We haven't ruled out opening a Suntrust account that I could use for my freelance business and getting the bonus that way. Currently, they are offering a $200 bonus for opening a business checking account.
Cash on Hand
One of the reasons we were able to take advantage of this offer is that we had enough cash to fill the minimum requirements. We simply transferred money from our emergency fund, which currently sits in a Capital One Savings Account, to the new Fifth Third Bank. Then, when the 90-day period was over, we transferred the money back to Capital One.
Actually, to be perfectly transparent, we had to transfer our Capital One money to our previous bank, then write a check to fund our Fifth Third account, since we didn't have bank account numbers to input into our Capital One account to create an automatic transfer. But, in theory, we could have set up the accounts at Fifth Third and created an automatic transfer once we had the account numbers.
I have taken advantage of bank bonuses before, with similar good results. When I opened my Capital One account, which was then ING, I believe I earned a bonus of $200 for transferring a certain amount of money (maybe $5000?) to the account.
With the vast array of online banks and online banking options available these days, it pays (literally) to consider looking into these bank bonuses.
Buyer Beware
I do recommend that you open one account at a time, so that you don't make a mistake with your money and make a misstep so that you don't get your bonus. We've learned, over the years, that if we try too much hacking at once, that we miss something important, don't quality for the bonus, and usually pay some fee, to boot.
Both of the checking accounts I mention above have monthly minimums that we would have to pay if we didn't meet minimum balance requirements. Again, it pays (literally) to read the fine print.
Currently, there are dozens of banks offering bonuses. Check out this link to see if there's a bank near you offering a bonus you could take advantage of. And check back throughout the year, as often times banks will offer new bonuses at different times in the year.
Here is a list of current bank bonus offers that you can see if you can take advantage of.
What's your favorite "easy money" hack?