Our trip to Chile is coming to an end. We've been here almost three weeks and have enjoyed a trip to the most arid desert in the world, plus lots of sightseeing in Santiago, the country's capital, where we're staying.
Where are we staying, exactly? Santiago has tons of AirBnBs, hotels, and hostels. But we didn't want to spend money on those options when Mr. ThreeYear's whole family lives here. So we're staying in… our apartment!
San Miguel
Thirteen years ago, Mr. ThreeYear and I bought an apartment for his mom to live in, right before we left Chile to live in the US. All of the details of our purchase and payments are detailed in this post.
The apartment is located in one of Santiago's 37 comunas. We've argued about the best way to translate this word, but I think they're best described as neighborhoods, although they are official units of governance within the city. Mr. ThreeYear says the correct translation is municipalities.
The "best" comunas are in the Northeastern sector of the city–La Reina, Las Condes, Vitacura, Lo Barnachea, and La Dehesa, a community so exclusive it isn't even on the map.
Our apartment is located in San Miguel, a comuna that's right in the middle of the city (which I never realized!), just under the big red Santiago comuna. San Miguel is famous for, among other things, being home to Los Prisioneros, probably Chile's most famous rock band from the '80s. It's where Mr. ThreeYear grew up, and where a lot of his family still lives (it seems like every other day we run into a distant cousin when we're out walking).
When Mr. ThreeYear was growing up, San Miguel was a pretty tough community, and definitely on the lower side of lower middle class. But as the years have passed, San Miguel is coming up in the world. New apartment complexes are being built all the time, and they're attracting a more gentrified crowd. We've seen a lot more "fancy" cars on the streets during this visit, like BMWs, Mercedes, and the like. We've seen people out jogging–definitely something that you wouldn't do in a neighborhood that's not safe. And I just came across this on the internet: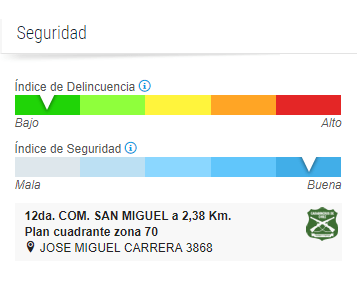 According to Chile's police force (who are some of the least corrupt and most well respected in Latin America), the area in which the apartment inhabits has a low crime rate and a high level of security. We've definitely felt safe here. Little ThreeYear has ridden his scooter all over the neighborhood, and we've visited the feria, the neighborhood farmer's market, many times with no issues.
We're still in a developing country, and it's evident. There is graffiti on the sides of buildings, trash on the ground, and stray dogs on the streets. But part of what we love about our time in Chile is the ability to show our kids a side of the world that's not picture-perfect.
San Jose Condominiums
Mr. ThreeYear's mom kindly agreed to stay with Mr. ThreeYear's brother for the three weeks that we were here. So we've spent our time in the apartment. The apartment is located in a gated community of apartments overseen by several conserjes, or doormen, who've worked here for years (we see them every time we visit). It's very common in Santiago to have doormen at the entrance to an apartment–in fact, I don't think I've ever been to an apartment that didn't have a conserje. That's part of the reason that all apartments have gastos comunes, or monthly fees, that residents are required to pay, to help support the maintenance and upkeep of the building. These gastos are not cheap–they're about $65 US a month for our apartment (which would rent for about $565 US per month).
The apartment has three bedrooms and two bathrooms, plus a kitchen, outside laundry room, and a balcony. But it is small. It is 52 square meters, or 560 square feet (not counting the balcony). All of the space is used extremely efficiently.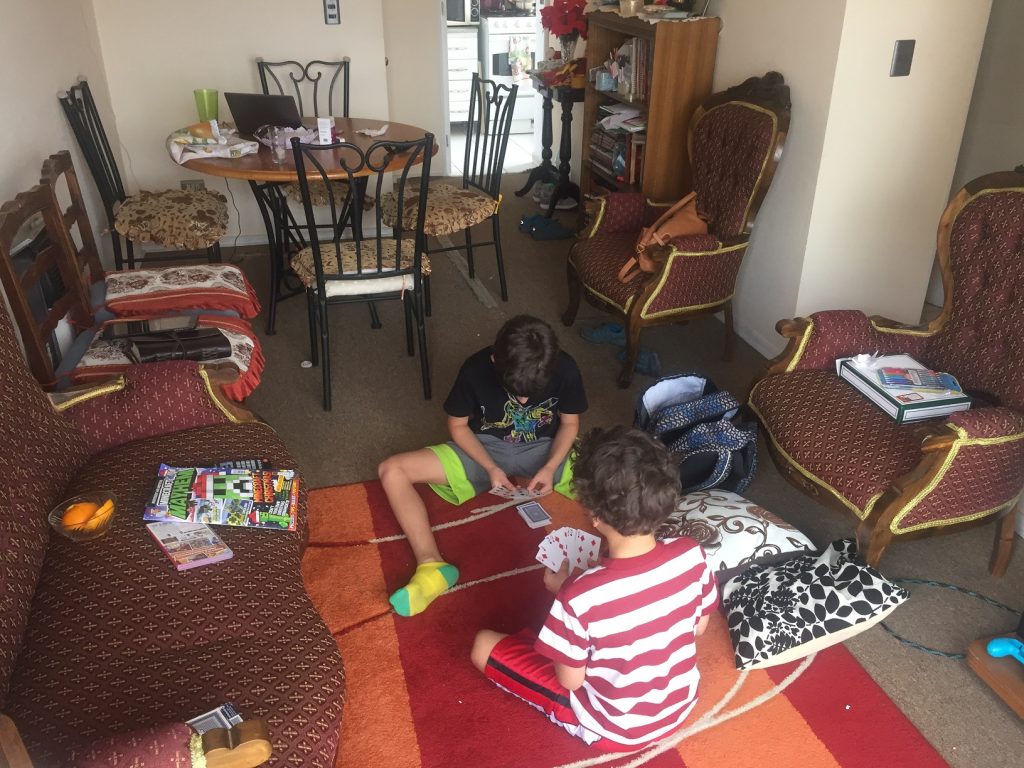 Here's the master bedroom:
Here's the middle bedroom: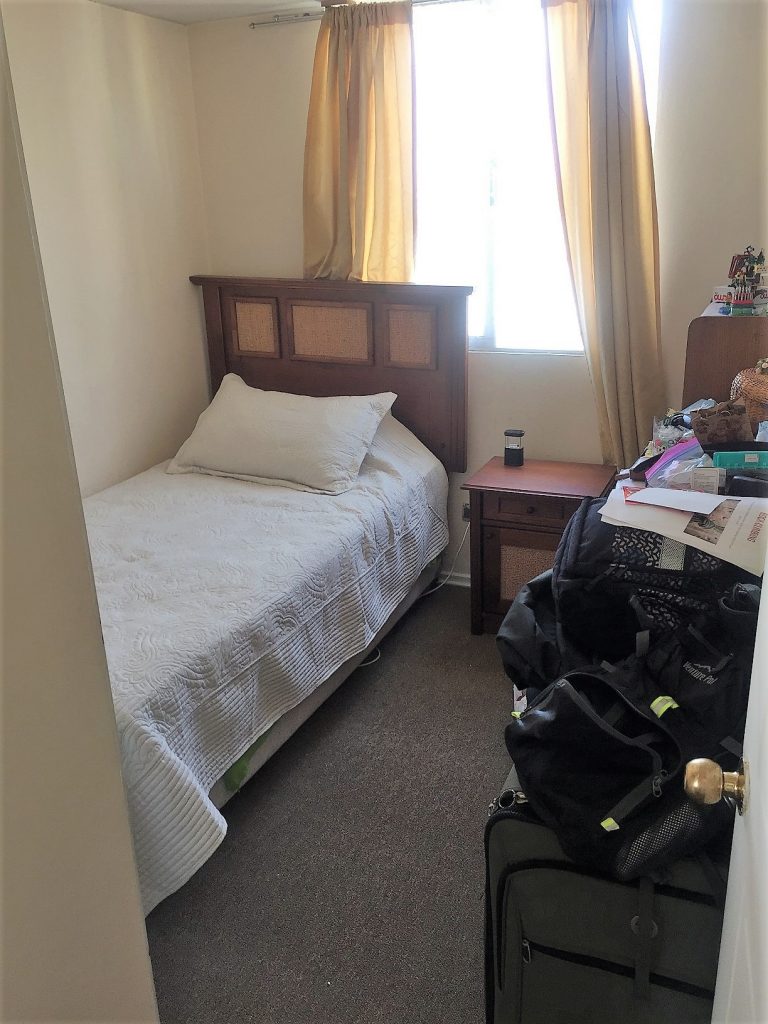 Here's the smallest bedroom (there's only space for one single bed):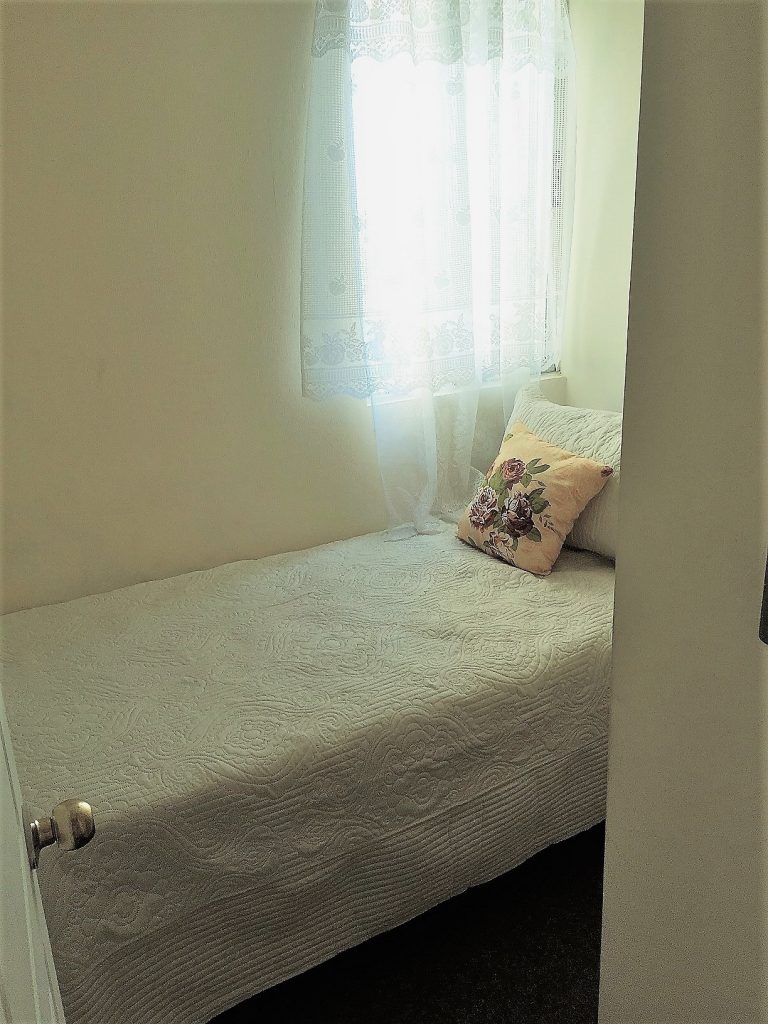 Here are two views of the kitchen, because it's impossible to show you both sides with one photo: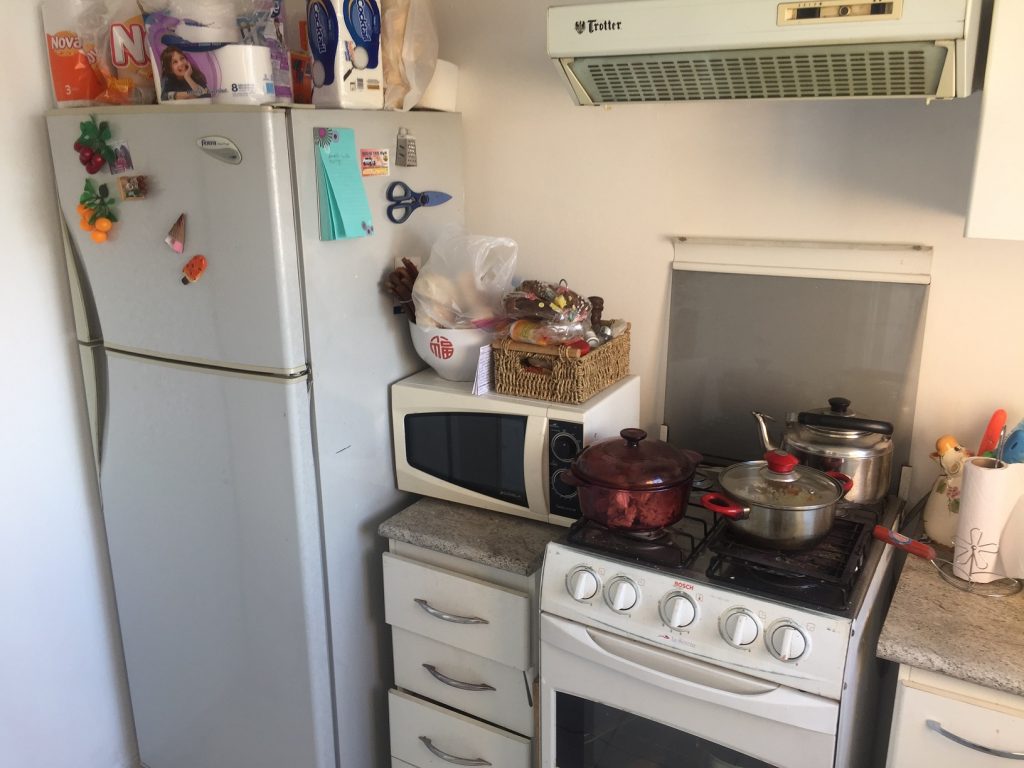 This view shows the sink and the outside washing area.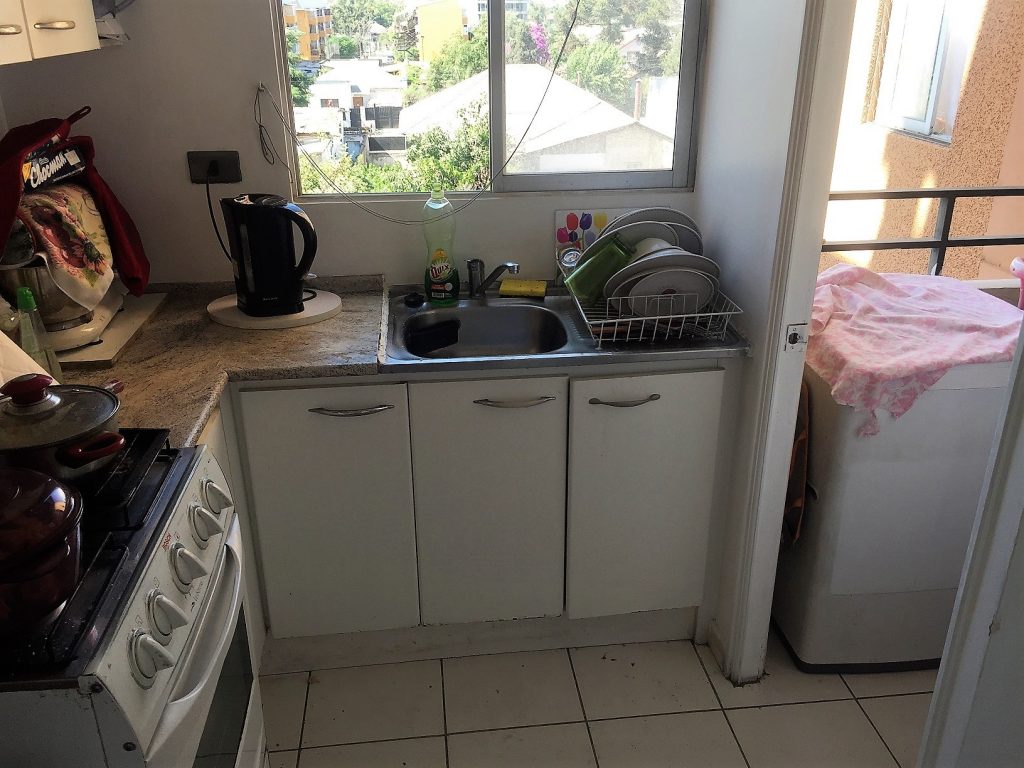 For one person, it's an ideal space. For four, it's a little tight. But we've made it work! There's a pool in the complex, which has helped a lot, plus beautiful shared space, and even a fruit tree, where Mr. ThreeYear picked plums.
The great thing about staying in an apartment is that it has a kitchen, so we can cook, plus free entertainment in the form of a pool and places to ride a scooter and play. It also has a parking spot, which we can use to park a car in (more on that later).
We've been able to cook the majority of our meals at home, or occasionally get food delivered in.
Transportation
We've traveled all over the city while we've been here. Santiago is one of the most spread-out cities in the world, so getting from one side to the other takes a while. When we visited the tallest tower in the city, the Gran Torre Santiago, we could see just how massive the city really is. There was no way of seeing the whole city from one side of the tower.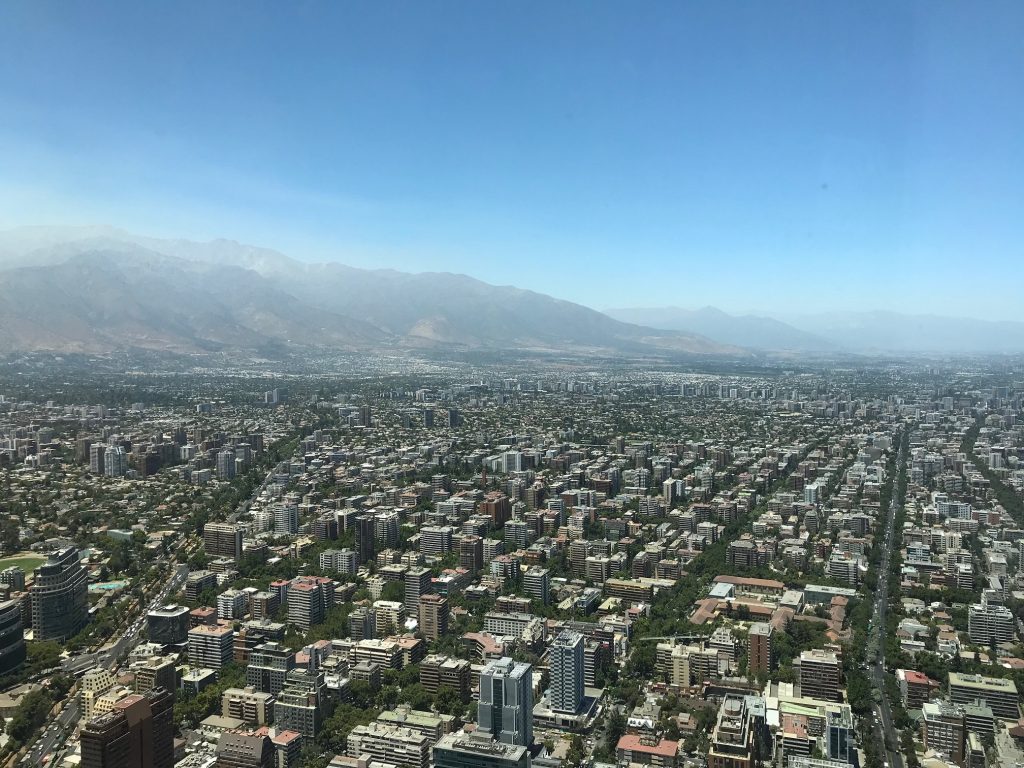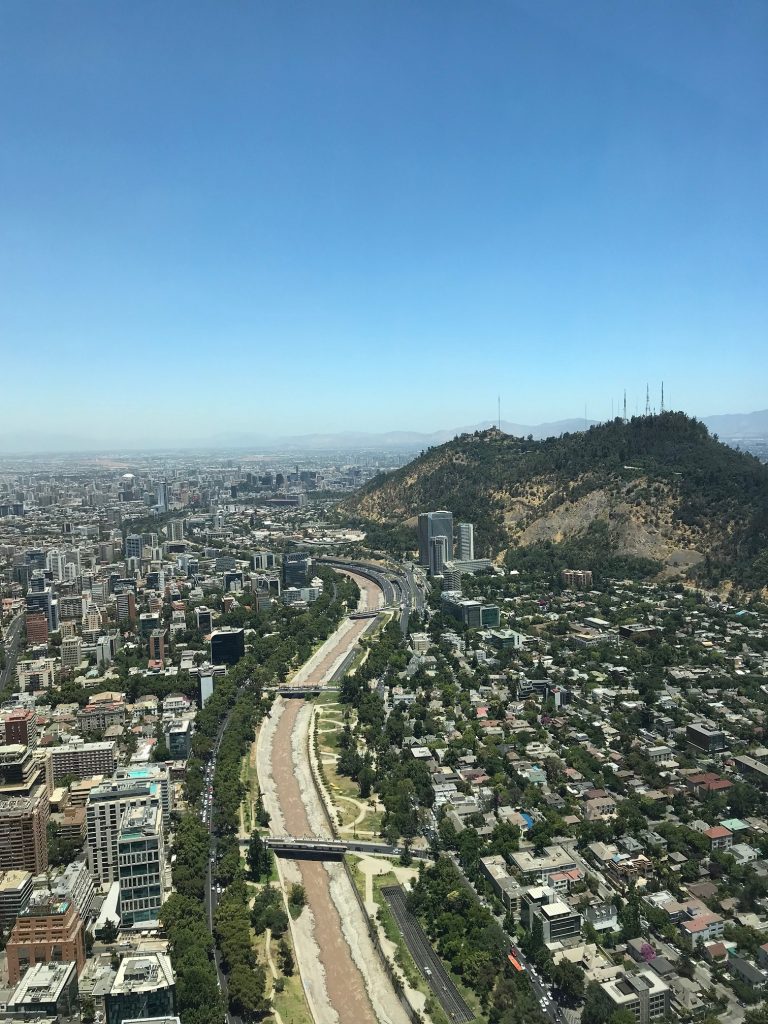 We've used several methods of getting around.
Transfer
To get from the airport to the apartment, we took a transfer. Transfers are shared busses that generally take passengers from their homes to a shared location, like the airport. Transfers are somewhat expensive. Ours, which ended up being private, cost about $30,000 Chilean, or roughly $50 US. Because of the cost of transfers, I don't prefer them.
– More information at matthewsbusescommercial.com.

Uber
Uber is ubiquitous in Santiago. We used the service several times while we were here. When we went to the Interactive Children's Museum, we took an Uber from the apartment to the museum, roughly fifteen minutes away. WE paid roughly $3 US to get there and $4 US to get home. We took Ubers several other times as well, and never had a problem, nor did we wait for more than about 5 minutes.
Metro
We rode the Metro to go on several errands as well. Mr. ThreeYear and I took the Metro to go to the center of the city, where we had several errands to do related to the apartment. We bought a Bip! Card, which is a rechargeable card you can use for the Metro or for one of Santiago's many micros, or buses. I took buses way too many times when I lived here, so I prefer to skip that fun when we come back. But Metros are an efficient, and cheap, way to get across the vast sprawl of city. Metro rides cost anywhere from $600-$740 Chilean pesos, roughly a dollar US.
Santiago's Metro is clean and efficient, but it is crowded.  Here's a stock photo since I never took one while we were using it.
While we were on the Metro to the Center, which was a 45 minute ride, including a station change, we had some cool entertainment. Two blind men and a precious little girl got on our train and whipped out a violin and a guitar, and began to entertain us. They even played "Despacito." They were pretty talented. We gave them some coins to thank them for the entertainment. This used to happen a lot on micros, but not on the Metro. Times have changed….
Today we're taking the kids to the center on the Metro to buy souvenirs for their friends, at Santiago's most well-known artisan market, Santa Lucia. I'll post updated pictures when we get back.
Car
We've also been extremely lucky, because Mr. ThreeYear's cousin has loaned us her car. That's how we went to Los Dominicos and visited family who live in another part of the city a bunch of times.
Sari, Mr. ThreeYear's cousin, has a fire-engine red brand-new Fiat 500, so we were really spoiled to get to drive it around.
Borrowing her car has saved us a ton of money, because renting a car for three weeks would have been expensive. As it is, we only pay for gas, which is pricey in Santiago (more than double what we pay in the US) but in terms of overall cost of usage, very low.
As our trip comes to an end, we are spending our time with family as much as possible, buying gifts, packing up, and the like.
This three weeks in Chile has been amazing, not in small part because of the weather. Back home, we've been seeing reports of -12F, -22C, frozen pipes, school closings because of the cold, and the like. Meanwhile, we're basking in the warmth of the South American sun, enjoying the beautiful flowers that are in bloom, and trying not to think too much about our return.
That's it for now. Hope you're having a great new year!! I'll be back soon with a new year-long goal for our experiment, plus some net worth updates!