Have you ever taken a prepaid vacation? Maybe you went to an all-inclusive resort, a cruise, or a tour vacation. By prepaying before you go on the trip, you cover the cost of lodging, food, transportation, and oftentimes gratuities and incidentals like phone calls. We just got back from a prepaid Disney vacation, and I am convinced it's the best way to enjoy Disney World.
Our family got back from our epic week-long Disney trip two weeks ago. It was the very first trip Mr. ThreeYear, Junior Three Year, and Little Three Year had ever taken to Disney World. I've been several times throughout my life, but we were never interested in making a trip with the boys until now.
First of all, my brother-in-law is a big Disney fan. He and my sister have gone multiple times since they've been married six years ago, and they invited us to go with them about a year ago when they started planning the trip. Second, they agreed to plan 100% of the trip for us. If you've ever been to Disney, you know that to get the best experience requires some major planning. And my brother-in-law was more than up to the task.
He read Disney blogs, researched the ways to get the best deals on places to stay, reserved our fast passes exactly sixty days before we left so we could get the best ones, and even filled out our online Disney Destinations profiles for us. All we had to do was pay for the trip and show up.
Disney World is very expensive, unfortunately, especially when it comes to food, so we made the decision to go all-out on this trip, which will be our one and only Disney trip while the boys are young.
Here's how we did it.

Lodging
At first, we thought about staying in the Animal Kingdom Lodge, a beautiful resort near Animal Kingdom. We visited for dinner at Boma one night and loved it. The resort was breathtaking, and you could walk out back and see giraffes and wildebeests milling around.
Plus, there were all kinds of fun activities for the kids, including s'more roasts. If we had to do it over again, I would probably vote to stay here, because we absolutely loved the Animal Kingdom park. It would have been slightly cheaper, as well.
Ultimately, though, we decided to stay in the Polynesian, because of its proximity to the Magic Kingdom and Epcot, and the monorail. Our niece is four, and we were worried the bus rides to and from our resort (about 35-45 minutes from the Magic Kingdom) would be too hard. In hindsight, I don't think this would have been a big problem, because she did fine on the bus rides. But, boy did we love the Polynesian.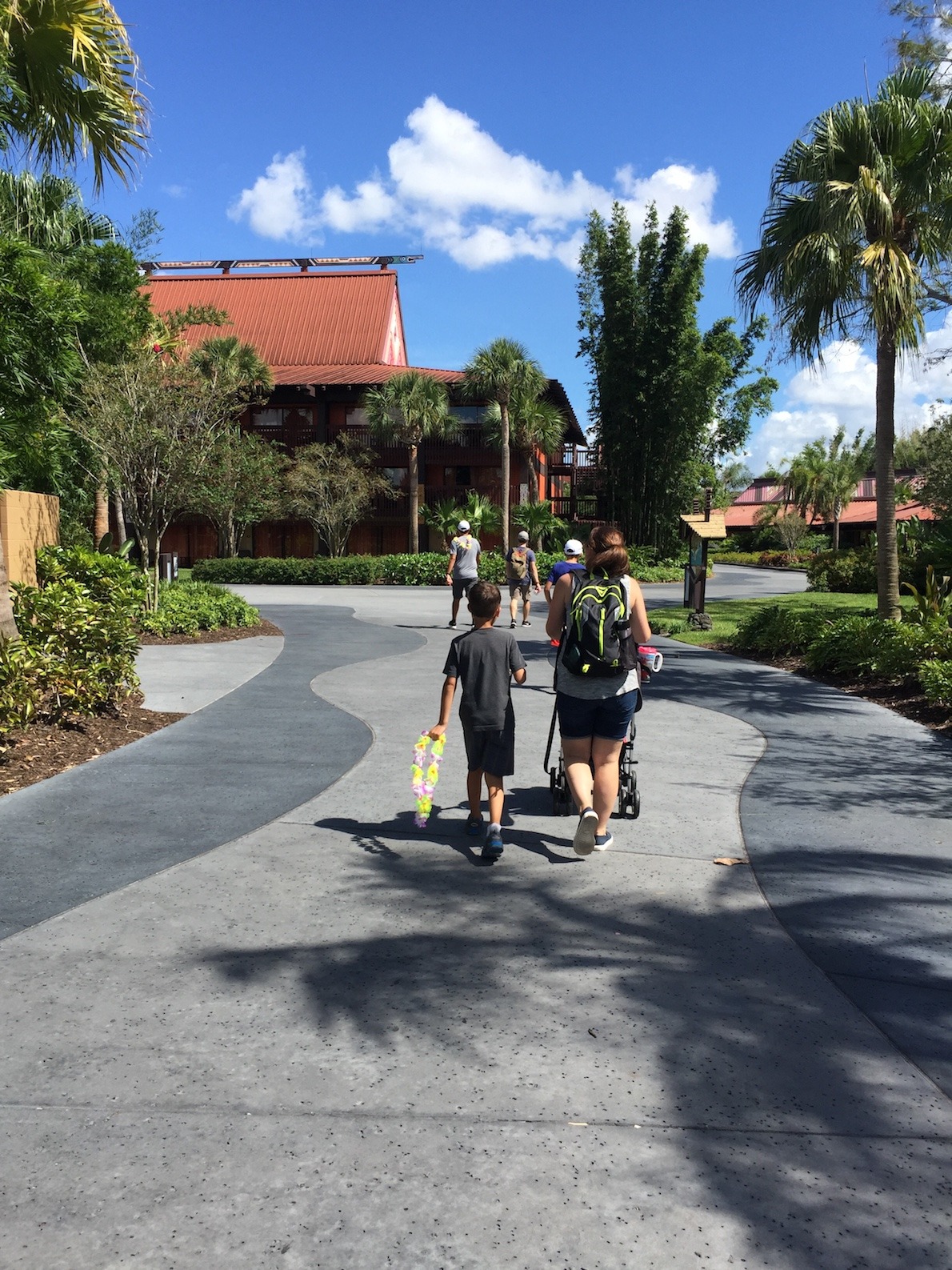 The Polynesian is a spectacularly beautiful resort that is one of the first that was built in Disney World, in 1971, and comprises several "long house" buildings as well as the Great Ceremonial House that holds its restaurants and gift shops. It has a South Pacific theme (everyone greets you with "Aloha" and thanks you with "Mahalo") and sits directly across from the Magic Kingdom Resort on the Seven Seas Lagoon.  One of the very cool things about the resort is that you can watch the Magic Kingdom AND Epcot fireworks each evening, either from the beach area or from your hotel room, depending on where you're staying.
One of the tricks my BIL used to keep the cost of the room down was to purchase it using a lottery system. The room we stayed in was part of the Disney Vacation Club, which is Disney's version of a time share. Families who don't use their yearly portion can sell it back to buyers like us. The room had two bathrooms, a mini-fridge, laundry basket, room for five to sleep (including a really cool Murphy bed under the TV), and a balcony. It was on the second floor which I loved.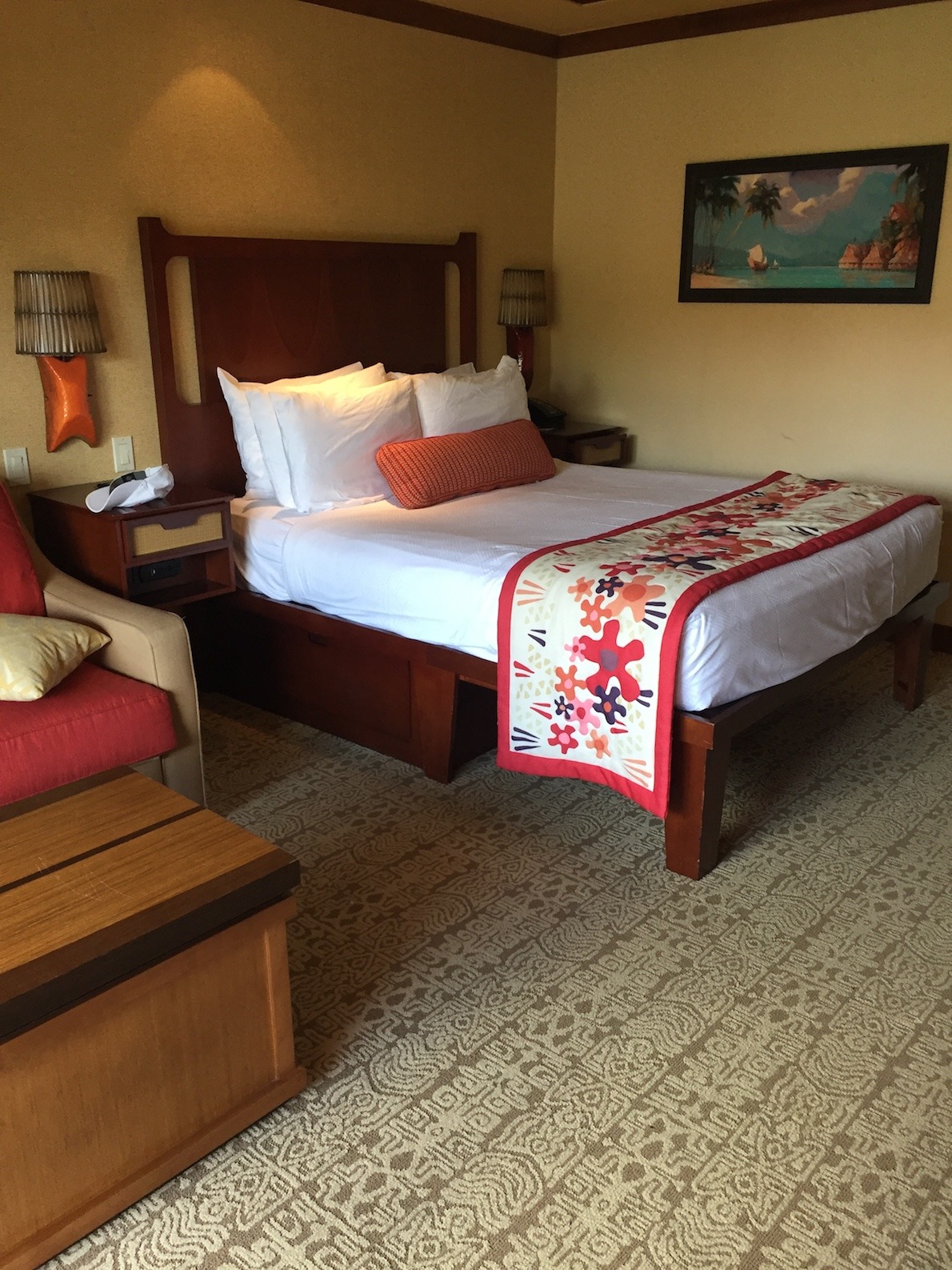 We ended up paying $1944 including tax for Sunday through Saturday (six nights). That equals out to $324 per night, versus the advertised rate of $485-$700 per night on the website (jeesh!). While we normally wouldn't pay near so much for a hotel room, we enjoyed the heck out of the amenities.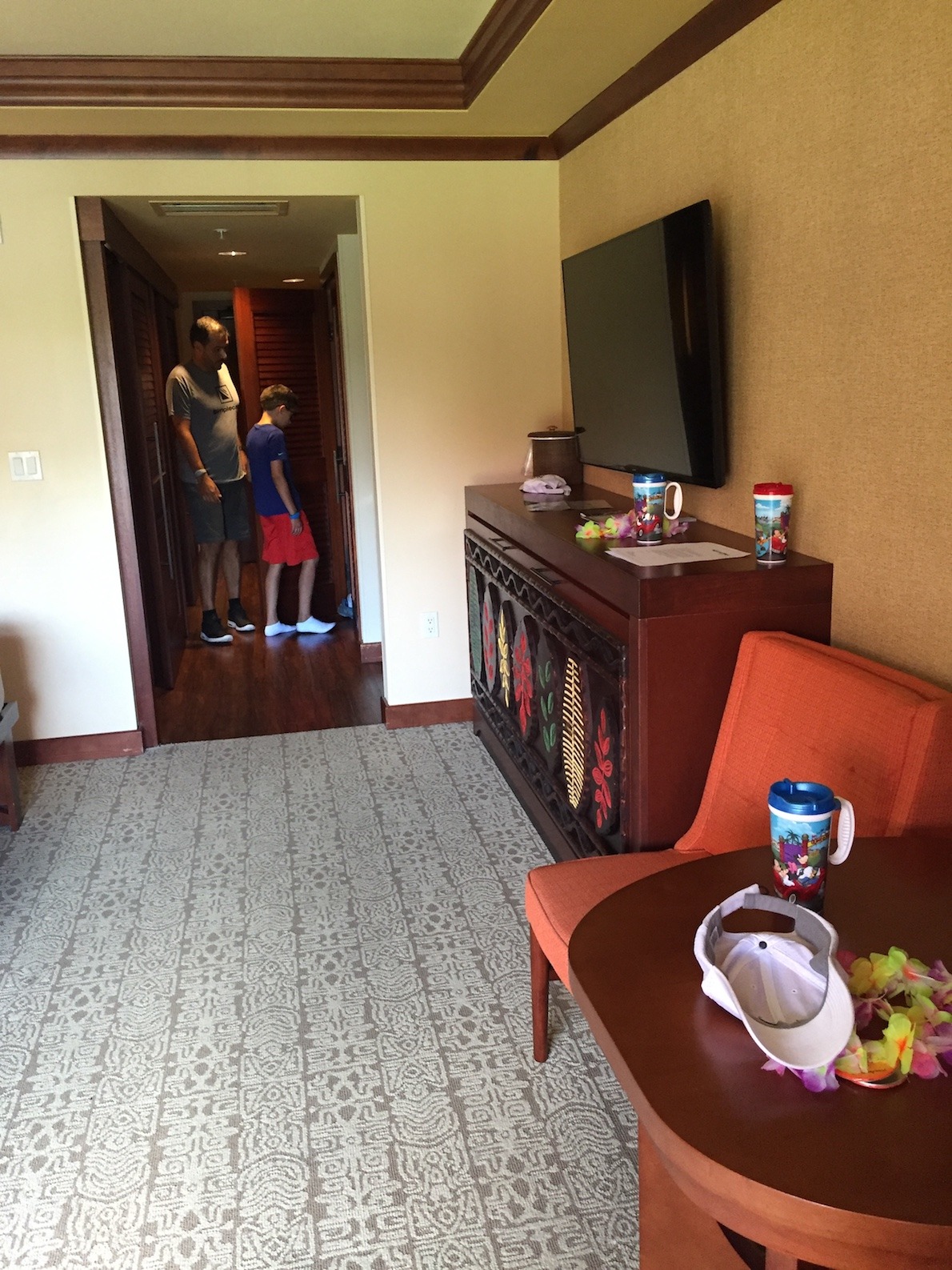 We spent one entire day enjoying the pools (including the water slide volcano), one afternoon doing laundry so we wouldn't have to pack as much, and one evening in the awesome Speakeasy bar called "Trader Sam's Grog Grotto" (adults only!) where every time you order a drink, something different happens (a volcano on the wall overflows, you get sprayed with mist, the waiter turns into a zombie, etc). We also ate two delicious evening meals there, but more on that later.
Plus, we were right on the monorail, so we could head out to the Magic Kingdom at night and get there in just a couple of minutes. We could also take a boat across the lagoon to the park or other hotels (like the Grand Floridian). We did this one night on the way home from dinner.
We found inexpensive plane tickets from Charlotte to Orlando, just over $100 apiece, but to use them, we had to fly in on Saturday rather than Sunday. So we booked one extra night in Disney's cheapest hotel, the All-Star Movies Resort. This hotel cost "just" $163 a night, but obviously the experience was much different. The rooms were more like motel rooms, with doors that opened to the outside. Still, they had a really nice pool and an AWESOME Toy Story playground outside with a monstrous "bedroom" including door to give you the sensation that you were a toy. We only stayed there for a couple of hours but it was a nice experience. When we got up to go to the parks the next morning, the hotel transferred our luggage for us over to the Polynesian.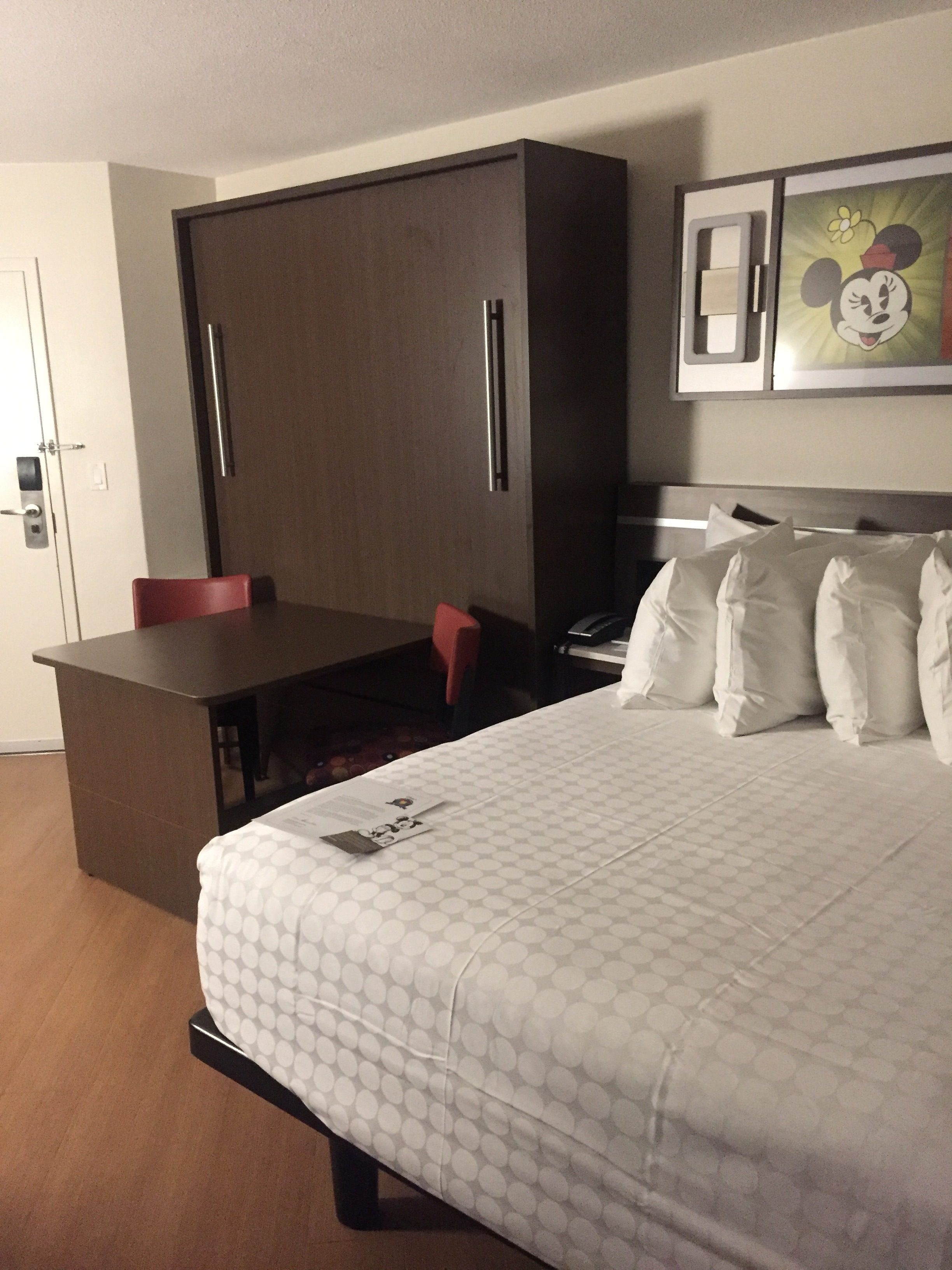 Parks
For park tickets, we paid $1763.67 for three adults and one kid (Junior ThreeYear is eleven, so we had to pay the adult price for him). We paid for these using Disney gift cards, which we bought at Target using our Target credit card to get them 5% off. That way, we ended up saving 5% off the cost of the tickets. We also did this for part of our meal plan.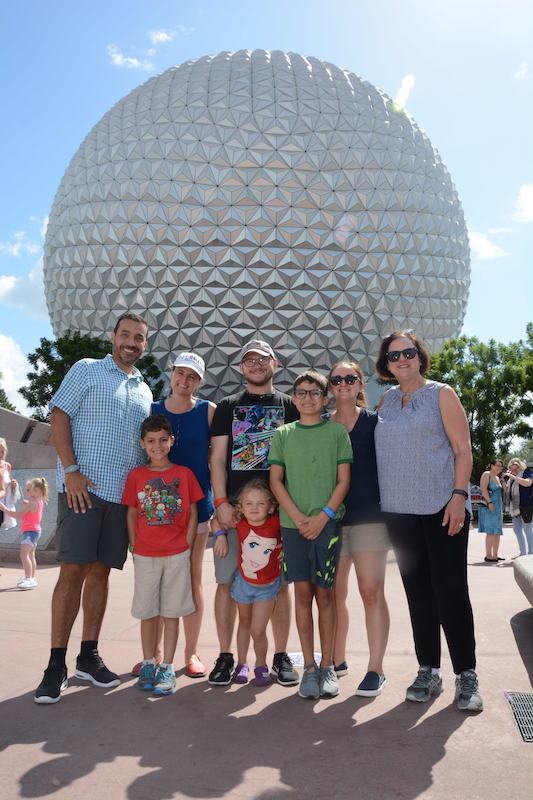 We bought Park Hopper tickets, so we could go to multiple parks in the same day. I think we would have been fine if we'd bought the regular one-park-per-day tickets, but we did end up visiting different parks at night. This averaged out to $440 per person for six days. The retail price for these tickets is roughly $2093, so we saved over $300 here.
I had never been to the Animal Kingdom Park and boy, was I missing out! It was my favorite park, by far, and we went on my favorite ride of the whole trip, The Avatar Flight of Passage. You sit on a motorcycle and then experience the most realistic VR I've ever seen. The bike moves and squeezes you like you're really riding it, and on the screen in front of you you go through spectacular drops and dives–even though I wasn't even moving it was like the craziest rollercoaster I'd ever ridden. If you go to Disney, ride this ride! LUCKILY we had fast passes for this ride or we would have been waiting almost 2 1/2 hours!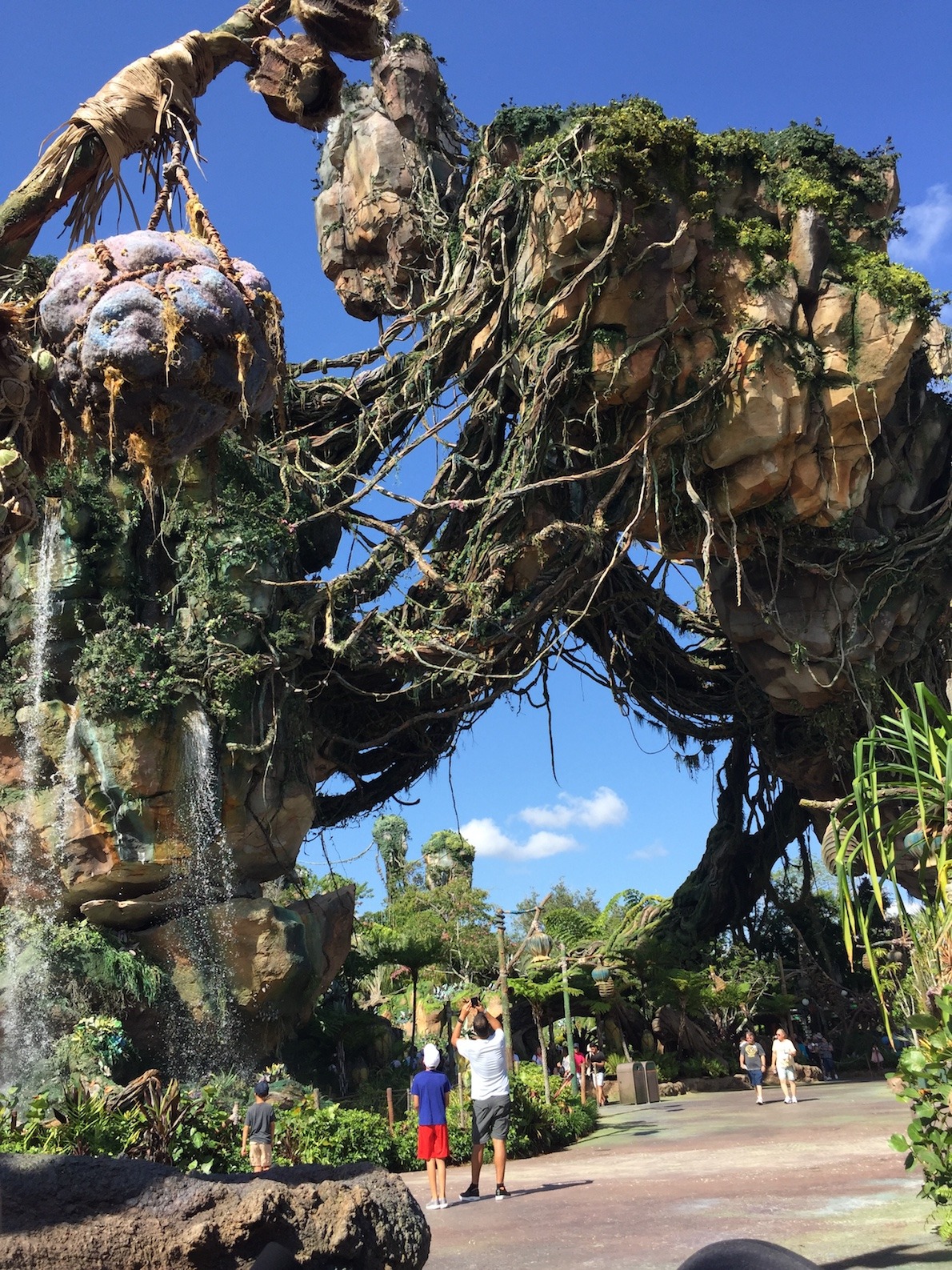 Meal Plan
We opted to use the Meal Plan for our Disney trip. We got meals for six days. Each day, you get one counter service meal, one table service meal, and two snacks per person. You can use the snacks for breakfast or to eat in the park if you get hungry. Additionally, you get unlimited soft drinks, coffee, and tea at the resort and beverages with each meal, including one "fancy" drink per meal. The "fancy" drink can be something alcoholic, a fruity frozen drink, a fancy coffee, or a kids' commemorative beverage (they usually come with a special cup and something that lights up).
Even though that doesn't seem like a ton of food (only two meals per day), let me assure you that we had to work to eat all of our snacks.
And we had the coolest experiences at all the different restaurants in the park. We had a character breakfast on our second morning there at Epcot, at the Garden Grill, the restaurant that spins (and where I remember eating as a kid) and then raced downstairs to ride Soarin' (incredible ride!).
We ate at Bona, an African buffet restaurant in the Animal Kingdom Lodge. I think the food there was the best of the trip.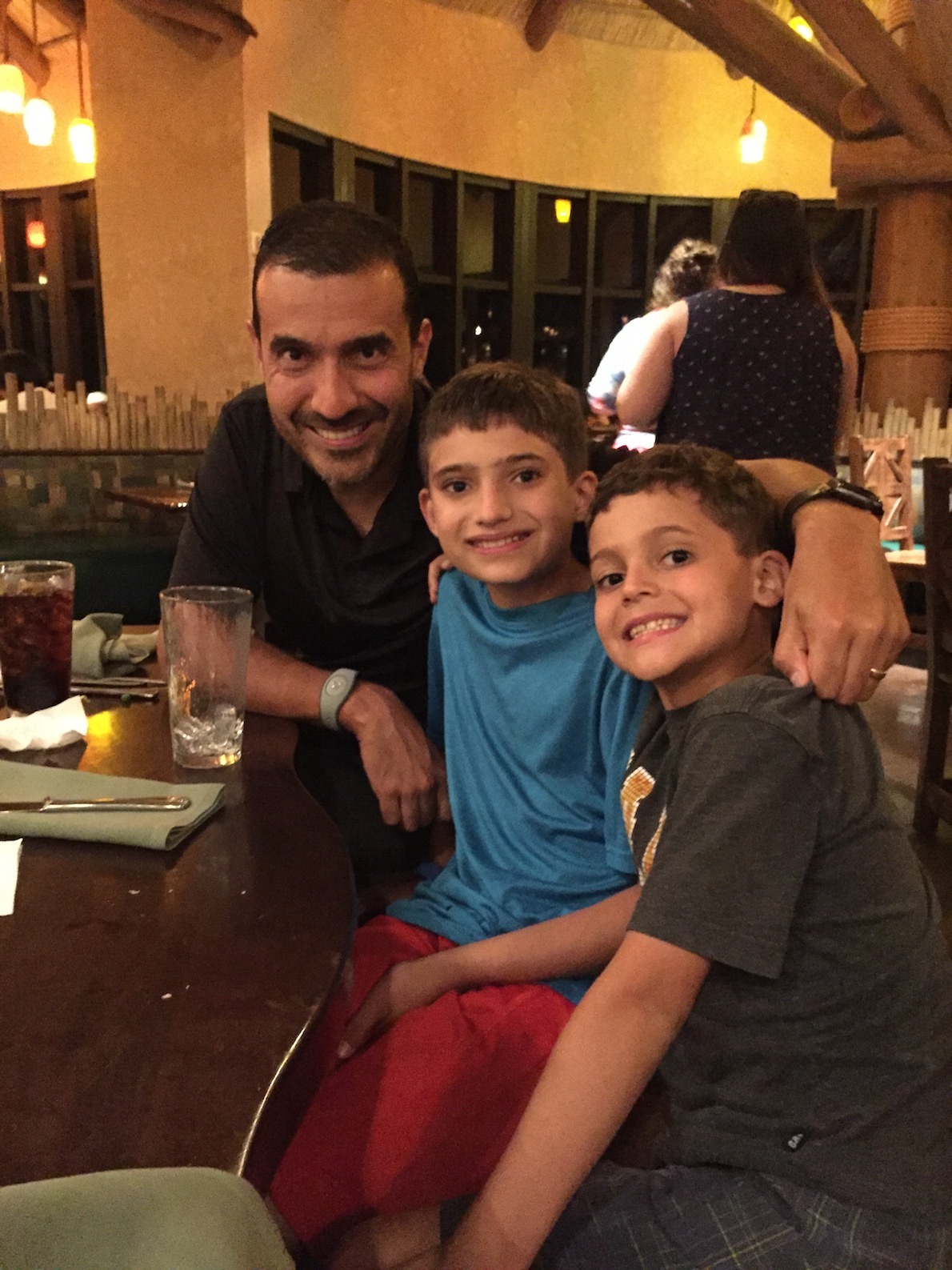 We ate amazing sushi at Kona Cafe, in our hotel.
We had upscale American cuisine at the Grand Floridian Cafe, in the Grand Floridian (now THAT is a spectacular hotel).
We ate at the German Biergarten Restaurant at Epcot, where they had a polka band.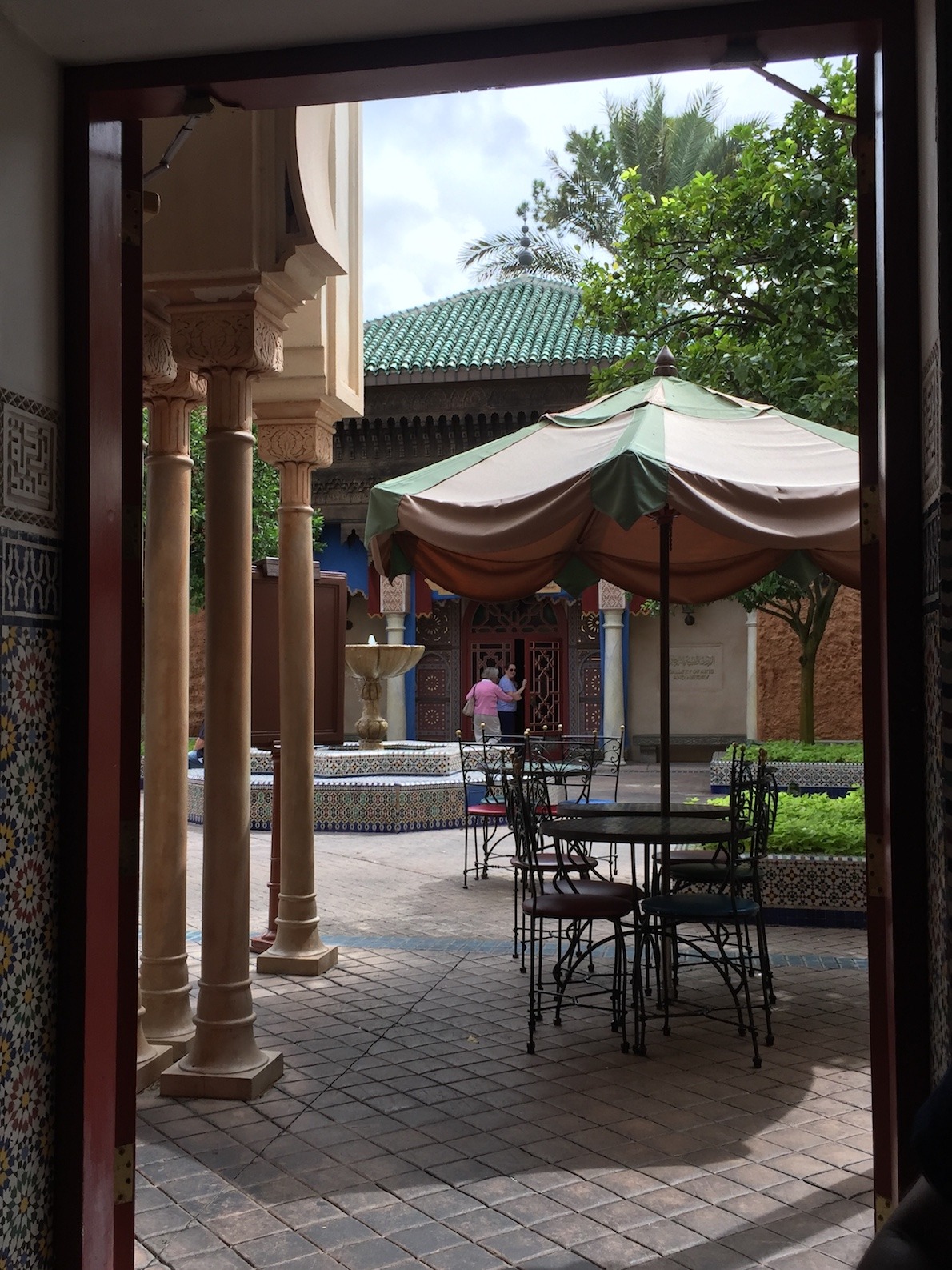 And at our last night, we ate at the famous 'Ohana, which serves family style South Pacific food, including the best dessert–bread pudding with coconut ice cream and whipped cream.
We bought three adult meal plans (because again, Junior ThreeYear was above ten years old) and one child meal plan. The total for all four of us for six days was $1584. The only thing this didn't include was gratuity for the table service meals (because we were a party of eight, they automatically charged us an 18% gratuity). This came out to $66 per person per day, or $22 per meal (including breakfast). We could have surely spent less than that had we not bought the meal plan, but I'm really glad we didn't, and here's why.
Prepaying
Prepaying saves you from the pain factor of passing over money each time you eat.
Every time you have to shell over money for something, be it with cash (the most painful way to pay) or credit card (slightly less painful but still hurts), you feel a negative sensation.
And the meal prices at Disney were very, very high. Like most things at the parks, the cost of food is exorbitant.
We ended up buying one extra dinner on our meal plan, because I was dying to have sushi, and so we ate an extra table service meal. That meant we were short one table service meal later in the week, and we honestly forgot we were paying out of pocket until the end of the meal. We paid for the meal in Animal Kingdom's Yak & Yeti. All four of us had entrees and drinks (plus one beer for Mr. ThreeYear), and we paid $182.42 for the meal, including taxes and tip. Ouch. That hurt really bad.
Why did it hurt so much worse to pay for the one meal, when other dinners were inevitably more expensive if we'd looked at the price? We ate at 'Ohana the last night of our stay, and it's a family style restaurant that charges $48.99 per adult and $26.63 per child. So, we would have paid $173.60 PLUS beverages PLUS tip at that restaurant, easily bringing our total to over $200. But we happily signed the gratuity check and didn't even notice how much the bill was.
In fact, we didn't think about money at all during our trip, except for that pesky dinner at Yak & Yeti. We breezed in and out of the parks using our Magic Bands, ate all of our food using our meal plan credits, and allowed the kids to pick one souvenir each (which neither ended up taking advantage of–there was nothing they particularly wanted).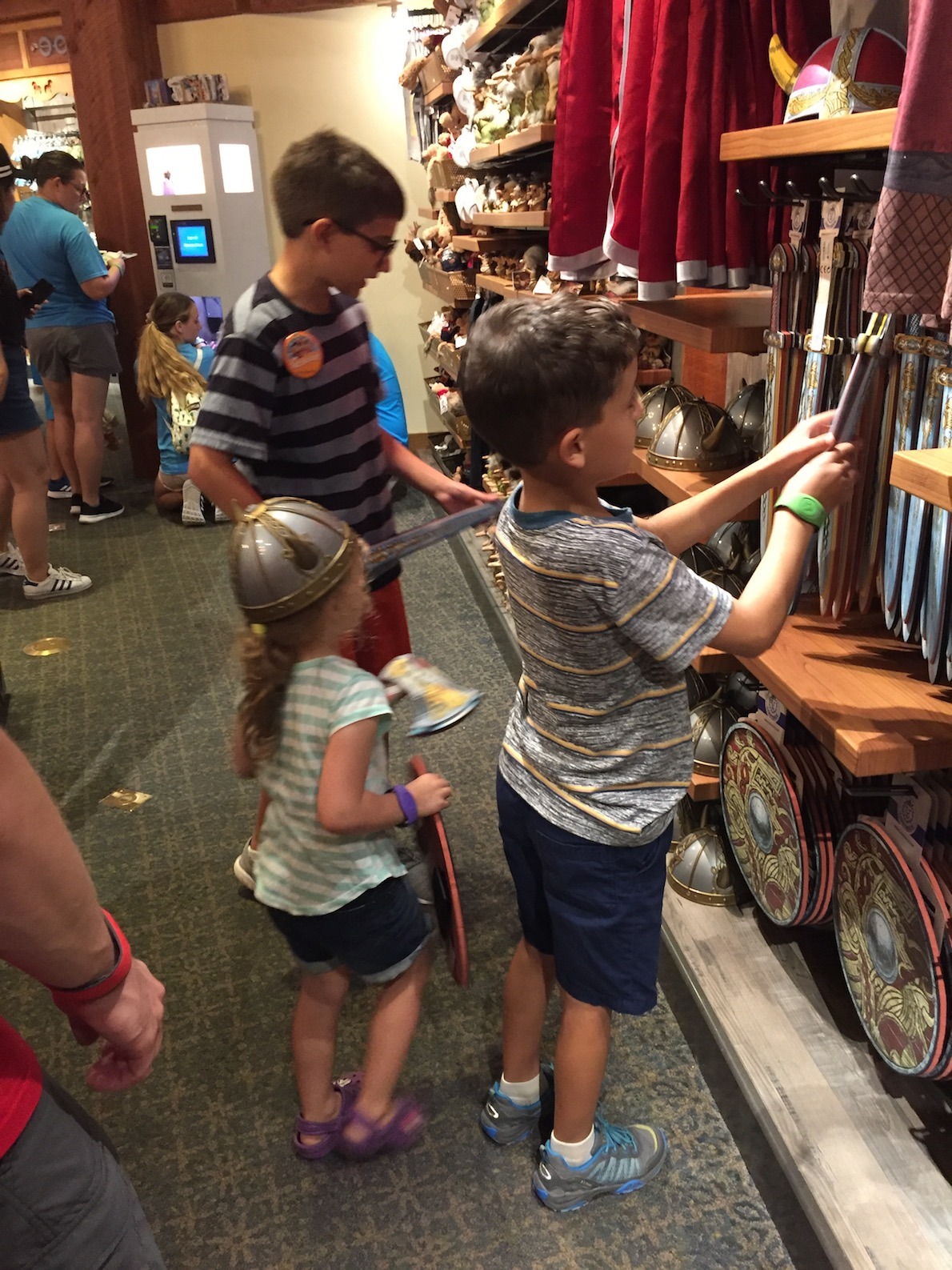 We could have paid as we went, ignoring the bills and putting everything on our Magic Bands, and paying a great big final bill after we left. But then we would have been preoccupied by the upcoming bill we would face when we got home, and the unknown quantity of that bill.
We were much happier prepaying a set amount of money, which we'd budgeted beforehand, and then enjoying all that delicious prepaid food while we were on vacation and not thinking about dollars and sense practically at all.
Total Disney Vacation Costs
For reference, here were our total prepaid vacation costs (all costs were for 3 adults, 1 child):
Plane Tickets from Charlotte to Orlando: $472.70
Polynesian $1944
Extra night at Disney All-Star Movie: $163
Park tickets: $1763.67

Disney

Dining Plan: $1584
As I mentioned, we also bought an extra dinner (which we totally could have skipped if we'd planned better) at Yak & Yeti for $182.42. Our gratuities and a couple of drinks at Trader Sam's Grotto totaled $236.59.
Grand total:  $6346.38.
(My mom generously contributed $500 for each kid, meaning we paid out-of-pocket $5346.38).
Was it an expensive trip? Oh yeah. For reference, our two-week anniversary trip to Southeast Asia back in 2016 was $8345, including expensive plane tickets (but that trip was for two people and this was for four).
But we paid for it throughout the year, piece-by-piece. And when we got to Disney, we could relax and enjoy our wonderful vacation.
Vacation is the one place I'm willing to spend a bit more. We'll definitely do more prepaid vacations in the future.
What's your favorite way to pay for a trip?