Today I'm excited to guest post on Keep Thrifty. Keep Thrifty is a personal finance and travel blog run by Chris and Jaime, who live in Madison, Wisconsin. They're run some amazing lifestyle experiments in the last few years, including living in half their house, moving to an apartment, and taking a one-year mini-retirement. I love how brave and willing to think outside of the box they are for their family.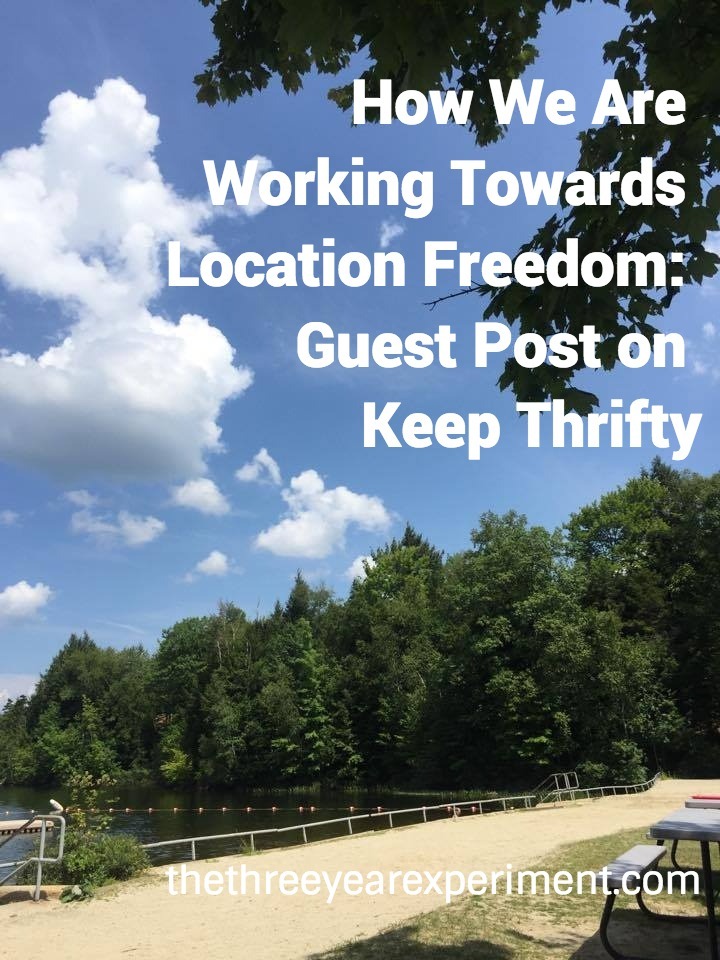 In the post, I share how I caught the travel bug, met and married Mr. ThreeYear, and then settled into… life as we know it! I share the reasons we've embarked on our three year experiment and what we hope to get out of it as we work towards location independence, or location freedom, as Keep Thrifty calls it! It sure is freedom!! Not being tied down to one job or one place is such a freeing thought. Gives me goosebumps just thinking about it!
Here's a sample of the post:
I caught the travel bug when I was 10. My parents took my sister and me all the way to the West Coast, from our home in rural South Carolina, on a ten-day vacation across California. They were interested in the wine tours; we were interested in the feeling of the wind in our hair as we rode in the backseat of our rented convertible. That trip sparked a love of travel for me: seeing new places, experiencing new landscapes, and meeting people who looked, talked, and thought differently than me.
When I was 21, I decided to move to South America to become more fluent in Spanish (it was one of my majors in college). So I headed to Santiago, Chile, ostensibly for a year, to teach English. It was there that I met the love of my life, a kind, handsome, and absolutely infuriating Chilean who now goes by the moniker Mr. ThreeYear.
He challenged me in the best possible ways (and still does!). One of the first things he asked was that I stay in Chile with him longer than my initial one-year plan. So one year turned into three, before we eventually married and moved back to the US in 2004.
To read the entire post, please visit Keep Thrifty.
And while you're at it, check out these posts on their site. They're some of my favorites!
 Thanks so much for checking out our
guest post
! I'll be back tomorrow with an update on our food spending!