Yesterday I went running with a group of women from my neighborhood. We recently moved to a large neighborhood in Davidson, North Carolina, and the neighborhood we moved into, to use terminology from The Millionaire Next Door, is "income affluent." That means that people in this neighborhood tend to have high incomes, but also spend large amounts of money so that they have a low level of net worth.
In other words, they're broke.
I was proud of myself–I had gotten on Facebook and posted a message to the neighborhood women's group we have there. I found several women who were interested in starting a runner's group, something I sorely needed since I have about motivation to run as I do to clean the toilets (read: none). But running, unlike toilet cleaning, is good for me in myriad ways, predominantly mental health-wise, so it's helpful to have accountability partners in the journey.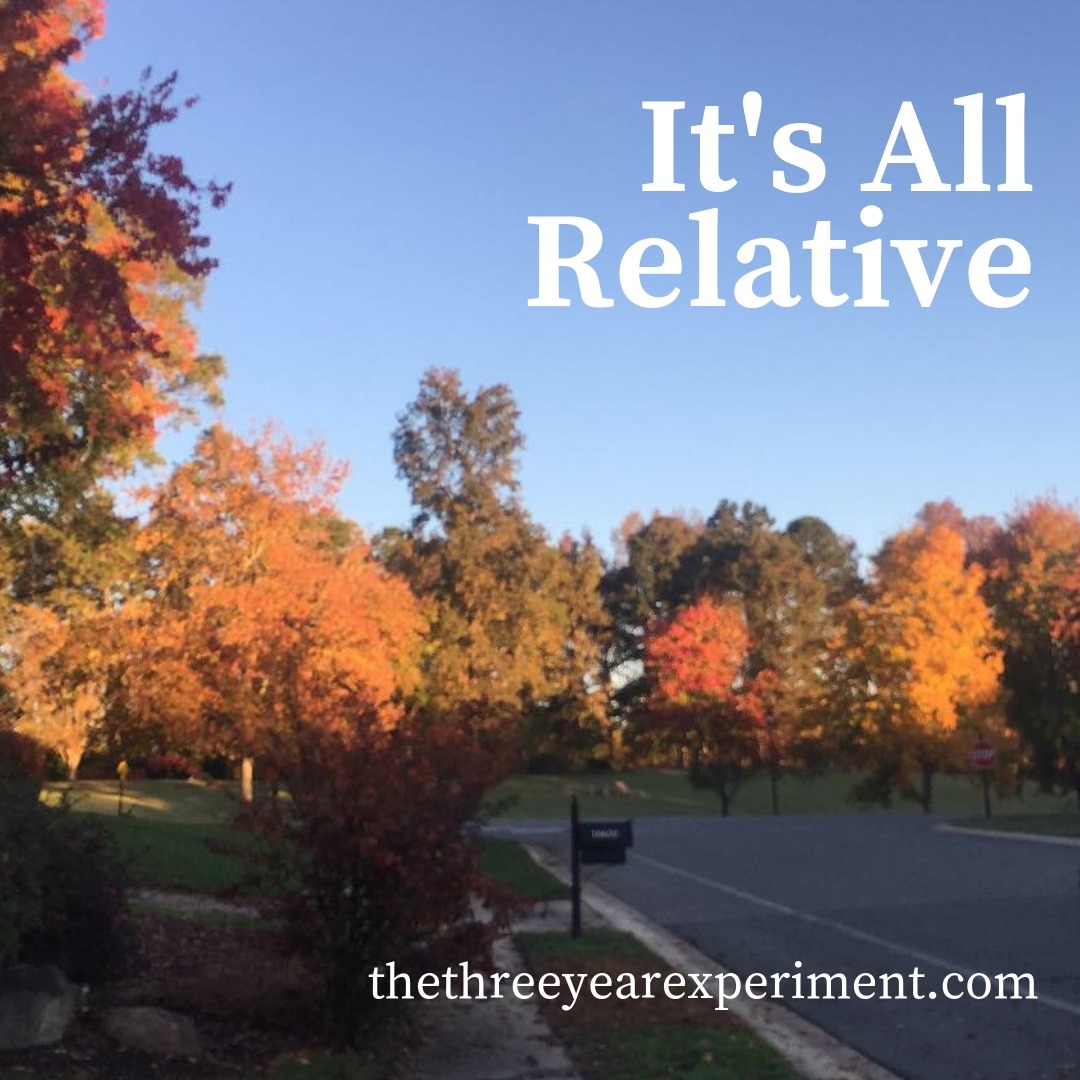 We live in one of the (or the) least expensive homes in the neighborhood. I will admit that I didn't really want to move to this neighborhood, because I have read all of the Millionaire books (and am reading the new one which comes out in a few months–review soon!), and one of Thomas Stanley's tenants for millionaires next door was that they live in low-key neighborhoods. When you live in an income-affluent (but not balance-sheet affluent) neighborhood, it's really easy to get sucked in to the buying habits of your neighbors–there are so many Audis, Tahoes, and Mercedes in this neighborhood. People seem to always be renovating some part of their house, or all of it. And moving. People move here all the time, for no reason other than "they wanted bigger bedrooms for their kids" (that is a statement I heard recently).
Why do we live here? Mr. ThreeYear really liked the neighborhood because they have a large tennis community, and he's a huge tennis player. The house also fit our needs and price range, and there weren't a lot of those houses available. We had limited options, and this was the best one. So, we're trying to develop our frugal reputation and maybe, just maybe, be a good financial role model for some neighbors.
Back to yesterday–as we ran, I spoke to one of the women who lived in "The Reserve," a newer part of the neighborhood where homes aren't just expensive, they're exorbitantly expensive. She told me that prices had gone up so much, her family wouldn't be able to buy their current house at this point (the prices have risen about 20%). Then she and another runner started talking about a "rich neighbor" who lives in a bigger house than theirs.
These women live in homes that cost $850K-$1M + dollars. For people on the West Coast, perhaps, that's not completely crazy in terms of housing prices. But here in the Southeast US, those are very expensive homes!!!
It just goes to show that people's ideas of what wealth are have become so skewed. And, that people aren't realistic at all about what they have.
The reason I was struck by this particular conversation was because just the night before, I'd had a "Come to Jesus" conversation with Little ThreeYear. He was complaining that because his brother earned a trampoline party at his middle school (which wasn't available to earn at the elementary school) it wasn't fair. To which I replied, predictably, "Life isn't fair." Which produced, "I wish life were fair!"
"You wish life were fair?" I replied. "You're right. Life is spectacularly unfair. But not in the way you think. You have a lifestyle that the vast majority of people on this planet would give a left toe for. If life were fair, then you would live in a house that's a fraction of the size of this one. You probably wouldn't have your own room. You may or may not have dirt floors."
"You'd have one set of clothes, instead of so many we have to organize them in bins. You'd have one toy, and no Legos, because they're way too expensive. You may or may not have shoes. You'd eat rice for dinner every night, with a side of beans if you were lucky, and tap water with no ice, because you certainly wouldn't have a refrigerator to make ice cubes for you. You know, if life were fair."
It's nice to give the boys a little reality check now and again. And myself, too.
Sounds like the running ladies needed the same reality check.
"You are rich!" I wanted to tell them. "In every sense of the word except net worth, you are among the richest group of people in the history of our planet!" If they'd stop comparing themselves to their richest neighbors, and start comparing themselves to the city at large, to the country, to the planet!, then they'd realize that their incomes can fuel amazing things for them–a future that has enough financial stability to support their deepest dreams, if they'd spend slightly less and save slightly more.
"Imagine," I wanted to say, "no more questioning if you can still afford your house if prices go up slightly because you're not living on the edge of what you can afford. No more leasing luxury cars to appear wealthier than you are." Real self-esteem that comes from knowing you don't have to rely on other people to fuel your consumptive lifestyle, that you actually have enough money in the bank to fund your life for many years.
I'm making a heck of a lot of assumptions from a short conversation with this lady. But there were a lot of money issues spilling out during our short run.
Let me see if I can get to a point, here. If we can take a step back and look at what we have in more absolute terms ("this is where I am compared to everyone else on the planet") instead of just comparing ourselves in relative terms to our richer neighbors, then hopefully we can see the money available to us for what it is–vast.
I believe I've said this before, and I'll say it again. Mr. ThreeYear and I are high income earners. Ok, correction. Mr. ThreeYear is a high income earner, and I, because I usually work part time, make a on-the-smaller-side-of-normal income (also, I'm a teacher). I know he has high income because I have plugged his salary into calculators that tell me that he's somewhere in the top ten percentage points of individual salary earners in this country, depending on what we include in his salary (he gets a bunch of stock each year that isn't strictly income).
Related Reading:
Despite his high income, I sometimes get the sense that we are poor paupers compared to our neighbors. But then, I take a step back, give myself a reality check, and realize we're in line to save almost 60% of our income this year. And we can do that because we are in a very fortunate position of being both high income earners and frugal(ish).
That's the real problem in our neighborhood. Too many neighbors get stuck in their small neighborhood bubble, and think that their $300,000 in yearly income (or however high!) is nothing compared to their neighbor's $500,000. And so, they need to "keep up" so they won't look "poor" by buying a bigger house, leasing a bigger car, paying a more prestigious private school tuition.
After I had the conversation with my new running partner, who was very nice, if I haven't said it before, I spent the rest of the day feeling grateful for the choices we've made that got us where we are (and for the incredible amounts of luck and privilege that have helped us along, too).
I get the time freedom to pursue my passion projects, like this blog. The time to run in the middle of the day. Mr. ThreeYear gets to work from home with no commute. We get to exercise in the middle of the day together. We get to spend Thanksgiving and Christmas at the beach. The beach!
Let's look at a video from last year's Thanksgiving weekend:
Snow or ice, it was the beginning of a loooooonnnnng winter. And this year, we'll be at the beach.
Let's take a look at the beach in the winter:
So, here's what I took away from yesterday's conversation:
No matter how much money you make, you'll almost never think of yourself as rich if you're comparing yourself to people who have a bigger income.
No matter how much money you make, if you spend it all and save none, you'll feel poor.
When you have a high net worth, it gives you financial confidence and reminds you that mindless consumer spending does not bring happiness.
You have to take a step back and give yourself a reality check once in a while, instead of just living in your bubble and comparing your life with the others around you.
Our family has not yet reached financial independence at the level of spending that we'd like to maintain in retirement (we're looking at more of a Fat FIRE), but we're definitely on our way to that goal. We're reminded of the importance of sticking to that goal and continuing to save large amounts of our income every time we hear the hints of financial uncertainty or doubt from those around us.
That means that we have to do reality checks often, and remind ourselves that we don't need new cars, or to upgrade our kitchen, or to send our kids to private school, because all those things are fine as they are.
Because no matter how big your income, if you spend it all, you have, both relatively and absolutely, nothing.