The first month of summer has now passed. For the ThreeYears, it was a whirlwind of swim practices, swim meets, and a job acceptance. That's right; as of August 1st I'll officially be gainfully employed (although I don't actually start teaching until the end of the month).
I also took a bit of a break from blogging. I had been blogging three times per week; that's a lot of writing. I took a rest from getting up early in the mornings and blogged once or twice per week instead.
While the boys had a great experience in swim team, it reminded all of us that we don't like to have lots of activities in the evenings. For the first two weeks of June, we didn't eat dinner as a family once (and we almost always do!).
Our Progress
In June, our net worth came back up to 65.6% of our goal, having gone down by several percentage points last month. Our goal was to reach 100% of our December 2016 net worth by December 2019, that is, to have doubled our December 2016 net worth in three years. While we're still a long way from our goal and I don't think we're going to get there, I'll start getting paychecks in August, so my 403b contributions will start then. I'm looking forward to making more progress than we would have otherwise for the last five months of the year.
You're getting last month's chart again, since I'm at the beach and don't have access to my spreadsheet (I had to estimate net worth, too, but I'm pretty sure I'm close).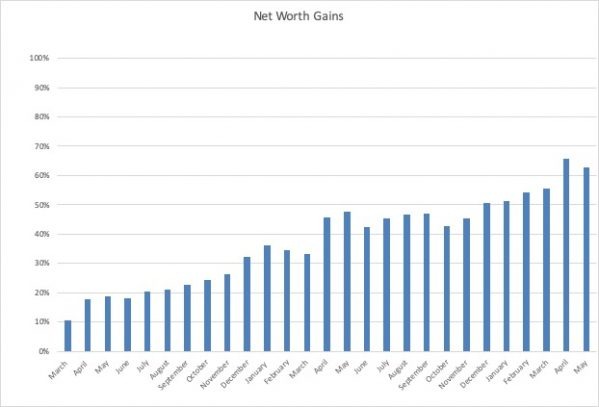 Percentages
While I don't share actual numbers, I thought it might be an interesting addition to my net worth updates to share percentages. This is currently the percentage of net worth that's in each category.
Spending Update
We are not-a-super-frugal family (this month, we're the opposite, as you will soon see), so I hope our spending reports are helpful to look at/inspirational if you're not either.
We're proof that you can reach your financial goals without being extremely frugal, although that certainly helps things along!
Here's our financial situation:
We're debt free, except for our 15-year mortgage.
We achieved our dream of location independence, so we're not in a hurry to reach FI after doing that.
We are a high income family, as per this calculator.
We are not planning to retire for another ten years.
We plan to retire in the FatFIRE category (here's the definition of that term).
We're not particularly frugal, although we have been working to get better at our spending for the past decade.
Notes on Our Spending Reports
We don't include our mortgage in the spending reports. These spending reports are a way for us to have a more realistic idea of what we'll spend in retirement, and since our mortgage will be paid off then, we don't include it.
We do include the costs we pay for health care, since we'll definitely be paying those costs in retirement.
Our spending reports don't show how much we save, only what we spend. But the less we spend, the more we have to save.
JUNE SPENDING
We use YNAB to track our spending, and we budget a month ahead, meaning we use money from the previous month, May, to pay for our expenses in June.
Full disclosure for June: we overspent our budget and had to dip into savings, quite a bit. I wish there was some great reason for this, but in the interest of full transparency, I will tell you that from my end, it felt a bit like there was some keeping up with the Joneses going on here.
I haven't been shy about sharing my unease at living in our high consumption country club neighborhood. People around seem to have ridiculously high incomes. From the few people who have shared their actual incomes with me, they're way higher than ours and I think ours is super high (it is, according to US income reports. We're well into the top 10%).
I've noticed that we have started spending money on things that in New Hampshire we never would have–more expensive activities for the kids, way more spending on the house, more casual spending at our neighborhood cafe (beers after tennis, food at swim meets, etc.).
It's definitely why it's so important to choose your neighborhood well. It makes an incredible influence on your spending! I will have to write a cautionary blog post on this topic later.
The only thing I've figured out to do about this trend is get a job. That will stop my tennis (which I enjoy, but is really expensive) and limit my daytime social outings with friends. I'll be hanging out with fellow teachers who are usually more frugal, so I hope that helps a bit.
I'll also have income to contribute to the household after several high spending months. The coffers are feeling bare.
Charity
Charity: $238. Compassion International donation, donation to my alma mater, donation to a friend who's running for school board
Food
Groceries: $846.01
Eating Out: $379.69. More than normal but we tend to eat out more during the summer.
Fun
Entertainment: $59.84. Primarily, a trip to the movies for the boys for their birthday.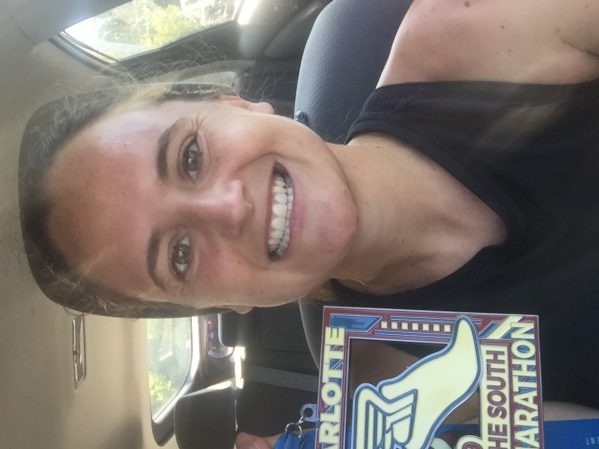 Fun Money: $672.57. The vast majority of this was for my new iPhone. I got a new 7+, after my old 6+ got touch screen disease (apparently, a thing) and stopped working. I ended up spending about $415. I was surprised at how expensive the 7 models still were! The rest of the expenses were for a new umbrella we got (used) for our patio, Sling TV, for Mr. ThreeYear to watch the French Open, and a cash withdrawal.
Gifts: $172.68. This was for both boys' birthday presents as well as some flowers we bought for a friend.
Health
Health Insurance: $447.68 This year, we switched to a high-deductible HSA account. In addition to our health and dental premiums, we also have $250 per paycheck taken out for our HSA fund.
Fitness: $1294.10. I know this number is crazy high. It is a combination of our tennis and swimming dues ($363), swim team for both boys ($180 each), tennis lessons for Mr. ThreeYear (one), tennis lessons for me (one), tennis lessons for Junior ThreeYear (three), food at our local cafe (approximately $40), and I think that's it. I didn't itemize our bill like I usually do when I put it into YNAB so that's why it's all mixed together. This is, incidentally, by far the highest it's ever been.
Household
Clothing: $392.04 Mr. ThreeYear and I went shopping at TJ Maxx and Loft (both of us and me, respectively) for clothes for his work conference in Vermont. I admit that I went a little wild and spent way more on clothing than I normally do. I bought a bathing suit, a pair of pants, a pair of nice shorts, a dress, some shoes, and several shirts. I was also thinking about using the clothes for my new job this year.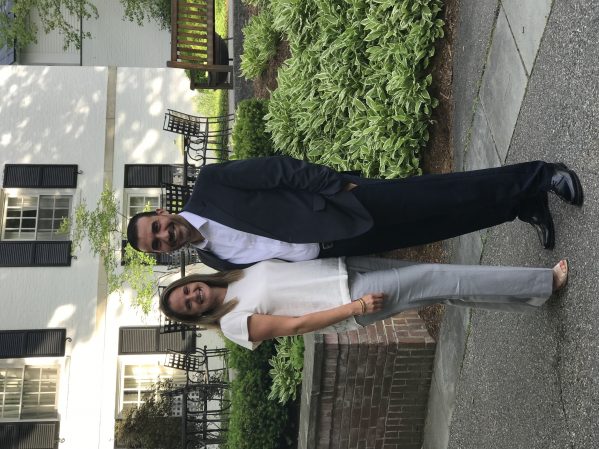 Exterminator: $109. We signed up for a quarterly extermination service. As soon as the year's over, we're going to start doing it ourselves. They only spray outside the house anyway. But in the South, it's a necessary evil–otherwise we get cockroaches everywhere (yuck!).
Haircare: $19. One haircut.
Home Maintenance: $435.42. We bought some boards to fit Little ThreeYear's bed frame (and fixed it), door stops, and other odds and ends to continue fixing up the house.
Household Goods: $313.00. Okay, true confession: I have my computer at the beach and it makes it almost impossible to see what this category holds because I'm at the beach and don't have a mouse. So all I see is several Target transactions. Ugh.
Postage: $43.27. I sent my passport off to be renewed and also sent a graduation gift to a friend in NH. This amount included a card and the package envelope.
Service Fees: $70.31 This was the annual fee for one of our credit cards minus the interest paid by our new Ally savings account.
Kids
Activities: $249.75 This is end-of-the-year gifts for the kids' teachers plus one $25 payment for school lunch. This is really more kids' expenses, but the kids' activities were included in the fitness category.
Expenses: $469.93 We spent about $215 on the boys' combined birthday party at Frankie's Fun Park (spending money for guests and pizza afterwards). We spent $140 on a Ninja Line gift for them (this should have gone in the Gifts category). Junior ThreeYear used birthday money to buy an Xbox game (which he paid me back for in cash).
Camp: $150. My parents generously paid $250 each for the boys to go to a super cool camp in August as their birthday present. This was the part we paid.
Pet
Pet: $31.76. These were birthday presents for Lulu that didn't post until June.
Transportation
Gas: $188.83.
Utilities
Internet: $0. Mr. ThreeYear's work is now covering this.
Subscriptions: $37.94. Ooma, Spotify, Skype, Netflix.
Electric: $134.38. A higher summer bill.
Natural Gas: $20.87. When the electricity bills are higher, the natural gas bills tend to be lower.
Water & Sewer: $130.27. We've been watering our grass so this is what I expected.
Cell Phone: $56.41. Our cell phone bill went up because one of the things we bought the boys for the birthdays is a Relay device for each. Relays are walkie-talkie devices made by Republic Wireless, that allow the boys to walkie talkie in from anywhere to us via an app in our phones. It's really convenient because the devices also have a GPS so I know where the boys are if they're walking to swim practice, etc. We didn't want them to have phones yet (at 12 and 9, I still think they're too young) but they needed some way to communicate. Each device costs $10 per month.
Total: $ $6962.75
Here it is in a condensed format:
June 2019 Spending
| CATEGORY | COST | NOTES |
| --- | --- | --- |
| Charity | $238 | Compassion International, donation to my college, donation to a friend's school board campaign |
| Food | $1225.70 | high groceries, high eating out |
| Fun | $905.09 | a new iPhone for me, a movie for the boys, birthday presents |
| Health | $1741.78 | health insurance and swim team, tennis costs |
| Household | $1382.04 | Death by a thousand cuts again. |
| Kids | $869.68 | joint birthday party, end of school gifts, camp |
| Pet | $31.76 | birthday gifts from last month |
| Transportation | $188.83 | gasoline |
| Utilities | $379.87 | phone, Spotify, Skype, electricity, natural gas, water & sewer |
| TOTAL: | $6962.75 | As they say in Chile, "!Plop!" |
July
We're at the beach this week, celebrating the Fourth of July. Next week we'll be back home, getting ready for my birthday (40!!) and my sisters-in-law who are visiting from Chile. Swim team is over, so I hope we have a few more relaxed days where we go to the pool, maybe hit up a museum or two, and in general enjoy a little "boring" summer time.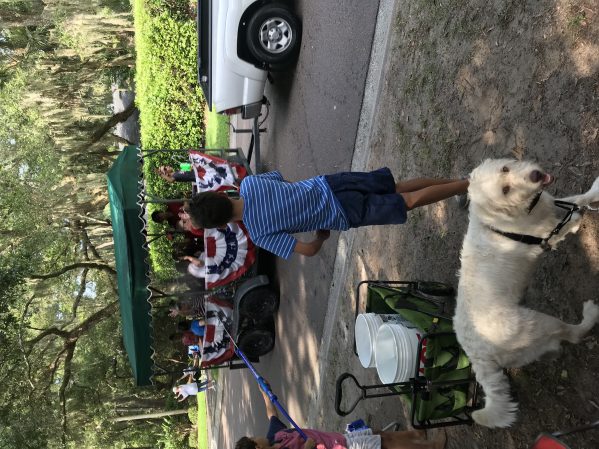 I hope that this month's spending isn't as crazy as last month's, but I don't hold out much hope since we'll have visitors and we want to show them a great time, since it's the first time they're ever visiting the US!
August is when I start working, so maybe things will get back to (a new) normal at that point. Only time will tell.
See you next month!