Happy Memorial Day. Many thanks to those who died serving their country, and to the families they left behind, we are grateful.
It's been almost a year since my family achieved our goal of location independence and moved to North Carolina from New Hampshire.
Which means it's been almost a year since I stopped teaching.
When we moved, I took a year off teaching in order to make sure that we got the boys into the right schools, we could get them well-settled, make appointments with doctors, dentists, counselors, and get their lives set up.
In many ways, this past school year, soon coming to an end, has been a practice retirement for me. Sure, I've had small jobs: I've tutored a middle schooler in Spanish once a week, written several freelance articles for various websites, and blogged three times a week. But by and large, I've had large chunks of free time to fill up and enjoy.
For one thing, both boys adjusted to their new schools really well. They had great teachers and counselors in place who made sure they were getting the assistance they needed. So I could take a giant step back from setting up counseling appointments, getting them into charter schools, and the like. They just didn't need those things.
For another, we had hardly any activities programmed this year. Junior ThreeYear went to a climbing club once a week and Little ThreeYear had tennis lessons for half an hour on Sunday afternoons and did Lego club for a few weeks in the winter. Other than that, they didn't do any organized activities.
The weekends, by and large, have been blessedly unscheduled. Mr. ThreeYear might play tennis, I'll take Lucy to the dog park, we might have some friends over for dinner. On Sundays we'll go to church then come home and mow the grass or fold laundry.
During the week, once I get both boys on the bus, I am left to my own devices.
Exercise
One of the most amazing things about my year of faux-retirement is my ability to exercise. I've latched on to a schedule that works nicely for me.
On Monday mornings, after I get Junior ThreeYear on the bus, I'll do a long run (because I'm currently training for a half marathon–before about March, I wouldn't do anything or occasionally go to the gym on Monday mornings). On Tuesdays and Thursdays, I've found a group of people I regularly run three miles with.
On Wednesdays and Friday mornings, I play tennis (matches and practice, respectively).
Blogging
A large, wonderful part of my year of retirement has been blogging. When the school year started, I was determined to spend more time on my blog. I signed up for a couple of blog courses, and made a few tweaks to the site.
I even contemplated starting a new blog about a topic I'm passionate about.
But I found the most meaningful time spent blogging was the thing that's kept me blogging for two and a half years–writing.
The blog has been a place for me to process and understand my feelings about living in the strange new world that is this particular neighborhood in this particular town. I wondered how readers would respond to a blog about post-FI, one that's a bit aimless in its topics.
I'm happy to report that despite these limitations, the blog has slowly grown.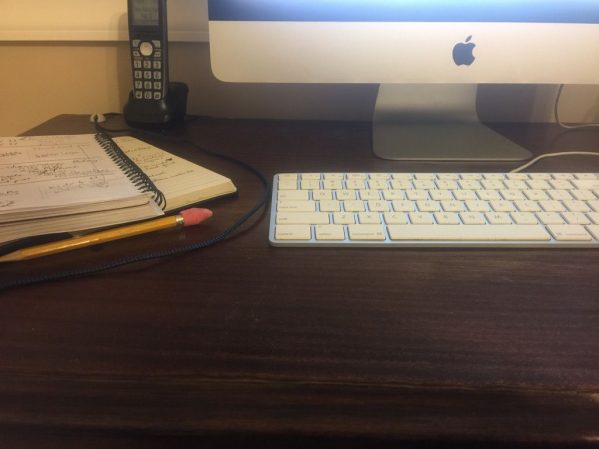 Social Activity
I soon realized that I required a certain amount of social activity in my days or I'd become depressed and malcontent.
In the winter, I joined an indoor tennis league in an effort to meet some people. That worked out very well, and I soon began playing tennis once, then twice, a week. I've since made friends with the people I played with and joined a whole new team where I made more friends.
Now that it's summer, I almost have more social activity than I know what to do with. That never happened in New Hampshire. This weekend, for example, we've been to our neighborhood pool with friends several times, ben invited over for cookouts, and invited people over for the same. We've gotten together with family several times.
The best part about all of these plans is that they're impromptu. We didn't have a weekend full of programmed stuff to do. We were just casually hanging out when the doorbell rang and our neighbors asked if we wanted to go to the pool, or we suddenly decided to call our family and have them over to hang out.
As a social person, this is a pretty amazing way to live. I've complained a lot about the neighborhood we moved into, being too fancy pants and country club, but this part of it is amazing. We live in walking distance to the pool and our kids play outside with the neighbors all day long. I have a feeling this is going to be a pretty awesome summer.
The Hard Parts
As great as some parts of this year have been, it hasn't been without difficulties. I've been bored a lot. It's taken a while to fill in my schedule with regular activities.
I've lacked purpose. Often I've felt like I'm not accomplishing anything of meaning. I've read 4,767 books (not really, but almost) but only a few of those were books of substance.
I've spent a lot of time sitting in my "chair" (not good to have a chair when you're less than 40) reading or scrolling through Instagram, before I practiced my digital fast, anyway.
I don't like not earning money. It's much more fun to have an "extra" income coming in that we can travel with.
I've also found that my days can quickly get eaten up with minor things, like lunch with friends. Then big projects, like improving my blog, get relegated to the back burner.
I've had to take a cue from John at ESI Money and curtail social visits with friends during the day, because those visits really do eat up all your free time.
Next Steps
I've spent the past few weeks applying for part-time and full-time teaching jobs. I haven't heard anything yet, but I'm going to keep looking. I have a feeling I'll find a job near the end of the summer or in the fall, which is when schools figure out their ESL needs and are desperate to hire.
That means my year of practice retirement will be over. But I'm ready for a new challenge, for days with a little more structure, and for paychecks.
This year has given me new insight into how much planning and preparation our real retirement will require. Mr. ThreeYear will need a lot to keep him busy and so will I. I'm thinking we'll need to embark on an entrepreneurial venture or volunteer a lot to keep us busy enough to keep from getting restless (Mr. ThreeYear gets restless easily).
I've known that this year is a short season, and have treated it as such, but I'm sure I'll mourn it when it's over. I'm definitely not ready to turn my one-year sabbatical into a longer sabbatical, though.
I'm ready for a new challenge, for structured days, and for colleagues. I'll keep you posted on how it goes!