Years ago, I published pictures of what I called our semi-minimalist home in New Hampshire. Minimalism isn't a contest and there is no right way to undertake it, but I hesitated to call myself a full-one minimalist because I don't believe I have gotten to the place where I eschew material items enough to warrant the full title.
Still, we practice a reduced aesthetic in our family, and while we still consume too many material goods, we regularly reflect upon and rid ourselves of extraneous belongings in order to make our home calmer and more inviting.
I gave you a tour, four and a half years ago now (wow!), of our New Hampshire home, and I thought you might be interested in seeing how we've organized our North Carolina home. It has taken a lot to get our home pared down, as it is a full one thousand square feet smaller than our previous home, but luckily it has more bedrooms, so we have been able to create spaces for everyone in the family (and for Mr. ThreeYear's office!) and to make our home work. And we're trying valiantly not to move into a bigger home, given that we would probably have to spend double to find a larger home in this crazy market.
Our home was built in 1999, so it is a bit of an older home, but it has been a great home in a solid location for three years now.
First, here is our living room.
We keep several decorative pillows and a plant on the side table, as you can see, but other than that, our decor is sparse (I got our cute glass coffee table for free on FB Marketplace-so proud of that find).
This is the other side of the room, with our television and chair. Family photos and plants are important to us so we have filled the built-in with those.
Here is the kitchen. As you can see, it is open to the living room.
I have posted pictures of our recently-renovated half-bathroom before. Here it is again.
Next is Mr. ThreeYear's and my bedroom. I keep my charger in the first drawer of my bedside table (I drilled a hole in the back for the plug) and that has helped me keep clutter off the bedside table.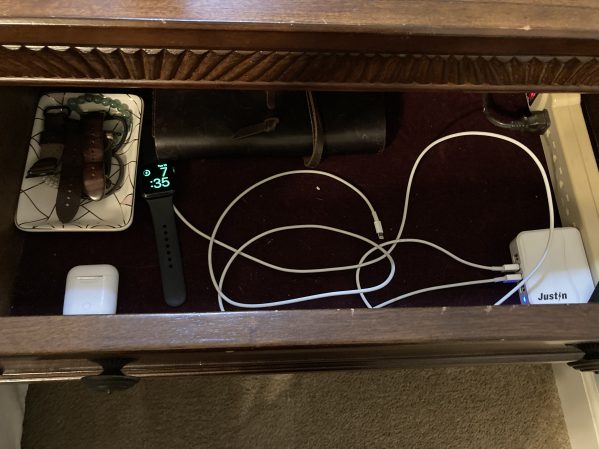 It looks like this inside.
This is our bay window in our bedroom, where we keep a spare blanket for cold days.
And this is us playing arcade games on the floor.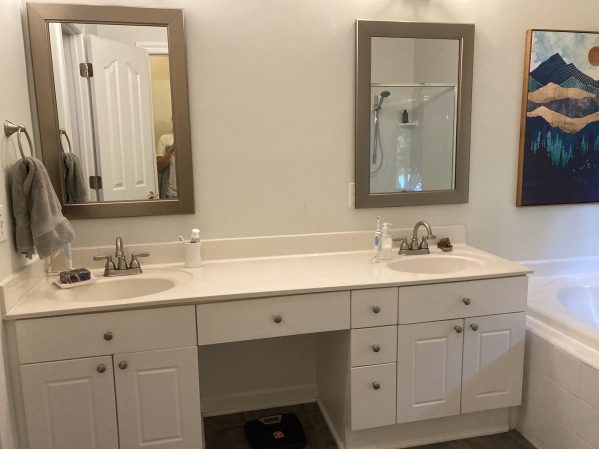 Here is our attached bathroom. We keep as much as possible in the drawers and cabinets.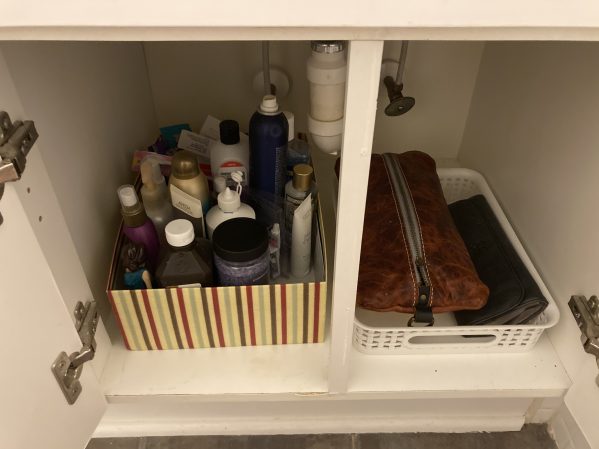 As you can see, I have a lot of products under the sink. I don't use half of them, so I need to go through them. On the other side of the cabinet is my travel bag I can just grab whenever we travel, my jewelry bag (underneath), and my large makeup brushes (I also have a travel size brush set in my travel bag).
We keep very little out on the counters. It is much easier to keep clean that way.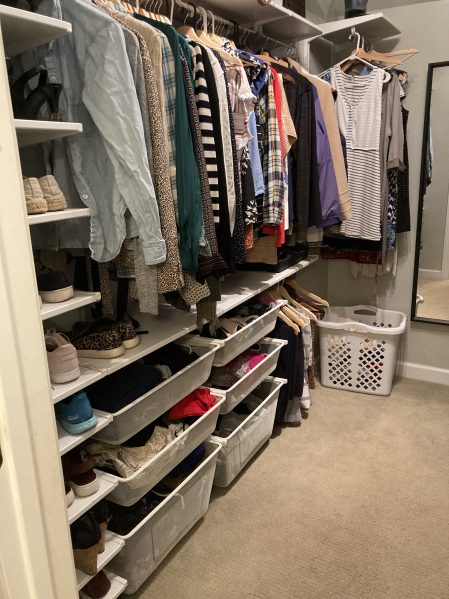 Our closet is in our bathroom. It is not minimal, as you can tell, but we installed a closet system a couple of years ago that keeps it super organized. I love our closet so much.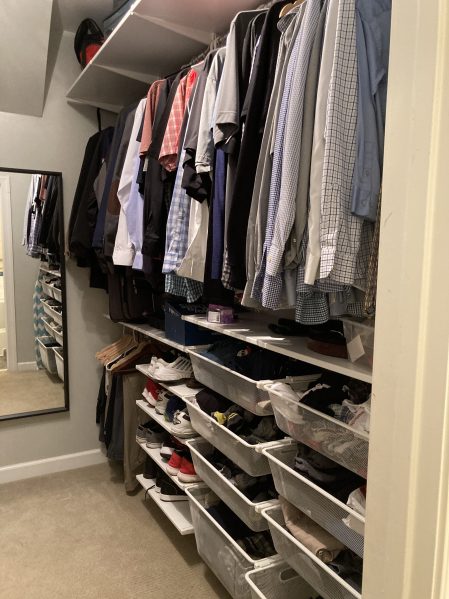 Here's Mr. ThreeYear's side.
In the kitchen, we keep just what we need and use. Sometimes that looks like this:
And sometimes it looks more like this: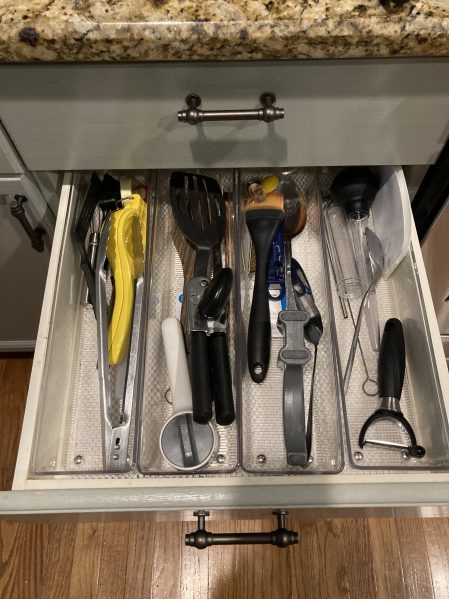 We keep just what we need for plates, and when they're dirty, we wash them. Currently, our cabinet looks like this (looks like most of our bowls are dirty):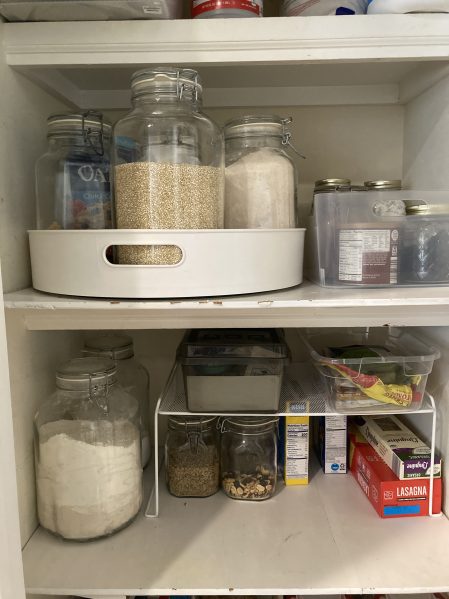 Here is a select shot from our pantry. Our pantry is small and so it rarely looks this good, but it is now organized, thanks to my sister. She organized it, complete with bins and shelves, for my birthday last year.
Organizing in progress!
Here is our living room. It is another room in our fairly small house for the kids to play ipad or read in.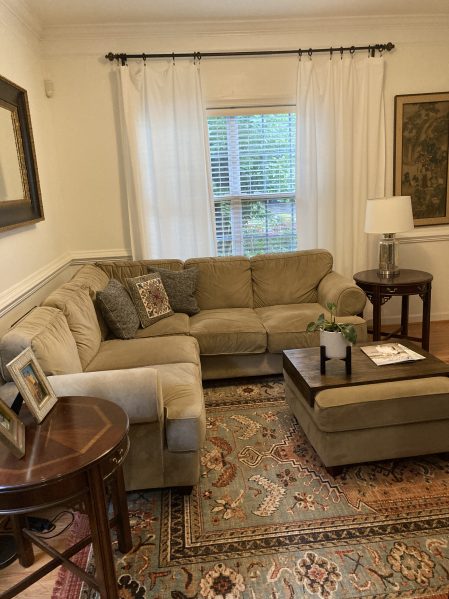 Here's another angle showing the bar area, where we entertain (there's not a lot of entertaining space in this house).
On to the upstairs. Junior ThreeYear's room looks like this:
I outlined how we redid Junior ThreeYear's room in this post.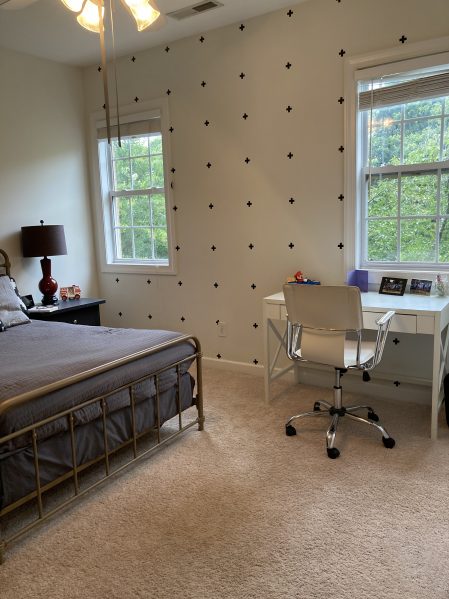 He uses his desk a lot, especially when he was in virtual school. Thankfully that is over!
Here is a bookshelf that we painted with chalkboard paint (it was a thrift store find).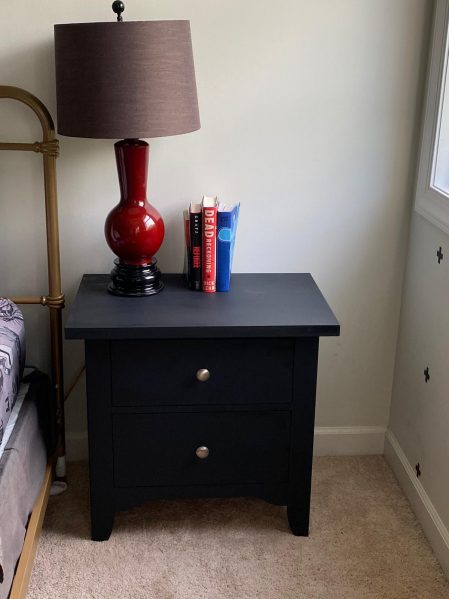 Here is his side table, also a thrift store find, also painted with chalk paint.
Here is how his room actually looks, with him in the bed reading, eating chips, and playing on his phone (or all three!).
Here is our guest room/upstairs play room/upstairs TV room/my occasional office.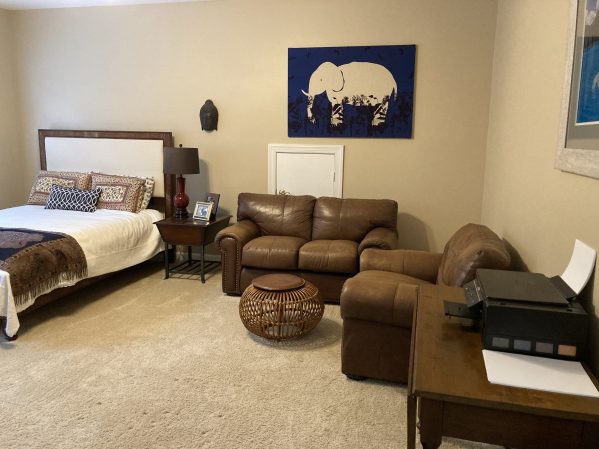 It is a large room and really functions as a catch-all room.
Unfortunately, I cannot show you the normal, semi-minimalist state of Little ThreeYear's room, because it is the summer time, and to entertain himself, he uses every square inch of his bedroom to create. Here is what I mean:
At least we confine it to one room and can close the door. He is my creator and he is meeeeesssssy. But you know what I've learned over the years? Sometimes he needs a few days or weeks to create, and then he is content to break down or recycle his creations (he likes to make weapons out of cardboard, currently-that's the stack in the corner by his bed). So, I live with the mess (in his room!) for awhile, and then we can return to some semblance of normalcy. Although his desk…. it is pretty much permanently stacked with stuff. Sigh.
On the other hand, my other messy person, Mr. ThreeYear, is keeping his office pretty tidy these days. Exhibit A:
Well, that is the home. I hope what you will take from this tour is that we are not perfect. Perfection is not the goal. I recognize that we live in a very nice home in a very nice neighborhood, and I feel so fortunate to have the lovely furniture and space that we have.
However, one of the really hard things about living here is that we are constantly surrounded by people who are updating their homes, renovating, adding pools. We had a friend say to us the other day, "well we HAD to renovate [the whole house] because it hasn't been redone since 2005!"
We try as hard as we can to resist the pull, but we are not immune. Still, we practice gratitude, try to live simply, and constantly pare down. In fact, after snapping some of these pictures, I have identified a couple of items I can let go of (the extra can opener in the kitchen drawer, for example).
Because really, minimalism isn't about your stuff, it's about your mindset. And while we have a long way to go, we've come far, too.
Hope you're having a happy, hopefully simple, summer!