love minimalism. I discovered Becoming Minimalist and The Minimalists about three years ago. I started my minimalist journey with Courtney Carver, of Project 333, and used thirty-three items of clothes per quarter, for about a year. At the same time, I started cleaning out our house, getting rid of things we no longer needed.
During one January break, when we were snowed in, I tackled about twenty boxes of books that had been stored in various basements since my college days. I curated my collection, keeping maybe thirty tomes, and giving the rest to charity. I read Marie Kondo last year, and Konmaried the rest of my house.
While The Minimalists recommend a more radical approach of boxing up everything you own, and then only pulling out the things you need as you need them, my own more measured approach worked better for me and our family.
I think it would have been very hard for my boys to suddenly have nothing in their rooms and have to go dig out the toys they wanted. This way, I've slowly boxed up things they don't play with anymore, and I store those in a big Tupperware bin in our storage closet. If the boys don't ask for any of the toys inside for six months (and they rarely do), then I donate them to charity.
The reason minimalism is probably so appealing is that there is so much in my brain at any one moment (by the way, this is a great read for decluttering your mind:–Argh! See what I mean??).  Having a home that is simplified is transformative. Some people need to be surrounded by shelves of books, knickknacks, and mementos from times gone by, but I found freedom in the idea that memories do not reside in material possessions; instead, I keep journals and digital photo albums.
Here are some pictures of my house as it stands now, after we've gotten rid of many extraneous belongings (keep in mind that minimalism might look very different for you. It certainly does for The Minimalists). This is the home we will need to get ready to sell before we embark on our journey of moving abroad.
Welcome to our home. We live in New England, so we have lots of coats (we turned our coat closet into the bathroom, the edge of which you see here, so we put up a handy-dandy coat rack for our coats).
Here is the family room. While the patterns are full-on, what we keep on our tables is minimal. One of my projects is to paint this room the neutral gray of the rest of the first floor.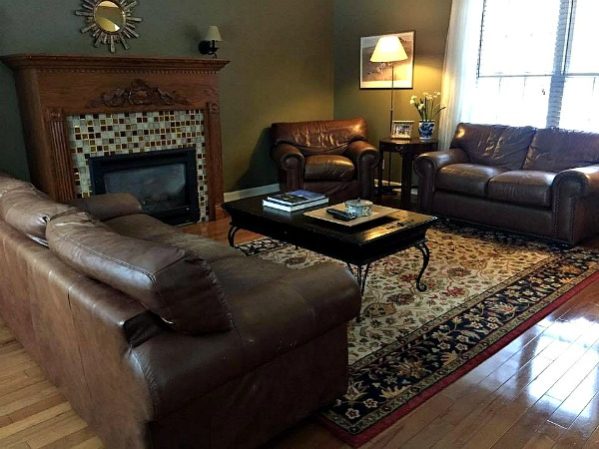 This is the master bedroom. We keep one picture each on our nightstands, plus one book and an Ipad (for me) and an Ipad (for the hubs).
Here is our Master bathroom. Yes, I realize it is a spa oasis. We bought the house already built like this, with the stove. It is actually one of three stoves that heat our house, so it isn't just decorative.
Another view of the bathroom with the shower (I weigh myself daily to keep me honest).
Now we head upstairs. Our stairwell did come with this colorful carpet that we haven't changed out. We kept everything else neutral.
We come upstairs to the landing, and then our semi-minimalist tour takes a bit of a turn, shall we say.
Many people ask how to minimalize possessions with kids. Over the years, we have dramatically reduced the number of toys, clothes, and possessions the kids have. Some I've gotten rid of; some they've gotten rid of. The net result, though, is always the same.
When my kids have less choices–toys, clothes, books–they engage with their things more. They play with their toys more, read their books more, get dressed and put clothes away more efficiently. It's something that Kim John Payne talks about in the great books, Simplicity Parenting: paradoxicly, children are much happier when they're presented with less choice in their environments. That being said, we've just had Christmas at our house, and we need to go through their things and get rid of some (especially Legos and books–you'll see). Minimalism only works long-term when you get good at both parts of it–outflow AND inflow. While we've definitely gotten better at buying less, we're still works in progress, and our extended family loves to gift toys, too. Every year we bring in a smaller quantity of toys and gifts, but it's still a huge amount. So, without further ado, the upstairs:
The guest room is pretty simple.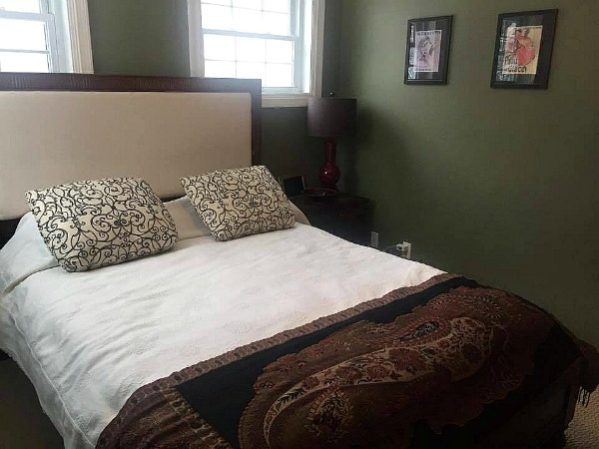 The boys' rooms, though, still have lots of toys. We keep toys in two places: in their rooms and in the basement. So, this represents the vast majority of their toys in these pictures.
This is how my older son's room looked this morning. Here it is, in all its realness (the bed is sometimes made but not often):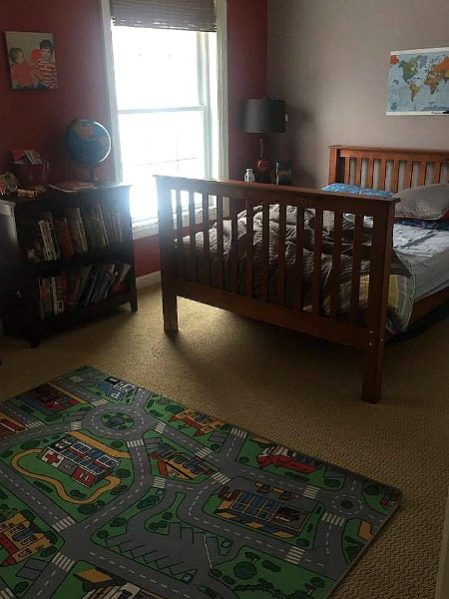 Finally, let's head downstairs, to our mudroom and basement. We use the blue bench when we take our boots on and off. Our boot and coat racks are (conveniently) just outside of the frame.
The basement. It also needs a bit of work, but it's also Hub's maincave, so there's more stuff here than in the rest of the house.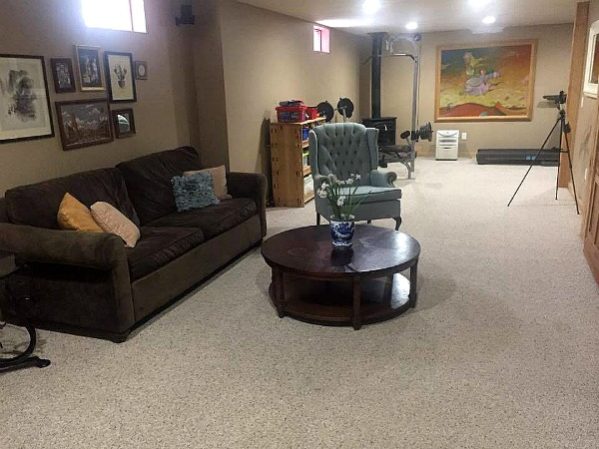 Here is the part of the house that I'm not allowed to touch. Hubs, while he likes to keep clutter to a minimum, needs a certain amount of it in his corner of the house.
Contrast this with my desk (which is also in our main floor, so people see it when they walk in). I work beter with a sparse desk.
As I was working on this post, something that we have been noticing has become readily apparent. Our house is big. It's not huge, by American standards, but it is a 4-bedroom, 2 1/2-bath, 3500-square-foot space. That's big. Since we've reduced the number of things we own, we notice that abundance of space more. Our house is now too big for us. Several years ago, we toyed with the idea of selling it and renting a smaller condo closer to my husband's job. When you reduce the amount of belongings you own, you need less space. It's kind of beautiful. When we move, we'll be able to live in a much smaller space, which will not only lower our living costs, it will allow us more flexibility in where we live (this kind of space doesn't exist in our price range in major cities).
Another appeal of a semi-minimalist home is that it is easier to sell. Because we have few belongings, we won't have to box them up and radically downsize when we move.
We do have several more projects for the house, including (gulp!) replacing the roof, painting the first floor, and possibly adding heat to the upstairs (we currently use electric space heaters–a big power drain in New England).
In the meantime, we'll continue to minimalize our possessions.
Any suggestions for saleability, readers?