Happy birthday, Mr. ThreeYear! Today is the anniversary of another trip around the sun for him and I want to give him a special shout-out for being my partner in this crazy location independence experiment we've undertaken.
As our family gets closer to our dream of location independence, I keep getting rid of more and more of the material things that we no longer need. Since 2014, we've worked on creating a house that has just enough, and ridding ourselves of our unnecessary possessions.
This is the 100% true story of one of my favorite books, told by me as I remember it. I realized, after being reminded of its existence recently (details of which you will soon read) that it represented a perfect analogy of my own journey toward distancing myself emotionally from my stuff.
Minimalism an ongoing journey for me, and I still have moments. Lots of moments, when I really, really crave material things (like a new pair of jeans when I already have four pair). Or I can't imagining parting with that stainless steel bowl someone gave me for our wedding (that I've never used once in all our fourteen years of marriage).
Slowly, though, over a period of just over four years, I've gotten better at separating the emotions or memories I have from the things I own.
But I digress…
I remember the day and the details like it was yesterday. My mother had driven me and my younger sister on a special shopping trip after school. We'd gone to the mall, which was close to the private school I attended, a 45-minute drive from my house. My own little town was way too small for a mall. But Orangeburg had the aptly named Prince of Orange Mall, and inside the mall, was the… bookstore.
For me, the book store was better than any other store in existence. I loved toys, but books were treasures. When I walked into a book store, I saw hundreds, thousands of possibilities. Of worlds to explore. Of things to learn. The Babysitters Club series. Nancy Drew. Beverly Cleary. Shelves upon shelves of books about other countries, other worlds. My mom, in a laudable show of parental restraint, allowed me to select just one book to purchase.
That day, the store was featuring a new book it had in shop, by an author with an odd name. The book was called Matilda, and it had a squiggly illustration of a small girl on the front, written by someone called Roald Dahl. The book was a sunny yellow paperback, and I finally chose it as my treasure.
I remember getting home, and sitting on our finished back porch, with its green astroturf between my toes, and continuing to read the delightful story (because of course I'd started it in the car on the way home). My grandparents had owned the house before my parents did, and finished the porch, so my grandmother is the culprit behind such an odd choice of flooring. Astroturf.
But I digress…
I opened up the book and continued to read. I was transported across the pond to a middle-class home in England, where a precocious 4-year-old named Matilda learned to read, made daily trips to the library when her horrible parents wouldn't buy her books, and began to play tricks on said parents when they made her life difficult.
She eventually went to school and met her wonderful kindergarten teacher, Miss Honey, who was bullied by the headmistress, Ms. Trunchbull (Road Dahl has brilliant character names).
I was recently reading the very interesting book The Art of Frugal Hedonism (affiliate link) and the author quoted a passage from the book, a lovely passage about Miss Honey's spare and simple living conditions. Miss Honey has been bullied by her aunt to the point that she has her wages garnished and is now living in poverty, but Matilda sees the beauty in her teacher's way of life:
The cottage was so small it looked more like a doll's house than a human dwelling. The bricks it was built of were old and crumbly and very pale red. It had a grey slate roof and one small chimney, and there were two little windows at the front…an enormous oak tree stood overshadowing the cottage….
The Primus was roaring away with a powerful blue flame and already the water in the saucepan was beginning to bubble. Miss Honey got a teapot from the cupboard and put some tea leaves into it. She also found half a small loaf of brown bread. She cut two thin slices and then, from a plastic container, she took some margarine and spread it on the bread. 
Matilda perched herself carefully on an upturned box and more out of politeness than anything else she took a slice of bread and margarine and started to eat it. At home she would have been having buttered toast and strawberry jam and probably a piece of sponge-cake to round it off. And yet this was somehow far more fun. 
It's also interesting to note that Roald Dahl casts his own judgement on the consumerism of modern-day England. Matilda's parents have the best of everything–fancy cars, delicious food, and of course their telly, in front of which they eat all of their meals and around which their life revolves. They, though, are the villains of the story, the mindless consumers who miss the remarkable genius of their daughter because they are too annoyed at missing their programs.
Matilda was one of the few books that I read over and over. When the movie came out a few years later, I dismissed it as a pale imitation of the real story. Matilda's brilliance, her chutzpa, her ability to take matters into her own hands and make new outcomes for herself, appealed to my 9-year-old self greatly. I held on to that book through two childhood moves. Throughout college, I pared down my book collection, but the cheery yellow Matilda stayed with me.
When I moved to Chile, at 22, I told Mr. ThreeYear about my love for the book, and its feisty heroine. We decided that "Matilda" was the perfect name for our first child, who would be a girl. Junior ThreeYear, who was, in fact, a boy, was almost named Matilda.
Read More:
Mr. ThreeYear and I had a big wedding in 2005 (we were married in Chile the year before, but repeated everything the very next year on the same date in my parents' home in South Carolina). Several members of Mr. ThreeYear's family from Chile were able to come, including his nieces Fatima Andrea and Francisca. While they were visiting, they saw the book Matilda and said they'd read it in Spanish. "Why don't you take it back to Chile?" I offered, "So you can try to read it in English, too?"
So my little yellow book was packed up in the girls' suitcase and transported down the long length of two continents and added to their bookcase in Santiago.
For many years, I forgot about the existence of the book, until Junior ThreeYear was old enough to begin reading Roald Dahl himself. Then, I was transported back to the wonderful story of my feisty heroine when we read the story together. Junior ThreeYear, unsurprisingly, loved Roald Dahl as much as I did (as much as most children do), and read every book ever written by him, multiple times.
This December, we traveled to Santiago, where it was summer, and visited our nieces' house many times. During one visit, Junior ThreeYear spotted a cheery yellow book spine amongst all the other books on a shelf. "Matilda!" he shouted. "I love this book!" "Do you want to take it home?" asked Francisca, now a 20-year-old. "Yes!" immediately cried my son, and so the cheery yellow book bought when I was 9 was tucked away into our bags, for the trip back to North America. When I saw the book again, I was hit with a wave of nostalgia, that my favorite book had made such a fantastic journey to South America and would be going home again, with my son.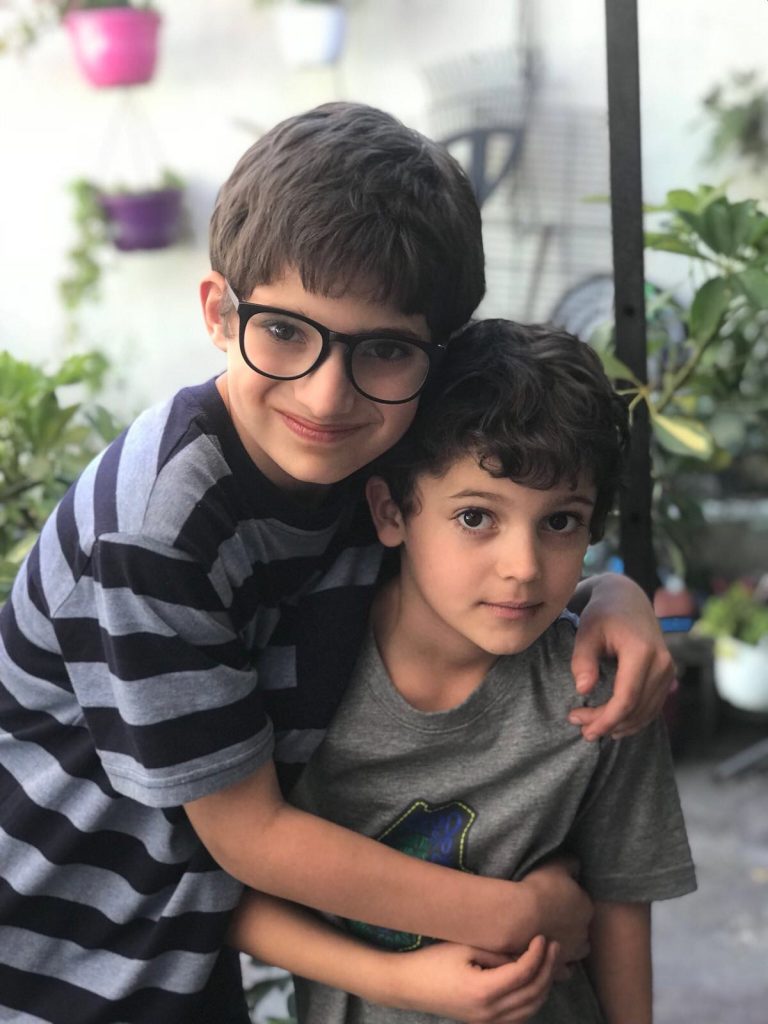 We had an amazing trip with our family, and very reluctantly parted during the first week of January. After a mammoth, but uneventful, trip home, we arrived back at the airport where we picked up our car. New Hampshire had been having a severe cold snap, along with lots of snowfall (no surprise for early January), so Mr. ThreeYear and I found our Prius buried under mountains of iced-over snow. We were not adequately dressed for digging the car out in -5F weather, to say the least. While the boys were comfortably waiting in the warm rental car, we were out in the elements in our jeans, running shoes, and thin gloves that had been sufficient hand gear for when we left but definitely not sufficient for these conditions.
If you've ever dug a car out of icy snow, you know the snow does not magically fall away. It is not wet or malleable. It is hard, frozen, and very difficult to pry off a vehicle. Mr. ThreeYear found a car scraper to use, but I couldn't find anything to scrape snow from the roof, so I quickly poked my head back into the rental car, looked through the first backpack I saw, and grabbed a flat item I could use to clear the car.
It was a book. And yes, you guessed it, it was Matilda. My cheery yellow book from many decades ago was converted into a tool to help me get home, after an exhausting journey and now-frigid conditions. I would scrape, scrape, with the book, then dash back into the rental car, peel off my gloves, and hold them up to the heater until they didn't hurt anymore (-5 with thin cotton gloves is actually dangerous for your hands, I'm afraid).
After a few times of this scraping and warming up, I realized that my valiant scraping tool had lost its cover. Books don't like to be used to clear ice, it seems. So I abandoned the book to the car and found a piece of more appropriate plastic from the trunk to use.
We eventually cleared off the car and made it home. When unpacking, I put the now-torn and damaged Matilda on Junior ThreeYear's shelf. The cover had ripped off, the pages were missing chunks, but I thought, "I can fix it. It's still readable. I'll just tape the cover back on."
There it sat, for a week more, until I began to do some winter clearing. As I was organizing the books on my son's bookshelf, I realized that he had another copy of Matilda, with Quentin Blake's brilliant squiggly illustrations, that I'd bought him a few years back.
I looked at my once-cheery book, now torn and damaged, and had a realization.
It's something that Joshua Fields Millburn first wrote about so eloquently on The Minimalists, after going through his mother's possessions after she died.
It's not the object that holds the memories for us. Yes, seeing that cheery yellow cover did bring back a flood of memories for me, but holding on to the book itself won't help me remember or reclaim that time of innocence and discovery in my life. And it won't do so for my son. The lessons that the book taught me are stored away in my head, and getting rid of the book in no way affects my memories.
The book served me, in ways big and small, for almost three decades. I had no idea, when my mom bought me the book, way back in 1989, the journey it would take and the lives it would impact. But now its usefulness was over, and it was time to let it go. We had another book, un-crumpled and un-torn, and I could recycle my old copy of Matilda with nary a regret.
That is the story of a lovely book, and how it reminded me that at the end of the day, it's never about the material possessions I hold on to, and it's all about the memories I make with the people I love.
So, I'm going to continue minimizing our semi-minimalist house (and nudging Mr. ThreeYear to join me (here is a picture of a stack of laptops he's collected, none of which works. Think we need that many?).
Further Reading:
It helps as we eventually move and it helps as we simplify our lives to have less stuff. And realizing that stuff doesn't hold memories makes us more likely to turn to people for memory-making, which is as it should be in the first place.
Do you consider yourself a minimalist? Do you have things you just can't part with?