In Monday's post, I shared the things Mr. ThreeYear and I have done that I consider our best money moves. They were the habits or disciplines we adopted that have served us the best over our fifteen years of marriage. BUT, we've also made our share of bone-headed money moves, and today, you get to hear all about our very worst money moves of the past fifteen years.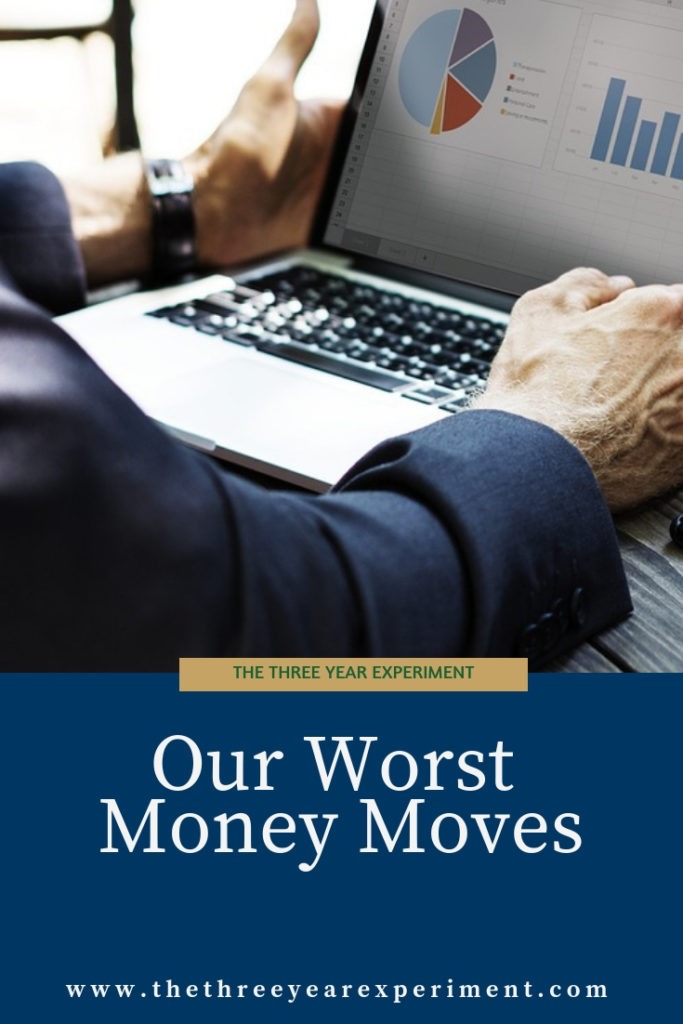 Buying Expensive Cars to Repair
When I was pregnant with Junior ThreeYear, we had two cars–a Jeep Cherokee Mr. ThreeYear bought after we moved to the States (used, because with two exceptions, we've only bought used cars) and an Acura Integra. This was the car my parents gave me, brand new, because I got a scholarship to college. It was a two-door coupe, standard, leather seats and CD player (rare at the time). It was such a good car. But we thought that because I was pregnant, we needed to get rid of the Acura and get a bigger car for the baby. So we went car shopping, and found a used BMW X5. I remember being transfixed because it had built-in shades that you could pull down in the back.
Our neighbor, who had just traded in his Audi, warned us that foreign luxury cars were expensive to repair, but we brushed him off.
Related Reading: What Our Cars Really Cost
Instead of trading cars with Mr. ThreeYear, I sold the paid-for, gas-sipping Acura and bought this BMW for about $16,000 (financed). For the first few years, the car needed a few repairs, but nothing too terrible. BUT, three years in, just when we moved to New Hampshire, it started to fall apart.
Junior ThreeYear and I were on the interstate when all of a sudden, the car just slowed down. It wouldn't respond to the gas. I managed to pull over on the side of the road before it completely died. We had it towed, and luckily, it wasn't the engine, but it was something else that cost $1,000. Meanwhile it had stranded a pregnant me and my not-yet-three-year-old son on the side of the interstate!
We only had two mechanics in town, and the honest one didn't work on BMWs, so we had to take it to the shady one (who was later incarcerated for dealing meth. Lovely guy). Long story short, the BMW cost us around $7,000 to repair that year before we wised up and traded it in.
Continue reading

"Our Worst Money Moves"