We are well into September as I type this post. We've just left the Charleston, SC, area, ahead of the mandatory evacuations for Hurricane Florence. We're watching carefully to see what the impact will be for the Charlotte area, where we live.
I definitely feel a bit like we've jumped straight from the frying pan into the fire, having left tough winter weather in New Hampshire for hurricane season in the Southeast. I've weathered the fringes of hurricanes several times but it's been awhile so I'll report back from the other side next week.
Let's see how we did with our grocery buying experiment last month. But first…
The Reason for This Experiment
This year, our family is challenging ourselves to spend less on food so we can save and travel more. Last year, I adopted one habit a month that would translate into better money moves for our family. You can read all about our A Year of Good Habits here.
That experiment worked so well that we tried a new one this year. In 2018, we are challenging ourselves to do better at our food spending. Last year our family spent over $12,000 in groceries, or $966 per month.
This year, our goal is to spend 20% less on groceries. That may not sound like a lot, but it's almost $200 per month in food savings. The extra $200 per month is going into a travel savings fund, so we can see the results of our hard work in spending less on food.
We could have adopted a radical goal to keep our spending under $500 or something like that. But we know better. We thought it made much more sense to consistently hit our modest target, month after month, for an entire year, to show ourselves we could do it, than to maybe hit the $500 goal once or twice and then face plant with more $1000+ grocery bills.
And if we consistently hit sub-$772 spending, then perhaps we'll challenge ourselves next year to shave off more.
Each month, we're trying out a new way to save money at the grocery store. Last month, I focused on buying the vast majority of our food from Aldi. Results: solid.
August
After we went over budget in July, I was determined to stay in budget for August. The only challenge I had was at the end of the month when I started Whole30, and had to stock up on some pricey condiments (okay, chose to stock up). But we still staying in budget!
Further Reading on Our Spending and Saving: 
The Details
Total Budgeted For august: $772.00 US
Total Spent for august: $733.45 US
I went back and looked at our total grocery expenditures for the year. So far, we have spent an average of $756.25 on groceries for the first eight months of the year, well under our $772 goal. That includes last month's $930+ grocery bill, so I'm pretty proud of us. I feel like our grocery spending should decrease as we continue to shop at Aldi, because it is really cost effective, and we're now stocked up, so once I finish the Whole30, we can get a better sense of what our true monthly expenditure will be.
Weekly Expenditures:
Week 1: $20.98, Was-mart, Co-Op, Harris Teeter
The first week of August only had four days, so the total included two trips from Mr. ThreeYear when he was in New Hampshire, and one small Harris Teeter purchase.
Week 2: $135.79, Aldi and Harris Teeter
I went to Aldi on Saturday morning, not realizing they didn't open until 10am, so I went across the street to HT and bought all of their loss leaders while I waited for Aldi to open.
Side trips: $35.32, two trips to Harris Teeter
Ugh. Still fighting the side trip beast this month.
This was the week we got Lucy the puppy, but luckily I bought her food at the dog store, so I wasn't tempted to buy more people food at the same time.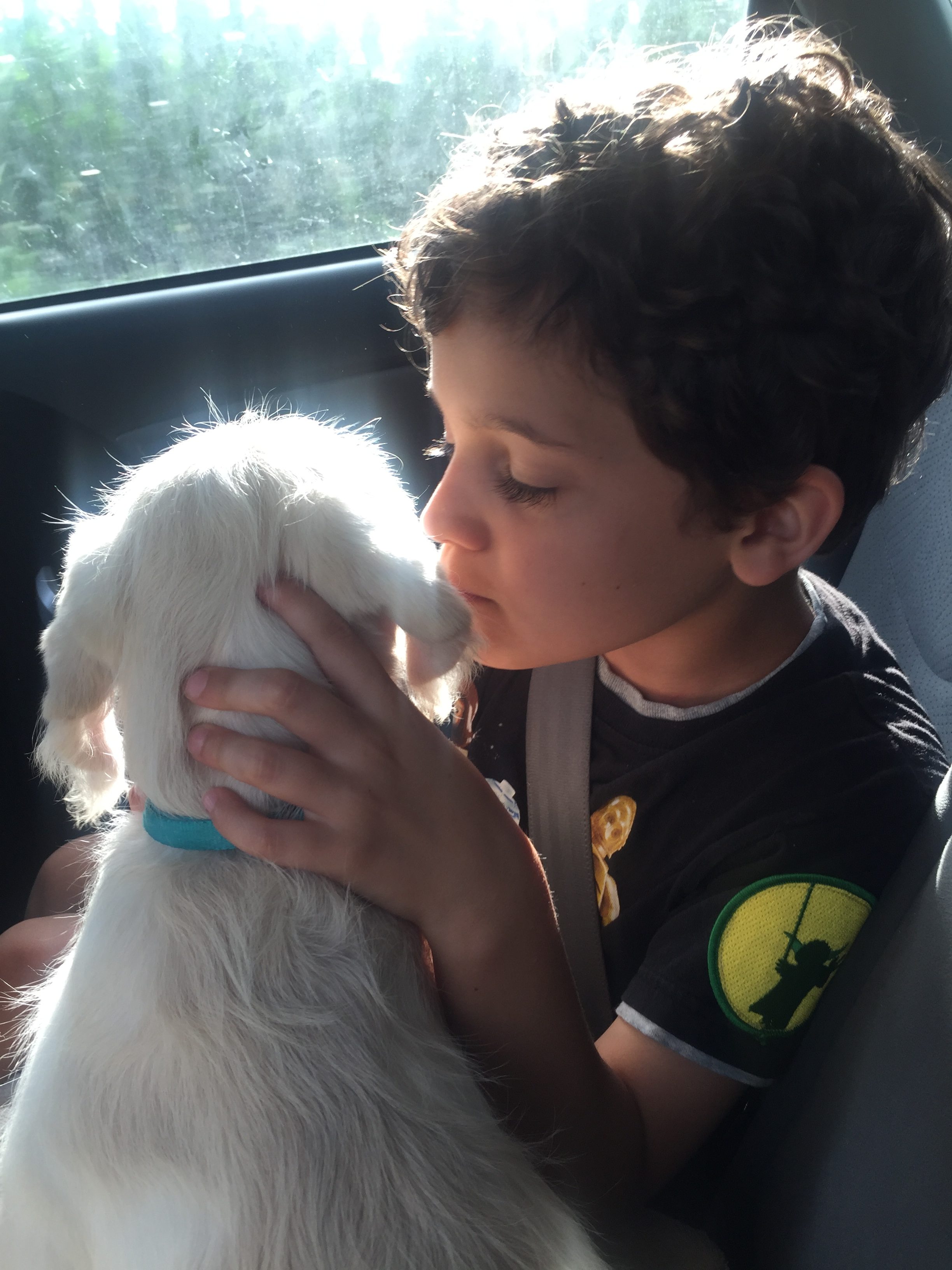 Week 3: $146.93
I have no memory of this shopping trip. I was probably in a fog from not sleeping for a few nights with the puppy.
Side trips: $31.46 in one trip to Harris Teeter
Week 4: $114.92, Aldi
Mr. ThreeYear took Junior ThreeYear to overnight camp in New Hampshire this week so I bought less groceries.
Side trips: $28.78, liquor store and Dollar Tree
Mr. ThreeYear bought something while in New Hampshire and I stocked up on coconut milk at the Dollar Tree for the start of Whole30.
Week 5: $219.27, Aldi, EarthFare, and Whole Foods
I stocked up for Whole30 and was really afraid I wasn't going to have enough to eat. I bought Whole30-compliant condiments at EarthFare and a big bottle of olive oil at Whole Foods for $6. I also bought back-to-school snacks/lunchbox fixings for the boys, because they started school the same day I started Whole30.
This year, I'm buying easy-to-pack grab-and-go foodstuff for their lunch boxes: cheese sticks, peanut butter crackers, bars, apples. It's been SO much easier to fix lunches. I also set up a lunch box station where all the lunch box shelf-stable items are kept on one shelf, along with containers below.
What I Learned
August continued to be a hard month. I now know why though I didn't then. I needed to get out of town! We didn't really take a "real" vacation this summer because we were moving, even though we have a free vacation spot four driving hours away (my parents' beach house). And that's not good for my brain.
Everything, including grocery shopping and staying in budget, is easier when I have had a vacation. Getting out of the house and away from all the "I have to"s gives my mind a reset.
We just got back from three days at the beach and boy do I feel like a new person! I'm rested, energetic, and excited to tackle new projects. I just needed to get out of the house and give my brain a rest.
September's Focus
I started the Whole30 food elimination diet on August 27th, so almost the entire month of September, I'm eating primarily fruits, veggies, proteins, eggs, and nuts, cooked from scratch. It is hard to find meals at restaurants that are Whole30 compliant, because you can't have:
any dairy, including cream, milk, butter, or cheese (but clarified butter, ghee, is okay). For your coffee, you can have almond or coconut milk.
any added sugar, including fructose, dextrose, or other "oses." And no artificial sweeteners including stevia. None. Zilch. Nada. Do you know how many things sugar is in? Bacon, ketchup, Italian sausage, salad dressing, mayonnaise, the list goes on and on and on and on
any grains, including corn, wheat, quinoa, oats, rice, etc.
any legumes, including soy (so no soy sauce!)
any alcohol (obviously not an issue for me)
You can have sweet potatoes and white potatoes, green beans, eggplant, and a couple of other foods with carbs, which is helpful if you need instant energy (like for exercising). Caffeine's also ok. Phew! You can also eat dates and use 100% fruit juice in your recipes if you need sweet (but you can't make any baked goods and eat those the whole time–the goal is to help you kick the dependence on sugar for snacking).
The idea is to temporarily stop eating food that have been known to cause irritation in your gut. I have intermittent stomach issues, so I thought this would be a good experiment. It really has been, especially once I got the hang of how to eat, but the first two weeks were rough because I am a snacker, so I was downing bags of nuts, dates, olives, and more nuts. I think I'm finally ok with eating three meals with my coffee with almond milk in-between. But hey, tomorrow I may be scarfing sunflower seeds again so who knows?
So far, and I have several shopping trips under my belt, it hasn't been too hard to stay in budget. At the end of August I made a special trip to Earth Fare and got unsweetened ketchup, Coconut aminos (to replace soy) and a couple of other pricey condiments. But since then I've bought everything else at Aldi, so I've been able to stick to my usual grocery budget. I'll keep you posted on how it goes. Luckily I finish the Whole30 a couple of days before FinCon starts so I'll be able to eat normally again then.
If you're in the path of Hurricane Florence, stay safe!