A year ago, I made a decision to try again: I'd been working to decrease our grocery bill for 10 years. I'd never been consistently successful at it, and as our family grew and our boys ate more, the grocery bill steadily ticked upward. In 2017, we spent almost $1000 per month on groceries alone. So I set a modest goal for 2018–to shave about 20% off our grocery bill each and every month. I set a budget of $772 per month, or $9264 in total yearly spending.
Did we do it? Well, despite going over budget in 4 of the last 12 months, we had an average monthly spend of $746.55 and a total yearly spend of $8958.60! We did it!!!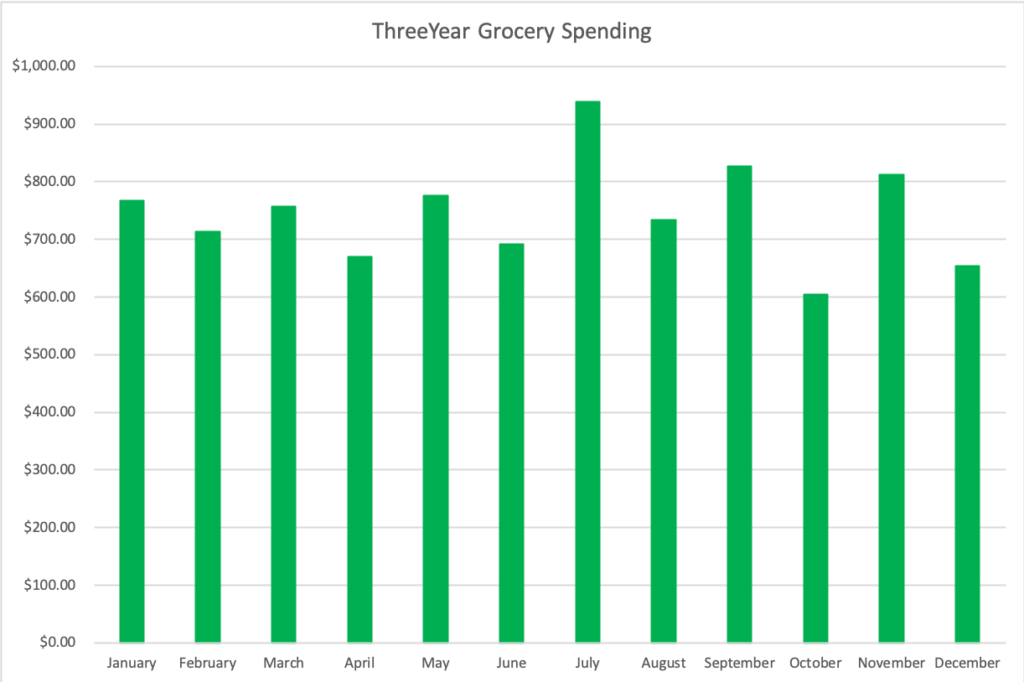 We did not halve our grocery bill. We did not keep it under $500. Or $400. Or $350. But we did hit and surpass our goal, keeping grocery spending to under $750 on average for the entire year.
I am proud. I am pleased. I have $1600 in the bank that I wouldn't have had if I'd spent it on groceries, many of which we might have thrown away. I would have had $2400 if I'd saved $200 for each and every month of the year like I planned, but for four months in there, the months when we were getting our house ready to sell, I didn't save the $200.
So what lessons can I extrapolate from this year-long experiment so that I can continue to spend less on our groceries?
Make it Public; Make Yourself Accountable
Announcing my goal on the blog and checking in with my progress each and every month forced me to think about our grocery spending, even when I didn't want to. In the past, when I've been tempted to overspend, I haven't had to think about the public repercussions of those decisions. This year, I knew that I would have to report on my total spending, so I took measures to stay in budget and not overspend, so I wouldn't have to report that I'd gone over budget. In October, when we spent our lowest amount of the year on groceries ($604.84), I refused to let anyone go to the grocery store and made us eat up food we already had in our pantry and fridge, since I knew we were doing so well with our monthly spending.
Take Inventory
Over the months, I realized that taking inventory of the food I already had on hand made me buy much less and better food at the grocery store. It meant we wasted less food, since I wasn't buying yet another stalk of celery when we already had two in the fridge. And it meant I bought a better variety of food that complemented food we had on hand, so I could put together better meals.
Get a Weekly Routine
When we moved to North Carolina in July, and I developed a weekly routine of shopping at Aldi, it really helped our grocery spending. For the first half of the year, I'd developed the routine of shopping at Hannaford, our local store in New Hampshire.
When I started shopping at Aldi, it helped because:
It is a lot cheaper.
There is a very limited selection of brands.
That means that I was buying the same exact product, week after week. No time or mental bandwidth debating between the branded graham crackers that were on sale for $2.00 or the store brands that cost $1.99. As silly as that scenario sounds, too many of those decisions destroy your ability to be disciplined about your spending.
In addition to buying the same exact brands each week, I also bought the same type of food. We began to eat a fairly simple rotation of meals, which included a couple of Junior ThreeYear's favorites, since he's a pretty picky eater. Tacos, chili, spaghetti, chicken soup, chicken and roasted veggies, pot roast. And as I mentioned, we eat the same two or three foods for breakfast and lunch each day–frozen pancakes or waffles, peanut butter toast, or ham and cheese toast for breakfast and leftovers, salad, ham sandwiches, or peanut butter crackers for lunch.
Meal Plan
And hand-in-hand with taking inventory is meal planning. If I took inventory before I went to the store, I usually meal planned. I bought an inexpensive ($3) magnetized dry-erase board for the refrigerator, that has spaces for Sunday through Saturday, and I write a week's worth of dinners in those spaces. When I do that, and buy the missing food to make those dishes, then it makes it easier to put together a meal when I'm tired or uninspired. Yesterday, in fact, when we'd just gotten home from church and I had no idea what to make for lunch, I turned to my trusty meal planner board and saw we could have beef and rice, and I pulled together a meal really quickly.
I don't always have the meal that's for a particular night on that night. When we've eaten the meal, I just erase it from the board, so I can see what's left to choose from. I don't include breakfast or lunch on the board–instead, I buy the same one or two breakfast and lunch options for every day of the week. My crew is fine with that and it simplifies life for me.
Don't Go to the Store
Honestly, this last point surprised me the most. I started using Instacart, the grocery delivery service, at the end of November. Although its fees add up (costing me about $20 in total per grocery delivery), I have found that even with fees included, I bought way less when using the service. In fact, I spent the most during the one week in December when I went to the store in person.
I think the reason is because with Instacart, I plan exactly what I'm going to buy once, then let Mr. ThreeYear add anything extra he might want, then I look back over the list and cut anything out that makes our total too high. I extensively cull our list during the process. I'm also not physically in the store to get tempted by Aldi's Special Deals or Belgian Chocolate BonBons.
If you want to try Instacart, here's a link to get $10 off your first order and free delivery for two weeks.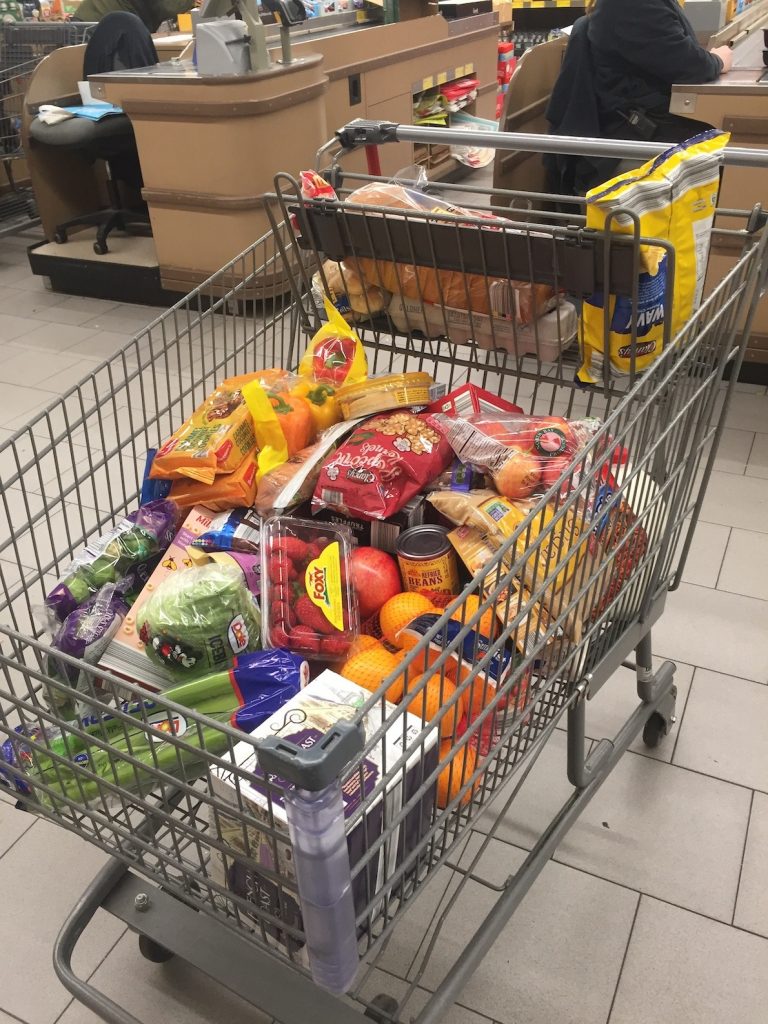 Side Trips Kill Us
What is the one thing that causes us to go over budget, again and again? Side trips. Those mid-week trips to the store to pick up "a couple of things" we've forgotten. If we could eliminate our side trips, we would have spent under $500 each month this year, no lie.
So why do we have side trips? It's a bad habit of going to the store when there's one thing we're out of, instead of being creative and using what we have at the house. It's giving in to cravings of wanting a certain dish, and going to the store to buy the ingredients for that dish (plus more).
It adds to our food waste, it adds to our monthly spending, and it drives me nuts. So why do we do it? Well, oftentimes it's not me. On the weekends, Mr. ThreeYear often gets a craving for a certain food (often sweets!), and so we go pick up some things. But he's gotten better at that in the last few months. I think that if we continue with our delivery service, it will help, so that we can anticipate those needs ahead of time and buy for them.
I also need to keep a stash of stuff in the house that he tends to want–baguettes, cake mix, salmon for making ceviche, etc. Most of those things can be frozen or cold stored, so that we can pull them out if the mood strikes.
Bloggers Who Rock Food Spending
I can't finish this post without including some of my favorite posts from other bloggers on grocery spending. These bloggers spend WAAAAY less than our family does on food, and I'm absolutely in a "We're not worthy" pose at their feet. So if you're a standard deviation or two better at food spending than I am, I encourage you to check out these posts from people who keep their food spending super low.
Lily from the Frugal Gene (around $400 for groceries AND eating out for a married couple and Lily's dad)
Stephanie from Six Figures Under ($400/month for her family of seven!)
Penny from She Picks Up Pennies ($200/month for their family of 3)
Deb & Al from Saving the Crumbs (they're in an "I can't even…" category at $60/MONTH food spending for their family of 3)
What's Next?
Am I going to try to lower our monthly grocery bill even further? I think Mr. ThreeYear would kill me. He has not really liked this grocery experiment. But we have gotten better at spending less, and I don't think we'll go back to our old ways. Plus, because we now shop at Aldi, it's hard to spend a fortune there, so as long as we keep our "side trips" low, I think we'll be okay.
I do think we're going to keep on spending less than we did in 2017. The truth is, we've changed our habits, and therefore, spending under $800 has become second nature. I imagine that some months will be better than others, but I'm going to work hard to keep our average monthly (grocery) food spending at $750 or less.