A year passes quickly, no? Especially when you move almost 1000 miles South during that year and upend your quiet life drastically. I've been fairly faithfully sharing our net worth and spending progress in 2018, so this final post of the year probably won't be much of a surprise. Still, it's fun to have a reminder of the good, bad, and ugly of this past year, and our final stopping place, net-worth wise.
Our Progress
Mr. ThreeYear receives his annual bonus in December. This year's was a good one, which was helpful in offsetting some of the losses we experienced in the stock market. He used part of it to buy a new car, which you can read more about here, and is saving the rest. The deal this year was that he got to use the entire bonus however he wanted. As much as I'd love to take what's left and throw it into our taxable account, I also love the fact that we're at a place financially where the bonus truly is a bonus. For nine years, Mr. ThreeYear has dutifully turned over the bonus to me to put towards our financial goals. We've used it to save up for a downpayment on a house, increase our emergency fund, finance our trip to Chile, pay off our cars and Chile apartment, and many other things.
This year, he gets to enjoy the money and think up ways to spend it (he hates spending money, so I know him–he won't actually spend it, he'll just imagine dozens of ways to spend it.
So how much did we increase our net worth this year? Well…
Thanks to the bonus, and that stock market rally at the end of the year, we juuuuuussssst made it over the 50% line.
You may remember that our goal was to increase our net worth by 33% each year. Last year, we increased it by 32.2%. This year, we had big hopes that we'd increase it another 33%, to 66%. We obviously fell far short of that goal.
The ironic thing about this chart is that in 2018, we earned more income than ever. Way more income. Part of the reason is that Mr. ThreeYear's stock compensation (he works for a 100% employee-owned company and receives a stock "gift" each year) was the largest it's ever been in 2018. I also earned a lot of income this year, at least in the five months I was working.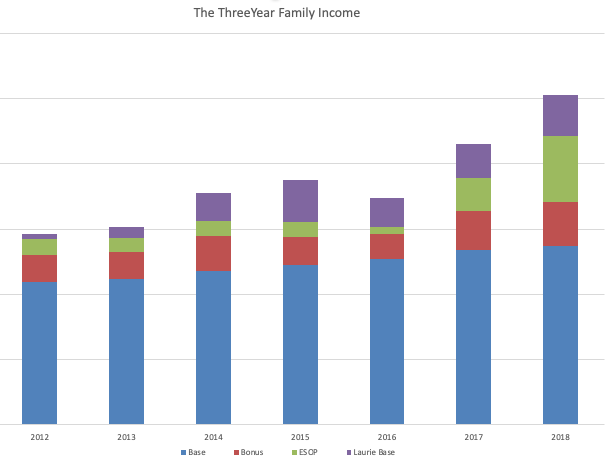 So where does that leave us for 2019? After all, our BHAG is to increase our net worth by 100% from its December 2016 level. We'd have to increase it by a full 50% more in one year. I'm guessing that Mr. Market isn't done correcting himself, so I doubt we'll see the impressive gains of 2017. The ThreeYears will keep saving and investing, and we'll see how close we get. If it takes us an extra year to reach our goal, we haven't failed–we've still got a bunch of money in the bank!
Spending Update
Our family almost always spends the most money of the year in December. We spend a lot on Christmas gifts and tend to spend extra on either travel, eating out, or other fluffy experiences. This year was no exception. Here's how we did:
DECEMBER SPENDING
Charity
Charity: $138. Compassion International plus $100 to our local Affordable Housing Coalition here in town.
Food
Groceries: $665.29 is the final total. We spent less this month with Instacart (also, Mr. ThreeYear was out of town and we were at the beach for a week, eating food there).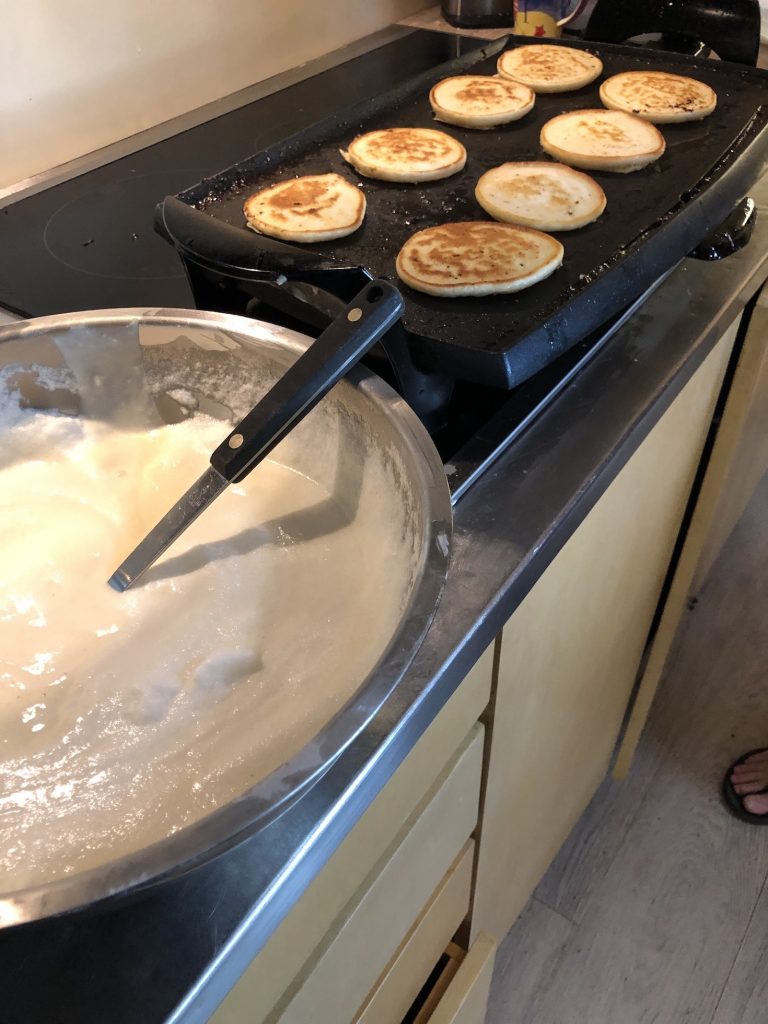 Eating Out: $526.34. Whew, doggie. That includes one "thank you" lunch for my sister and brother-in-law for practically giving us their old washer and dryer, one date night at Let's Meat, an amazing all-you-can-eat Korean BBQ place, FIVE lunches/dinners at Mexican restaurants, lunch on the way to the beach, and a sushi lunch once we got back. Phew. Stay tuned for my post on what we're doing in January to save in this category.
Fun
Entertainment: $39.24. Junior ThreeYear and I went to the movies together.
Fun Money: $239.40. Mr. ThreeYear bought some gag gifts, etc. for his team, plus took out cash. I went to visit my college roommate for her 40th birthday and bought her gifts and dinner out.
Gifts: $1405.65. We exchanged stocking stuffers this year with our family ($20 or less) which was awesome, but per usual, we went way overboard with gifts for other friends and the boys. We spent $1500 last December in this category (including gifts for our Chilean family). Because of this continuously large amount, I made one of my goals in 2018 in this area.
Cash Gifts: $612.09. We gave our family in Chile cash gifts and this is the total.
Health
Health Insurance: $724.72 This is the amount that is taken out of Mr. ThreeYear's paycheck for health insurance. It includes medical and dental coverage plus FSA reimbursement for our family of 4. In January, we'll start contributing to a high deductible health care account and HSA, so our total health insurance cost will be lower (and we'll get to save $6500 per year in tax advantaged savings!).

Fitness: $703.01. This includes our swim/tennis dues, two group tennis lessons, PLUS winter tennis fees for Mr. ThreeYear ($150) and me ($175).
Household
Clothing: $195.56. Mr. ThreeYear bought two pairs of pants on Amazon, three shirts at TJ Maxx, and new packages of socks and underwear.
Exterminator: $75. We thought we could do without this expense, but after many, many, many cockroach sightings, we called in the pros. We may make this a DIY activity later on.
Haircare: $51. Haircuts for all three boys.
Home Maintenance: $230.30. shoe rack for the front closet, curtain rods for the living room from Ikea, something from Lowe's that I can't remember.
Household Goods: $166.42. New silverware from Aldi, 2 gallons of maple syrup brought from New Hampshire, gum for Mr. ThreeYear, and a few other odds and ends.
Taxes: $4,127.04. Our yearly taxes on our house. As high as these are, they're half as much as we used to pay, so that's cool.
Kids
Babysitter: $30. Shared babysitter for our Korean BBQ date night with my sis and BIL.
Lessons & Activities: $164.30: Cliff Hanger, Junior ThreeYear's climbing group, lunch $$$, and an ornament-making workshop
Allowance: $24.28: Junior ThreeYear bought a shirt with his virtual allowance dollars.
Pet
Pet: $83.83: one bag of dog food and a new harness since she chewed through her first one.
Transportation
Auto Maintenance: $537.25. This was repair on my brakes and rotors on the Prius, which badly needed to be done because NH winters wreak havoc on brakes.
Gas: $203.77: This is our full month with our new car, which uses more gas. We also made a trip to the beach and back in it, which costs us about $20 each way (half a tank of gas).
Utilities
Internet: $105.24. We apparently didn't pay last month's bill. I'm on AutoPay now so hopefully that won't happen again. I *think* this is the last AutoPay for bills. It has been so difficult to get everything switched over!
Subscriptions: $37.94. Ooma, Spotify, Skype, Netflix.
Electric: $99. Living in a smaller house-yay.
Natural Gas: $102.59. More this month because we heat our house with gas in the winter.
Water & Sewer: $36.79.
Cell Phone: $36.76. Through Total Wireless.
Total: $11,360.81 (minus taxes, $7233.77).
Here it is in a condensed format:
December 2018 Spending
| CATEGORY | COST | NOTES |
| --- | --- | --- |
| Charity | $138 | Compassion International, Affordable Housing Coalition |
| Food | $1191.63 | groceries and eating out |
| Fun | $2296.38 | entertainment budget, fun money for Mr. ThreeYear and me, Christmas gifts and cash gifts for family |
| Health | $1427.73 | health insurance and fitness costs |
| House | $4845.32 | maintenance costs, household goods, clothing, haircare, and TAXES |
| Kids | $218.58 | climbing group, babysitter, allowance |
| Pet | $83.83 | dog food, new harness |
| Transportation | $741.02 | gas for our new car, brake work on the Prius |
| Utilities | $418.32 | internet, phone, Spotify, Skype, electricity, natural gas, water & sewer |
| TOTAL: | $11,360.81 (or $7233.77 without taxes) | |
A New Year
Y'all! (I can say y'all now because I'm back in the South. Such a good word). We're in the LAST YEAR of the three year experiment!
This is the year I turn FORTY! (Six more months to go, thank goodness).
This is the year we were supposed to quit our jobs and move abroad. Life and its plans, right?
This is the year we hoped to double our net worth. Maybe we'll get there?!? (Very unlikely, but maybe?).
I am working on a reflection post about 2018. It was a year of such huge changes for our family, but many of them happened so quickly I haven't really had time to process them.
Looking back on my post from the end of 2017, I realize that we did not spend less this year than in 2017. We spent more. But I had no idea, when I wrote that end-of-the-year post, that a year later I'd be living in a different state. Knock me over with a feather.
I hope your first few days of 2019 have been super. I'd love to hear how you did in 2018 with your financial goals!