A few weeks ago, I found out I was picked to be part of the launch team for the new book from one of my favorite bloggers, Tsh Oxenreider. It's called At Home in the World, and as thanks for helping spread the word about this book, we got to read advanced copies. Luckily, I received the manuscript on a Sunday, because I spent the entire day devouring it.
First, it combines my favorite two things in the world–family and travel. Second, it was written by the founder of The Art of Simple, a blog devoted to simple living and a thoughtful pursuit of happiness. Tsh is one of the people who inspired our three year plan to move internationally after we double our net worth and she seems to be grounded and unassuming as they come, but with a terrific sense of self. I love pretty much everything she writes or recommends.
Travel and family, Tsh writes, aren't mutually exclusive, as some might think. Traveling with your family, as she has shown, is altogether possible. She reminds us that "kids can be remarkably fantastic travelers." She explains: "A love for travel, to explore new places and foods and cultures, to sleep on the cheap in the world's grandest cities, doesn't mean you're not family material. It means you're one of the more honest parents in the car-pool line."
They embarked on this journey not to necessarily satisfy their own wanderlust, but to share their love of travel with their kids, to give their children access to the sensations and experiences they had lived as travelers. As she explains, "Every memoir I leaf through in the travel section at the bookstore tells stories from people in search of themselves on the open road. Usually they are young and single. The occasional volume carries the story of someone older, often in search of healing after unfathomable grief. Their stories are a pre-travel life that is rough at best, soul-sucking at worst. Nobody seems to embark on a massive journey because their lives are already full of meaning." But that is precisely why the Oxenreiders are traveling, to unite their already close family through these shared adventures.
Tsh talks about the very real dichotomy that most of us live of feeding our inner adventurers, needing to experience new sights, sounds, and cultures, and also being attached to home, of loving the comfort and familiarity of a house, and our beloved possessions, our cherished friends and community. Much of the book is an exploration of how these two real and opposing desires played out during their year of travel.
How They Made It Work
The family of five traveled for  ten months starting in Asia, moving to Australia and New Zealand, up to Africa and parts of the Middle East, and finishing in Europe. The family sold their Oregon house, put their furniture in storage, and each packed one backpack of possessions (mostly clothes) that would have to be enough to get them through the trip. The kids were homeschooled, or "world-schooled," and Tsh and her husband Kyle worked remotely as much as possible. They used money they'd saved for several years and from the sale of their house to supplement.
The Best Parts of Travel
As I tore through the book, I read it, of course, as something of a primer for my own family's upcoming journey. To that end, I was thrilled to take away a key point: the Oxenreider family's most beloved parts of their trip around the world were not necessarily the most rugged wildernesses, the most chic cities, but the places where they were able to settle in for the longest, to develop a better sense of place:
They spent a month renting a house in Chiang Mai, Thailand, and despite the entirely pink home filled with breakable tchotchkes and pretty intense therapy for depression, the uninterrupted weeks at one spot allow the family to get their bearings, to recover from their first hectic days in China and Hong Kong.
Three weeks were spent house-sitting in the suburbs of Sydney. After three and a half months of non-stop backpacking, the family was thrilled to return to the mundane pleasures of routine, like buying groceries and cooking from scratch. They celebrated Christmas in Australia and, even though it was summer, they decorated the house.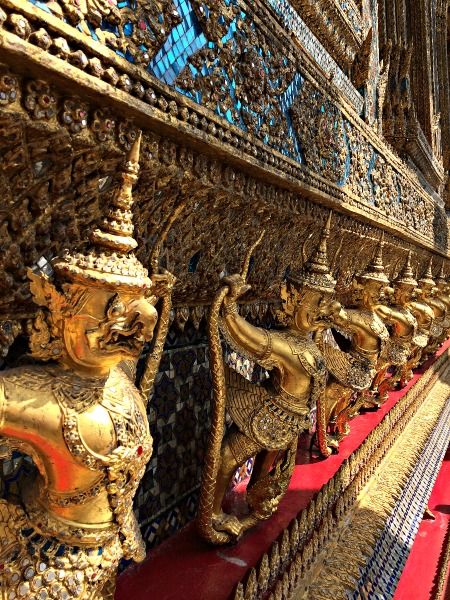 One of their favorite parts of the trip was the month they spent in a small village in France called Cadenet. They spent the month there with a family of fellow sojourners and bloggers, renting a small cottage overlooking vineyards, olive groves and a creek, where the kids spent hours wandering and playing with delight. All seven kids spent hours creating an imaginary world in their outdoor space and it sounded like an unforgettable experience.
"The single most significant thing we gained when we paused in Thailand, Australia, and France," Tsh wrote, " was community. By staying in one place for a month or longer on our travels, we burrowed into our surroundings and invested in neighbors, even if only for a little while. We stayed put—in a nomadic sense, anyway—long enough to cultivate relationships unshielded by the next great thing to see, the next place on our itinerary."
Eating Around the World
Some of the descriptions filled me with longing (for food, of course): "Thai food tastes like ocean and timeworn tradition, fields of basil and groves of mango. Streetwise cooks in aprons and flip-flops stir salty tamarind through rice noodles and hand patrons limes to squeeze over their bowls. Paired with glugs of Singha bubbling water, and it is the best three-dollar investment of your life."
And, "we split orders of roast duck and asparagus pizza, and we share a bottle of wine. The marinated meat slides off the bone. We spoon velvety creme brûlée for dessert and order a round of espresso. The food is earthy and clean, like a farm in early spring."
Lessons Learned
What did the book teach me, in the end? That my wanderlust will probably never be quenched. That we will probably travel internationally for a while, but ultimately, want to return home. As Tsh so beautifully puts it, "Travel has taught me the blessing of ordinariness, of rootedness and stability. It can be found anywhere on the globe. It's courageous to walk out the front door and embrace earth's great adventures, but the real act of courage is to return to that door, turn the knob, walk through, unpack the bags, and start the kettle for a cup of tea." Travel is the ability to change your perspective, to see that the world is bigger than your neighborhood, your state, your country, or even your continent. It's also a way to appreciate the myriad blessings of the ordinariness of home, of routine, of a nurturing community.
I highly recommend this book. It is a beautiful foray into the world, into a lovely family, into the exquisite, and exquisitely difficult, parts of travel.
What's your favorite book on travel? I'd love to hear your recommendations!
(This post contains affiliate links. I only link to products I have used and love. Thanks for supporting the blog!).