I'm listening to the birds chirp outside my window. We've left the window cracked over night. Unheard of, even a week ago. Yesterday the temperature rose to 72 and the sun shone all day. Our stream was swollen with melted snow rushing downstream.
Spring hasn't arrived, unfortunately. It's a trick of New England, a trick of nature to give you a golden taste of the glorious summer ahead, to get you through the rainy, muddy, dreary next two months. But I believe the snow may melt this time, and my son told me a flower was blooming, so I am hopeful that some of this good weather is here to stay.
The long winter has worn on our family. We've been cooped up inside, and haven't made ourselves go outside enough to burn through our energy and change our mood. Our youngest is having trouble in school, getting in trouble because his poor body needs to run and play but he's asked to sit and work inside.
Spring?
April may be the most difficult month to get through in New England. Winters are long, here. While most of the rest of the country is posting Instagrams of blooming flowers and their new sandals, we get 17 inches of snow. By the end of April, the snow has usually melted, but it's cold and gray, and often rainy, sometimes until mid-June.
This year, however, our family has strategically planned a mini-break during Spring Break. In the past, we've taken vacations in early winter–January or February. But when we get back, we have months of cold to endure, after having just been somewhere warm. Last year, after we spent two weeks in Southeast Asia (where the temperature was in the 80s or above) we came home and had a very difficult time patiently waiting until Spring. So this year, we decided to plan our vacation in April, despite the potentially high-priced plane tickets. And we have been looking forward to this vacation throughout the entire winter.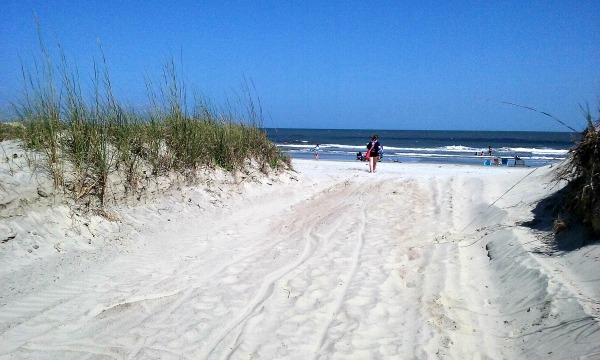 The Woodcutters
It always reminds me of the old story of the two woodcutters: one worked all day, from dawn til dusk, without a break. He watched in annoyance as the other took periodic breaks all the day long. When they were both finished, he was shocked to see that the other woodcutter had cut down more wood. "But you kept taking breaks!" he exclaimed in frustration. "When I took breaks, my friend, I was actually sharpening my saw."
Mentally, our entire family needs to sharpen our saws by getting away and resting for a week. Mr. ThreeYear is already talking about turning off his work email completely. The little ThreeYears are planning sandcastle-building strategies.
It's difficult to break down the economic benefits of a vacation, but we all know they're there. However, according to a study commissioned by the US Travel Association,  Americans are leaving their already-scant amount of vacation days on the table. The study cites difficulty managing work as one of the key reasons people are reluctant to use vacation days. 47% of managers were afraid of returning to a backlog of work and 45% said they felt responsible for checking in. Ironically, when employees leave a job, unused vacation days amount to a huge collective financial burden for the company. (That's why some companies, like Netflix and LinkedIn, have converted to an "unlimited vacation days" policy–since employees are so reticent to take their vacation days, it's a much better financial deal for the company).  As a nation of workaholics, we're making ourselves less productive by refusing to make vacations a priority.
Project Time Off shares that "the vast majority (84%) of managers agree that when employees take time off, they return to work with improved focus and creativity." It lists several examples of companies (Instagram, Dropbox, and Starbucks) whose founders came up with brilliant, groundbreaking ideas while on vacation.
As I've written before, building time to think into your routine has been the key to creative breakthroughs for Sarah Blakely and Stephen King. Our brains need unstructured time, especially in nature, to process, wonder, and connect. A vacation is an extended time to think, a time away from your normal routine and surroundings, where you're able to process information in a new way, to see the world through a different lense. Not only does this inspire creative thinking, it's critical for renewal–for sharpening your saw before returning to finish out the rest of our school year (for the boys and me) and the end of the quarter (for Mr. ThreeYear).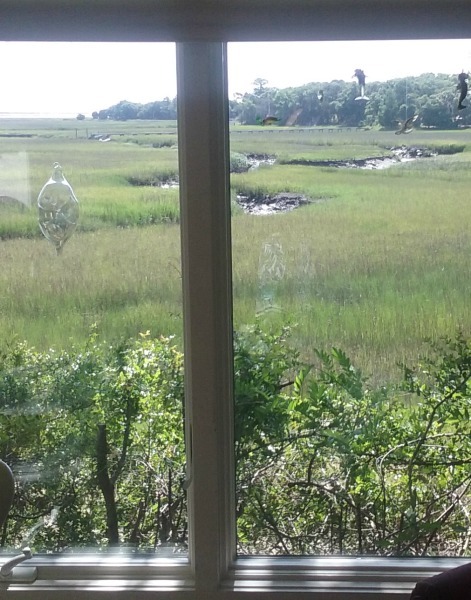 How Long Do We Get?
While we'd love to take a longer vacation, and we will, at the end of the year (we plan to head to Chile in December), we'll be content with a week for now.  One Finnish researcher has pointed to 8 days as an ideal vacation length, but we'll stick with 7 with glee.
What are the financials behind our Spring Break vacation? We essentially have three expenses:
Tickets: we found decent airfare back in February. While Saturday to Saturday travel showed tickets in excess of $600, Wednesday to Wednesday travel found us some slightly more reasonable $290/person.
Car: We rented a car for $130 for the week, a nice little compact that will get us around the island quite nicely
Parking: We'll have parking costs ($10/day at our regional airport, so probably $60-$70 for the week depending on the timing of when we pick up our car).
What about the other expenses? Well, we are very fortunate and are staying in my family's beach house on Seabrook Island. Included in that stay is swimming pool use, biking, gym use, and tennis court fees. We would spend money on groceries anyway, so we're not counting that cost. If we eat out, it will only be once or twice and will be covered by our normal eating out budget for the month.
While a total of $1360 for four people isn't super cheap, we are very happy to spend that money to enjoy some much needed mental health time. The last time Mr. ThreeYear took a vacation was last July, and I'm sorry to say he had to work during most of the week. This week, he plans to completely unplug and rest. Thank goodness. We plan to do the same. We'll also spend lots of time as a family together, walking on the beach, building sand castles, riding bikes, and most importantly, hanging out with our grandparents, uncles, aunts, brothers, sisters, parents, and cousins.
What are our key goals for our vacation together?
Unplug. Mr. ThreeYear will turn off his work email and keep his phone in his room. We will allow the boys some electronics time each day, with family, but not more than about an hour or two.
Get outside. The weather in South Carolina is beautiful right now. The forecast is in the 70s all week. We plan to ride bikes to the beach, spend hours playing at the water's edge (not sure how cold that water is!?), and playing tennis.
Spend time with family. We want to spend time together as an immediate family, building memories. And we want to spend time together as an extended family,
Rest. This is our biggest goal. We want to rest and rejuvenate together. This means mental rest, as much as anything. Looking out onto the marsh every morning, letting our hair down on the boat, and enjoying unstructured walks on the beach are ways we can decompress after a long winter and recharge our batteries.
I've got some posts scheduled while I'm gone, so I won't be a stranger. What are you up to during Spring Break? I'd love to hear from you!