For the most part, we haven't been worried about losing our jobs during Covid, so we haven't been especially worried about our financial situations during the pandemic.
Lately, however, my husband has had some unpleasant situations at work, and we have been reminded of how much we depend on our salaries to cover our everyday expenses.
Mr. ThreeYear and I made the decision that for the next six months, we're going to buckle down and save as much as possible so that we can beef up our emergency fund.
Contemplating joblessness, even as a thought exercise, is scary. It made me realize that we don't have enough in our emergency fund.
For several years, I've kept a smaller emergency fund of $10,000-$15,000, plus the money in our budget, which is generally about $10,000-$15,000 as well. The money in our emergency fund sits in our Ally Savings Account, and earns a nominal amount of interest each month ($10-$15 at the current rate). Our budgeted money is in our checking account.
We use YNAB to budget, and we are a month ahead in our budget, so at any given time, our checking account has last month's and this month's income sitting in it (minus what's already been spent). We also have our sinking funds in our checking account. Sinking funds are funds we've set aside to pay for irregular expenses that crop up during the year like car insurance, life insurance, and home taxes. We keep sinking funds for lots of categories, including travel (remember that?), birthday presents, and our annual YNAB subscription.
With our emergency fund and budgeted money, we could live on an austere budget (cutting out all non-essential costs like yard service, eating out, and entertainment) for roughly $5,000 per month. That includes our mammoth 10-year mortgage payment, plus food, utilities, and irregular payments cropping up. So, currently, we could probably scrape by for about 5-6 months if we both lost our jobs, or a year if just Mr. ThreeYear lost his. This would require us to keep up a high level of frugal living, though, and realistically, this is not something we're great at.
We don't think that's going to happen, but we certainly had enough anxiety about the possibility of it happening, that it made me realize that we'd both be happier with more cash sitting around.
So, we decided to cut out some budget categories temporarily and reduce others (hello, food budget!) so that we can sock away some cash over the next six months and cushion our emergency fund more.
We're going to temporarily stop saving money in the boys' college funds (sorry boys!) and in our taxable investment fund, and reduce our eating out and food budget in order to funnel that money directly to our emergency fund.
Please note that we're only planning to do this temporarily. We'll start saving again for the boys' college in January if nothing else changes. This month (July), we've saved $800 so far, which I am pleased about.
Getting a Handle on Food Costs
Next month (August), I'm budgeting less for groceries so that we can move that money to our emergency funds. I haven't been great at spending less at the store during this pandemic (really not great–we've averaged around $1200 per month on groceries alone), so I'm trying a new budgeting trick to help me keep a better handle on food costs.
I've divvied my grocery budget up into weeks, like so many successful YNABers have suggested before, and am only allowing myself to spend that at the store. I'm driving to Aldi and bulk-shopping, very selectively, at Costco, and making a lot of snack food from scratch to keep costs lower.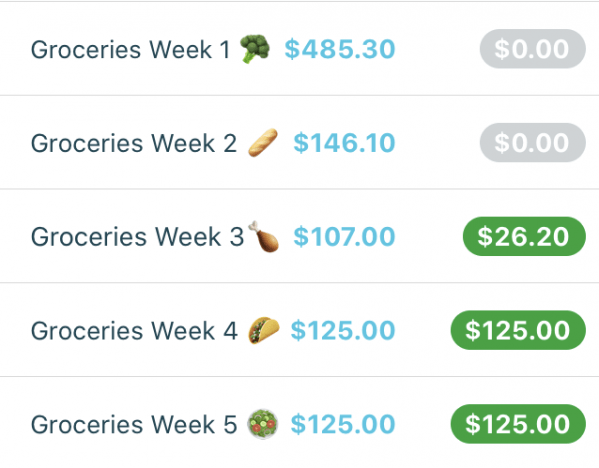 I have only been successful at this method for the last two weeks last four weeks, so I still have a long way to go, but I'm hoping that our goal will motivate me to keep at it.
As you can see, we spent a ton of money at the beginning of the month. This is from a bunch of groceries that we bought for the boys' birthdays at the end of June (which we charged to July's budget–you're not supposed to do this but we ran out of grocery money in June) and food for our beach vacation at the beginning of July. I did better last week and this week, so I'm going to keep trying to stay in my budget for the rest of the month. We will see how it goes (edit: I did it).
I'm going to try and stick to $150/week next month. This month it hasn't been too hard since we're stocked up on so much, but I suspect that as we run out of staples it will get harder to stay in that budget.
Spender/Saver: The Washer Story
Last week, as I was just finished typing this post and feeling so good about things, the washer broke. It was evident that it was something major, as both Mr. ThreeYear and I heard the loud "POP" it made during the spin cycle.
I, the spender, quickly texted our appliance repair guy, but he couldn't come out for a week (note to self: need to text him back).
Mr. ThreeYear said, "I don't want to spend $250+ on fixing the washer that's ten years old anyway, when we're trying to save money. Let me see what FB Marketplace can offer."
He spent the next two days searching, all while I complained and whined about how old and used everything looked (sigh, I am who I am).
Finally, we found someone on Next Door who was selling an older version of our same washer (a Samsung) for $50. And it was just 15 minutes away.
Mr. ThreeYear and I hopped in our trusty Pilot and bought the washer. We brought it home, then spent a VERY grueling half hour somehow managing to lift it up the stairs of the garage. That was during a lightening and thunder storm, let it be noted. Luckily it had moving bolts on it to make it a tiny, tiny bit easier to grip (those of you who understand how washers work will understand where I'm going with this story).
Mr. ThreeYear hooked the hoses up, then we put a load of laundry in to see if it worked. Everything was fine, until it got to the spin cycle. Then it basically started spinning like crazy and walked across the floor as Mr. ThreeYear desperately tried to tame our out-of-control washer with his body.
I was super annoyed, and in a very frustrated way shared my frustration with friends and family alike.
"Ugh, WHY couldn't we have gotten a new washer?" I kept complaining. Mr. ThreeYear reminded me, several times, that we are saving money for our emergency fund. Which I know. But still.
Finally, after two days, and several dicey spin cycles later, Mr. ThreeYear read on the good ole' interwebs that if your washer has the moving bolts still on it, then the spin cycle can't work correctly and the washer will walk across your floor. So, he spent about ten minutes taking those bolts off, and low and behold, the washer began to function perfectly.
Mr. ThreeYear, our resident saver, was redeemed. We spent $50 on a "new" washer (that works) and actually have the possibility of selling the old, broken washer or the pedestal that came with the $50 washer that we can't use because of height issues, for the same amount of money that the washer cost. We are only out our sweat equity and two days of frustration.
Lesson for me: DIYing or creative solutions to problems, rarely work on the first try. But they usually, often work on the second or third try.
I'm going to report back on the grocery spending soon, because I'm proud of myself.
What do you do when it's time to tighten the belt? I need more tips!!!