Hello from sunny (very, very sunny) North Carolina! Our family has moved and is now living in the charming town of Davidson, North Carolina. We're enjoying our new air conditioning, as the heat here is intense in July.
This year, our family is challenging ourselves to spend less on food so we can save and travel more. Last year, I adopted one habit a month that would translate into better money moves for our family. You can read all about our A Year of Good Habits here.
That experiment worked so well that we tried a new one this year. In 2018, we are challenging ourselves to do better at our food spending. Last year our family spent over $12,000 in groceries, or $966 per month.
This year, our goal is to spend 20% less on groceries. That may not sound like a lot, but it's almost $200 per month in food savings. The extra $200 per month is going into a travel savings fund, so we can see the results of our hard work in spending less on food.
We could have adopted a radical goal to keep our spending under $500 or something like that. But we know better. We thought it made much more sense to consistently hit our modest target, month after month, for an entire year, to show ourselves we could do it, than to maybe hit the $500 goal once or twice and then face plant with more $1000+ grocery bills.
And if we consistently hit sub-$772 spending, then perhaps we'll challenge ourselves next year to shave off more.
Each month, we're trying out a new way to save money at the grocery store. Last month, we focused on staying in budget while moving houses. We kept our expectations low–I knew I wouldn't be able to consistently meal plan or regularly grocery shop, so the idea was to do as well as we could despite the chaos.
June
I feel like I've been writing the same report for months now, but June felt absolutely crazy-pants chaotic. I had to take it one day at a time. We had the end of school, the boys' birthdays, the start of a new graduate class for my master's, good-bye parties, a big work conference Mr. ThreeYear and I both needed to attend the week of the move, plus all the regular packing and moving details involved with a move. We spent $691.78 for the month, well under budget, in nineteen separate trips to the store. We tried to eat up all the food in our fridge this month, but did a lot of eating out as well.
Further Reading on Our Spending and Saving: 
The Details
Total Budgeted For june: $772.00 US
Total Spent for june: $691.78 US
Memory is a funny thing. I can remember some events so clearly, especially travel. But these last four months of moving have been a blur. I don't remember grocery shopping at all. I'm sure it happened. But we fit it in around packing, birthday parties, goodbye dinners, and everything else. We were on auto-pilot.
Weekly Expenditures:
Week 1: $45.69 and 34.20, Hannaford
This was the second-to-last week of school for our family, and I was testing students like crazy. We also participated in Civil War Day as a family, and Mr. ThreeYear and I were medics in the field hospital tent (I was bloody because of all those amputations!).
Side trips: $101.99, local market and Hannaford
We made seven separate side trips (apart from our two "main" grocery store trips) this week alone!
Week 2: $75.73, Hannaford
Since we bought so much during the first week of June, this week was a little calmer.
Side Trips: $41.46, local market 
In three separate trips.
Week 3: $94.81 and 114.74, Hannaford
Two big trips to the grocery store, because my mom came to help out and I wanted to make sure there was food to feed the kids while Mr. ThreeYear and I were at our work conference.
Side trips: $32.03, Hannaford
Week 4: $114.74, Hannaford
Our last week of shopping in New Hampshire. I have no memory of what we bought, but I do remember thinking, "This is the last time I'll be shopping here." We ended up giving away a fair amount of food to our neighbors because we had more than we were able to eat (of course). They were happy to accept it, just like I was happy to accept it when my friend moved out of the area the year before.
Side trips: $39.93, Hannaford and Priceright
Little ThreeYear had his birthday party at the Trampoline park and we ran next door to get snacks for a child who was gluten free.
What I Learned
I (re-)learned that moving is so much harder than I remembered or even anticipated. I knew it logically, but going through the process, day-by-day, made mince meat of my brain. Even now that we're in our new house, staring at boxes all day makes me a little crazy. I know this is temporary and things will get better, but I had truly forgotten how nuts it is to move states. I'm just so grateful we managed to stay in our food budget.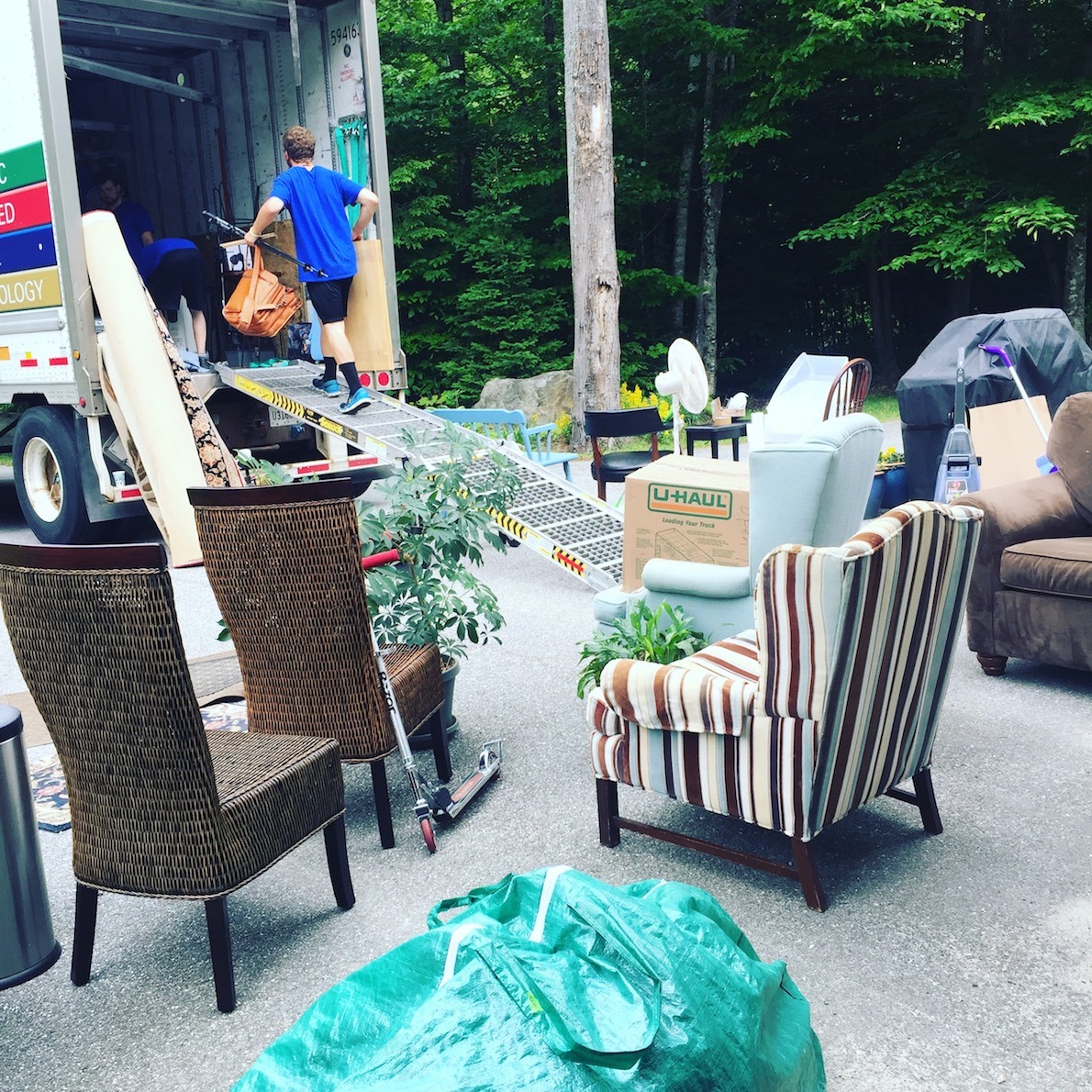 July's Focus
We are now in the land of Aldi. I made my first stock-the-fridge trip, with my sister, who is now a convert! Aldi is truly an amazing grocery store for low-cost food prices. And they have tons of organic produce, too! We got organic strawberries for around $2/quart, and organic raspberries for $2.50/pint. Plus tons of other fresh produce. Our focus this month is going to be easy meals. It's summer, and it's hot, so our suppers need to be quick to prepare and easy. My first go at this was last week.
All food was from Aldi. The dinner was a hit. Last week, the first week in our new house, we also had Sloppy Joes with ready-made pulled pork, turkey burgers and watermelon on July 4th, and pasta and bean salad (what a combo).
I'm thinking pasta salad, wraps, and food that's ready in under 20 minutes, because that's all my brain can handle right now. I'll let you know how it goes in August.
Hope you're enjoying your July! Happy food budgeting!