Six glorious months of this year have come and gone, and here we are, halfway through 2018. This year has been an unusual one for the ThreeYears, as it wasn't too long after I published my 2018 Goals post that we decided to move to North Carolina and began working on how to make location independence happen a year earlier. Honestly, the past few months have been a blur, and I definitely haven't been regularly checking the goals I set for myself. So, let's see what I have managed to achieve and set some kind of course for the second half of the year.
My 2018 Goal Sheet
Let's take a look at my 2018 Goals Sheet. We'll go section by section, and see how things are going. I'll grade myself using my arbitrary grading system of whether I feel like I'm making progress or not.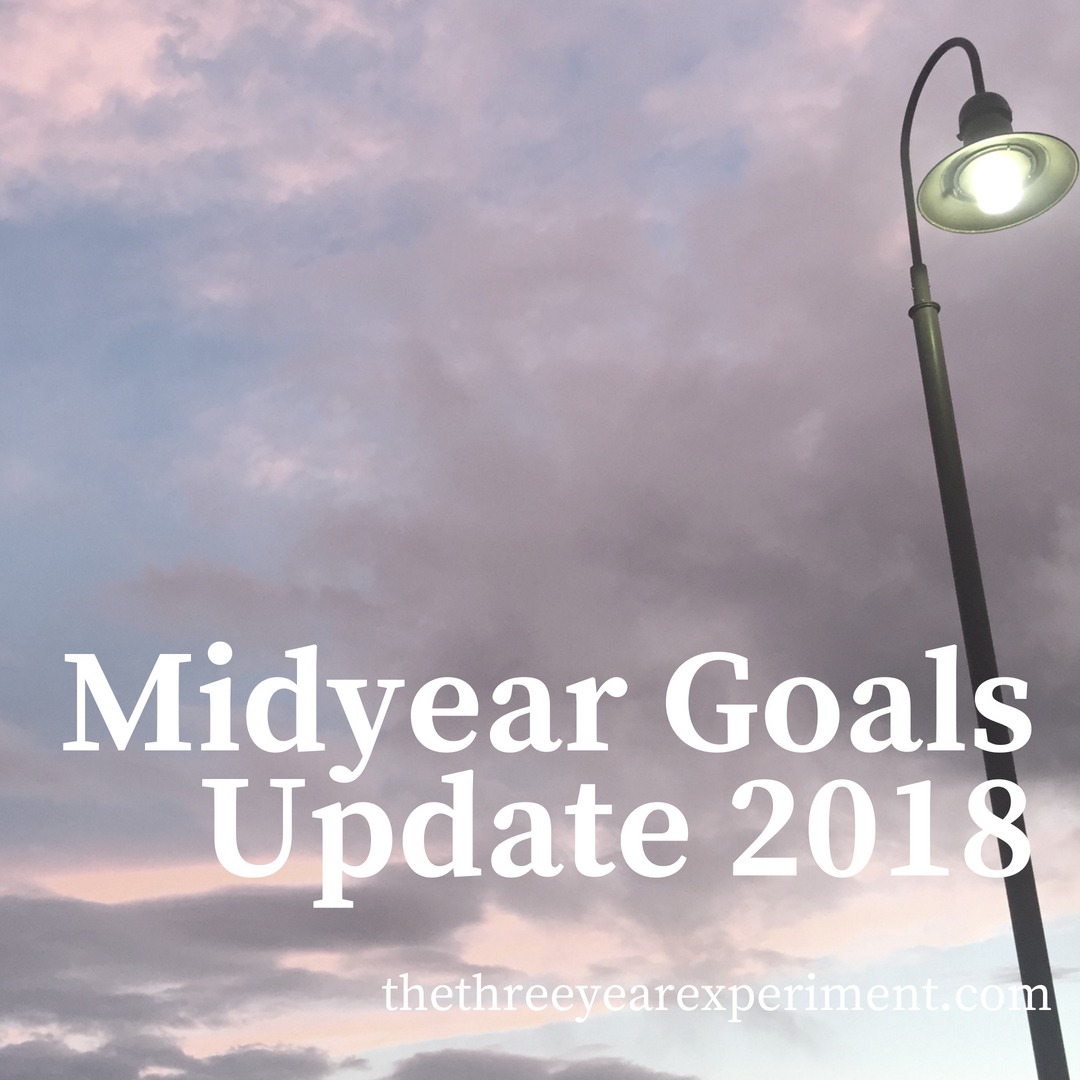 We're continuing to make progress on our BHAG of doubling our net worth, but last month, it took a big hit when we sold our house and bought a new house. We paid fees to our real estate agent, our moving people on both sides, Home Depot to fix our house up, repairmen, hotels, and eating out. We've increased our net worth by about 10% from the beginning of the year, down from 15% in May. If we were singularly focused on increasing our net worth, moving would have been a bad decision.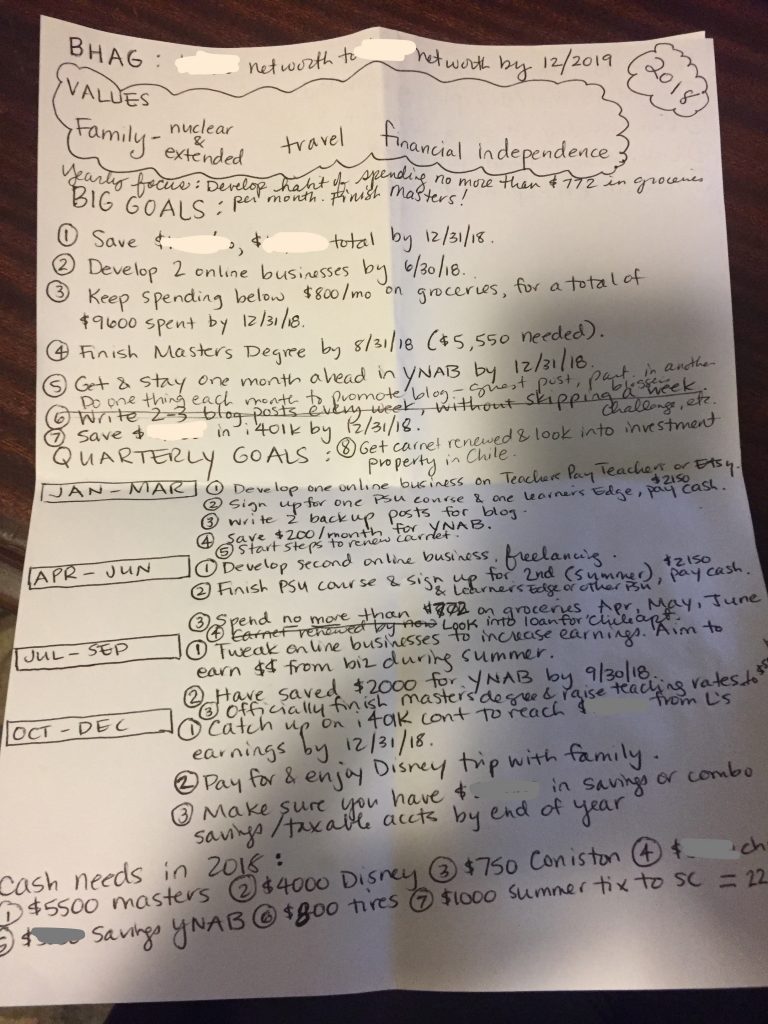 My 2018 goal sheet, in its final version (I'm pretty sure!).But one of our biggest goals was location independence, and our net worth goal was helping us along with that, so of course it made sense to move. At this point, we're interested in increasing our net worth to get to FI, but if we can be location independent and live near our family and have the ability to travel when we want, then we'll take a net worth hit for that.
Grade: C. But we're passing the class so we're cool with that.
Next is my Yearly Focus. This is what my biggest yearly goal will be. For 2018, my yearly focus is to develop the habit of controlling our grocery spending and to finish my Masters (I've been dragging my feet).
I'm happy to report that I am making strong progress on both of those goals. I've kept my grocery spending below $770 for every month but one, and that month was just a few dollars. Also, my yearly average for grocery spending is $729.46, over $40 monthly below my goal.
I'm currently taking my third-to-last graduate class, and I've arranged with my advisor to be able to take the last two classes online this summer. So I should be finished with my degree somewhere around the end of the summer. I also took the Praxis II, which is one of those standardized tests you have to take, and I nailed it.
Grade: A. Just got to keep up the good work.
The next section is Top Values. I create a big balloon with my top values, so I can remember why I'm doing all this.
3 Top Values:
FAMILY  (nuclear & extended)           
TRAVEL              
FINANCIAL INDEPENDENCE
I think that our move has managed to satisfy all three of these sometimes contradictory values. We're much closer to our extended family, even our Chilean family, as it will be so much easier to take a flight to Atlanta and then to Santiago.
We'll be able to travel more easily, not only because Mr. ThreeYear is working remotely, but also because we won't be spending all our vacation time visiting family. We can see them anytime, so now our vacation weeks can be spent going to some of the places on our bucket list (Hawaii, Ireland, New Zealand!).
And, even though we did take a financial hit with our move, Mr. ThreeYear was able to stay with his great company. He's seen what his total compensation would be even at some really top-tier companies, and it's less than what he's currently making with his bonus and stock benefits. Plus he loves the company and culture so he can keep growing there. Plus, I'll have so much opportunity to work in this area because there are so many English language learners.
Grade: A. We made our moving decision based on these values, so good job us.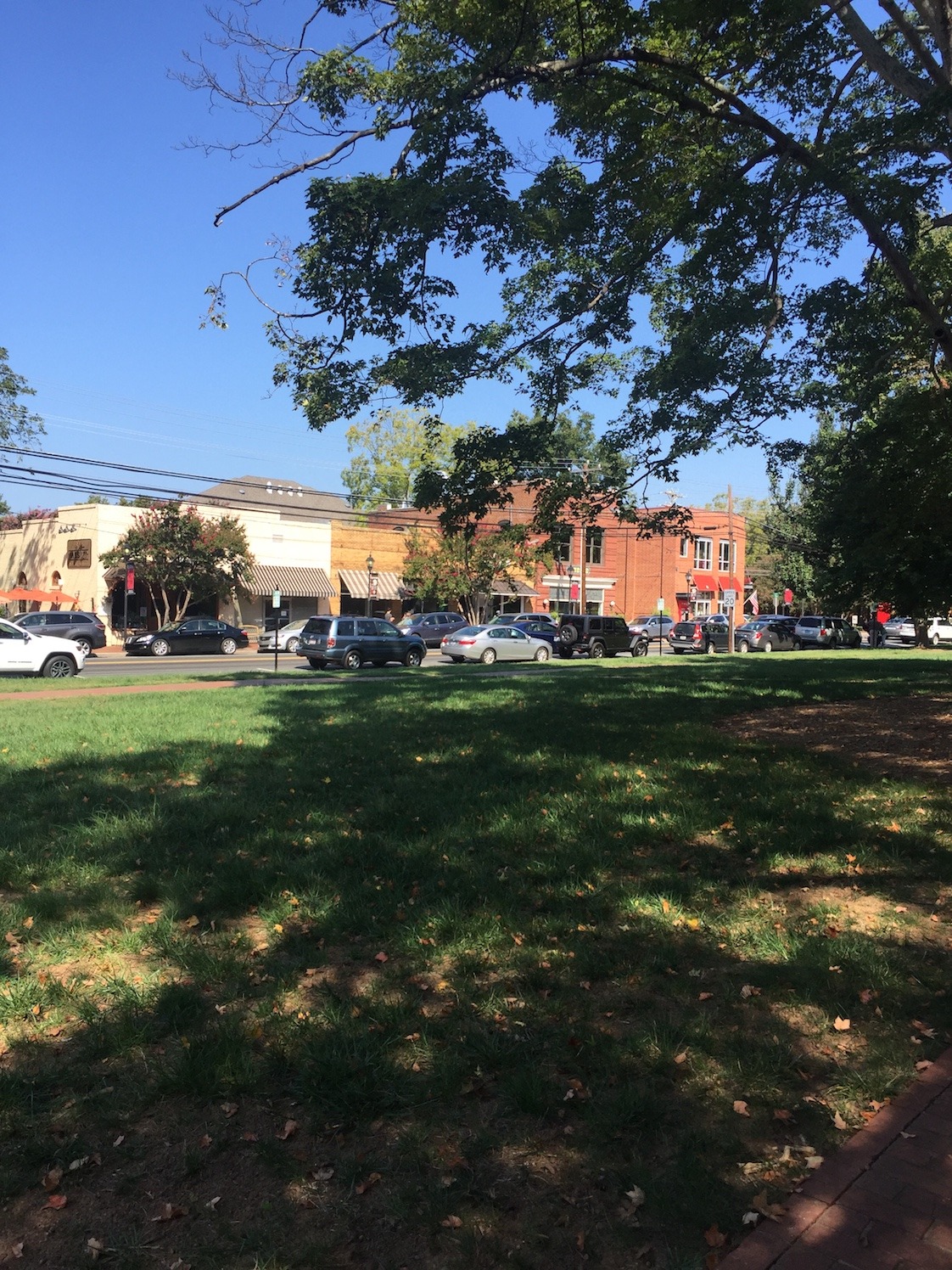 Now, how have I done with my main goals?
My Big Eight 2018 Goals Are:
Save $XXX per month, $XXX total by 12/31/2018. This is the money we're able to save by not having any more payments. Grade: B. I did great on this goal until May, and then our savings rate became affected by all the costs for the move. I hope to be back on track with this goal by August and reach the total savings goal at the end of the year.
Develop two online businesses by 6/30/2018. Grade: C. I've only really worked on my freelance writing business, and I do have several clients for it. My sister and I have been talking about some ideas for a second business which we'll probably get around to working on in the fall.
Keep spending below $772/month on groceries, for a total of $9600 spent by 12/31. Grade: A. And now that I live near an Aldi, I have a feeling this goal will get easier and easier.
Finish Master's Degree by 8/31/18. Grade: A. I'm on track!
Get and stay one month ahead in YNAB by 12/31/2018. Grade: A. I'm going to give myself an A, because I'm almost there. We currently have almost enough money to fund next month, if we keep our spending low for the rest of the month. So I'm hopeful we'll hit this goal in the next month or two (we're not really keeping our spending low right now because of all the house stuff we're buying, but fingers crossed anyway!).
Do one thing each month to promote blog–guest post, blogger challenge, etc. Grade: A. Amazingly, I've had at least one guest post per month, even throughout the hairy move. I've got to buckle down and refocus now that we've moved, because I don't have anything lined up for July yet. I've joined GoBankingRate's Smart Money Squad, though, and will be publishing my first article in July, so I guess that counts.
Save $XXX in i401K by 12/31. Grade: C. I was doing well with this goal until we made plans to move, and then it took a backseat to everything else. I'm also not planning to get a job for a few months, so it will be interesting to see how I do by December.
Get my Chilean National Identity Card renewed and look into investment property in Chile. Grade: F. I have done nothing for this goal. I looked into it, and it was cumbersome and difficult, so I just dropped it. I think it makes more sense to look into investment property here rather than Chile, because of the real estate market. I'll have to reevaluate this goal.
Finally, the last section of the sheet is for Quarterly Goals. This is where I break down how I'll achieve the Big 8 goals each quarter. This is where the rubber hits the road.
JANUARY to MARCH:
Develop one online business on Teachers Pay Teachers or Etsy. Fail. Maybe in the fall?
Sign up for one Master's course and one online course, pay $2150 cash. Pass. I am currently taking the online course. 
Write 2 backup posts for blog. Fail. I just didn't do this. 
Save $200/month for YNAB. Fail. Didn't do this either. 
Renew Chilean identity card. Fail. I found out I had to do it in person and I haven't filled out the online paperwork yet because there's no hurry.
Ouch. I didn't do very well in Quarter 1.
APRIL TO JUNE:
Develop second online business (freelancing?). Pass. I did start working with more freelancing clients. I hope to increase the number of clients I have now that we've moved. 
Finish Master's course and sign up for 2nd course, plus one online course, pay $2150 cash. Fail. I haven't finished yet but hope to in Quarter 3.
Spend no more than $772 on groceries for April, May, June. Pass. I went over by $3 in May but my monthly average was $712.74.
Look into loan for Chile apt. Fail. Don't think I'm pursuing this.
JULY TO SEPTEMBER:
Tweak online businesses to increase earnings. Earn $XXX from businesses during July, August, September. Ok, this could be possible. I have a good feeling about this goal! 
Save $2000 for YNBA by 9/30/2018. Yes, we've already achieved this goal.
Officially finish Master's degree and raise teaching rates to $XX. We'll see. I don't think I'll be teaching this quarter.
OCTOBER TO DECEMBER:
Catch up on i401K contributions to reach $XXX from my earnings by 12/31/2018. Hmmm, maybe.
Pay for and enjoy Disney trip with family. We still have a little bit more to pay for (the meal plan and flights) but more than half of it is paid for. 
Make sure to have $XXX in savings and taxable accounts by end of year. I think we can achieve this one.
I also added a section called Habits to Improve–I wrote these on the back of my goal sheet. The four habits I focused on were:
Spend 15 minutes a day playing with kids.
Run every day first thing, at least 10 minutes.
Listen more without judgement.
Speak in Spanish more with the kids.
While these aren't goals, per se, they're reminders of behaviors I'd like to be working on during the year. They're the most important things for me, apart from these goals, so I'd like to have a reminder of these intentions in a place where I'll run into them often.
I can't really give myself a grade on these as I haven't tracked my behavior, but I know I'm hanging out more with the kids because it's summer. I haven't been running much because of the move and it's hot as Hades here. I'm trying to be less judgmental. I do not speak Spanish with the kids at all. Maybe that will change if we get some Spanish-speaking friends? I did check out a book in Spanish for the kids at our new library.
How Have I Done in the First Half of the Year?
Even though I've failed at a lot of my quarterly goals, I am making solid progress with most of my yearly goals. Obviously, I had no idea we'd be moving when I set these goals at the beginning of the year, so I'm actually surprised I've done as well as I have, given the absolute craziness of the past few months.
Currently, things feel like they'll never be clean and orderly again, because we have so many boxes everywhere we turn. I don't remember moving to our previous house being this difficult, but I'm sure I've just forgotten. I have a habit of completely forgetting negative memories.
But when I look back at where I am and where I started this year, I get a huge thrill. I'm living in this precious little town, and can go visit my sister every day if I want. We have an amazing bike and walking trail a few minutes' walk from our front door. We'll be able to use it all. year. long. All year. Because this is the worst time of year, with the heat. So if we're able to stand it now, we'll be golden during the "chilly" winter months when it gets down to 20 F. Hahaha.
While transitions are tough, I have a feeling we'll make some good friends here. It will take time, like anything, but eventually, I think we'll love it in our new town. And I can't wait to travel! It's going to be really cool.
How was your first half of 2018? Has it been a good year so far?