In last week's post, I laid out several streams of income that Mr. ThreeYear and I expect to utilize during early retirement. That led me to remember all the times we've had side hustles during our fifteen years together.
Mr. ThreeYear and I have always had an entrepreneurial spirit that runs through our collective veins.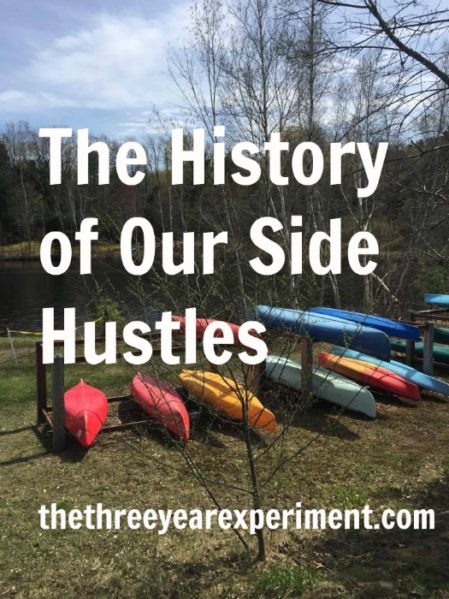 I grew up as the daughter of a small-business owner. Although my dad was a pediatrician, he was also the owner and operator of his practice, and I grew up listening to him talk about managing his business for ultimate profitability. He was great at utilizing available resources to help him grow his practice in an extremely poor region of the country (rural South Carolina). Seventy-five percent of his patients received Medicaid, and despite the very low payout rates for those patients, he applied for government subsidies and programs to not only allow his business to survive, but to thrive. When he sold his practice a few years ago, he had over 14,000 pediatric patients in a town of only 4,600 inhabitants!
My husband grew up in a similarly resourceful household. His father built a small storefront on the front of his house, and ran a mini-market from their house for years. Mr. ThreeYear helped his dad make sandwiches to sell for workers at lunch time, homemade pickles, and other profitable sundries that would provide income for their families.
So, when Mr. ThreeYear and I got married, we of course pooled our collective knowledge and tried out many side hustles and businesses.
Here's a list of all of the businesses we've had over the years, with a (completely subjective) score next to it of how worthwhile it was, based on time required and profitability. Over the years, as we've become more financially stable, we take on less and less of these side hustles, but it's nice to know that we can create these streams of income should we need them.
1. Selling old stuff on eBay. Score: B.
When we lived in Atlanta, and were working to get out of debt, Mr. ThreeYear found a lot of treasures at local yard sales, especially electronics, and would resell them on eBay for a profit. He found an old iMac computer that was "broken" at a yard sale, dusted it off and cleaned it up to get it working again, and sold it for $400 on eBay. He also found a lot of Bose speakers and sold those for a handy profit. This business gets a B because it depended on what we were able to find at yard sales, and was very inconsistent for profit. 
2. "Flipping" cars. Score: D.
Mr. ThreeYear, in our early years of marriage, would buy used cars in good condition (in cash) from wholesalers in the Atlanta area, drive them for a couple of months, then sell them on Craigslist. This wasn't meant to be a business, per se. Mr. ThreeYear just really enjoys buying cars. He would usually buy a car, spend a bit of money on it, then sell it to break even. (He did sell his beloved Acura MDX when we were getting out of debt to give us extra money to kill our debt faster, and found a smaller Audi that cost half as much). This could have probably been a successful business had he dedicated more time to it. As it was, it was a hobby that paid for itself. Mr. ThreeYear could try out lots of different cars without having to eat the depreciation. This "business" worked because we lived in Atlanta and had access to so many great used cars. Also, any mechanical work was super cheap, because Mr. ThreeYear had some awesome "friends" that did work very inexpensively. 
3. Selling refurbished computers on eBay. Score: A. 
This is another Mr. ThreeYear business. He has an eye for electronics, and will regularly scour our recycling center (aka "The Dump") for discarded computers and components. Then, he'll fix them up and sell them on eBay. Two years ago, he decided he wanted to make some extra money for a MacBook, so he took the business up a notch, and started selling a bunch of laptops he'd collected over the years. He ended up earning around $1000. This business has been successful because he's able to find computers and components and fix them, ultimately taking them out of the landfill (literally) and selling them. The only negative about this side hustle is that eBay takes a cut of earnings, and getting stuff to the post office is a bit of a pain, because we don't have pick up where we live. We have to take everything in to the post office, when it's open, in a timely manner. Also, if you sell on eBay, be prepared to deal with people who will send stuff back for the silliest reasons. It's just part of the business.
4. Spanish tutor. Score: B.
When my youngest son was a baby, I signed up as a Spanish tutor on WyzAnt and found some great clients. I tutored three nights a week after Mr. ThreeYear got home. It was great because I was able to get out of the house after a long day of being home with two young children, speak Spanish, and earn extra money. WyzAnt took a portion of my earnings, but I still earned a decent $30/hour as a tutor. Plus, my clients were so great–a mom and her stepsons who all wanted to improve their Spanish. The only reason I give this a B is because it took a lot of time in the evenings, and I had to travel to their house, which was a little far.
5. Freelance editor. Score: B. 
After we left Santiago and had moved to Atlanta, I was offered a chance to edit business cases for some friends back at the Universidad Catolica de Chile, where I'd worked. They were working for the very prestigious Harvard University Social Enterprise Knowledge Network, writing business cases on corporate social responsibility in Spanish, then translating them to English. My job was to vet the English business cases. Their standards were obviously very high, but the work was very interesting and I got to put Harvard on my resume! They paid a decent amount for Chile, but by US standards it was fairly low, and it was time-intensive, so I eventually let this side gig go once I had a full-time job in the US.
6. Insurance translation. Score: A. 
Over the years, Mr. ThreeYear and I have taken translation jobs from an insurance rep friend of my dad's. A specific company needs the information translated into Spanish. Mr. ThreeYear does the body of the translation. I help a little with formatting and invoicing. The jobs don't take too long and pay well, so this has been a consistent stream of extra cash.
7. Translation for NGO. Score: C.
When we lived in Santiago, we had the opportunity to take on several translation jobs (Mr. ThreeYear took on English to Spanish and I took on Spanish to English). I was much more optimistic about our ability to take on translating than was Mr. ThreeYear, whose profession it actually was. He explained to me, over time, that you have to be an expert in different areas in order to be an effective translator. There was one time when I was asked to take on a translation for a prestigious NGO that I should not have taken on. It was a huge job, and my contact needed me to translate it very quickly, while I was juggling a full-time job. The job paid well, which was why I took it, but in hindsight, it was too difficult and I didn't have enough time to devote to it. I finished the job, but because I wasn't an expert in this particular area (Latin American economics), I did not do a great job with this translation and I was not asked to translate any more documents from this particular organization!
8.  Buying and selling copper pots. Score: D.
Early in our marriage, Mr. ThreeYear and I found a coppersmith living in the Santiago neighborhood where he grew up. These beautiful pots were handmade, hand-pounded, made of a thick outer shell of copper and an inner shell of aluminum. They were beautiful! We thought we'd buy a bunch, ship them to the US, and sell them for a handsome profit. There were just a couple of problems with this plan: one, our wholesale price was too high for us to make a profit, two, the cost of shipping one tenth of a container to the US was astronomical, and three, we had no distributors in the US. We did zero cost analysis before we undertook this business. We ended up giving away a lot of pots and pans as gifts, and my parents still have some in their attic. The only redeeming part of this business was we learned a lot through all of our mistakes.
9. Blogging. Score: B.
I love, love, love to blog! But it currently costs money to run the blog, versus making money, so I have to give it a B.  One day I hope it makes enough money to support the back-end costs.
I'm sure I've forgotten one or ten side hustles that we've undertaken over the years. Everything we've done, though, has improved our skill set in hustling and making money. Our businesses have taught us about interacting with clients and customers, and we've learned what works and what doesn't. We've also developed self-confidence because we've never limited ourselves to one way to earn money.
What's your most memorable side hustle? What grade would you give yourself?