In our quest to eat more veggies in 2020 (and less meat), I thought I'd put together a post to help myself organize some of our new, favorite plant-based dinner recipes, ones that we have tried and given the thumbs-up to.
I originally started this post way back in January, but, you know, 2020 happened, and we got a little distracted from our goal. But since reading How Not to Die, I have been working to change how I cook and I think this post is more important than ever, if nothing more than a reference for me.
When I get home from work, around 4pm, if Mr. ThreeYear is not in the middle of a conference call, his first question is usually "What's for dinner?" I try to have dinner ready by about 5:00 or 5:30 because of kid activities and husband hunger. So, I need recipes that are fast.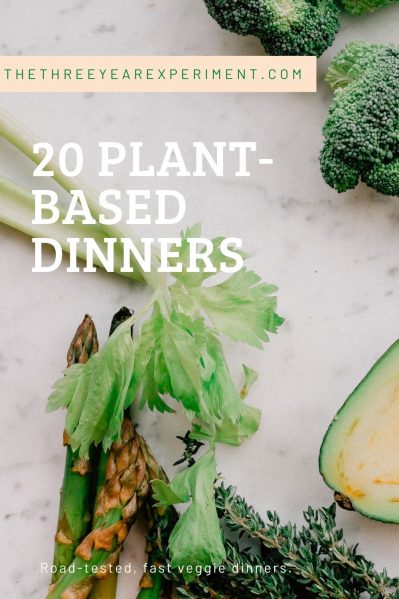 Also, taste. I'll admit, before I started eating more plant-based, I was convinced veggie fare wasn't very flavorful (hello, self, Southern Indian food?!). But the key is spices! Even if you don't like spicy food, using salt, pepper, Italian seasoning, paprika, and other basic kitchen spices will seriously improve the flavor of these dishes. And if you like spicy, well, man, buy a prepared curry powder and go to town.
Eating plant-based is not only really good for your health, and the planet, but it's cheaper! Woo hoo! Dried beans are so cheap. I really am convinced. And you know when you get to the checkout, and you get cart envy? Where the person in front of you is putting the most beautiful assortment of colorful and lovely foods on the roller and you think, "Wow, I should eat like that…"? Well, I'm feeling that way about my own cart these days.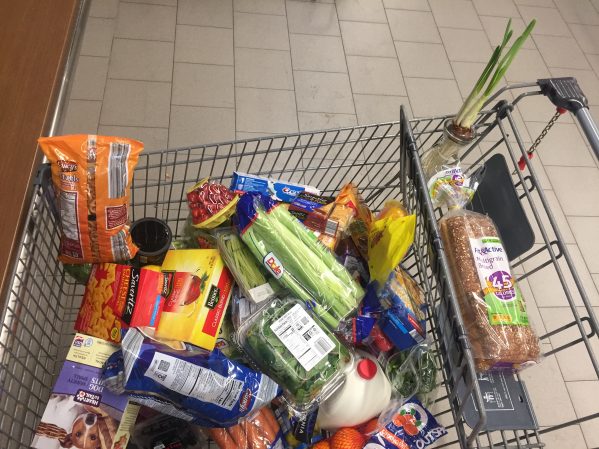 This post contains 20 recipes that my family has tried and liked (although my youngest son, super picky, has probably rejected them all–luckily he lives on red peppers). So if you're looking to add more vegetables or legumes to your diet, read on.
Bean Recipes
1. Minestrone Soup
One of the problems I always had with making minestrone soup was the flavor. I never felt like vegetable soups had enough flavor without meat. This recipe includes lots of snappy vegetables like celery and fennel, plus fresh basil and a bit of grated parmesan to finish (if you want). It's super flavorful! The hardest part is gathering all the ingredients and, of course, soaking those darn beans. Substitute pretty much any beans you want and use canned to make it easier.
2. Lentil Soup
1/2- 3/4 c. dried lentils
6 c. water
1 onion, chopped
2-3 potatoes, diced
1 carrot or celery to taste
1 bay leaf (important!)
1-2 tsp. cumin
Vegetable boullion, salt and pepper to taste
Easiest from-scratch weeknight meal ever. I don't even sauté stuff first. I just throw all the ingredients in the pot, bring to a boil, then simmer for 20-30 minutes or so until potatoes are soft. Definitely add bouillon if it tastes bland to you, and be generous with cumin, salt, and pepper.
3. Indian Chickpeas
For the super lazy cook. We eat this a lot.
Four regular-sized cans of chickpeas or two large
1 jar of prepared Tikka Masala sauce
1 can coconut milk (or cream, even richer!)
a pot of rice to accompany
Pour your drained chickpeas into your pot. Add the jar of Tikka Masala (or, you could make your own with Tikka Masala spices, 1/4 c. of crushed tomatoes, and coconut milk). Simmer for 10 minutes. Serve over rice.
4. Beans and Greens
A classic.
2 carrots, chopped
1 onion, diced
2 garlic cloves
paprika, salt, cumin, crushed red pepper
2 1/2 cups vegetable broth (I use Better Than Bouillon)
1 cup water
Two 15-oz cans chickpeas, drained
4 cups kale, chopped and de-stemmed
Saute the carrot and onion in 3 tablespoons olive oil. Add the garlic, cook 1 minute. Add the spices, to taste (easy on the red pepper flakes but heavy on the cumin, at least 2 tsp!). Stir in broth, water, and beans. Bring to a boil, then reduce heat and simmer for 20 minutes. Add kale and cook another 10 minutes. Salt and pepper to taste. Using lots of spices is the key to good flavor.
5. Black bean Enchilada Casserole
This Cooking Light recipe takes a bit of time to make the enchilada sauce, but boy is it worth it! Layers of flavor. If you make the sauce in advance you can put this together and have it cooked in less than 30 minutes. I haven't figured out how to replace the cheese yet, since I'm experimenting with vegan, but if I figure it out I will add a note here.
Soups
5. Spinach and Carrot Soup
Melt. 3 tbsp. butter in a pot, then add 1 cup diced onion. Saute on medium heat for 5-6 minutes. Stir in 2 tbsp. flour. Then add 1 c. half and half, 10 3/4 oz. chicken broth, 1 c. shredded carrots, and one 10 oz. package frozen chopped spinach. Cook until the flavors have melded, 10-15 minutes. Salt and pepper to taste. This soup makes you feel so good after you eat it.
6. Veggie Charquican (Chilean Pumpkin & Bean Soup)
Add 3 cups vegetable or mushroom broth to your pot. Add one onion, chopped, four cups of raw chopped pumpkin or butternut squash, two potatoes, 1 cup lima or kidney beans, 1 Bay leaf, 2 tsp. cumin, 2 tsp. Italian seasoning, and salt and pepper to taste.
Let everything cook on low for 30 minutes or so, until it has a thick, stew-like consistency because of the pumpkin.
This recipe doesn't have a lot of fat, so you must properly season it to amp up the flavors. Use good quality broth (I use Better than Bouillon) and don't be afraid to be heavy-handed with the spices.
7. Minestrone Soup
Ok, I know I included a minestrone soup already, but it is worth putting two recipes in. I made this much faster version last night. You can basically put in whatever veggies you want. Yum. Key, in my opinion? Cumin, bay leaf, and time. Although don't add the pasta til the end or it gets too soggy.
8. Veggie Pho
I love me some pho. Yes, this Vietnamese soup is traditionally made with beef broth, but it has so many layers of flavor with all of the veggies in there that it is worth reproducing as a veggie option.
Vegan
9. Green Beans, Potatoes and Spinach in Coconut Curry
This dish is so delicious, and packs a green punch with green beans and spinach. Yum yum. We eat this a lot.
10. Sweet Potato, Cauliflower, and Peanut Stew
This one uses coconut milk and peanuts to create a creamy, crunchy sauce full of veggies. Yum.
11. Napa Salad
We eat a recipe similar to this one that I got from a vegan cookbook (the latest Forks and Knives one). While it does take a few minutes to grate all the cabbage (we use red and green–did you know red cabbage has something like eight times the antioxidants of green?) it is so beautiful and delicious, and filling!
12. Thai Peanut Rolls
These take a little bit of work, in that you have to go to the specialty Asian store and buy Vietnamese Spring Roll Wrappers, but once you own them they will last you forever–like seriously, ten years–and then you have to put them together, and make the sauce, but once you have done all that work these make the most delicious meal. Also these are perfect for warm weather because they are a cold dish.
Grate one-half head of cabbage and two carrots. Chop up two Spring onions and add to the mix. Pour half of a bottle of prepared Hoisin sauce to your cabbage mixture.
Prepare the rolls–dip one dried Spring Roll into a plate full of water. Immediately remove it from the water and let it rest on your cutting board for 15 seconds or so, until it has absorbed the water and is pliable (it will be very obvious when this happens).
Line the roll with fresh basil, then add a small amount of filling.
Delicious
I'm Southern. I grew up on casseroles, so I really like things with crust or potatoes.
13. Tortilla Española
This one I learned from the Spanish lady I lived with during my exchange program to Madrid. It is good.
3 small onions, diced
3 medium or two large potatoes, peeled and thinly sliced (alternately, you can use unpeeled new potatoes)
3/4 cup vegetable oil
Heat up the oil on medium heat on the stove in a pan with round sides. Add the onions and potatoes and sautée, stirring occasionally, until the potatoes are soft enough you can easily pierce them with a fork. Salt once, generously, while cooking.
Once potatoes are soft, drain mixture and discard or reserve the cooking oil. Wipe out the pan with a paper towel, and add two tablespoons of oil to the pan. Heat to medium-high.
Meanwhile, transfer the potato mixture to a bowl, and crack 4-5 eggs over the mixture. Carefully stir until eggs are well incorporated. Pour egg-potato mixture into the pan, and cook the tortilla until the bottom is firmly set, 4-5 minutes. Salt mixture once more, lightly.
Place a plate over the pan, and, using a hot pad, carefully flip the pan so the raw side of the tortilla is bottom-side down on the plate. Carefully jiggle the tortilla back into the pan to cook the bottom side.
After 3-4 minutes, check for doneness by jiggling the tortilla. If it appears to move in one piece, it is ready. Turn out onto a fresh plate and cut into wedges to serve. You can serve hot or cold. It's really good for breakfast cold.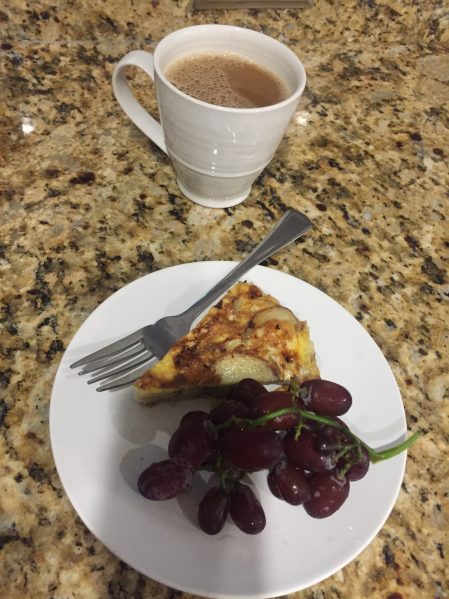 14. Onion Tart
This is super delicious and fancy enough you can serve it with company. If you wanted to make it vegan, you could probably switch out the feta creese for sun-dried tomatoes, although you'd have to play around with the quantities.
15. Baeckeoffe
I have made this dish several times for "company." It takes a while to put together but it is worth it. I don't think there is a way to make it vegan, with all of its butter, cream, and cheese, but it is definitely comforting.
Salads
16. Roasted Veggie Kale Salad
I recreated my favorite salad from a New Hampshire Italian restaurant.
Half a bag of kale, or, one bunch kale leaves cut and stems discarded
1-2 large sweet potatoes, cubed
1-2 large carrots, cubed
1-2 red peppers, sliced
Other cubed veggies you have lying around such as onions, zucchini, potatoes, eggplant, fennel, leeks, asparagus, etc.
For vinaigrette–1 tbsp. dijon mustard, 2 tbsp. vinegar, 4 tbsp. olive oil, salt and pepper.
Cover cubed veggies in olive oil by putting into a bowl, covering with 2-3 tbsp. olive oil, and combining with your hands. Spread veggies in a sheet pan, then roast in the over for 400 degrees F, approximately 20 minutes or til soft. Turn veggies once if you remember.
Make a vinaigrette by combining your mustard and vinegar in a jar and shaking vigorously. Add generous amounts of salt and peppers, then add oil. Shake again.
Prep kale leaves by salting and peppering. Pour vinaigrette over leaves and combine (I always use my hands). Wash your hands (ahh, aren't they nice and moisturized now!), then dump the roasted veggies over the salad. Mix again with a spoon. The hot veggies will further wilt the kale.
Serve up a big bowl of kale and veggies for each member of your family that will eat kale. 🙂
17. Cobb Salad
Make it veggie, make it vegan. Cobb salads are good. Try this one.
Pasta
18. Creamy Sun-dried Tomato Pasta (One Pot)
This recipe is a favorite at my house. Also, it's ONE POT. That means you mess up exactly one pot in the making. Genius. Also, you can pretty much always have these ingredients on hand-a box of pasta, some bouillon, a bag or jar of sun-dried tomatoes, and some milk (or you can easily substitute coconut milk or almond milk like I do for a vegan version).
19. Pasta Salad
Cook 8-12 oz. of your favorite noodles to al dente. Chop up 2 cups whatever veggies you have lying around–broccoli or cauliflower, mushrooms, peppers, cucumbers, radishes, tomatoes, or a combo of.
Chop up about 30 olives or an eighth of a cup capers. Chop up sundried tomatoes if you have any lying around.
Throw all of the above into a serving bowl. Add chopped basil, walnuts to the top. Pour about half a cup of your favorite dressing, or a homemade vinaigrette (see kale salad recipe) on top. Salt and pepper to taste.
20. Tuscan White Bean Pasta
We use the combo of white beans + tomatoes + spinach in our house a lot (for soups, pastas, salads). This version from Budget Bytes is, like most of her recipes, delicious.