It's incredible to believe that we've completed one year of our Three Year Experiment! Our goal as a family is to double our net worth and become location independent within three years, or right as I turn 40. Our family currently lives in New Hampshire, which is a beautiful state, but far from both my and my husband's families. And so cold! For someone who's suffered from seasonal affective disorder (or SAD) for years, winters are really tough for me.
So, we sat down just over a year ago, and created the big, hairy, audacious goal of doubling our net worth in just three years, so we wouldn't be as dependent on traditional jobs and therefore not as tied to one place. Our dream is to be able to split time between two continents, or perhaps move to an international country for several years, and travel extensively, as we love to do.
Further Reading:
Last year I dubbed "A Year of Good Habits." Each month of the year, I focused on adopting one new habit to help us achieve our goal (I wrote about the results of that experiment here). I found that yes, making your bed each day does help you get better at financial stuff. Strange, but true. When you start the day with small accomplishments, you start to believe you're someone who gets things done. You begin to trust yourself more. And that trust carries over into how you manage your money, how you spend, and how much you save. We were able to save up cash for several costly home repairs, completely pay off our apartment in Chile, and kill our last car loan. We increased our net worth by more than 32%, getting us really close to hitting 1/3 of our goal of doubling our net worth in Year One.
Since last year's experiment was such a success, I thought this year needed its own theme, a new challenge. Mr. ThreeYear and I sat down and talked about the one thing that we could do to help us reach our goal more easily. Both of us decided that we could do better in food spending. In 2017, our average monthly spending was $966. We spent almost $12,000 in just groceries last year. While we live in an expensive part of the country for food, we feel that we waste a lot of food, and could do much better at our food spending.
We would also like to focus on the quality of the food we eat. While we're good at eating lots of fresh veggies and fruits, we love sugar, and we eat a lot of fatty snacks like potato chips. Plus, we could definitely improve on the efficiency of our food preparation. We aren't very consistent about preparing food for the week, and it can get busy during the weeknights, so we're apt to eat pasta or another "easy fix" carb.
The Year of Good Food
2018 will be "The Year of Good Food" for the ThreeYear family. We've set a modest goal of reducing our food spending by 20%, which would mean we spend no more than $772 US per month on food for our family of four.
That might seem like a huge number to some of you, but for us, if we were to be able to reduce our food spending by almost $200 per month, that would mean $2400 in savings at the end of the year.
To incentivize ourselves, we'll take that $200 per month in savings and transfer it to a special savings account for Chile. By the end of the year, if we keep our grocery spending below our goal, we'll have enough for two roundtrip tickets to Santiago.
For years, we've been trying, but failing, to consistently spend less on groceries. That's why this year we want to challenge ourselves to consistently hit what is, hopefully, an achievable goal. Setting a goal of $500 a month in food spending would probably not be achievable for us, and would just lead to frustration. But spending just under $800 feels achievable. And the idea is to create lasting change in this area.
Each month, we'll focus on one new habit related to food to help us achieve our goal. I'll write about how we did at the end of the month, and share which habits were more helpful in controlling our food spending.
January's Habit
In January, we'll tackle our first food-related habit: making one big trip per week (and no more!) to the grocery store. This is the first habit on our list because I know that our frequent trips to pick up "one or two things" (which end up being three or four things) get us into trouble. And even more so than perhaps a usual buyer, because of where we have to shop.
We live in a small town. So small that there's not even a stop light. So small that most of my neighbors don't lock their doors. Some don't even know where their keys are, after living in their houses for decades.
Our town is so small that it doesn't even have a grocery store. The closest "real" grocery store is at least 20 minutes away. What we have is a market. Have you ever gone on a trip to a ski town? Rented a little chalet or bungalow for a few days, and had to stock up on food? Inevitably, in every ski town, there's a small market that has most everything you could need. The only problem is, all the food is marked waaay up for the tourists (that'd be you) and so you end up spending about 50% more for everything.
Well, that's our market. We live really close to a major ski resort, and have a large retirement community smack dab in the middle of our town, so we have a market where we pay 50% more for everything.
If we forget something at our weekly run to the grocery store, we can run up to our market to buy it at a pricey premium, or go without.
This month, we're going to focus on making one big trip to the store, and then no additional ones. My budget for each trip is going to be $150 US. That way, I'll have enough for up to 5 weeks of groceries per month. I'll also have a buffer, in case I need to stock up on toilet paper, paper towels, or other house supplies we usually buy through Amazon. Or, if Mr. ThreeYear forgets and buys some groceries, there will be a little wiggle room in the budget.
Week 1
Our first week of grocery shopping happened this past Saturday, January 6th. We didn't grocery shop for the first week of the month because we were still in Chile. All of the groceries we bought there were attributed to our vacation spending (as an aside, food is so much cheaper in Chile! Wow!!!). So, we started the year with a nice, clean slate.
And I already broke our habit.
Here's what happened. We got home from our mammoth 24-hour trip back from Chile, dropped off our rental car, and picked up our car from the airport. When I say "picked up our car," what I mean is, we dug our car out of several feet of snow and ice while wearing mediocre gloves and tennis shoes. I have never been so cold! Mr. ThreeYear was using the ice scraper and all I could find was a book, so we would attack the snow and ice for about three minutes, then dash into the car, peel off our gloves, and wave our red fingers in front of the heater. The temperature was hovering around -4F at that point, and our fingers turned painfully cold within minutes. I finally wizened up and put on Junior ThreeYear's gloves and then my own, and we got all the snow off the car.
I did not take a picture, because we were way more focused on getting the car out, but it looked something like this: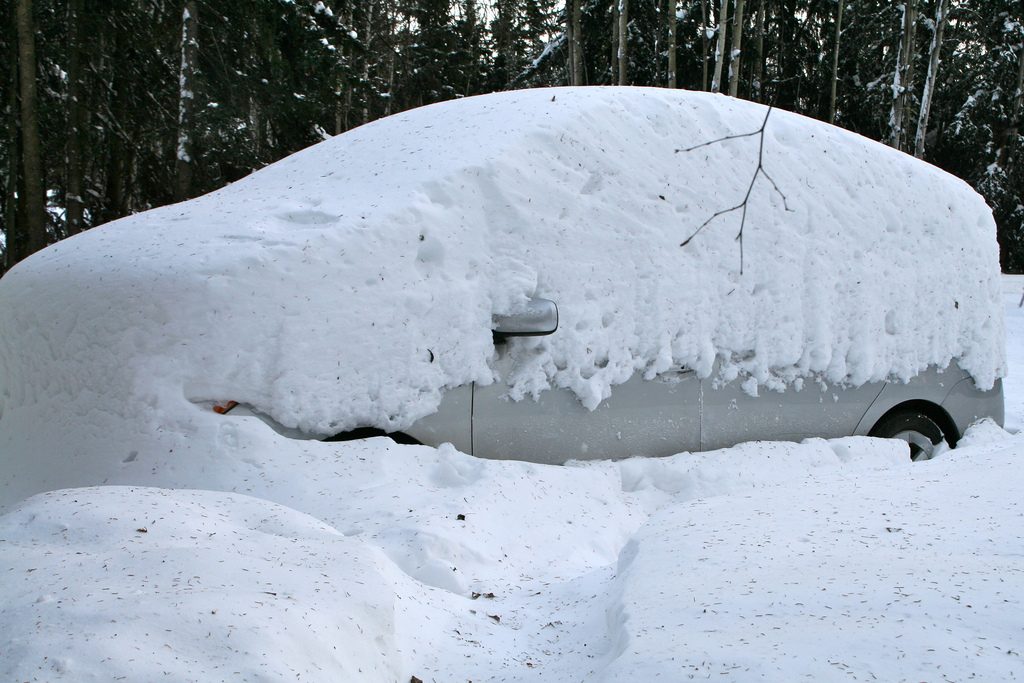 After we dug out our car, and switched the boys and the luggage over, we realized we didn't have any food at home. So we drove across the street to BJ's to buy a few things. There was almost no room in the car, because of all of our luggage, so Mr. ThreeYear recommended that I buy only a few things.
I walked into BJ's and grabbed a cart, then spent a few minutes walking around with the odd sensation of having two bricks on my feet. I couldn't feel them at all. They finally thawed out, and I decided that I should buy everything we needed for the week right then and there, so I wouldn't have to come back out into this unbearable cold the next day. I quickly filled the cart with our staple items: carrots, celery, red peppers, salad greens, bread, cheese, ham, cauliflower, broccoli, grapefruit, apples, eggs, milk, half and half for our coffee. And best of all, even though I wasn't strictly calculating, the total came to only $120. We managed to wedge all the groceries in the nooks and crannies of the car, and then headed home to collapse.
The next day, I realized that I'd forgotten a few important items: coffee and yeast. I promised Mr. ThreeYear that I would try to recreate the famous Chilean bread that we'd eaten on our trip, to make our departure from Santiago a little less painful, and I needed yeast to do so. And coffee!!! I thought we had some more in the freezer but I was wrong. So I went to our market and bought those items, but I added them to our total, so we've still spent under $140. I feel okay about that.
All of this is to say, I know that we will not perfectly follow all of the habits that we lay out for ourselves. Because life is like that. But we are going to try our hardest for the rest of the month to make one big trip to the store, and then eat only what we have at home.
So I'll be back at the end of the month with a grand total of money spent, plus some photos of what we've bought. The idea is to really put our energies into buying simple, delicious, healthy food while staying in budget.
As always, if you have any tips for me, I'd love to hear them! Thank you, thank you! Here's to a year of new challenges!