Merry Christmas! The ThreeYears are currently in Chile. We just got back from a side trip we took to the San Pedro de Atacama desert, in the northeastern part of the country, close to the Bolivian border. San Pedro de Atacama is the driest desert in the world by amount of rainfall received, but it's also nestled in the Altiplano of the Andes mountains, so there are mountain-fed rivers and streams and salt lagoons everywhere.
Mr. ThreeYear is from Chile, and his entire family lives here, so we visit as much as we can, usually for about three weeks. We plan a side visit to one or two spots we've never visited for each trip, so that we can see somewhere new in South America. This year, we picked the San Pedro de Atacama desert, because Junior ThreeYear wanted to visit a desert and see an observatory.
San Pedro de Atacama Desert is a tourist destination, so it's quite pricey. Here's what we did to plan a great trip without breaking the bank.
The Flight
Luckily, in the last few years, a number of discount airlines have sprung up in Chile. We eventually decided on JetSmart, an airline with several flights per day from Santiago to Calama, the airport nearest San Pedro. We did an online search from the US just a week before our trip, so we could have gotten better rates if we'd planned ahead more. We looked at JetSmart and Sky, another discount carrier in Chile, and eventually chose JetSmart for its prices and flight options.  JetSmart is definitely no frills, as we found out. The planes are new and clean, and you have ample space between seats, which was very nice. However, if you took anything bigger than a small carry-on (8 kilos or less), you'd be charged for it–about $16 online per bag, $21 at the ticket counter, or $37 at the gate (the prices increase as you get closer to the plane). Also, you have to print your own boarding passes or download them to your phone, or you'll be charged $8 per boarding pass at the ticket window. Soft drinks, coffee, and a small selection of snacks and sandwiches are sold on board (a Coke or a small container of Pringles is $2.50).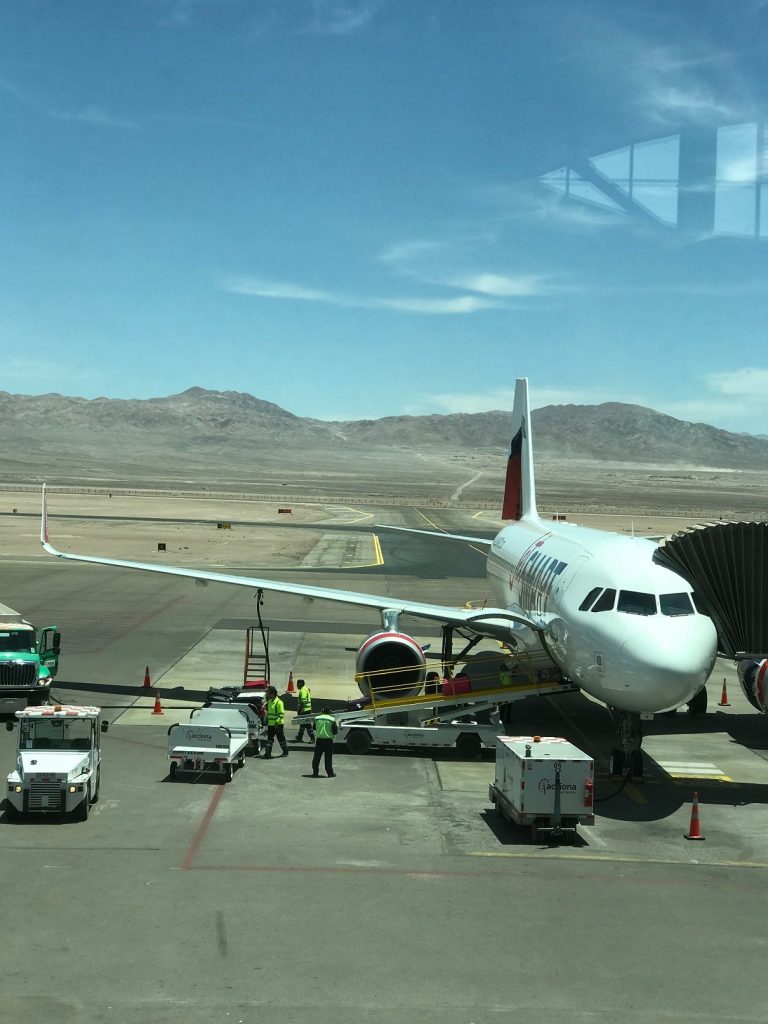 The four of us carried two backpacks and two carry-ons, one of which was over the size limit, as we found out at the gate (the website where we booked the tickets was not clear about size limits of carry-ons). Luckily, the gate agent took pity on us, and said she wouldn't charge us since it was close to the right size. We boarded the flight and flew two hours up to Calama, a small mining city in the middle of the desert.
We paid a total of $540.12 for four tickets from Santiago to Calama. We probably could have gotten a better deal if we'd booked earlier, but we thought $135 per person was reasonable.
The Rental Car
By far the best decision we made during our trip was renting a car. We booked the car online via Priceline, and paid $115.49 for four days and three nights. We rented through the local company Econorent and booked a four-door Nissan Sentra.
At the airport, we picked up the car, then drove to San Pedro de Atacama, after getting directions, because Mr. ThreeYear didn't have cell service in the airport (he has an international plan through work). Driving through the desert was eerie, at first. Everything is so vast, dusty, and rocky. You feel completely alone, and all you can see in front of you is highway. I felt nervous about breaking down in the middle of the desert with no one around. But we eventually saw more cars and trucks, and in less than an hour and a half, we arrived at the dusty town of San Pedro de Atacama. We had a little trouble getting to our hotel, because a lot of the streets are one-way, but Mr. ThreeYear finally got Google Maps to work.
Most people use tour companies to visit the most famous attractions, but we went in our rental car. It ended up being so easy to drive to a new site each day, and instead of paying $20-$30 per person for a tour, plus the entrance fees to the parks, we just paid the entrance fees. The only tour we bought was an astronomical tour.
The Hotel
When we booked our trip online, it was difficult to pick a hotel. Many of them were almost sold out, and prices were pretty steep (Atacama is, in general, a tourist destination with requisite tourist prices). We found a hotel that looked nice and used Booking.com to secure our reservation. But, two days later, when we called the hotel to confirm, they told us our reservation had been cancelled because our credit card didn't go through (which was odd, because we used the same card for every other online transaction). Then they wouldn't allow us to book a hotel room, because we were a party of four, and they didn't have any rooms with four beds. Mr. ThreeYear sent me a link for more hotel rooms in the middle of one of my last days at work, when I was super busy, so I, in a panic, booked a room at the edge of town, that had four twin beds and little else in the way of comfortable accommodations (I am trigger-happy when I panic. That's why Mr. ThreeYear and I make such a good team. He is much more thoughtful and restrained when making these types of decisions). I used Booking.com again.
When we got home that night, we realized I'd made a terrible choice, and contacted Booking about our reservation. We were supposed to be charged one night's penalty if we cancelled, but luckily they cancelled our reservation with no penalty. I will never use Booking.com again, by the way. Their website is misleading when it comes to what you will be charged after you book a room. On one page it says you will not be charged, and on the next, it says your reservations aren't cancel-able, and you'll pay a one night's penalty if you change them.
We called a nice-looking hotel called Takha Takha directly, using Skype, and talked to them about our situation. They told us they had a room with a double and twin beds, and said they were fine with having all four of us in the room, as long as the boys were willing to share the twin bed (which they were–they sleep together every night anyway and are fairly small people).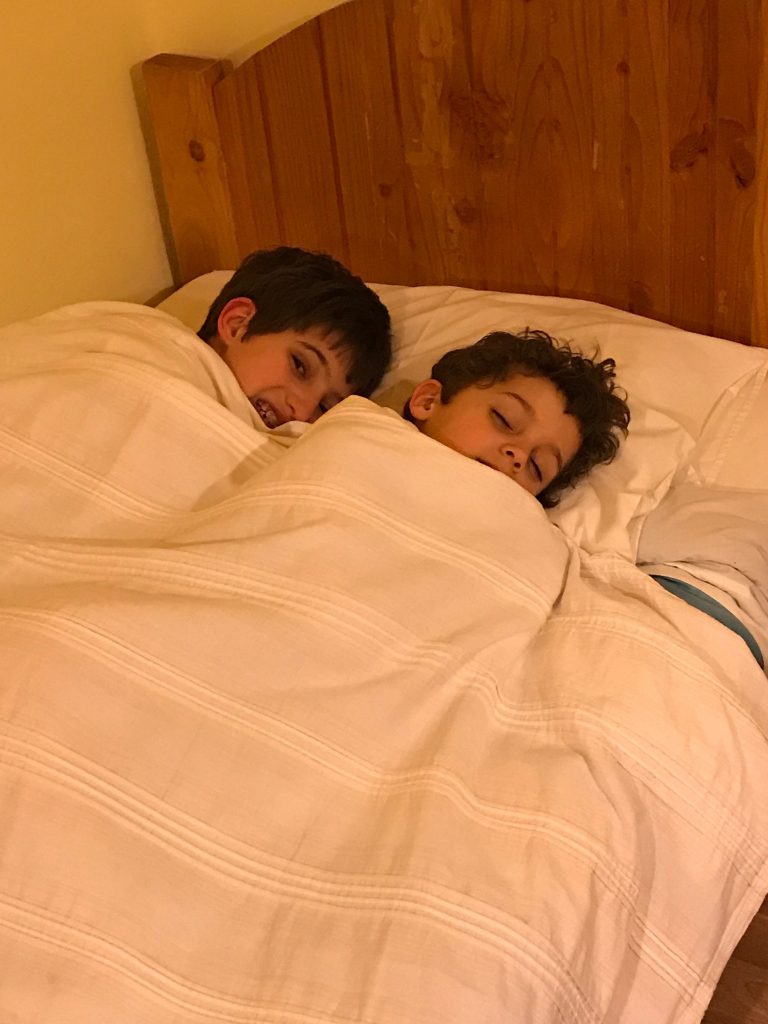 We also paid for one additional breakfast each day, as the other three breakfasts were included in the price of the room. The room had a private bathroom, in addition to the beds. This is not super common in Atacama, but for our family, it was a must.
The hotel sent us a form and asked us to transfer $85,500 Chilean pesos (about $138 US) to their Chilean bank account to confirm the reservation. We did this using Xoom, which is a money-transfer service like Western Union owned by PayPal. This may sound a little strange, but it's fairly common in Chile. I paid my rent each month when I lived in Chile by going to the bank and making a deposit in my landlord's bank account.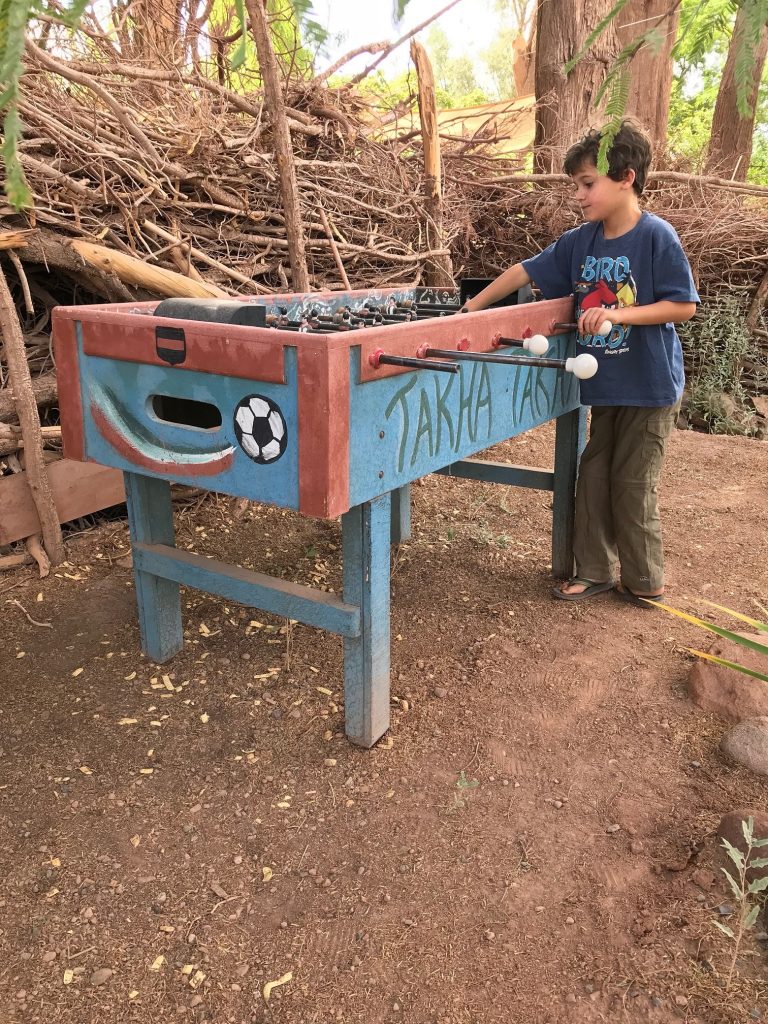 When we got to the hotel, we had both pleasant surprises and shocks. The hotel was at a great location, on Caracoles Street, the main street in San Pedro. We were a block's walk from restaurants, tourist agencies, and souvenir shops.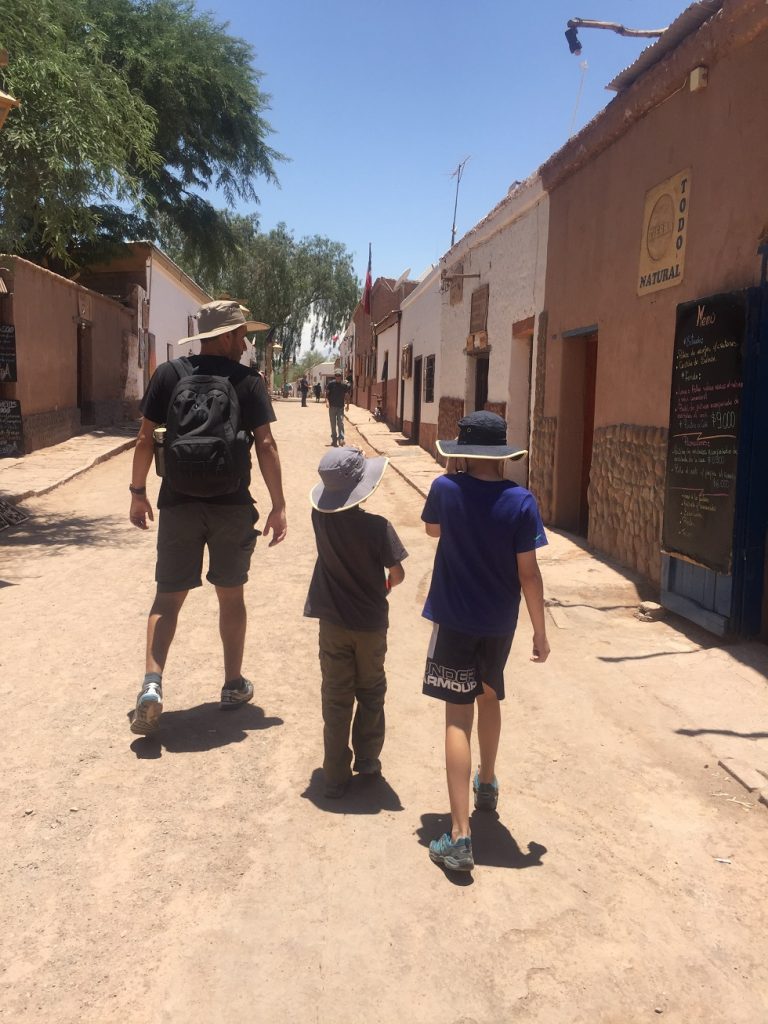 The hotel had free parking, so once we drove inside the hotel compound, there were parking areas, gardens, a patio, the pool, and lots of room to walk around. The room itself was basic. It opened directly to the outside and faced the street. It had the two beds, a desk, the bathroom, and little else–no TV, no amenities. But it worked! The staff was very nice, and talked to us about which parks we should visit and how we could go by ourselves in our car.
When we checked out, we paid the last two nights. We reminded the hotel that we were foreigners, so we shouldn't pay the VAT tax, which is only supposed to be included in Chileans' bills. We had a nice surprise–the nightly rate for the last two nights was only $114US per night, less than we had expected!
Breakfast
We arrived in San Pedro at night, so we went straight to bed after we checked into the hotel. In the morning we got up and were pleasantly surprised at the buffet breakfast. It had typical Chilean breakfast foods–crusty bread, ham, cheese, yogurt, fruit salad, pies, tarts, and cookies, plus fresh-squeezed juice and bad coffee (bad coffee is a staple in Chile! Most people drink Nescafe, the instant coffee, and they rarely have cream available, as the country only drinks shelf-stable milk, so if you're planning a trip to Chile, be prepared to have a little coffee-sized hole while you're there that won't be easily filled).
We paid roughly $8.85 for the extra breakfast, which we thought was a little high, but given that the other three breakfasts were included, we dealt with it, and stuffed as much breakfast into ourselves as we could. It was definitely a delicious start to the day and the boys took full advantage of eating sugary treats for breakfast.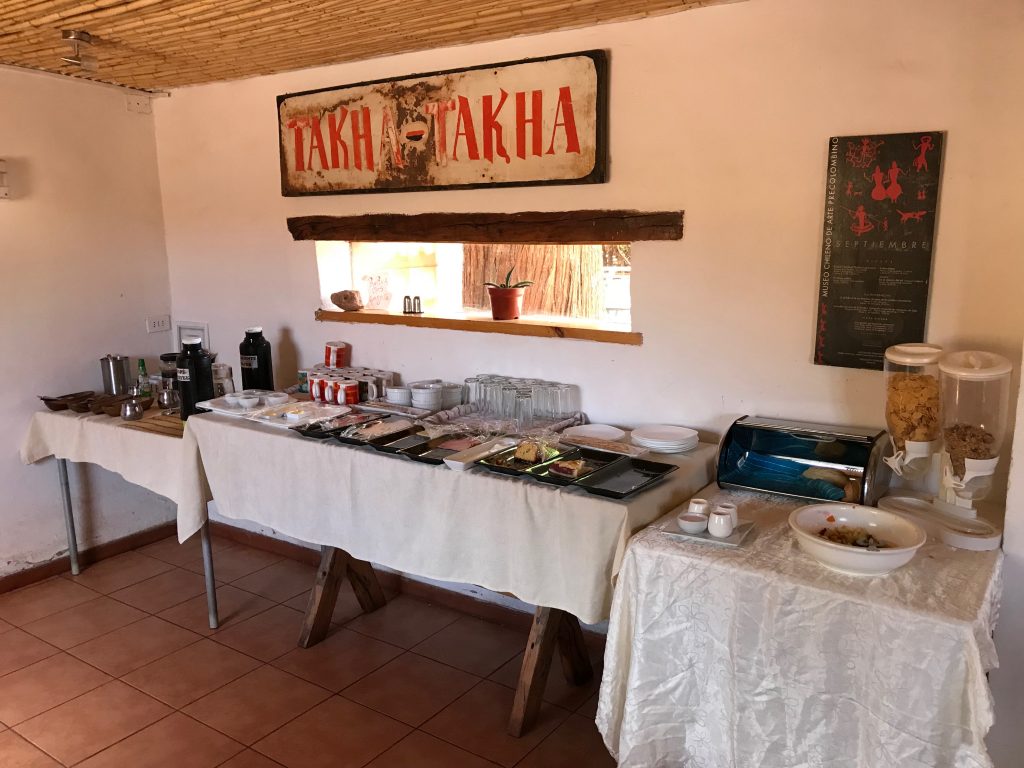 Laguna Cejar
On our first full day in San Pedro, after we ate breakfast, we took the kids for a dip in the pool, decided very quickly that it was way too cold, and so drove to Laguna Cejar, a salt lagoon that was about 30 minutes away from the town of San Pedro. We connected to Google Maps and started our drive into the flat, vast desert, hoping we'd end up where we were supposed to. Almost as if by magic, we arrived at the entrance to Laguna Cejar half an hour later (these parks are literally in the middle of the desert, so you drive and drive, and then, boom, there's a strange modern-looking building that's your park entrance). We paid the entrance fee, which was fairly steep for the adults ($15,000 Chilean pesos, about $24 each) but a great deal for the kids ($2,000 Chilean pesos, $3.25 each).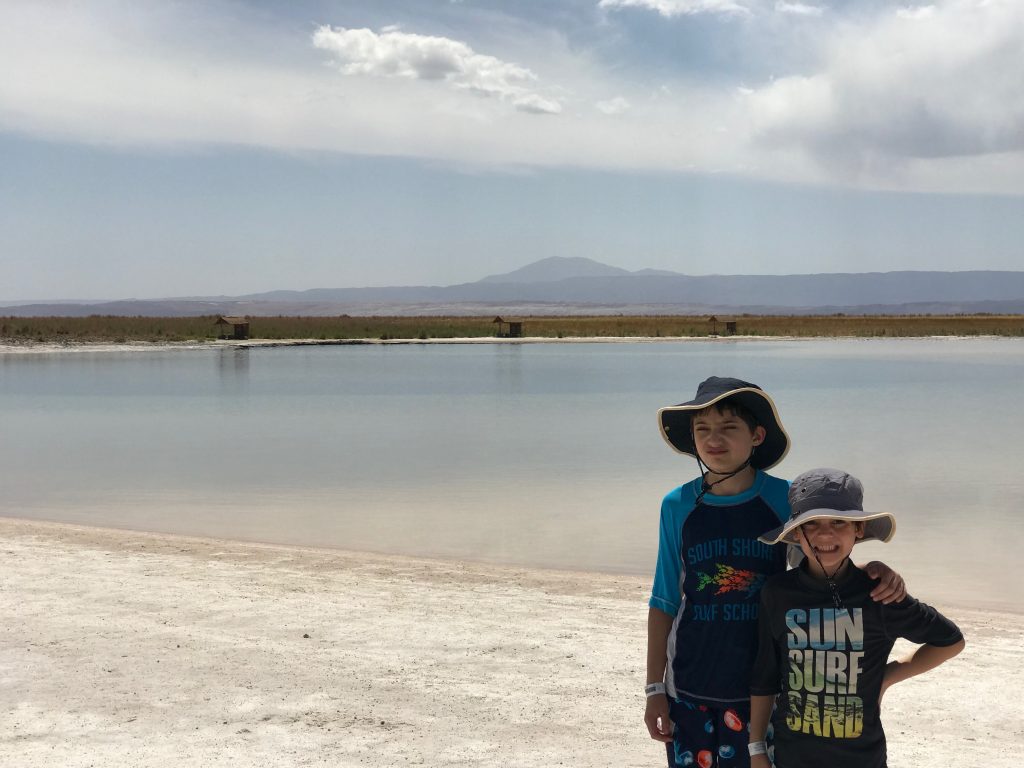 The park had a beautiful building to change into our bathing suits, and then we walked 500 meters or so to the one lagoon where they allowed us to swim. There were little buildings around the lagoon where we left our clothes and towels. The lagoon was fabulous, but cold–you could throw yourself into the water and you bobbed like a cork. It was the strangest sensation. Junior ThreeYear spent most of his time peddling his feet like on a bicycle and bobbing around in the water. When we got out of the water, we were covered in salt–it created a crusty white coating on your skin. The park had outdoor showers where you could wash the salt off before changing back into your clothes.
Moon Valley
From Lagunas Cejar, we drove straight to Moon Valley. In hindsight, this was not a smart move. It's a much better idea to visit one location a day, for several reasons. One, you're in the desert, and it's hot. Our bodies needed time to adjust to the intense sun. Second, you're in the altiplano, and many of the parks are located at high elevations. Your body also needs time to adjust to the 2,500-4,500 meters of elevation or you'll get a roaring headache (trust me, I got one).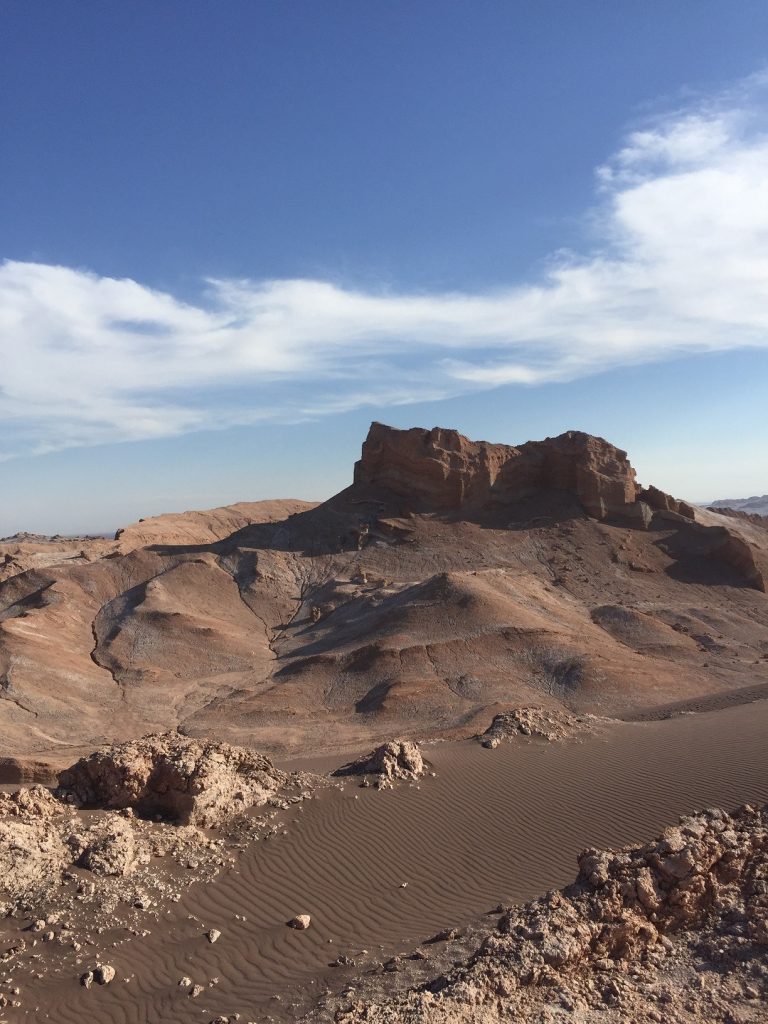 Moon Valley is a 22-kilometer trek which you can drive by car, with six major stops along the way. We paid our entrance fees, which I believe were $3,000 Chilean pesos ($4.84) per person. The park ranger told us we should start by exploring the salt caves at the beginning of the park, drive all the way to the end to the Three Marias, then work backwards, to arrive at the Mayor Dune in time for sunset.
The salt caves were amazing, but if you're not a fan of enclosed spaces, you may want to skip them. We needed our cell phone flashlights during part of the hike through, then climbed way, way up, to finish the trek.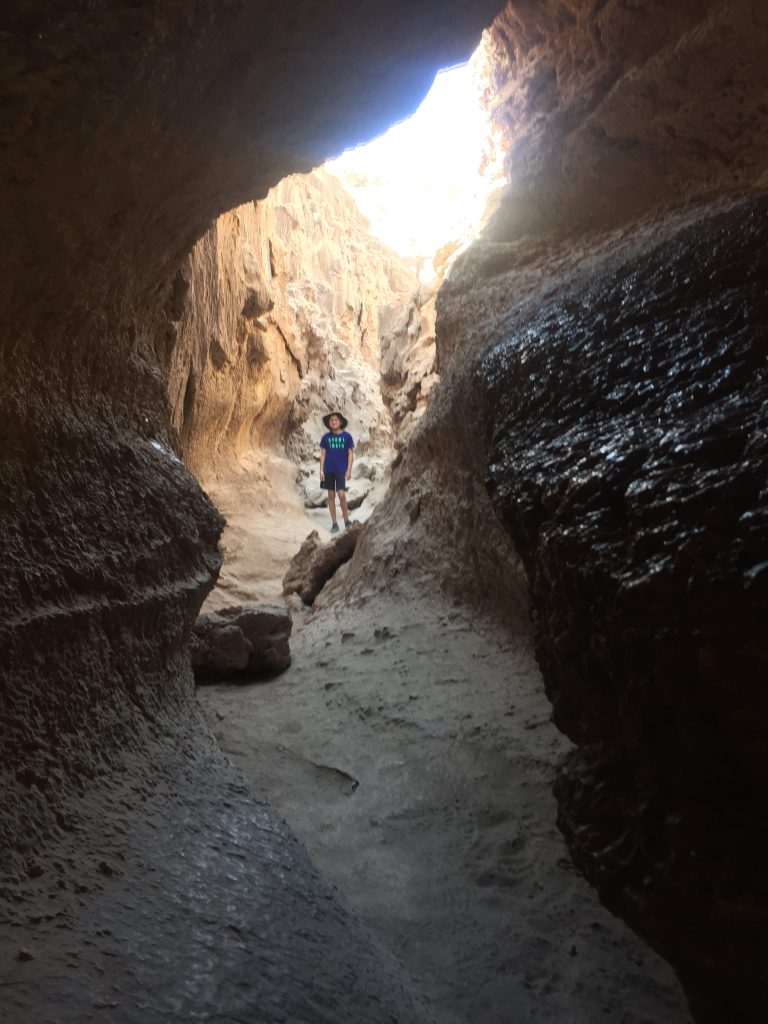 The views in the park are stunning, though. It's clear to me why this is one of the most famous attractions in Atacama. We climbed up to the Mirador de Kari, which was a steep but short hike to the very-windy summit, and had views that no camera can ever reproduce in spectacular-ness. We drove through a flat "ampitheater," where you could get out of your car and take pictures of craggy rock formations that looked like they were straight out of a Star Wars film. The boys kept pretending the Sand People were going to jump out and attack them any minute. We left the dune for last, and hiked up to see a vast swath of sand dune, right as the sun was preparing to set.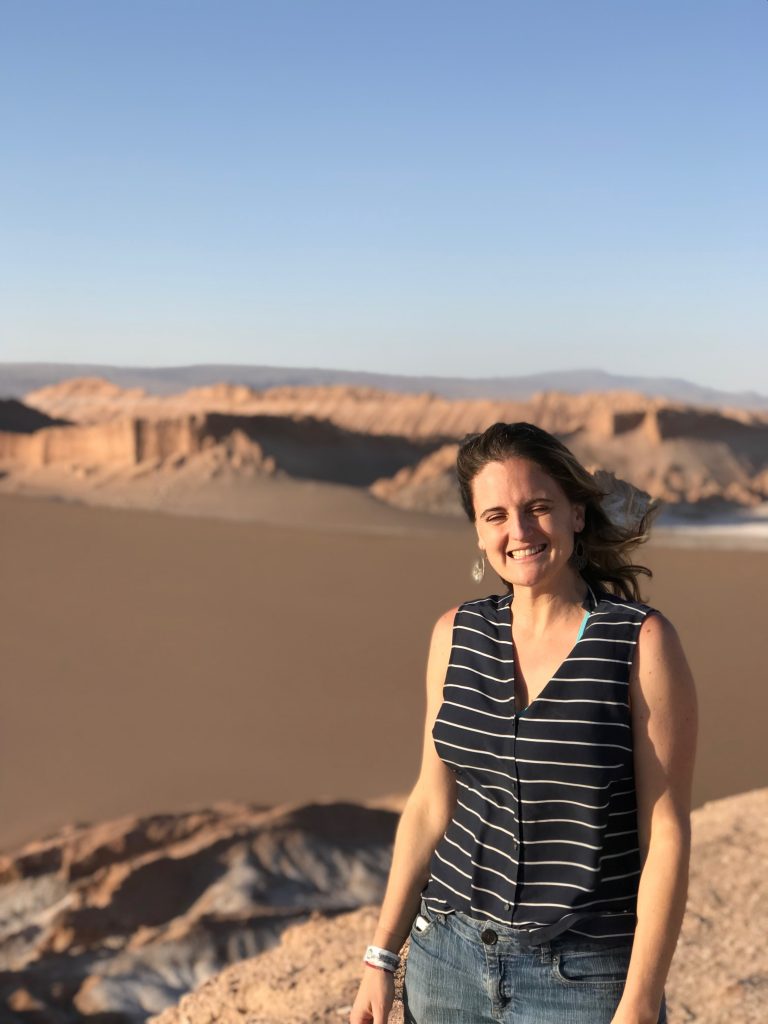 Since we didn't take a tour with either of the parks, I don't know what we missed, but I do know that the sites speak for themselves in terms of natural beauty. We saved tons of money and gave ourselves the freedom to take the attractions at our own pace, which was critical with kids. Also, we were able to take food with us in the car, so when we got hungry, we had something to eat. We didn't have to stay for the sunset, which we missed because we were all tired. And we had the freedom to do things in the order we wanted.
Tour of the Stars
We had booked an Astronomical Tour online that came highly recommended through an agency called Space. It started at 10pm, and we walked a block up and caught the van to drive us over to the site where the tour would happen. This was the part of the trip that we were initially the most excited about, because Junior ThreeYear wanted to see the great views of the sky you get from the desert. Unfortunately, this was the most disappointing part of the trip. We booked the tour in English for $20,000 CLP (about $32 US) per person, which was by far our most expensive tour of the trip. But the whole experience was just… underwhelming. Our guide was not a good guide. He was much more interested in what he had to say than in creating a great experience for us, and so our kids had to listen to him drone on for almost an hour. There was another ten year old on the tour, and he wouldn't even take his or Junior ThreeYear's (very good) questions.We finally got to see different stars through ten telescopes, which was cool (especially seeing another galaxy!) but there were so many people, and it wasn't clear what we were looking at. It was not the experience we had hoped it'd be. We finished the night at 12:30am, after a hot chocolate, and went to bed, exhausted.
If we go to Atacama again, I want to make sure to be there on the weekends, when the ALMA observatory is open. This is the largest observatory in the world, and a partnership between European, Japanese, and US scientific organizations. Thanks to its privileged location, dry climate, clear skies, and desolate location, this observatory has been able to capture never-before-seen images of our universe. The site has great resources for kids, even without a visit.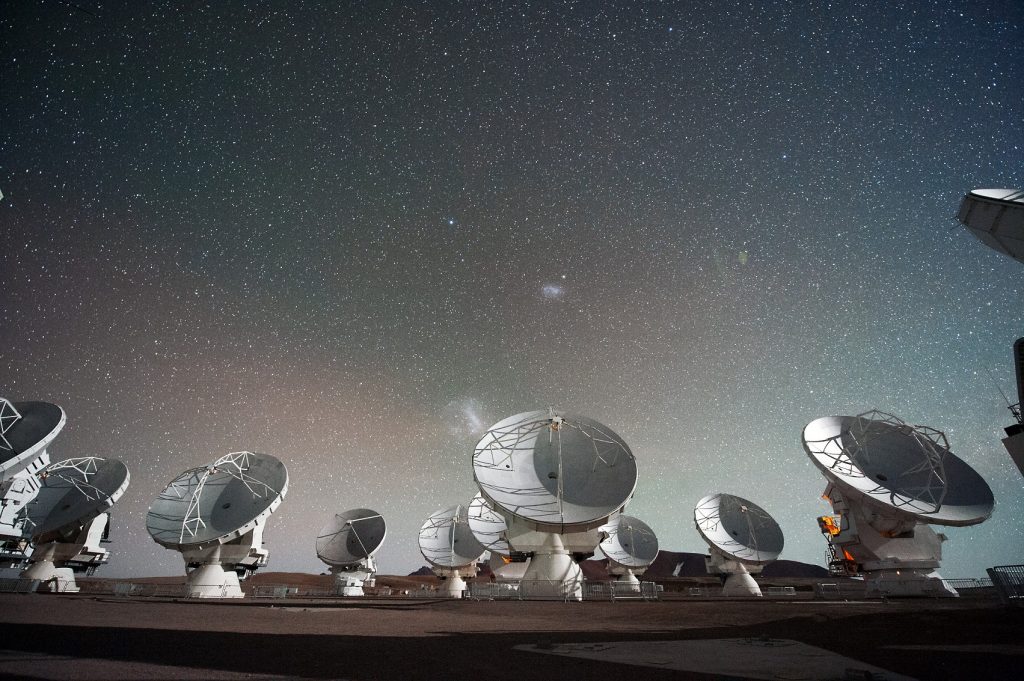 The Puritama Thermal Baths
The next day, we decided to take it easier, and go to some nice thermal baths. We didn't realize, until we were halfway to the baths, that they were at 3,500 meters (11,400 feet) of elevation! I had gotten a headache the day before from the elevation, so we'd bought coca candies, which supposedly help with altitude sickness. We sucked on those as we drove. The drive itself was breathtaking. We were climbing high through the altiplano, and enormous mountains framed us from the east.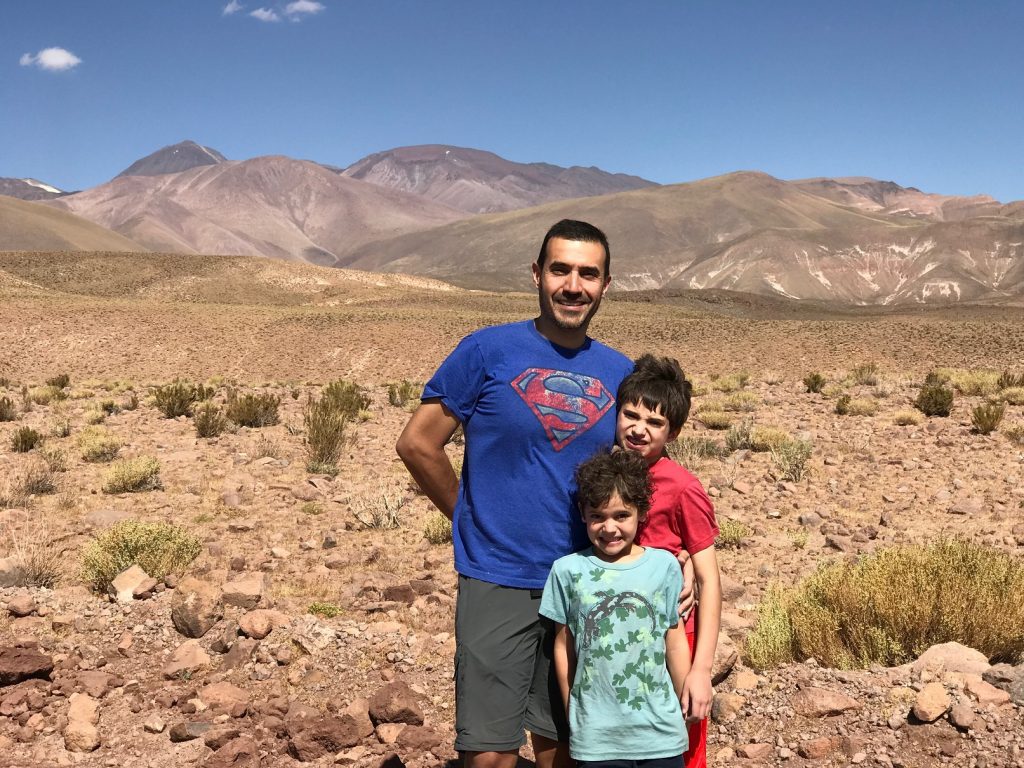 Again, we drove and drove, and then, as if by magic, a parking lot appeared out of nowhere, and we entered the park. We'd read that if we arrived at the baths (termas in Spanish) after 2pm, we'd have discounted entrance rates. So we arrived right at 2pm, and paid $9,000 CLP each for adults ($14.50 US) instead of the normal $15,000 Chilean pesos. The kids' entrance fees were $7,000 pesos  ($11.30 US).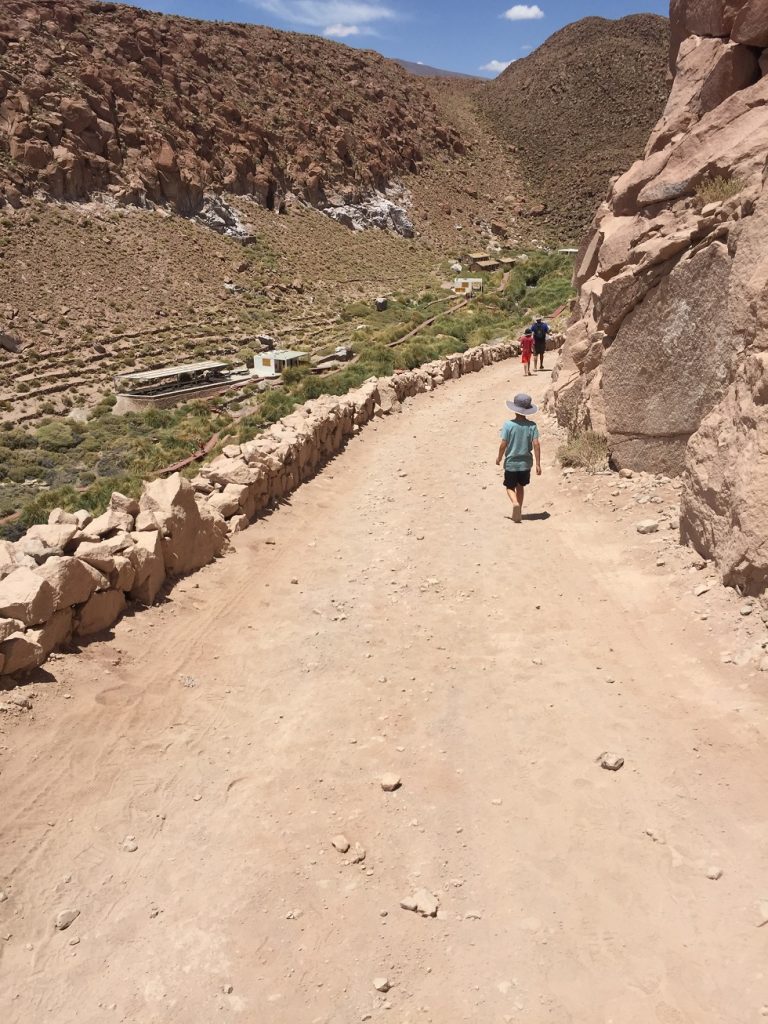 The baths were our favorite part of our desert trip. Nestled in the bottom of a canyon,  From the parking lot, we had a fairly steep 500 meter walk down into the canyon. We changed in the changing rooms, then walked down red wooden paths until we found a little pool that was unoccupied.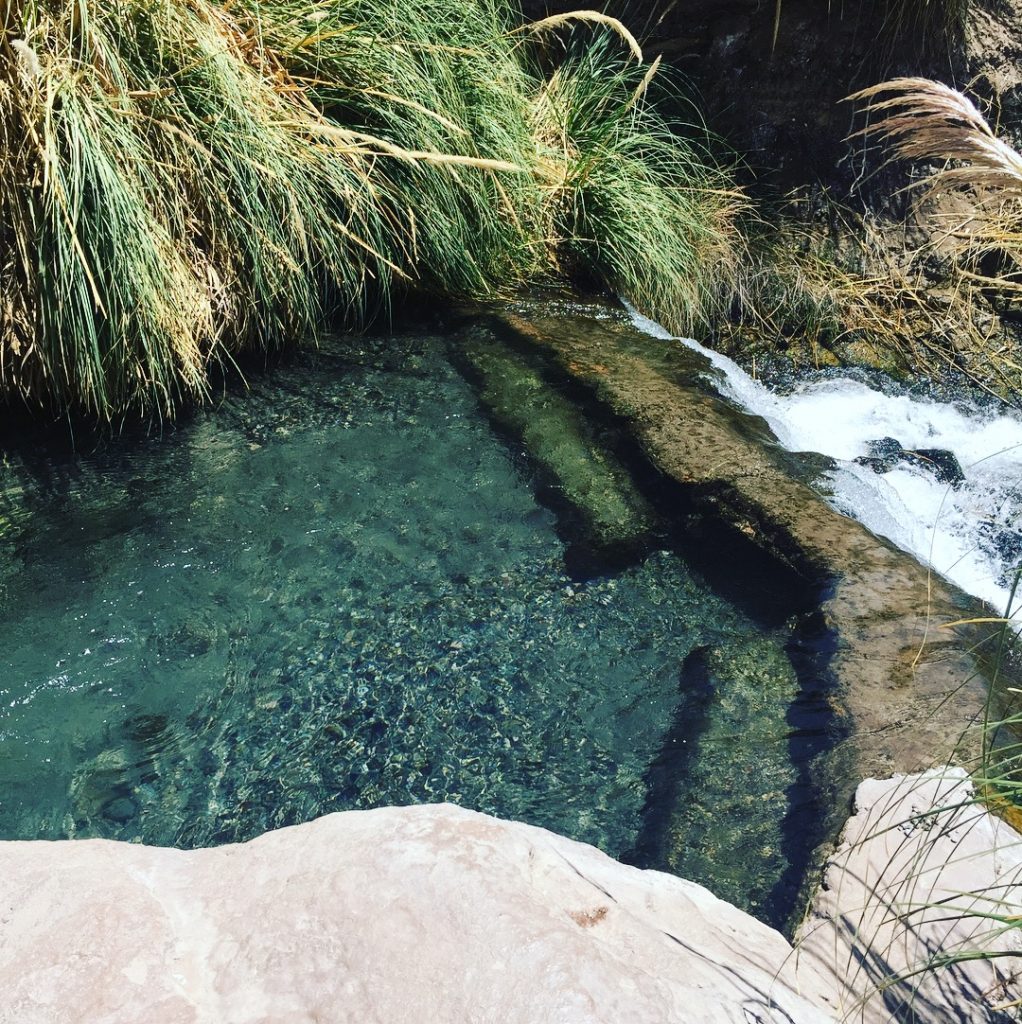 We got in the water–which was fabulously warm–and swam around in the crystal clear pool. Then, we moved to another pool that had a waterfall. We splashed and swam for hours, then climbed back out to change, feeling refreshed and rejuvenated.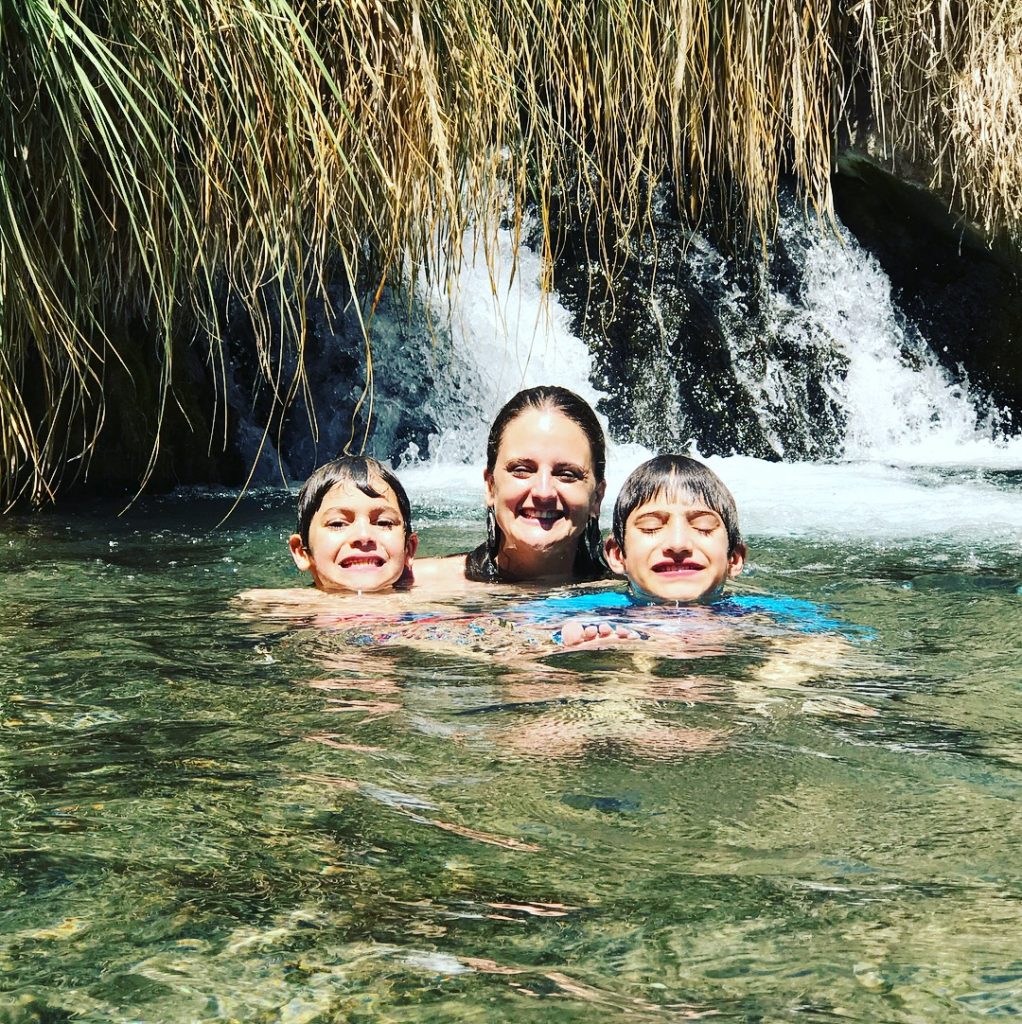 The next day we headed back to the airport in our rental car. We didn't get to see one of the most amazing sites in the desert–the Tatio geysers. We had booked a tour to see them, which meant getting up at 4am and traveling almost 4,500 meters in elevation in just over an hour, but we were afraid after the first day, that we would get altitude sickness (and also possibly miss our flight). So we vowed we'd come back and visit the geysers during our next trip.
I hope you're having a wonderful Christmas, if you celebrate, and we'll be back soon with more updates from the trip.
Feliz navidad!