Merry Christmas! The ThreeYears are currently in Chile. We just got back from a side trip we took to the San Pedro de Atacama desert, in the northeastern part of the country, close to the Bolivian border. San Pedro de Atacama is the driest desert in the world by amount of rainfall received, but it's also nestled in the Altiplano of the Andes mountains, so there are mountain-fed rivers and streams and salt lagoons everywhere.
Mr. ThreeYear is from Chile, and his entire family lives here, so we visit as much as we can, usually for about three weeks. We plan a side visit to one or two spots we've never visited for each trip, so that we can see somewhere new in South America. This year, we picked the San Pedro de Atacama desert, because Junior ThreeYear wanted to visit a desert and see an observatory.
San Pedro de Atacama Desert is a tourist destination, so it's quite pricey. Here's what we did to plan a great trip without breaking the bank.
The Flight
Luckily, in the last few years, a number of discount airlines have sprung up in Chile. We eventually decided on JetSmart, an airline with several flights per day from Santiago to Calama, the airport nearest San Pedro. We did an online search from the US just a week before our trip, so we could have gotten better rates if we'd planned ahead more. We looked at JetSmart and Sky, another discount carrier in Chile, and eventually chose JetSmart for its prices and flight options.  JetSmart is definitely no frills, as we found out. The planes are new and clean, and you have ample space between seats, which was very nice. However, if you took anything bigger than a small carry-on (8 kilos or less), you'd be charged for it–about $16 online per bag, $21 at the ticket counter, or $37 at the gate (the prices increase as you get closer to the plane). Also, you have to print your own boarding passes or download them to your phone, or you'll be charged $8 per boarding pass at the ticket window. Soft drinks, coffee, and a small selection of snacks and sandwiches are sold on board (a Coke or a small container of Pringles is $2.50).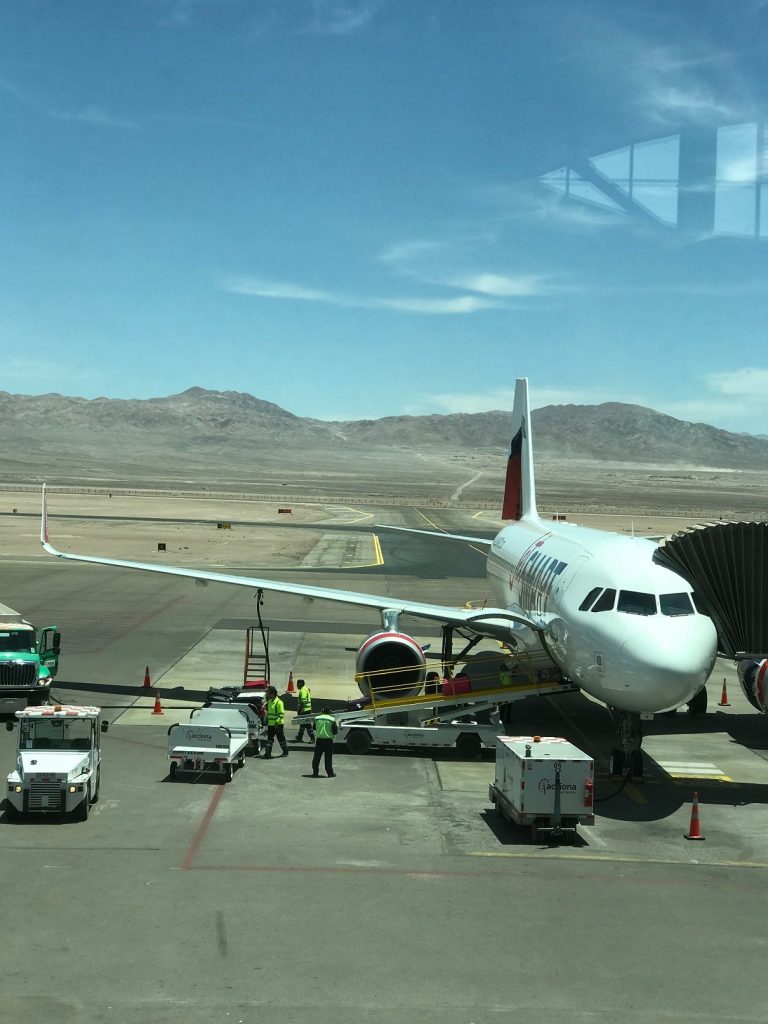 The four of us carried two backpacks and two carry-ons, one of which was over the size limit, as we found out at the gate (the website where we booked the tickets was not clear about size limits of carry-ons). Luckily, the gate agent took pity on us, and said she wouldn't charge us since it was close to the right size. We boarded the flight and flew two hours up to Calama, a small mining city in the middle of the desert.
We paid a total of $540.12 for four tickets from Santiago to Calama. We probably could have gotten a better deal if we'd booked earlier, but we thought $135 per person was reasonable.
The Rental Car
By far the best decision we made during our trip was renting a car. We booked the car online via Priceline, and paid $115.49 for four days and three nights. We rented through the local company Econorent and booked a four-door Nissan Sentra.
At the airport, we picked up the car, then drove to San Pedro de Atacama, after getting directions, because Mr. ThreeYear didn't have cell service in the airport (he has an international plan through work). Driving through the desert was eerie, at first. Everything is so vast, dusty, and rocky. Continue reading "Our Trip to the Desert: San Pedro de Atacama"