Happy Labor Day! In the US, this is the day that normally signals the true end of summer. School started for our family last week, and my parents are here celebrating the long weekend.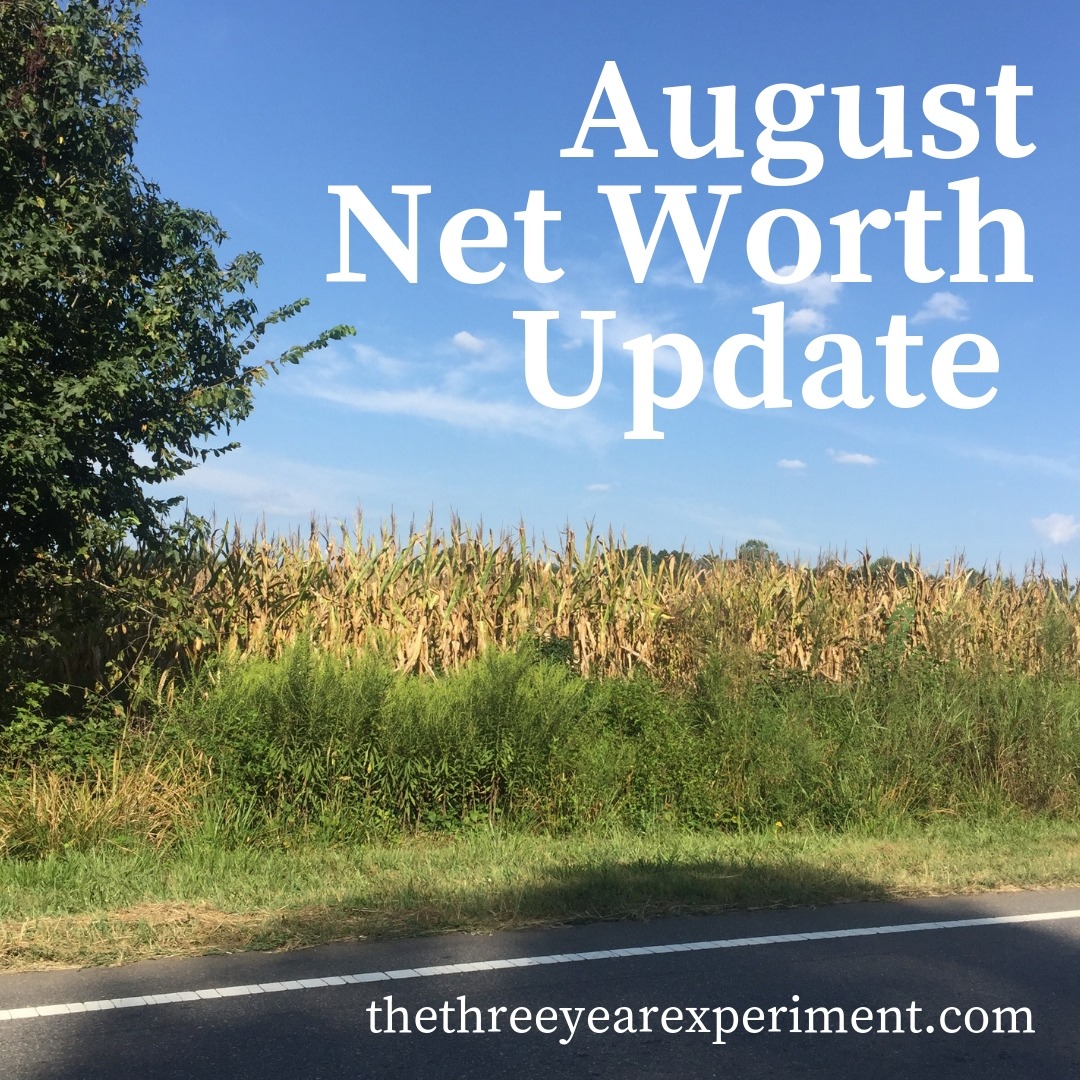 The month of August has been awesome. Weather-wise, it's the worst month of the year in North Carolina, but I keep telling myself that if I can run in this heat and humidity, I'm set because it'll just get cooler from here on out. We've enjoyed the pool, had Junior ThreeYear go to his first-ever overnight camp in New Hampshire, had two sets of visitors (our friends from NH who now live in TX and my parents), and started school. Mr. ThreeYear and I have been walking the boys to the bus stop each morning, along with Lucy, and it's been so fun to make friends with our neighbors and see our kids off to school each day.
If you're just joining, our family of four is on a three-year journey to double our net worth and become location independent. Since we've achieved the latter goal, we'll be primarily focused on the former in each of these reports going forward. Each month, I record our progress on our net worth and our spending. Last year, we increased our net worth by 32% over the year before. This year, we're trying to increase it by more than 65% from where we started in December 2016. Given our move and the market, I'm not sure it's doable. But we're going to try.
Our Progress
As of August 31st, our net worth has increased by a total of 46.7% from our starting point in December of 2016. We are still a few percentage points from our halfway mark, which ideally we should have hit in June. But our financial goals have definitely taken a back seat this summer to other goals, namely moving and getting settled in our new home.
Here's a graph to track our progress: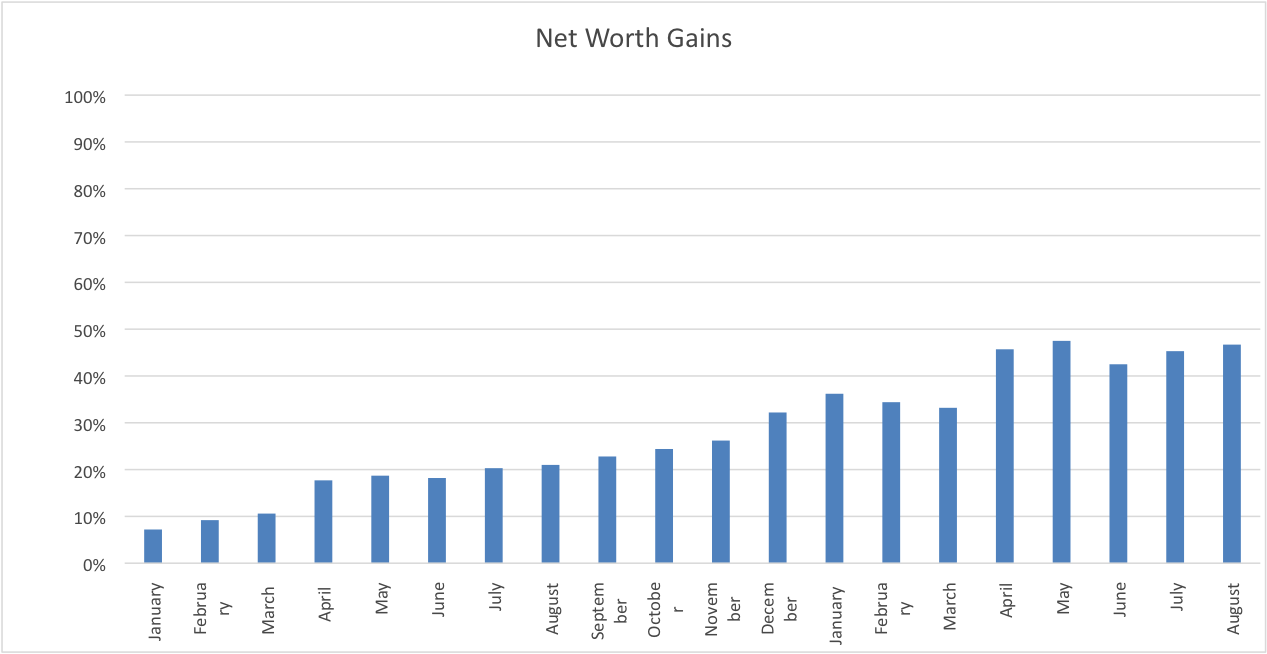 We're taking these few months to figure out what our new spending needs are, how to find the best deals (that can take awhile, especially for things like car maintenance), and how much we can realistically save each month. To that end, I'm watching how our spending looks each month, especially as we settle into the routine of the school year.
Spending Update
I've updated our spending reports to reflect the most important expenses for us, the ones that will reflect our true costs in retirement. These include healthcare costs, currently automatically taken out of Mr. ThreeYear's paycheck, living costs, and charity costs. I'm not including our mortgage because we plan to have our house paid off in retirement (or we'll pay cash for it).
August SPENDING:
ChariTy
Charity: $143. This includes our sponsorship of a child via Compassion International plus some help to a family member.
Food
Groceries: $733.45. We stayed in budget this month, even with the start of school and Whole30 (which I'll talk more about in our Year of Good Food entry for this month). I continue to buy all our groceries at Aldi–serious no-brainer there.
Eating Out: $280.93. This number was high again this month. It's for two DoorDash meals, two nicer meals in restaurants, and lots of little here-and-there fast food pick-ups. While I hope we'll get this number down to under $100, I also recognize that we just had a meal delivered to our house for the first time in eight years, and we freakin' loved it.
Fun
Entertainment: $11.09. Nascar legend Dale Earnhardt, Jr., grew up in a little town about ten minutes from us called Kannapolis. The town now has an awesome park with a splash pad, carousel, and train, that you can ride for $1.50 per person. We did the splash pad and train.
Fun Money: $52.66. What Mr. ThreeYear and I each spend on stuff for ourselves. Mr. ThreeYear is no longer eating lunches out so this cost has dropped considerably.
Gifts: $251.74. We had a college graduation gift, several birthday gifts, and some early Christmas gift purchases this month.
Health
Health insurance: $724.72 paid for by Mr. ThreeYear's employer currently. Includes medical and dental coverage plus FSA reimbursement for our family of 4.
Fitness: $210. What we paid this month for the swimming pool membership.
House
Home maintenance: $243. I spent some of this updating Junior ThreeYear's bedroom, and the rest was for paint and other random upgrades for the house.
Kids
Camp: $432.44. $380 of this cost was for a tennis day camp we signed the boys up for in our new neighborhood. $52.44 was for supplies/sending a package for Junior ThreeYear's overnight camp in NH.
Lessons/Costs: $286.08. The principal cost was a Discovery Place (kids' interactive science museum) membership I bought for $130. I was on the fence about this one, but it's good for a year, meaning all of next summer, and both our neighbors have a membership, so we can go with them on playdates. The rest was for back-to-school supplies etc.
Clothes: $96.49. I normally pay next-to-nothing for back-to-school clothes, but since we didn't have any friends to give us hand-me-downs, I bought the boys some new clothes and shoes. My mom also graciously bought them two outfits each, which means they were well-dressed for the start of school.
Pet
Pet costs: $680.69. We have a new category this month. Lucy the Labradoodle joined our family and we absolutely adore her (my poor parents have heard nothing but dog stories all weekend long). But she's expensive. This cost includes her re-homing fee (ie, what it cost to buy her), one pet visit ($80) before I wised up and found the New Puppy Package at the Humane Society ($120 for all vaccines and spay, which the other vet wanted to charge $450 for), plus dog food, toys, and treats. Mr. ThreeYear kindly pointed out that I have gone crazy in this spending category this month. Duly noted.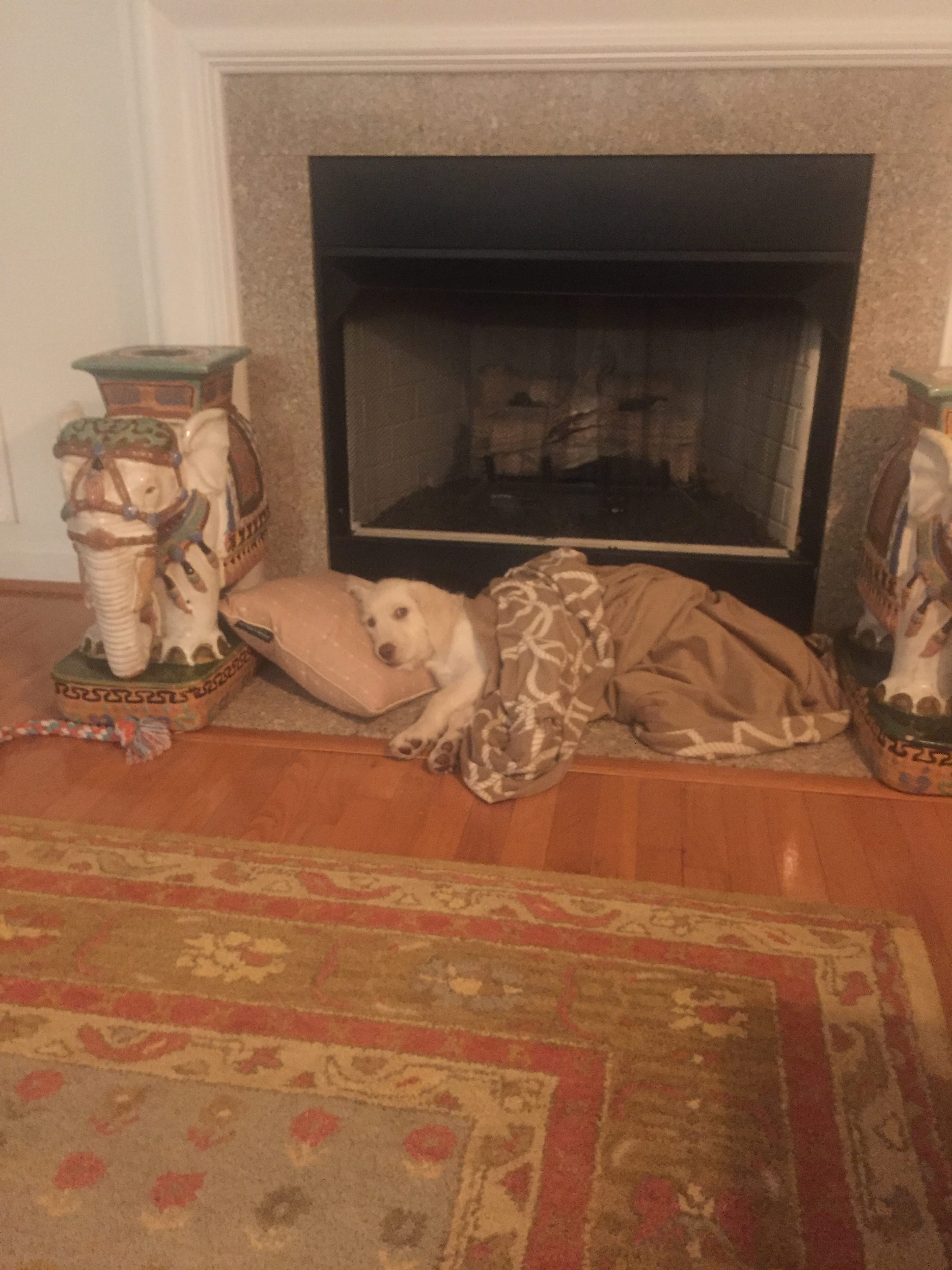 Transportation
Gas: $216.15. Gas costs continue to be higher. I guess we're driving a lot more than I thought we would be in the city.
Maintenance: $0. A goose egg. Yay.
Utilities
Internet: $44.95. New, high-speed internet (up to 100 mbps) at our new house.
Subscriptions: $25. Home phone through Ooma, Spotify, Skype.
Electric: $189. Our first electric bill from NC. It's a summertime electric bill (the AC is on all the time out of necessity).
Natural gas: $19.92. Right now, we're just paying for our water heater.
Water & Sewer: $115.01. When you go from a cost of $0 for your water to a cost of over $100, it's a little shocking. I will be working on ways to decrease our water usage in the coming months.
Total:$4756.32
Here it is again in a condensed table format.
August Spending
| CATEGORY | COST | NOTES |
| --- | --- | --- |
| Charity | $143 | Compassion International, family help |
| Food | 1014.38 | groceries and eating out |
| Fun | 315.49 | entertainment budget, fun money for Mr. ThreeYear and me |
| Health | 934.72 | health insurance and fitness costs |
| House | 243 | maintenance costs |
| Kids | 815.02 | one week of tennis camp for each kid, supplies for overnight camp, Discovery Place membership, back to school supplies and clothes |
| Pet | $680.69 | re-homing fee, vet visit, treats, food, and toys |
| Transportation | 216.15 | gas for the month |
| Utilities | 393.88 | internet, phone, Spotify, Skype, electricity, natural gas, water & sewer |
| TOTAL: | 4756.32 | |
Ok, while this month contained some higher-than-normal spending (for pets and kids, principally), we're down to a more normal level. We freely admit that the way we've increased our net worth has not been through uber frugality (obviously), but through increasing our incomes and keeping spending on the big three (cars, house, food) low. I hope that costs for September will be even lower, but we'll see.
Getting a Month Ahead in YNAB
August was the first month that we were a month ahead in budgeting. Each paycheck or bit of money that we received went into next month's pot, so that it was ready to be budgeted for September. It was amazing to have all the money for September waiting for us at the beginning of the month so we could budget it all at once. It also really made me realize that if I overspent in one category, it meant less to save in another.
School is in Session
We have one week of school under our belts, and so far, so good. We had some bus snafus in the beginning (Little ThreeYear didn't get off the bus his first day, but luckily I quickly drove to the school and picked him up and he was fine) but other than that, the boys are getting used to things and seem to be liking school each day.
I'm still figuring out what to do with myself. I've been making myself rest as much as possible, and trying to figure out a new schedule for myself. I can't write in the mornings because of Señorita Lucy, our new dog, and so I've got to figure out how my days will look now that I have dog duty in the early am and kid duty from 6:30-9am, when the bus comes to pick up Junior ThreeYear. I'll keep reporting on how things are going, especially at the end of the month, when I'll head to my first FinCon (and then have my boys' first Disney trip just after!!!).
I hope you're having a great start to fall (or spring)!