On Wednesday, I officially started teaching (although I've been in teacher work days for a week and a half). On Monday, the boys return to school. The summer has ended.
In order to get ready for these auspicious beginnings (and because I had no idea how much energy I'd have left after the end of a long day at school–answer, not much), I spent a few days before I started work cleaning out the boys' closets.
This is an annual tradition at our house, and one that is very much in keeping with my minimalist roots and a good way to sift through hand-me-downs that we've stored for the boys' future use.
This year, Mr. ThreeYear commented that the boys have a lot of clothes, and recommended we reduce the amount of clothes we keep on hand for them.
So as I went through their dresser drawers, I made a big donation pile for anything that no longer fit or was badly stained.
Even though it's been two years since Junior ThreeYear has received any hand-me-downs, he still had one Tupperware bin of clothes left that didn't fit him yet. He wears a size 14 in pants, meaning the clothes I once packed away for some giant of the future now fit.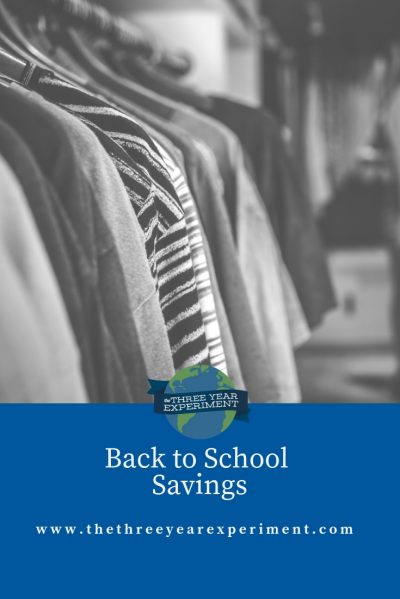 The Process for Junior ThreeYear
I started by sifting through the clothes he has now, and determining that most of his winter wear no longer fits.
So I pulled out said bin, and found track pants, pjs, and shirts in his size.
Then I hung up any long-sleeved shirts, sweatshirts, or jackets, and kept about ten T-shirts and short-sleeved shirts which I folded neatly in his drawer (they start of the year Kon-Mari folded and end up in a wrinkly pile, but hey, that's life).
I kept about six pairs of cargo and khaki shorts and maybe four pairs of athletic shorts (I know; this kid has a ton of clothes).
I pulled out all his pants from last year and all his long-sleeved shirts from last year. After deciding that his long-sleeved shirts no longer fit, I moved those to a bin marked "Size 12" which will be waiting for Little ThreeYear one day.
Then, I made Junior ThreeYear try on about ten pairs of pants to see if any fit. While he did not enjoy this part, it was very important for me to see if I needed to buy him any clothes. Only about two pairs of pants fit from last year's clothes, so I stored the rest away for the future, and filled his drawer with his "new" hand-me-down pants in Size 14.
I realized that he had only one pair of jeans and no non-athletic style long-sleeved shirts, so I bought him one pair of jeans and one flannel button-down from LL Bean, resisting the urge to buy more.
Here's why: it doesn't get hot around these parts until maybe December, so I'll be able to get him some more winter clothes for Christmas. Until then, he'll be just fine with jeans, t-shirts, and fleeces. He has so many clothes that I don't want to overbuy.
Now, after the clean-out, he has approximately:
6 pairs of cargo and khaki shorts
4 pairs of athletic shorts
2 pairs of jeans
5 pairs of athletic (track) pants
2 pairs of dressier khaki pants
10+ T-shirts
4 short-sleeved nicer button-down shirts
1 long-sleeved flannel button-down shirt
6 or 7 hoodies, fleeces, pullovers
1 heavy coat
I only bought two items. The rest came from hand-me-downs or gifts (my mom bought him some nicer back-to-school clothes. Thanks Mom!).
The Sock Solution
Last Easter, after eleven years of parenthood, I finally wised up and figured out the solution to all of my mismatched sock problems.
I went to Target, bought two bags of white boys' athletic socks (the low rise variety) in size Small and Medium, and replaced all the boys' socks with these.
All the socks. Even the nice, heavy-duty winter socks. We don't need them anymore (I kept one pair each for skiing).
Now, when I do laundry, I just have to sort socks by size. It has made my life sooo much easier.
I bought one more bag of socks in large for the school year, because Junior ThreeYear's feet are growing.
The Process for Little ThreeYear
For Little ThreeYear, I waited two days, because cleaning out clothes is hard work, then I tackled his closet. The process was very similar for his clothing, except I had to go through two bins of Junior ThreeYear's old clothes to see what now fit him.
Occasionally, I decided that something was too old or out-of-style to be used, so it went into the donation pile.
I also donated extra clothing that we wouldn't use. We had so many pairs of pants for Little ThreeYear that they wouldn't fit in his drawer, so we kept about ten pairs of pants total and gave away the rest. We kept maybe six to eight pairs of shorts, ten or so long-sleeved shirts, and twelve to fifteen short-sleeved shirts.
We only kept about five pairs of pajamas, which is a huge simplification from previous years. People have been very generous to us with their hand-me-downs and my children truly have a lot of clothes.
I hung up pullovers and sweatshirts as well as nice khakis and dress shirts for church in Little ThreeYear's closet.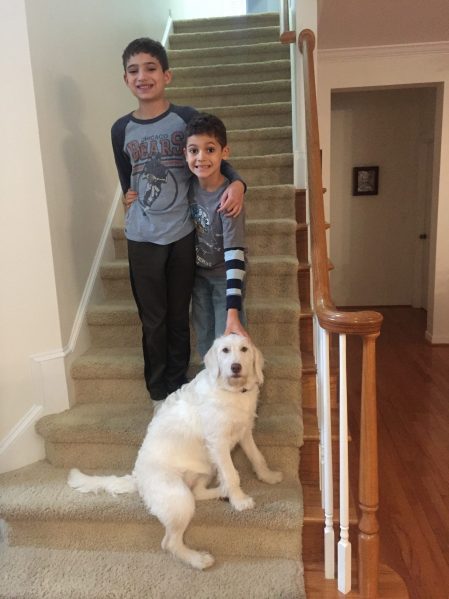 Shoes
For years, I've bought the boys one pair of shoes per school year. Last year I did the same, but they both needed new shoes mid-way into the year, because they weren't wearing snow boots anymore so their tennis shoes took more of a beating. This year, they're going back to school in shoes from last year. I do plan to buy each a pair of nicer shoes for church.
We keep it simple with shoes. They have one pair of tennies, one pair of flip-flops, and one pair of dress shoes. Sometimes, we'll inherit a pair of hiking boots, rain boots, or something a little more heavy-duty, but honestly, a simplified shoe regime has worked well for us.
Savings
In total, I have bought (or will have bought):
1 package of socks at Target: $6.99
One pair of jeans and flannel shirt from LL Bean: $69.65 (I could obviously have picked a less-expensive option, but I'm trying to be a bit more deliberate about clothing choices and wanted to buy quality clothes from a store I believe in).
2 pairs of dress shoes: no idea how much these will cost, but hopefully under $70.
Now, this is actually way more than I've spent in the past (because in the past I've spent no money on clothing for the boys, thanks to all the hand-me-down and clothes gifting). But, I only had to add two clothing pieces, two pairs of shoes, and one bag of socks.
I spent more on their school supplies than their clothing!
The Feelings
I ended the process feeling very good about the status of the boys' clothing for the school year. Everything felt organized, not overwhelming, and purposeful.
I haven't felt like that in a while with regards to my house or spending, so it was a good way to end the summer.
One of the biggest benefits of minimizing, for me, is that feeling of calm and order that it brings. In a world that's increasingly chaotic, loud, and jam-packed with information and stuff, the boys' closets are a calmer, organized respite.
For now.
Happy back to school, everyone, and thanks, as always, for following along with our adventures!