If you have kids, you know that outfitting them can be a challenge. Kids grow so quickly that they can sometimes shoot up a size overnight. This growth magic apparently happened to my youngest son night before last, because yesterday he told me, "Mom, I can't button these jeans. They're too tight!" Because I heart hand-me-downs, I pulled out my Voodoo-Overnight-Growth-Thing-Happened-Larger-Sizes-Clothing Container.
I've heard people say (ok, it was actually just one), "I would never let my child wear someone else's jeans. That's just gross." No, that's just ridiculous.
If you have two kids, the younger one is going to wear the older one's clothes, probably even if they're different genders (jeans are jeans, if you get the plain kind without pink stars appliquéd on). What's wrong with taking clothes that still have useful life in them, washing them, and then letting your child wear them? Not a thing! No one's going to know where you got the clothes from, first of all. Second of all, it's environmentally sound to use clothing up that still has life left in it. Lots of Zero-Wasters only shop at second-hand clothing stores to reduce the amount of waste their clothing choices make.
To me, if you have problems wearing "someone else's clothes" there are other issues going on. I'm no psychologist, but I've been around plenty of people who were poor when they were kids and still bear the scars. That's shame talking, friends, and it has nothing to do with the clothes you pick. It has to do with not feeling good enough. Let those feelings go, and embrace the practicality and environmental responsibility of used clothing!
Also, I've learned enough about fast fashion that I personally think we'd be better off if everyone bought at least a few of their clothes at second-hand shops.
So here's our selectively-frugal method for getting lots of very nice clothing for absolutely free!
Spread the Word
I have several friends whose boys are a few grades older than my oldest. I've shared with them that if they ever have clothes they'd pass on, we'd love to have them. The best time to do this is sometime in the summer, when everyone is getting out clothes for the next school year and figuring out what to do with the clothes that no longer fit*.
Pro tip: It's important to ask families whose youngest child is older than your oldest. If they have kids younger than your oldest, they'll hold on to those clothes until the youngest has outgrown them. Once clothes have gone through more than one child, they're usually not in very good condition, so ideally, you want to find friends to share with you who have one boy and one girl.
*I also usually mention that I'm a semi-minimalist, and I've gotten rid of LOTS of LOTS of stuff lately. They should give it a try! Oh, and by the way, happy to take their old clothes off their hands when they do! Ok, I'm joking. But I'd be interested to hear if that worked for anybody!
Take All the Clothes
If someone gives you a bag of hand-me-downs, take everything! Different families will have clothes that arrive in different conditions. However, even if most of the clothes you're given are too worn-out for your child to wear, you'll inevitably find some gems. We have three families that pass on clothes to us. One family passes us mountains of barely-worn clothes from top-name retailers like The North Face and Under Armour. We can invariably use every piece of clothing they pass on, it's in such good condition. (I'm always amazed at the amount of money those clothes must have cost new. But hey, no judgement! That family spends on what they value. And we're the happy recipients when their fancy threads no longer fit!).
Another family passes us clothes that have been worn by two or three kids, with stains, tears, and holes. I take everything, sift through it, and keep what I can use. You never know what they'll pass on. This year, they gave us a pair of Bogs boots in exactly the right size for my older son. Those are the only kind of boots that my kids wear, because of our cold, wet winters, so I didn't have to buy boots for my oldest this year (and my younger son will wear them, too, in a few years!). If we were to have said, "No thanks, we don't want your hand-me-downs anymore," we would have missed out on those boots!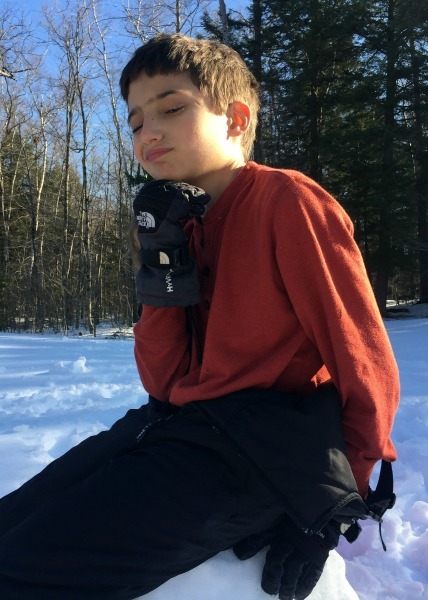 It's easy enough to take the clothing you don't use to a clothing recycler, so we invariably take as much as people will give us. Let families know you'd love to take winter coats, boots, swim gear, or anything else they'd like to give you.
One caveat: sometimes you're given too much (nice problem). Friends have occasionally passed on so many clothes our boys can't possibly wear them all. In that case, I'll find another friend to pass them on to, or I'll give them to my friend Lorelle, who takes clothing for families at crisis centers. I only pass on clothing that is in good condition and free from stains or tears.
Thank Your Hand-Me-Downers Often
Since people who pass on hand-me-downs are potentially saving you hundreds of dollars, thank them!! Buy them a $10 Dunkin Donuts card. Give them a handwritten note. Tell them in person about something they passed down that your kid loves. Show people your gratitude for passing on clothing to you.
Share the Love!
It hopefully goes without saying, but when your own kids have outgrown clothes, shoes, coats, and gloves, consider passing them on to a family you know who could use them. Sure, you could sell the clothes at a Consignment Shop or online, but considering the relatively small amount of money they would probably bring in, wouldn't you rather have the joy that comes from giving them all, absolutely free, to a family who would love to receive them?
The End Result
This school year, after getting hand-me-downs from three families, I was able to fill my boys' drawers without spending any money on clothes! I did buy my older son two pairs of shoes (one of which was a brand-new pair of awesome green Converse at the Consignment Shop, $6 bucks for the win, which I actually bought with store credit) and my younger son one pair of shoes (super sturdy from LL Bean, using a Christmas gift card). Thanks to the generosity of local friends, we were able to outfit our boys while spending virtually nothing.
You might think, after reading this post, that our kids look like '80s movies nerds or something, with high-water pants and mis-matched sweater vests. Au contraire. My kids dress better than Mr. ThreeYear and me. Take a look at a few of these pictures that I forced them to model for (pro tip: bribe them with Girl Scout Cookies). They look pretty spiffy, if I do say so myself: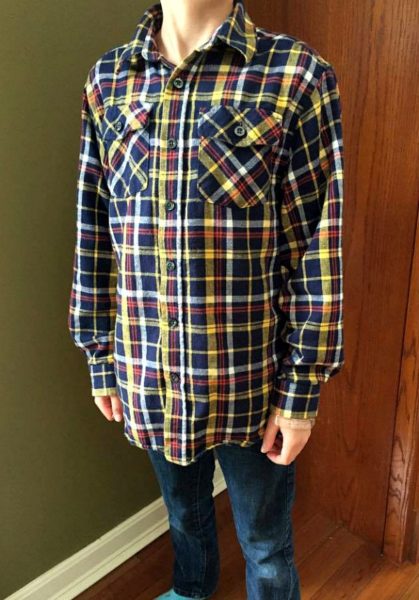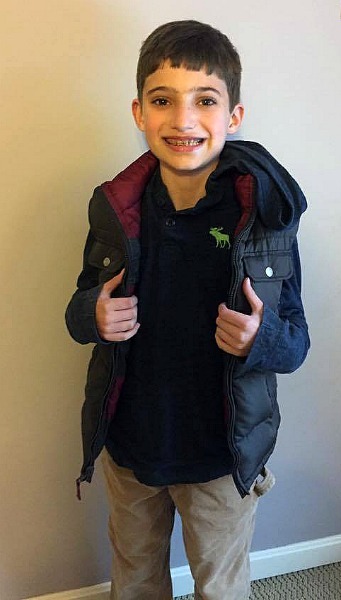 Thanks to hand-me-downs, friends who were finished with their kids' outgrown clothes found a good home for them, and we were happy to keep those clothes out of the recycling centers and the ben-ha-meens** in our wallets.
**Benjamins, of course, term for money that no white girl who grew up in the '90s should have ever used, but did. Ben-ha-meen, gringo pronunciation of said word in Spanish.
What tricks do you have for spending less on clothing?