Our family is on a journey to become location independent in three years. One of our plans is to move across the world for a few years. Today, I'll share the story of the last time I moved to a different continent.
Travel back with me, to many, many, many (ok, not quite so many) years ago. The setting: a shabby chic apartment near my college campus. Two twenty-something women are starting to realize that the real world was closer at hand than they would like.
The Conversation
When I was a senior in college, with "real life" bearing down on me hard, I had a conversation one night with my friend Liz (maybe over martinis, I forget) about what we would do after college. The year before, we'd spent our fall semester in Madrid in an exchange program. We'd had the time of our lives, and were still having trouble adjusting to college life.
"Maybe we should move back to Spain," I said.
"Yeah, but how would we get jobs?" asked Liz, ever practical. (Jobs! What a pain!). We talked a bit more and had a few conversations with older classmates who'd graduated and were doing post-college things. One was a ski instructor in Colorado (not a good choice for us given our dubious ability on skis). Several were in grad school, med school, or law school. Blegh. More school. One or two had decided to move abroad and teach English. This was an idea that sparked our interest. And so, a few more adventurous souls decide to join the ranks of the not-quite-ready-for-a-real-job travelers fresh outa college. 
A few weeks later, we talked the idea through with our Spanish professors, and decided to move to South America to teach English. We'd thought of Argentina ("so European!") but our professors warned against it, given the unstable economy. (This turned out to be incredibly prescient advice; It was 2001, and a mere six months later Argentina would have its economic crisis). They recommended Chile. Two former Spanish majors who'd graduated the year before had moved to Santiago, one to teach English, and the other on a Rotary scholarship. Luckily, there is always a chance to win academic or USC merit scholarships. They could help us.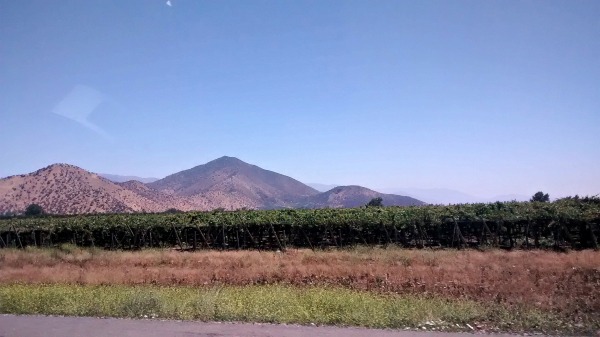 Chile for the Win
A plan was born. We'd move to Santiago in August, after graduating in May, and find jobs and places to live. We'd perfect our Spanish, currently at conversational levels, during our year there.
Unfortunately, Liz wasn't quite as excited as I was about the lack of a job and living situation. Two months after we hatched our plan, she told me as gently as she could, that she'd signed up for the Peace Corp. "You can join me if you want!" she said.
"The Peace Corp? No way! They could send me anywhere. And they don't pay anything!" (My economic side strongly trumped my compassionate side, I'm afraid to say).
So, young Laurie was left on her own, to figure out how to make it in far-away Santiago. Needless to say, my parents were not very excited about my plan, but because they are awesome, they supported my decision. They may have asked helpful leading questions, like, "How will you get a job?" and "Where will you live?" but I honestly don't remember.
Making Plans
Over the next few months, I contacted both students who were in Santiago to get information and advice. Melissa, who was there teaching English, pointed me in the direction of a North American TESOL institute, where she'd gotten certified to teach English to speakers of other languages in just a few weeks. The program was in Quebec, and wasn't too expensive. I signed up for the session that started at the beginning of August, and booked my tickets.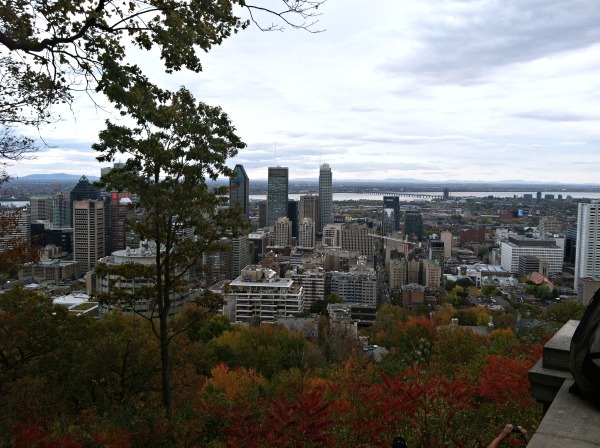 Mark, who was in Santiago on the Rotary Scholarship, helped me get in touch with the Chilean family he'd lived with when he first arrived. They could host me for the month of August for $200,000 Chilean pesos, around $350 at the time. (Later I learned that this was a pretty high price for a room, but all meals, free Spanish lessons, and laundry were included, so it worked out fine for a month).
Back at college, I was alternately elated and terrified about my post-graduation plans. I was so excited to move to another country, to have the experiences I'd had while on Study Abroad in Spain–the access to people from different cultures, amazing food, chance to speak Spanish 24/7, and of course, adventure. But I was terrified to move to another country with no way to support myself. What if I couldn't find a job? What if I hated teaching English? What if the TESOL course fell through?
Now That I Have This Expensive Degree…
Once I graduated, I moved back in with my parents and basically waited for two months for August to roll around. These were a very miserable two months. I worked odd jobs here and there to save up extra money for my trip. I bought a plane ticket to Santiago, round trip, for $650, even though I'd only be using one leg. I'd buy another round trip ticket for my return, whenever I decided that would be.  (Since that purchase, I've never, ever gotten such a good deal on a ticket to Chile. The cheapest I've seen is around $800).

As I waited to leave for Quebec for my TESOL course, I got an ulcer. Yes, I am aware that ulcers are caused by bacteria and not by stress, but my stomach was a veritable petri dish for those little ulcer bacteria to find and propagate in like mad. I was extremely nervous about my move.
There was a reason for those nerves. Although I had a place to stay when I arrived, it was for one month. I had no job, and only the barest outline of a plan to find one. (From what I'd researched and been told, it was much easier to find a job teaching English as a native speaker once you arrived in Santiago, but very difficult to get a job from the States. The only companies that hired from the US underpaid their teachers by at least half. I remember my friend Melissa, who'd gone that route, earned $2,500 pesos an hour for teaching. When I got a job, I started at $6,500 pesos an hour and eventually charged $12,000 pesos an hour for private lessons). Nevertheless, I had a plan and was determined to see it through. I told everyone I'd find a job in a day (oh, youthful optimism!), so not to worry.
And Now, to… Canada?
Finally, the day arrived for me to get on my flight to Quebec. After my few weeks there, I'd be flying from there straight down to Miami for my flight to Santiago.
I don't have a lot of memories of my time in Quebec.  I remember meeting a big group of fellow teachers, who were planning to move all over the world to teach English. I remember a big celebration dinner in a Russian restaurant, where I gingerly sipped a shot of vodka as my ulcer burned. This time was so overshadowed by what came next, I forgot to remember it. The important thing was, I graduated with my (somewhat dubious) TESOL certificate, ready to teach English to whoever (or is that whomever?).
When I got to Miami, I visited with my freshman roommate and her boyfriend, who were in a PhD program and med school. They took me to the airport, and I got on the up escalator towards Check In, with my big blue Kelty backpack strapped to my back, waving goodbye as I started my adventure.
No Turning Back Now
The flight to Santiago from Miami is long–about 9 hours. All of the flights from the US are overnight flights, so you leave around 10pm and fly straight down for a few thousand miles, over the equator, over Venezuela, Ecuador, Peru. South America is shifted relative to its northerly cousin, so that Santiago on the west coast of SA lines up fairly well with New York on the east coast of NA. For parts of the year, the East Coast is even in the same time zone.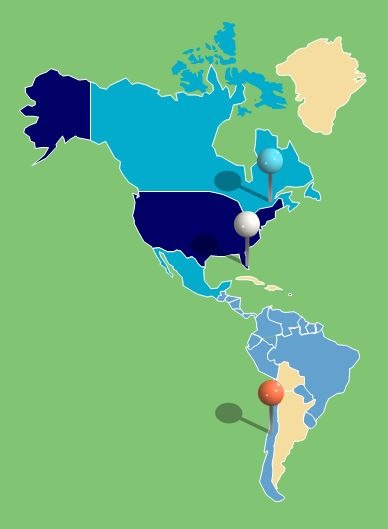 Ideally, you have some dinner, drink a little wine, and go to sleep for four or five hours until breakfast is served, but I was too excited to sleep. I needed the time to mentally prepare myself. I was leaving my old life, and landing in a country I'd never seen, knew little about, and needed a fair bit of help conversing in.
Finally, breakfast was served, and I peaked out my window and was confronted with the most beautiful, majestic snow-capped peaks I'd ever seen. They almost touched the bottom of the plane. The scale of the Andes is amazing the first time you see them. No wonder Chileans are fond of using "ito" at the ends of their words to make everything small. When you compare yourself to this massive range, all you can do is feel tiny.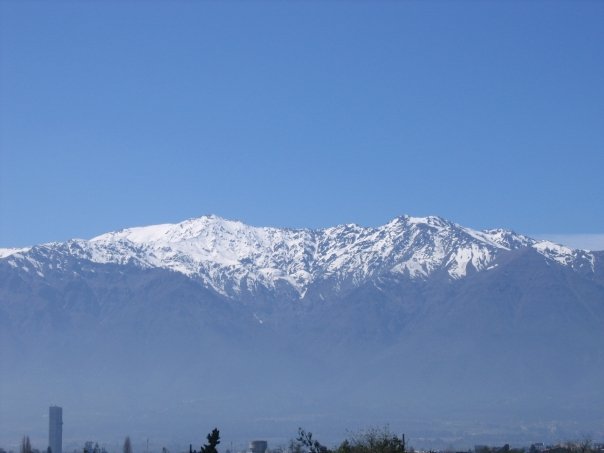 When we landed, we walked through miles of glass-lined hallways and arrived in a crowded room at the International Police station, where I was directed to pay a "Reciprocity Fee" to enter, $100 American dollars. I later learned that because the US charged Chileans $100 to apply for a visa to visit the US (an arduous and sometimes humiliating process that has since been eliminated for Chile, but that is still required for visitors from a majority of international countries), Chile charges the fee to US visitors (but doesn't make them apply for a visa). I paid my fee, fumbled through the Spanish required with the International Police, and went to pick up my backpack, which I'd checked.
When I walked out of the baggage area, I walked into Chile. My first sight was a river of people, all jostling for a spot around the two small exit spaces. Men held up signs with names on them, waiting to collect international passengers. As I made my way to the exit, dozens of people asked, "Taxi?" I found a taxista just outside the crowded airport, and passed him the address to my new Chilean home, in La Reina, a comuna, or neighborhood, within Santiago that was in the Northeast of the city.
Santiago, unfortunately, is a very classicist city. The highest classes generally look European (lighter skin, lighter eyes, lighter hair) and literally live in higher elevations in the city. Lower classes are darker skinned, darker hair, shorter, more compact, and live in lower elevations of the city. La Reina, the comuna I was headed to, was an upper-middle class region of the city, so it was located just south of the edge of the Andes, where the elevation starts to rise.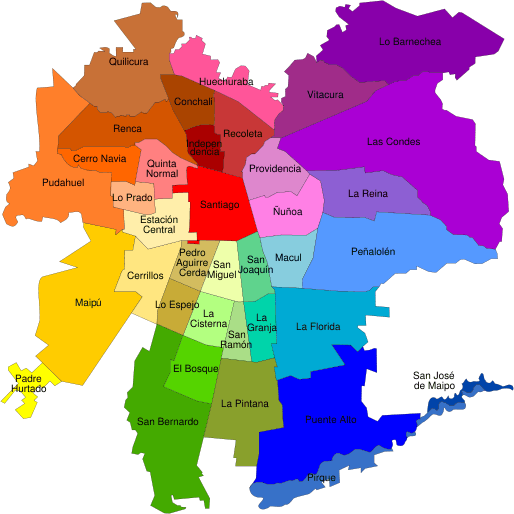 The taxi driver and I had a pleasant chat. I remember thinking, "Oh, this Chilean Spanish isn't so difficult after all. I can understand this guy just fine." About half an hour later, we pulled up at a modest house with a gate in front. I paid the taxi driver while he pulled my backpack out of the trunk. A woman met us outside, picked up my bag, and took me inside. She walked me around the house, giving me a tour. The only problem was I didn't understand anything she said, except for the word closet. I later learned this was my guest home's nana, or housekeeper. She was speaking real Chilean. And I was lost.
I'd spend the next few days getting acclimated, finding a job (I did in fact find a job my first day looking–oh, youthful optimism!), and sleeping a lot. Turns out that learning another language and culture is exhausting.
Living in Santiago was a pivotal time in my life. For the first time in my life, I was completely in charge of myself–I had to find a place to live, make enough money to survive, and learn enough Chilean (not Spanish, Chilean) to communicate. Mr. ThreeYear was off having his own adventure in the US, but that's a story for another day…
How has travel impacted your life? What's the most influential place you've been?