Part of our family's plan for becoming location independent in the next three years is to sell our house and convert the equity into equities (excuse my bad finance joke there). We bought a short sale in 2012 and have lived in the house for five years. By the time we're ready to move, we will have lived here for seven and a half years. Which is exactly half the length of our 15-year mortgage. (If only that meant half of the house would be paid off…. But I digress…).
Since we were fortunate enough to buy an undervalued property, we're hoping to sell the house for quite a bit more than we paid for it, but to do so will mean some strategic investments. When we moved in, for example, there were no appliances in the house. The previous owners, hoping to get as much equity out of the house as they could before they left, even took a downstairs stove (critical for heating the house), so we had to replace that.
One of the biggest investments we've made is adding a downstairs guest bathroom to the house. When we moved in, there was only one bathroom on the first floor—the master. If you've seen our Semi-Minimalist home pictures, you'll see that while our bathroom is a spa-like oasis (not my decision, but a very nice feature), our guests felt a little bit uncomfortable using our bathroom when they came for dinner. And we had to make sure our bathroom was always guest-ready before they came. That could be a big hassle.
In this post, I'll detail how we had the bathroom built, what we spent, what we did right, and what I'd do differently.
First off, we had to decide where the bathroom should go. Ideally, you would find a local architect and have her draw up some plans, after looking at the layout of your home and pipes. Instead, we thought about the different places to put the bathroom, looked at where our pipes were in the basement, and had two engineer friends come over and give us the thumbs up (why engineers? I don't know… they seem like they would know how to correctly position a bathroom. This is probably bularky, but both friends had built their own homes so they had that to recommend them).
This process took longer than it sounds. We toyed with several locations (convert part of our bathroom to the guest bathroom? Too unwieldy. Turn the office into a bathroom? Too big, and then we don't have an office space). Finally, Mr. ThreeYear came up with the idea of converting the entrance closet into a bathroom. I wasn't buying it. "It's too small!" I kept saying. "No one will be able to fit in there! They won't be able to stretch their arms out on the toilet." (Can you imagine? All those guests' calisthenics routines would be interrupted because of limited elbow space!). I was finally sold when I went to the master bath, measured the space in our toilet nook, and realized it was only three inches wider.
Mr. ThreeYear had a contact at his job whose husband owned rental properties and was a fix-it man. He agreed to do the work for us, but told us we'd have to wait until he had the time. He started work in February. This was the middle of winter, but luckily, temperatures were mild, because he was in and out of our front door for over a month.
The first thing he did was demo the existing closet and widen the space. He was able to make the closet wider by about six inches, and longer by about nine. That meant the bathroom was two and a half feet wide inside, and just over five feet long. While it's a slightly snug space for an American bathroom, you can fit at least two full airplane bathrooms inside.
After that, he did the harder work of hooking up the water lines and rewiring an existing outlet for lighting, because the closet didn't have a light. He had to take apart our basement ceiling, which is luckily a drop ceiling, and run a pipe from the front of the basement to the back, to reach the water line that ran to our septic tank. This part of the process took a solid week and a half. At the same time, he cut a hole in the outside of our house for a vent. I was a little afraid it would mess up the look of the front, but it's small.
The next step was sheet-rocking the space. Once he got the plumbing and electrical work done, he insulated and put in Sound Board, so it would muffle some of the "bathroom" sounds. Then came the long and messy part. He had to sheetrock, mud and tape the joints, then sand the whole thing. Luckily he had a sander with a vacuum so there wasn't quite as much dust.
During this process our family was living in our house, of course, and we had to get used to our front entryway as a construction zone. I had the hardest time adjusting, I think, to the constant chaos. This wasn't anything near a major renovation, but even this small project, that took only a couple of weeks, was rough for me.
My job during these final phase of the project was to find appliances. First I went to Lowe's (which is an hour and a half away) and I bought a toilet, overhead light, and corner pedestal sink (because of the orientation of the pipes, the pipes could only be run to the corner wall). But when I brought them back and we put them in the space, the toilet and sink were way too big. I was frustrated by this process, I will admit. Since I'm a pretty decisive decision maker, I'm not a big fan of buying something, trying it, returning it, and buying something new. I would love it if the first option I buy works every time. Alas, life doesn't always work like that, does it?
I returned the large toilet and sink (an hour and a half away) and went to my local home supply store to check out toilets. They had some promising options, but they were pretty expensive. So I went to Home Depot and found their smallest toilet. It was so small I was afraid it would feel like using the toilet in a kindergarten, but I went ahead and bought it. Unfortunately, The Home Depot didn't have any sinks that fit our requirements.
We went online to see what was out there. Buying online is tricky, because we face decision paralysis with all of the choices. Somehow, though, we stumbled upon SignatureHardware.com, which is a company with tons of corner sink options. We decided to go with a rounded, modern sink and a coordinating rounded, modern faucet, where the hardware showed at the bottom. I was afraid the space would be too small for a cabinet under the sink, so we measured the space and placed the order. And crossed our fingers.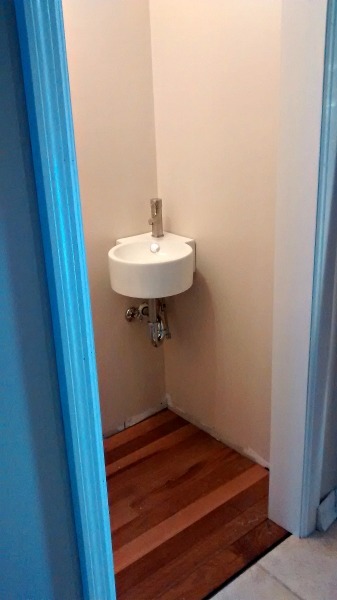 The sink arrived about a week later (the company had great customer service and delivery speed) and our handyman installed it. I had a panicked moment of totally doubting our choice and wanting to return the sink, because of how small it was, but when everything was installed, it was actually a perfect size.
Now, what would we do about the floor? The entry to our house is tile, but most of the rest of it is a Brazilian redwood of some sort (the original owners, who built the house, owned a flooring store). I didn't think we'd be able to match either flooring, so I looked at other tiling options at Home Depot, but didn't find anything I was wild about. Then we hit the jackpot! We found a cache of leftover hardwood flooring in a storage closet, and as luck would have it, it was just enough to floor the small space. (Cue me doing ridiculous Fresh Prince Carlton dance as we score free flooring).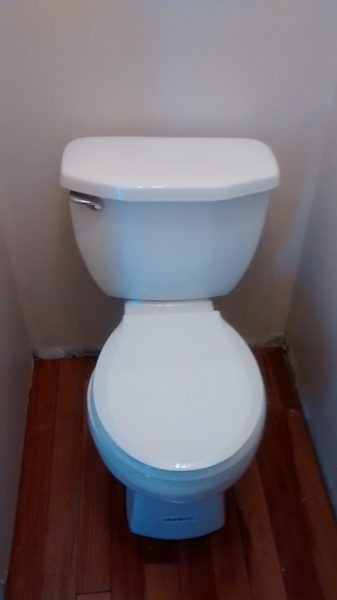 Our handyman finished up installing, painting, framing the door, and installing a pocket door. This is when we realized that while he was gifted at the big tasks, like reframing the closet and plumbing the new space, he was not very good at the details. So, some of the details of the bathroom leave a little to be desired—the painting, for example. These parts are easy enough to fix, though, once we finally get around to them.
One thing that we neglected to do in a timely fashion was to get a building permit. Luckily, we got an "after the fact permit" (which is a thing because apparently we're not the only ones who've made this mistake). It was only about $25 more expensive that we got it after the fact. The building inspector came around, looked at the bathroom for about three minutes, and said we were good to go.
This bathroom project was completed two years ago, and we have LOVED the bathroom. Hope, you will find this shower resource useful for you, too. It's added so much value to the house, and makes our guests, our kids, and Mr. ThreeYear and me happier! Having an extra guest bathroom on the main floor was really important to us and I'm glad we took the plunge, paid the money, and made it happen.
If we had to do it again, I would probably opt to do a lot of the finish work ourselves, like paint and trim, but all in all we are really pleased with the end result. I would also probably wait until summer to have the work done, so we could keep the door open for ventilation (we had a higher-than-normal heat bill because of the open door, as well). I was scared to do it, but I'm so glad we spent the money and had the guts to go with our instincts and convert the bathroom into a closet.
Now, without further ado, the costs. Here are all the costs associated with the extra bathroom. We feel like we got a great deal, since we hired a contractor and didn't do any of the work ourselves. We haven't thought much about our return on investment, since this project was less about making the house more sale-able and more about getting more use from it.
COSTS OF CLOSET-TO-BATHROOM CONVERSION:
Materials (studs, sheetrock, pocket door, drain pipe, PEX tubing, sound board, exhaust fan, etc.). $387.02
Labor: $1902
Toilet: $74
Toilet seat, handle, and attachment: $118.94
Towel ring and toilet paper holder: $30.95
Sink, faucet, and drain: $299.90
Mirror: $19.99
License: $125
Grand Total: $3071.10
What do you think? Good deal? Any construction stories that turned out great, or not-so-great?