Happy September! Labor Day has officially passed. School has begun for the kids and me, Mr. ThreeYear is off on his first travel trip of the school year. FinCon, the eponymous financial conference, has started, although I'm not there this year.
A new season has started for many families in the US and it definitely has for ours; I'm now working full time and life is very different in our household.
Last week was my first full week teaching at my new school. I loved it; the kids are great, in general, and it was fun to have such a challenge in front of me. I also got home completely depleted every evening. I know that in time, I will feel stronger and less exhausted. I know this is a period of transition, but it feels hard.
That said, I've tried to put into place things that will help me make good choices. I've given myself a week to sleep in a bit, but this week I'm getting up earlier. On Tuesdays and Thursdays I'm going to my office to write, and on Wednesdays and Fridays I'm going to a fitness class. My neighbor, who works at our club gym, started it because I asked her to, so I feel locked in to going each Wednesday and Friday. That's exactly how I want to feel, so that I will go regularly and not miss a workout.
I've started new habits of making lunches and getting clothes out the night before, something I've never mastered, so that mornings won't be as rushed. Seems to be working for now.
Our Progress
While July showed an uptick in the net worth category (68.9%), August brought us back down (66.9%). I've now had one full month of contributing the max to my 403b, but that did little to my overall balance, combined with a market downturn. That means I bought low, though, so I'm glad.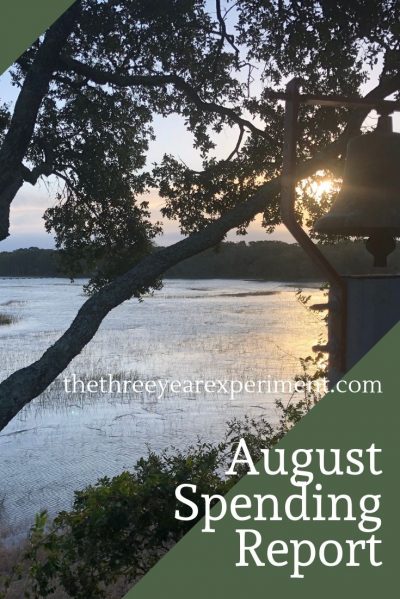 As you'll see from the chart below, we're still far away from the 100% gains we were aiming for in December. We still haven't managed to break 75%. We're still saving, though, and I'm excited to see what we can do with the savings from my job.
Percentages
While I don't share actual numbers, I thought it might be an interesting addition to my net worth updates to share percentages. This is currently the percentage of net worth that's in each category.
Spending Update
We are not-a-super-frugal family, so I hope our spending reports are helpful to look at/inspirational if you're not either.
We're proof that you can reach your financial goals without being extremely frugal, although that certainly helps things along!
Here's our financial situation:
We're debt free, except for our 15-year mortgage.
We achieved our dream of location independence, so we're not in a hurry to reach FI after doing that.
We are a high income family, as per this calculator.
We are not planning to retire for another nine years.
We plan to retire in the FatFIRE category (here's the definition of that term).
We're not particularly frugal, although we have been working to get better at our spending for the past decade.
Notes on Our Spending Reports
We don't include our mortgage in the spending reports. These spending reports are a way for us to have a more realistic idea of what we'll spend in retirement, and since our mortgage will be paid off then, we don't include it.
We do include the costs we pay for health care, since we'll definitely be paying those costs in retirement.
Our spending reports don't show how much we save, only what we spend. But the less we spend, the more we have to save.
August SPENDING
We use YNAB to track our spending, and we budget a month ahead, meaning we use money from the previous month, July, to pay for our expenses in August.
August was another extremely high spending month for our family. The combination of family in town, school activities starting, a friend's wedding, a concert, eating out a ton, and more home improvement projects meant that we overspent big time.
Now that September and better routines are here, we have to get in better spending habits.
Charity
Charity: $63.62. Our monthly contributions for our sponsored child and a new, monthly donation to help kids separated from their parents at the border.
Food
Groceries: $1276.19. It just gets crazier from here.
Eating Out: $661.92. Maybe $350 of this was from the previous month, when my sisters-in-law were here and we ate out at our neighborhood restaurant (we get billed a month later). Crazy.
Fun
Entertainment: $275.44. One of my best friends from childhood got married and we went. Also, we went to a Toad the Wet Sprocket concert and it was amAZEing. Favorite band from high school, and we got the VIP concert.
Fun Money: $433.98. Mr. ThreeYear got a new iWatch, because his died.
Gifts: $266.77. Gifts for my friend who got married, glasses for my brother-in-law
Health
Health Insurance: $447.68 This year, we switched to a high-deductible HSA account. In addition to our health and dental premiums, we also have $250 per paycheck taken out for our HSA fund.
Fitness: $455.86. Tennis and swim dues plus a couple of tennis events.
Household
Clothing: $306.45 While we only spent about $70 on back-to-school clothes for the kids, I bought new workout clothes, Mr. ThreeYear bought clothes for the wedding, and I bought a new pair of shoes.
Haircare: $169. I got my once-quarterly haircut and Mr. ThreeYear got a haircut.
Home Maintenance: $480.59. We signed up with one of those grass-greening companies for our yard. We had an unfortunate experiment with RoundUp and we're trying to get our grass to come back.
Household Goods: $365.63. A bunch of Subscribe and Save lunchbox items, protein powder, an air compressor, pisco from New Hampshire.
Postage: $0.
Service Fees: $2.75 Someone messed up and pulled cash from an out-of-network ATM.
Kids
Activities: $276.77 Two expenses: downpayment for Junior ThreeYear's swim program and two private swim lessons for Little ThreeYear (which we pay for a month after)
Expenses: $253.59. School supplies, cases for their Relays (I need to write a post on our non-cell phone communication solutions for the boys), three Nintendo games.
Pet
Pet: $223.63. We had to buy new flea and tick medicine, as well as board Lucy for the wedding.
Transportation
Auto maintenance: $525.46. I had a fun little incident on the interstate this month, and unfortunately my friend was with me at the time. The Honda Pilot needed a new battery, so Mr. ThreeYear went to Walmart and bought a new one. DON'T EVER BUY A CAR BATTERY AT WALMART!! The battery he bought apparently had a dead cell, and it caused our alternator to blow out on the side of the interstate as I was coming home from the beach. I had to call my parents to come pick me up and ended up staying with them for a night while my car was fixed by a random mechanic.
AAA Membership: $119. I had the added fun of re-upping our AAA membership, then had the privilege of waiting TWO HOURS on the interstate for the guys to come pick me and my friend up. I've decided that in the future, I'll just call a local tow truck. So much easier.
Gas: $284.97. This was so high because I had a girls' weekend at the beach, plus we went to the wedding, so we spent way more in gas than usual.
Utilities
Internet: $0. Mr. ThreeYear's work is now covering this.
Subscriptions: $37.94. Ooma, Spotify, Skype, Netflix.
Electric: $209.60. Higher in the summer.
Natural Gas: $20.57. Thirty cents lower than last month.
Water & Sewer: $104.90. When we water our grass in the summer this bill is higher.
Cell Phone: $56.41. This bill now includes my cell phone from Total Wireless plus the boys' Relays, which are $10 each per month. I'll write a post on the Relays soon.
Total: $ $7318.72
Here it is in a condensed format:
August 2019 Spending
| CATEGORY | COST | NOTES |
| --- | --- | --- |
| Charity | $63.62 | Compassion International, Together Rising |
| Food | $1938.11 | Both groceries and eating out were insane. |
| Fun | $976.19 | a wedding, a replacement iWatch, glasses for my BIL |
| Health | $903.54 | health insurance and swim, tennis costs |
| Household | $1324.42 | wedding clothing, haircare, snacks for lunchboxes, grass greening service, |
| Kids | $530.36 | downpayment for swimming program, back to school supplies, cases for the boys' Relays |
| Pet | $223.63 | flea and tick meds, boarding for the wedding |
| Transportation | $929.43 | a broken alternator, higher-than-normal gas, AAA membership (not worth it) |
| Utilities | $429.42 | phone, Spotify, Skype, electricity, natural gas, water & sewer |
| TOTAL: | $7318.72 | This is the end of the crazy spending months of summer. Announcing it on the internet so it will come true. |
September
Today will mark the fourth week of school for me and the third for the boys. We're all settling into our routines slowly. I've become a "do it the night before" person, because the mornings are so rushed and I now have to get myself ready, so I'm making sure lunches are packed and clothes are laid out in advance so it's one less thing to think about. That's helped a lot.
I'm also getting used to working full time. I come home tired and the weekends feel very short, but I've felt a sense of purpose that I didn't feel last year, and I really like the school where I teach. I think it's going to be a great year, even if this first year means I'll need to figure out new rhythms and ways of doing things, which will feel strange for a while.
I've now got a routine in place that involves writing and working out, so I hope to post more regularly. It's definitely been a challenge to fit in the important things now that I'm working, but without them, life's just not as rich.
See you next month!