Moving to a new home can be tough on kids. We took mine from the only home they ever remembered and asked them to move 900 miles South, to a 1000-square-foot smaller house with a very small backyard. It was hard for them to see the immediate benefits of that decision (benefits like a close pool, relatives right down the road, and no snow in the winter). All they saw was an unfamiliar new space that felt different and didn't feel like it belonged to them.
So to convince them to move, we used the oldest parenting trick in the book. We bribed them. While you're may tsk  at the idea of bribing your kid, let me expound for a minute on the benefits of bribery:
1. It works.
2. It gives kids something to look forward to.
3. It gives them some sense of negotiating power when, in all actuality, they have little to none.
Feeling like you have control in an uncontrollable situation makes you feel a little better about things.
For Little ThreeYear, we told him we'd finally get a dog. We realized that with our fenced-in back yard and both of us working from home, a dog would be a much more feasible addition to the family than it had in the past.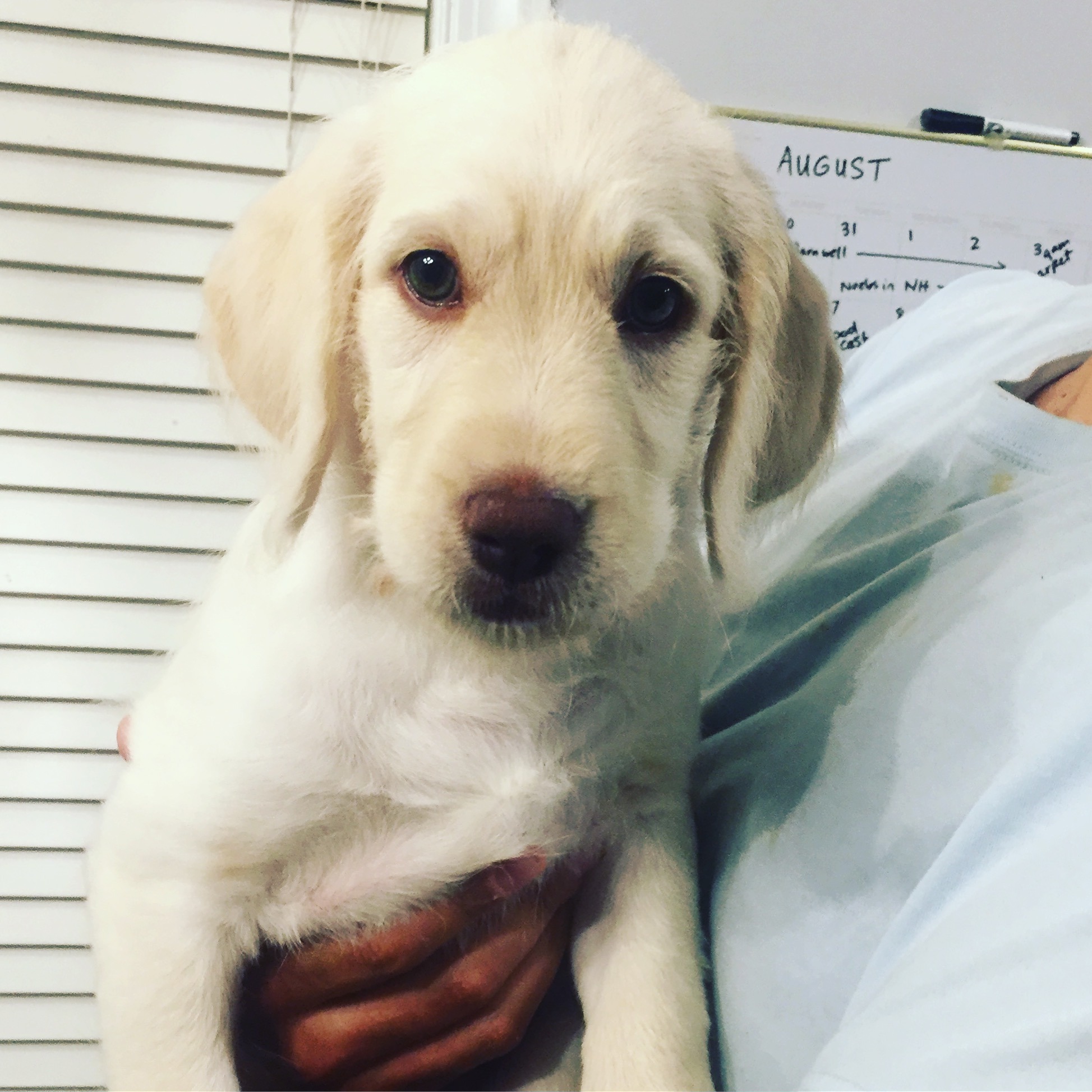 We told Junior ThreeYear that we'd decorate his new room however he wanted.
He wanted to paint it black.
I worked my creative wiles and convinced him that black accents would look much better than a completely black room. We looked at the myriad options online and found a couple of pictures that he liked as inspiration.
On the night before we moved into our new house, when we were doing the final walk-through, we discovered, under a rug and desk that the previous owner had left, a giant hole in the carpet. A tense negotiation commenced between our real estate agent and hers. Finally, she could no longer deny that she'd been trying to hide a huge hole in the carpet and agreed to pay to have it replaced.
The hole was in Junior ThreeYear's room, so we had to wait several weeks to get the new carpet put in. While we waited, I went ahead and started the room makeover.
Having already spent an obscene amount of money on the move, I wanted to keep the makeover reasonable. The best part of the new room inspiration picture we found was that we could incorporate his current bedding, bedside table, and lamp. Everything else we'd need to buy or find.
I started by painting his room white. It took forever to figure out which white I'd use, but I finally settled on Alabaster White by Sherwin Williams, because it had a bit of gray in it, and that would match nicely with the black and white theme we'd settled on. The previous owner had even left us a tarp (she left so much good stuff!), not that I really worried about getting paint on the carpet, and so I pulled out my paint supplies from the old house and got to work. The trim took the longest, because I tried to be very careful about cutting in, and then we rolled the walls. Once we got the second coat on and it dried, it looked super. I bought the good paint, and a gallon did it for covering his formerly blue walls.
Next, I used half a pint of chalkboard paint that the previous owner had left to paint his attic access door black. It gave a nice pop of color and could be used as a chalkboard.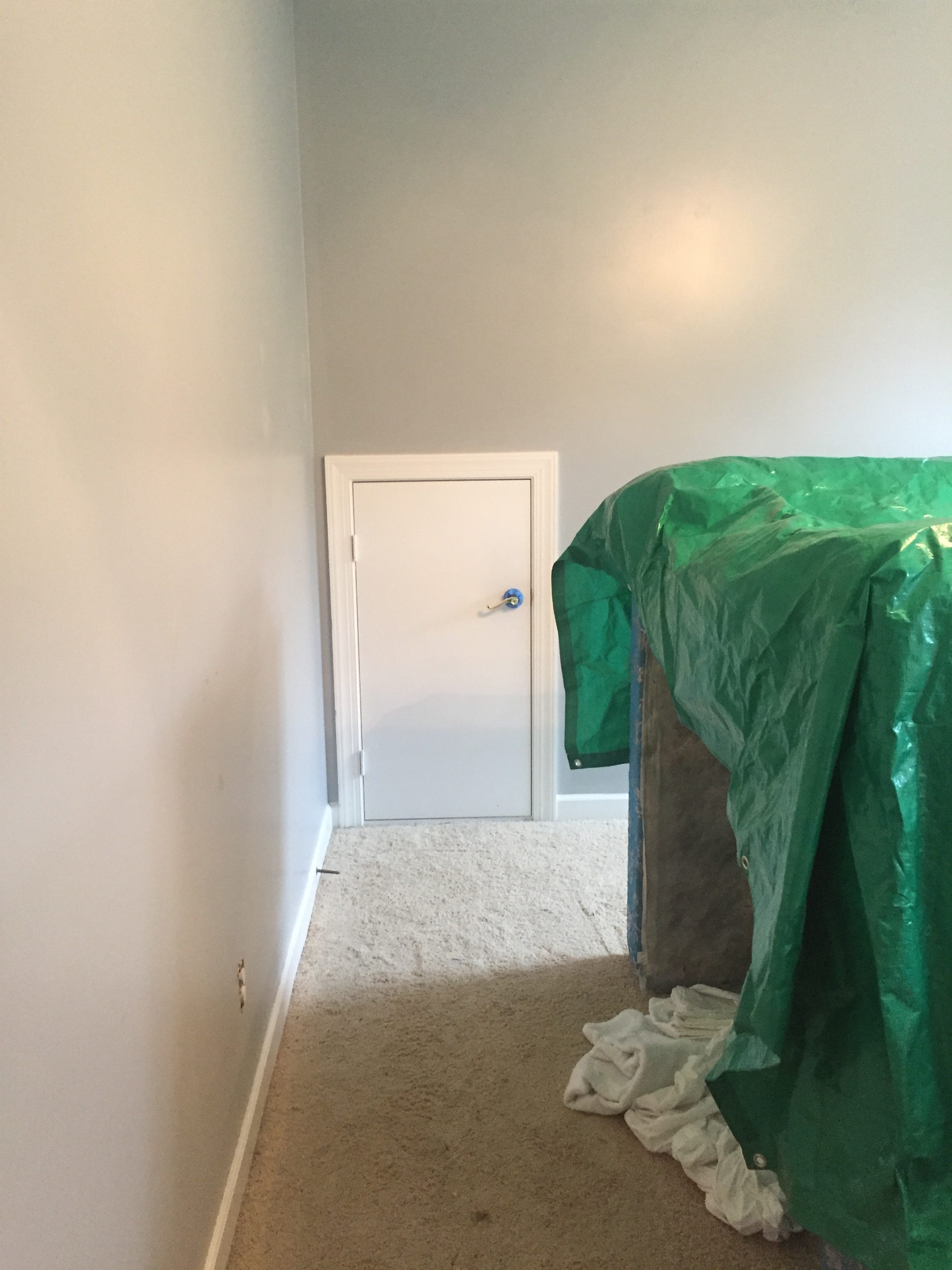 He'd need a dresser, so when my sister offered to give us an IKEA china cabinet she was no longer using, we took it. I removed the glass-front doors so that the top could be used as a book case. My sister even had a quart of black chalkboard paint she threw in, so I loaded my treasures carefully in the Prius and drove them 12 minutes home to get started on my next project. I'd heard that using chalkboard paint to paint furniture gave it a seamless coat as long as you put something on top of it. So I gave the china cabinet two coats of black chalkboard paint, then sealed it with some floor wax we had. Result: beautiful finish, zero sanding.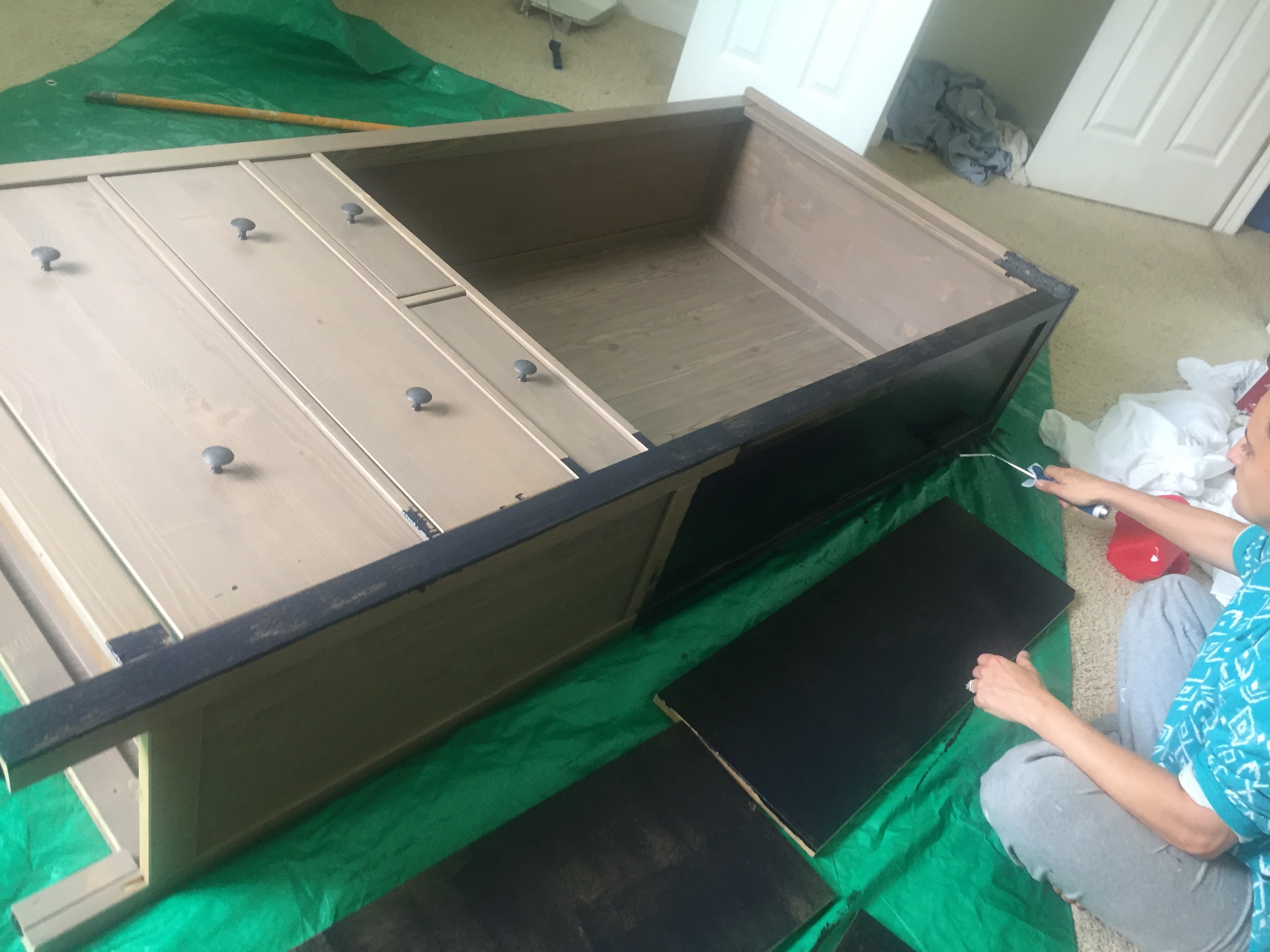 Next, I looked online for a headboard/footboard for Junior ThreeYear. He didn't use a bed frame in our old house, mainly because I'd never gotten around to getting one. I looked online to see what I could find an found a beautiful metal bed. I found a 10% off coupon and brought the total, with tax, to $126.10. After I'd gotten the bed, I found a 15% off coupon I could have used instead. Bummer.
When we went to IKEA, I found two pillow covers that would match our black and white theme beautifully. Then I spotted a cute black-and-white longer pillow for $4.99 and got that too. While I was in our Habitat for Humanity RESTore, I found two additional pillow covers for $2 each and snatched them up. Luckily, we had a lot of pillow inserts at home so I didn't have to buy those. The RESTore pillow covers were big enough that I could cram regular-sized pillows in.
When the bed came in, we put it together, then put his bed linens and pillows on. It looked great, but it needed a bedskirt. I went to Target (ten minutes away now!) and found a dark gray bedskirt for $14.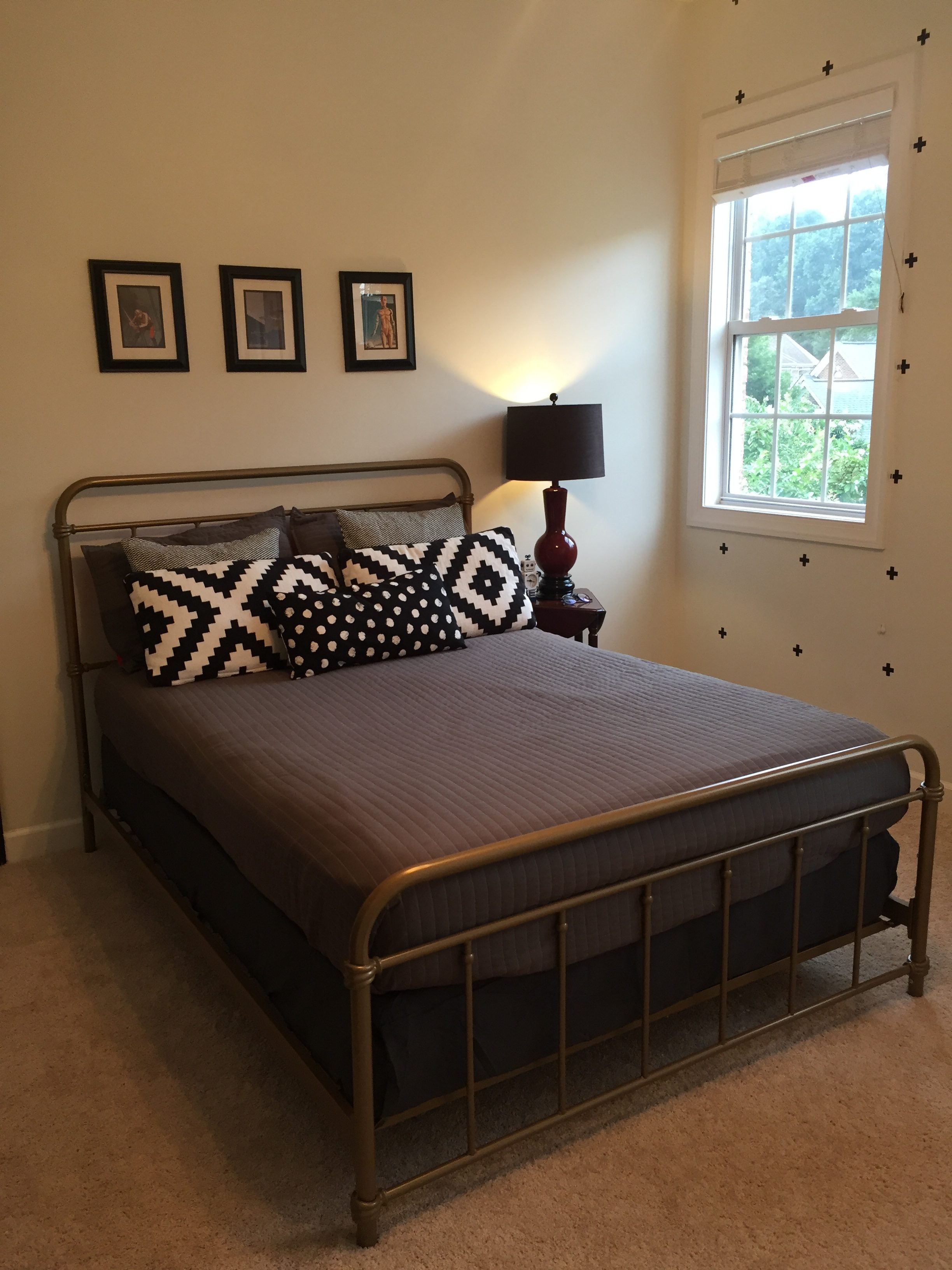 We completed his bedroom with a set of black Swiss cross stickers that I bought on Etsy. I accidentally bought them from someone in Moravia, so we had to wait a couple of weeks for them to come in, but it was worth it.
Once the dresser was ready, we filled the top with books and the bottom with clothes. We put a white desk and chair in, after repairing the middle desk with wood glue and tightening the screws (it was the same desk and chair that the previous owner had used to cover the hole in the carpet–how's that for irony?). Junior ThreeYear had been given a laptop computer by his former school as a going-away present, so we let him set it up (with some very strict usage parameters) on his new desk.
Finally, I found some old picture frames, and a Star Wars picture book Junior ThreeYear no longer read. I tore some pictures out of the book and framed them for above his bed. Free art.
The biggest trick I used for his bedroom redo was figuring out a design scheme that could use a bunch of what we already owned. He had a black and red lamp, so I wanted a room where we could use it, and also a room where we could use his gray bedding. We obviously lucked out that the previous owner left him a sweet white desk and chair, and that my sister gave us a piece of furniture that we could use as a dresser, but I think that staying flexible and thinking out of the box helped us keep our total costs down with the room redo. I spent the most money on his bed and paint. The $17.55 I spent on the stickers had the most impact, even though they were very small. And I should have scouted the REStore for more pillow deals, because the pillow covers I found there look terrific.
Here are a few more pictures:
Here's the exact breakdown on what we spent to redo his room:
| Item | Cost | Store |
| --- | --- | --- |
| Bed | $126.10 | Wayfair |
| Bedskirt | $15 | Target |
| Pillow covers and pillow | $17.50 | Ikea |
| Large pillow covers | $4.14 | REStore |
| Gallon and a half of Alabaster by Sherwin Williams paint | $36.98 | Lowe's |
| Black stickers for wall | $17.55 | Etsy |
| Everything else | Gifted or we had it already | Various sources |
| Grand total: | $217.27 | |
What do you think? I'm pretty pleased with how the room turned out. Now Little ThreeYear is asking about his room, so I'll spend the next few months scouting deals for him (he already got a puppy so I feel like he can wait awhile).