Mr. ThreeYear is a car person. I am not. But we have both owned a lot of cars in our fifteen+ years of dating and married life.
We have made good car decisions. We have made bad car decisions. We have had car payments. We have owned cars outright.
Currently, we have two of the best, if not sexiest, cars we've ever have, and they match our financial goals pretty well. But how did we get there?
Today's post contains all the details of our wonderful cars over the years, and how they've worked with or against us.
The Laser
I realized that I was marrying a car person when, soon after we started dating, Mr. ThreeYear decided to buy a new car. For our first date, he was picking me up outside my apartment in Santiago, and he told me he had a pretty old car. I had gotten locked out of my apartment, so I was waiting for him on the sidewalk, watching cars drive by. I have to admit that I was looking at some clunkers, and thinking to myself, "Please don't be that car. Please don't be that car." He pulled up in a dark blue Ford Laser that was as old as I was (at the time, 22). But I thought, "I can live with this." True, he had to adjust the radio with a screwdriver, and the interior was a bit worn, but the car took us where we needed to go.
However, Mr. ThreeYear had gotten a new job and decided it was time for a new car. He told me he was going to wait and save up cash. "Save up cash? But that will take forever! Why don't you just buy it on credit?" (Oh, Mr. ThreeYear, don't be swayed by this dummy. He wasn't. He waited until he had the cash). We spent almost every weekend for the next six months looking at cars. This was also my first introduction to Mr. ThreeYear's decision-making style: look at every option, multiple times, and then find the absolute best deal. It's completely opposite of my executive "make a decision fast" style, so I've had to un-involve myself over the years from such decisions (or go crazy! "Just buy it already!").
Financial Goals Match: Yes. Mr. ThreeYear bought the car in cash, for maybe $1000 or so. It took us around Santiago for about a year. He eventually gave it to his brother.
Champy
Finally, Mr. ThreeYear had the money and was ready to make a decision. He bought a used silver VW Gol (similar to the Golf but smaller) from a dealer close to his work for approximately $8500 (I don't have records or memory of the exact cost). Unfortunately, because of a clerical error, we had to return the car! The person who'd brought it in had a lien on it and someone hadn't checked that when they'd gotten the car ready for sale. The dealer was mortified, and to make it right, offered Mr. ThreeYear a brand-new car at cost, which was only $500 more than the used car. The new car was two years newer, so he decided to take it. Champy, as he dubbed her, was a champagne-colored Gol.
Financial Goals Match: YES! Because this car was paid for in cash, was small and gas efficient, and never once needed work while Mr. ThreeYear owned it, it gets a solid "check" for matching our goals. When we left Santiago a year and a half later, he was able to sell Champy for $8000, only $1000 less than we'd bought it for.
Integra
Meanwhile, in another continent… my Acura Integra was waiting for us. My parents made a deal with me: if I got a scholarship to college, they'd buy me a new car. I got a $60,000 scholarship to college (which was 75% of the cost of my school; tells you how long ago I went to college). They bought me a $20,000 car.
Ok, this is a window into my privileged life. Please don't hate me. I really did work extremely hard in high school to get that scholarship but I recognize how generous my parents were in buying such a nice car for me (the second car they'd bought in my young life). I treasured that car. It was dark green and I'd picked it out myself (quickly, in typical Laurie style). My dad and I went to different dealerships and he negotiated to purchase price plus 2%.
I drove the car for three and a half years of college. When I moved to Chile for three years my sister drove it (she eventually got her own car too). Then, when I came home, I drove it another two years. All in all, the car served us well for nine years.
Financial Goals: Yes, yes, yes! This is probably the best car I've ever had. It was a standard transmission, so it was a gas sipper. I filled it up for $19. Plus it was free (to me). Plus, I sold it for $8000 nine years later. I never had to have it repaired, other than routine maintenance. My only mistake with this car was selling it when I did.
The Suburban
When Mr. ThreeYear and I moved back from Chile to the US, my dad gave us his Suburban. It was 18 years old, but it was an awesome car. He told us we could sell it and keep the money. We drove it (and the Integra) for a while, and then Mr. ThreeYear used the money from the Suburban and the money from Champy to buy a Cherokee Jeep.
Financial Goals: Yes. Expensive to fill up, but free! We should have kept this car longer.
The Jeep
Mr. ThreeYear met with a car dealer friend of my dad's who went to car auctions. We asked him to look for a used Jeep Cherokee for us around $9000 (we think that's right–this was before we started writing this stuff down). He found Mr. ThreeYear a used Jeep Cherokee in that price range that was in good shape. Mr. ThreeYear took the car to Atlanta with us and drove it for the next four years.
Financial Goals: Medium. it was expensive to fill up and needed several repairs. I ended up bashing the passenger door in when I ran into a pole in my parking garage. We sold the car shortly after to a friend for $3500.
The X5
When I got pregnant with Junior ThreeYear, Mr. ThreeYear and I went completely nuts, as newly pregnant couples are wont to do. We decided there was no way that a baby could fit into the back seat of my Integra, which was a two-door, so we decided to go car shopping. The problem was, we had no money saved at this point, since we'd just bought a house and were still terrible savers (or I was, and had now recruited Mr. ThreeYear to the dark side).
A salesman showed us an ultra-safe, German manufactured BMW X5 SUV that they'd "just gotten" on the lot, for sale for only $16,000. We put $4000 down and my parents agreed to do a private financing deal for the rest (again, privilege, I know) where we'd pay them back over the next two years at $500 per month.
Less than a year later, Mr. ThreeYear was laid off. We shouldn't have bought this car! We had two perfectly fine cars, and I could have figured out how to carry the baby in the backseat of the Integra. My parents extremely generously forgave most of the loan and we shortly after started on our debt payoff plan. Since we didn't owe anything on the car, we decided to keep it as long as we could.
The problem was, the car kept breaking. And it was extremely expensive to fix. In Atlanta, we found some lower cost mechanics, but once we moved to New Hampshire, we spent thousands of dollars repairing it.
It was the classic sunk cost fallacy. We thought, "we've already put so much money into this car. Surely this is the last thing that's going to break and then it'll be fine." In 2010, the year we moved to New Hampshire and I had Little ThreeYear, we spent almost $8,000 repairing our cars. The vast majority of that was for the X5.
Once I totaled those numbers up, which was a slap in the face, we realized we weren't saving anything by keeping this car. It was time to buy another one.
Financial Goals: NO. I don't know exactly what the lifetime total cost of this car was, but it was huge. We traded reliability and sportiness in for safety and status. Plus, we had the added strain of worrying about the car breaking down every other month.
The TSX
In Atlanta, shortly after we bought the X5, Mr. ThreeYear decided to sell the Jeep and buy a used Acura TSX (you may have caught on by now that we almost never buy new cars). He had the $3500 from the Jeep and had saved up another $8500, so he bought an Acura TSX. This was his favorite car ever. It was white, sporty, and in impeccable shape.
Sadly, we started our debt repayment journey shortly after, and he sold this car in order to help pay off our debt. He was able to downgrade to a $4000 small used grey Audi that wasn't nearly as fun to drive.
Financial goals: Yes. We bought the car in cash and sold it for almost what we paid for it. It will always be known as the Sacrificial Lamb (appropriate, since it was white) as we sold it to pay off debt.
This is getting really long, and we still haven't gotten through all our cars! So, I will skip to our most recent ones:
The Accord
After selling the BMW for maybe a few thousand dollars, I was shell shocked. I wanted a safe, reliable, non-fancy car. So Mr. ThreeYear and his friend set out to find me the safest, non-fanciest car ever. They came back with a silver mom-mobile, that is, a 2010 Honda Accord with zero special features (we bought it in December of 2013). It cost $15,000, and we bought it on credit. That's right, we financed it.
I was worried about cash flow, since we'd recently bought our house, and when we did the math on the payments, we calculated we'd only pay about $1000 in interest over the life of the loan.
Financial goals: Yes. The car is reliable, I don't care if it gets messy, and the Bubble Guppies stickers on the back window add, rather than detract, from the car's style. The only repairs we've had to do on this car are for breaks, which is common in our part of the world (we live in the Appalachian mountains and there's tons of snow). The car is now paid off, and we own it free and clear. It's still worth about $4,000, six years later.
The Prius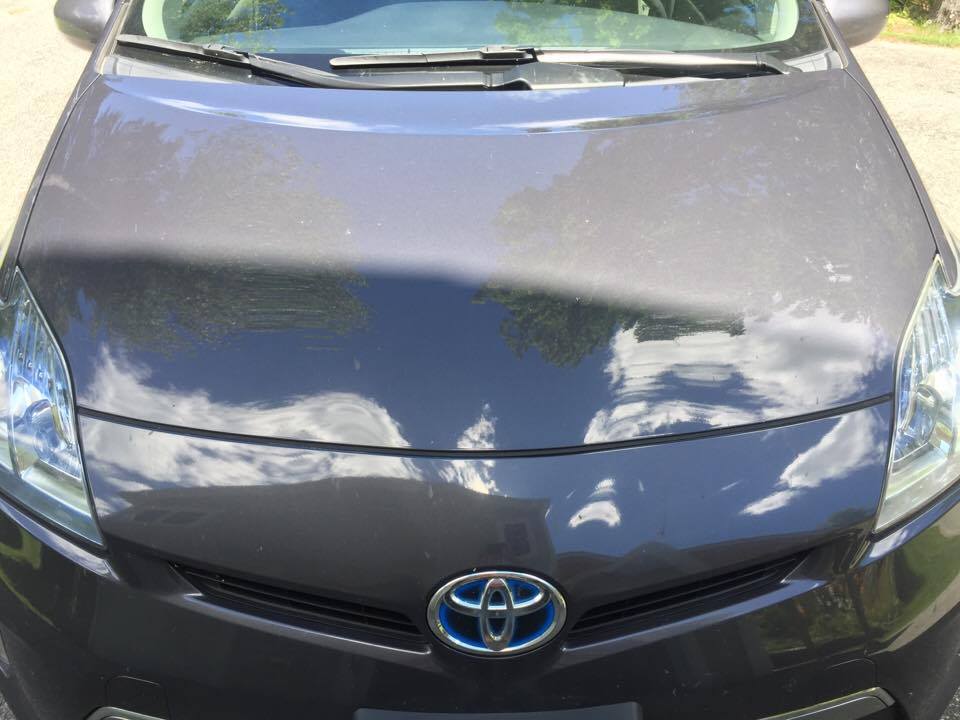 This is my favorite car. Okay, it doesn't beat the Integra in sportiness, but I love this car. I look forward to inheriting this car one day when Mr. ThreeYear wears me down and buys another car (he's been pulling out his tiny violin and going on for years about having to sell that Acura TSX). We bought it in 2014, in December, a year after we bought the Accord. We also financed this vehicle, which, after we traded Mr. ThreeYear's CRV in (which we didn't get to), cost $15,000. We just paid this car off last December, so we now own both cars free and clear.
I love this car because it costs $13 to fill it up. It's a Plug-in Prius, so it is a hybrid but you can also plug it in to run on electrical power-it has a range of 9 miles! Ha!-and then it runs on gas/electric. I think it actually has two electric batteries plus a small gas-powered motor. It's not a powerful car, but it's got all the bells and whistles–Bluetooth, seat warmers. It's taken the boys and I on two road trips down to South Carolina and it, like the Accord, has never needed repairs aside from the brakes. We've even been through this together.
Financial goals: Yes. It's $13 to fill up, a fill up lasts almost two weeks, and we haven't had to repair it. Japanese cars for the reliability win! We are keeping this car as long as possible. I love it!
There is my highly unscientific and non-car-person story of all our rides. Okay, a majority of our rides. It's a little ridiculous how many cars we've had in such a short time.
After writing this history up, I realize that we have, over the years:
almost always bought used
recoup as much value as we can from our cars by selling them privately and not trading them in
do not like cars that need to be repaired a lot (who does?)
Don't keep our cars for very long
In the future, I hope that we'll keep our cars longer, and continue to emphasize reliability and economy over show-offiness. However, I also know that we're in a financial position where we're going to be paying cash for our next car, so if Mr. ThreeYear talks me into a little show-offiness, well, at least I'll get the Prius!
Are you a car person? (If you are, sorry for the vagueness of the details of this post!). What's your worst/best car buying decision?