We got back from a weekend trip to Montreal, Quebec, yesterday. We've been wanting to take Junior and Little ThreeYear for ages, and we finally bit the bullet and put a weekend trip together (here's my philosophy on travel spending).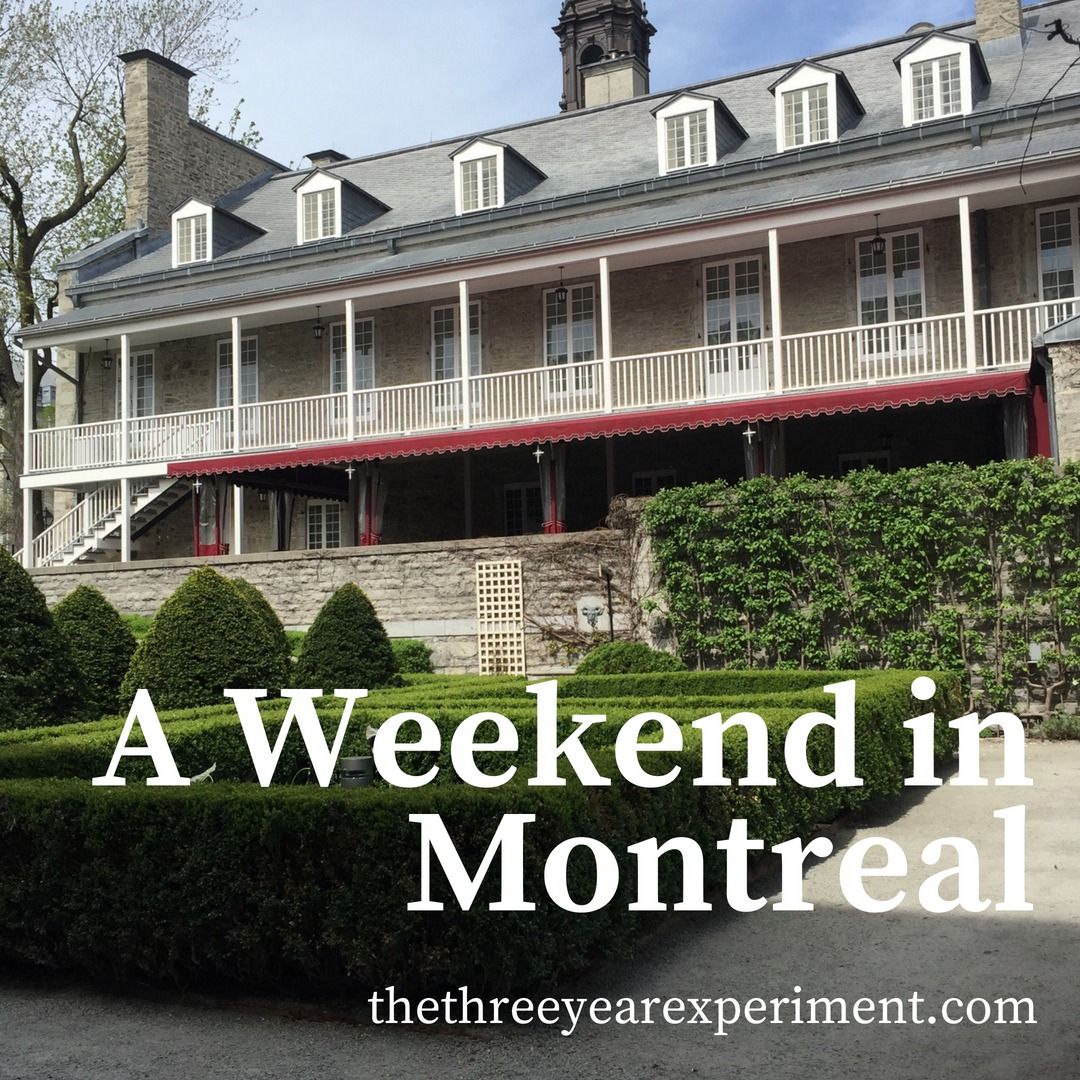 We normally travel for longer periods of time, but once in a while, maybe one or two times a year, we'll go on a weekend adventure. These short trips are usually expensive, since we tend to eat most of our meals out and stay in more expensive lodgings, but we pack a lot of sightseeing into a few days and make lots of memories.
This was the boys' first trip ever to Canada, which is sort of embarrassing to admit since we've lived two hours from the Canadian border for eight years, but I definitely subscribe to the adage "better late than never." We drove up to Montreal, three hours from our house, on Friday afternoon. It's a beautiful drive through the mountains of Vermont, which then give way to the glacial plains of Upstate New York around Lake Champlain.
Lodging
We stayed at an AirBnBn close to Parc La Fontaine (if you've never yet tried AirBnB, here's a link to save $40 off your first stay). It was a great location, not too far from Old Montreal, in the Plateau Mont Royal region. We booked an apartment a week before our trip and I based it primarily on price and location. The apartment we booked was a one-bedroom but had an additional bed in the living area (instead of a sofa) so it slept four comfortably. The reviews, which I always check, were very positive for this location, and the price ($96.58 per night) was good. We ended up paying a total of $261.24 US with service fees, cleaning fees, and occupancy tax thrown in. Normally we have amazing experiences with AirBnB and our hosts have always been excellent communicators.
Unfortunately, we were less than impressed with these hosts and the apartment. They did a terrible job communicating, never answering any of our questions about parking. Nor did they provide any info about the surrounding neighborhood (on their AirBnB profile they said that's what they were known for). They told us to call 1 hour before arriving, and when we did that, they told us to call back 30 minutes before arrival, with vague instructions that they'd tell us "where they'd meet us with the key." When we called back, Alex, the host, said, "Oh, ok. Yep" and hung up on us. Then he texted us with "What were your names again?" We just had to assume at that point that someone would be waiting at the door with a key, since every call we made was an international call, and costing us $$. A girl was waiting with the key (after we drove around looking for non-existent parking for awhile) but she didn't speak English, so she couldn't tell us where any overnight parking was.
When we went in the apartment, it didn't look at all like the pictures. The towels and linens were dingy, mismatched, and old. There was no dining room table, just a couple of rickety side tables and chairs. There was no curtain rod in the master bedroom, just a curtain hung on two nails in the wall. It was all little details–just a bunch of details that showed the hosts put the minimal effort necessary in the apartment and we were just the next transaction. Not cool.
However, our kids were awesome sports, and were so excited about our digs (and about the shared balcony, which hadn't been advertised and which we were less than jazzed about). So we kept our grumblings to ourselves and used our secret language (Spanish, which they don't understand all that well). Thank goodness we've kept our kids' expectations low for travel. When we went to the desert in Chile in December, the four of us shared a small room. We knew it would be tight quarters, so we made it into an adventure where we'd all be together. In their eyes, this apartment was a castle compared to that room, and it had books to explore, and a kitchen and balcony, so they were really happy.
Food
One of Mr. ThreeYear's and my favorite things to do in new places is to eat. Montreal does not ever let us down. There are so many different types of ethnic foods to try. The first night we were there, Friday night, the kids talked us into sushi. We found a place two blocks from our apartment, and after a short wait, sat down. The waiter explained that this was an all-you-can-eat sushi restaurant. The prices were higher than I was planning to spend, and I'm not a big fan of all-you-can-eat sushi, because the quality tends to be low. But our kids had already spilled soy sauce everywhere, so we weren't getting up. Plus we were starving. It was 7:45pm and we had only had a small snack in the car since lunch. So we ate as much sushi as we could stuff in. Cost for dinner for 4: $97.09.
The next morning, I got up and investigated parking options for our car. I stopped by the bakery that was right next to the apartment and asked for a coffee in my refillable mug. Unfortunately, I didn't read the sign that said "Cash or Canadian Debit Card Only" (maybe because it was in French!!) so they held my cup hostage while I searched for an ATM (yay, Google Maps to the rescue!). I went back to the bakery with my money, using one of my 10 French words very effectively, I think, "Voila," and added an "Oh Mon Dieu" pastry (and yes it definitely was!) and some "Croisantellas" to the mix, then took breakfast upstairs. Cost? Something like $15 Canadian.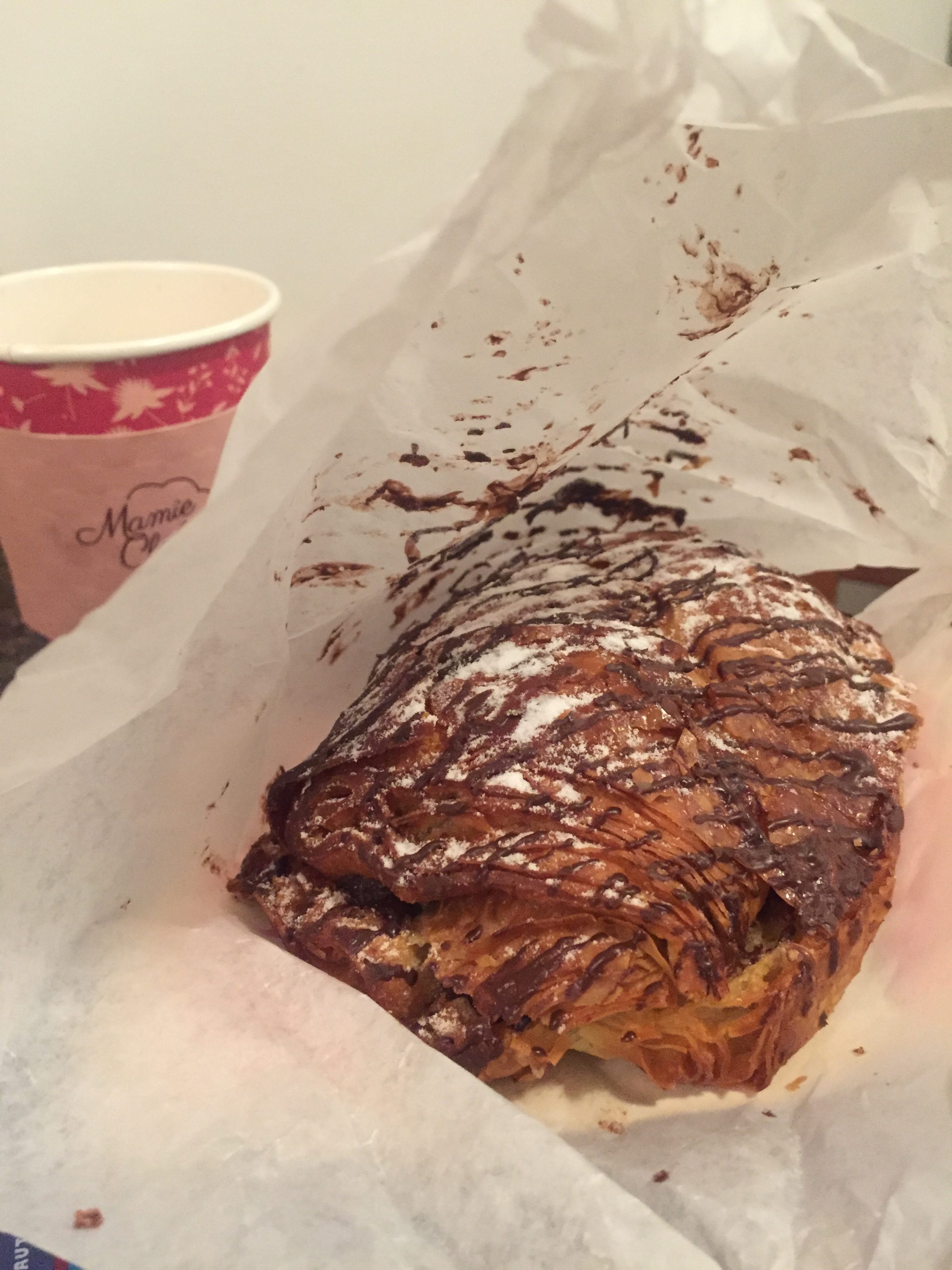 After we went sightseeing on Saturday, we walked back along Rue Saint-Denis and had a plethora of restaurants to choose from. Our first choice, African (not Ethiopian, just apparently food from all over the continent?), was closed for lunch, so we headed back down to a poutine restaurant. Poutine, if you're not aware, is the regional food of Quebec. It's crispy french fries covered with smoked meat, gravy, and cheese curds. It's sooo good. We went to a restaurant with exotic options. I had Korean BBQ Poutine and Mr. ThreeYear had some heavenly creation with caramelized onions. Cost of lunch for 4: $62.28. That included two fancy beers for Mr. ThreeYear and the food was incredible.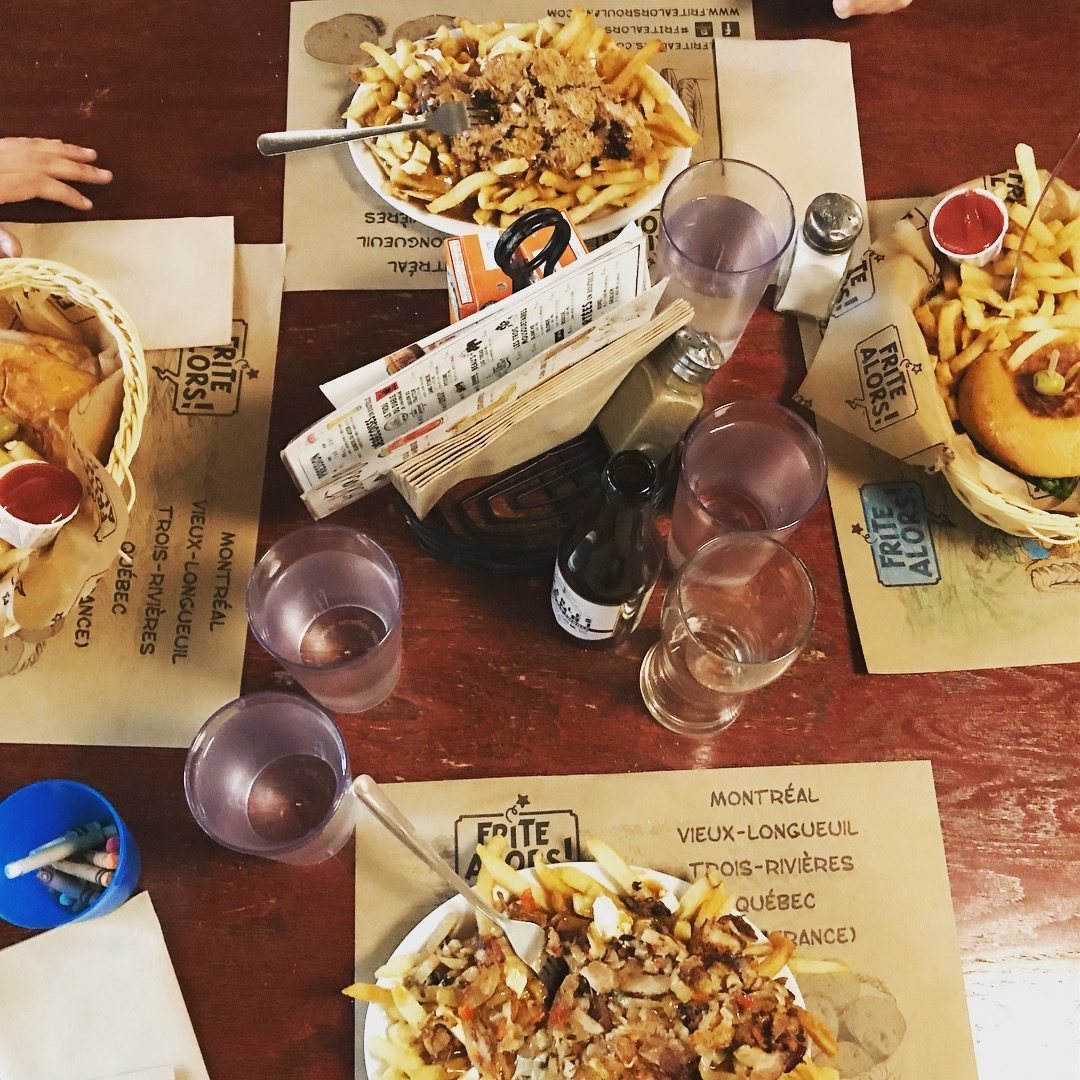 That night, we were so full that we headed down to the Indian buffet next door (again, so many options in our neighborhood!). We got one single to-go box of takeout and split it between the four of us. That, combined with some snacks we'd brought from home while we watched a family movie, was all we needed. Cost for (light) dinner for 4: $13.42.
Breakfast the next morning was the bakery again, where I bought two coffees, two Oh Mon Dieus, and two other delicious pastries. Cost: $20.10 Canadian dollars and cents (hey Canadians, it's hard to take your money seriously when you make it out of plastic! Just kidding, of course. Your countrymen were really patient with my abominable French). Regret over eating every crumb of my pastry? None.
Saturday Sightseeing
We spent all day Saturday exploring the city. We walked straight down the street we were staying on, Rue Saint-Denis, until we reached Old Montreal. As we walked, we made a few detours. We looked at several cathedrals, walked down the colorful main street of the Gay Village, and took a break at a park so the kids could play.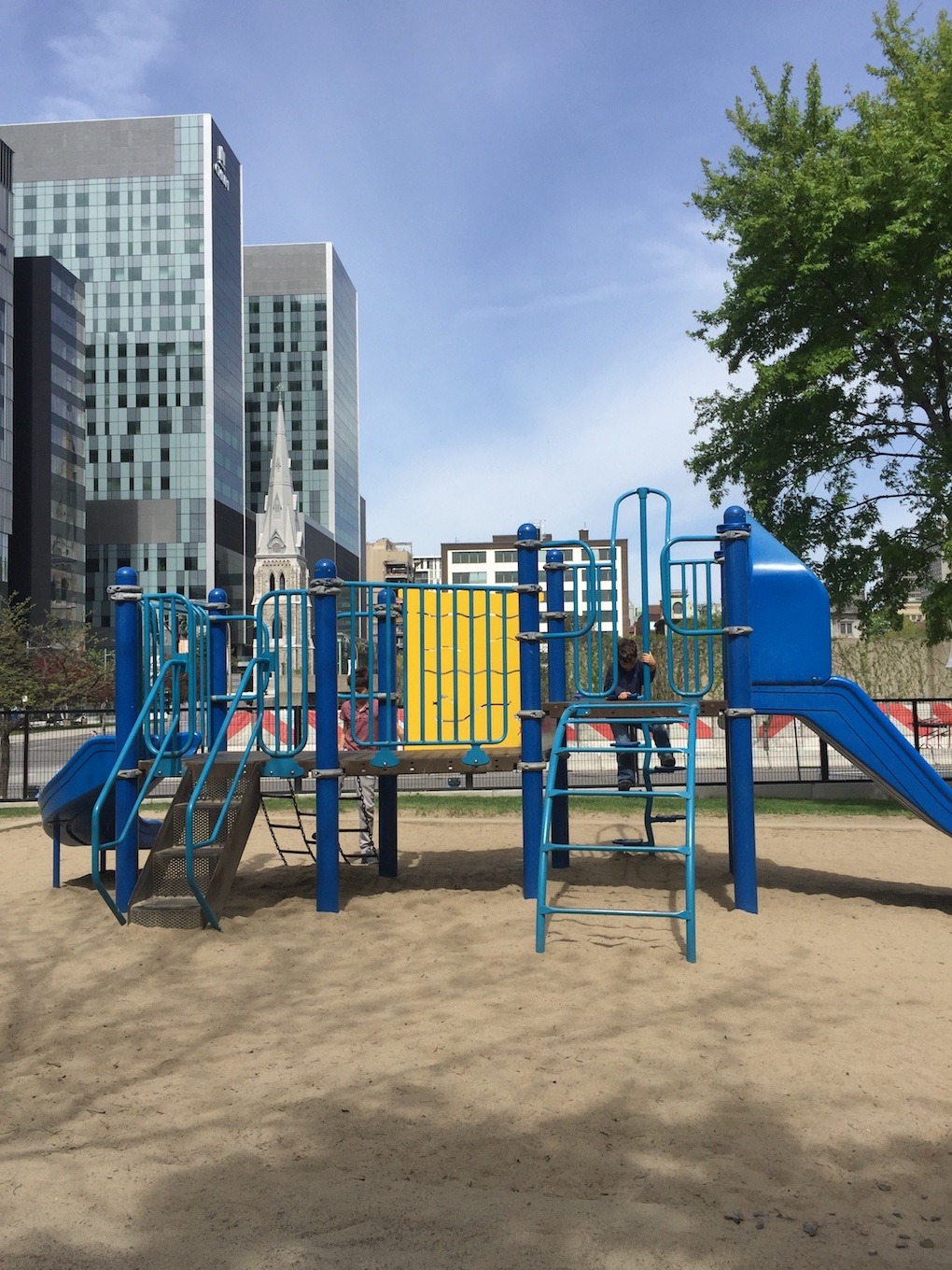 We spent a long time walking around Old Montreal, pointing out the architecture, and taking lots of pictures (we can do "tourist" up).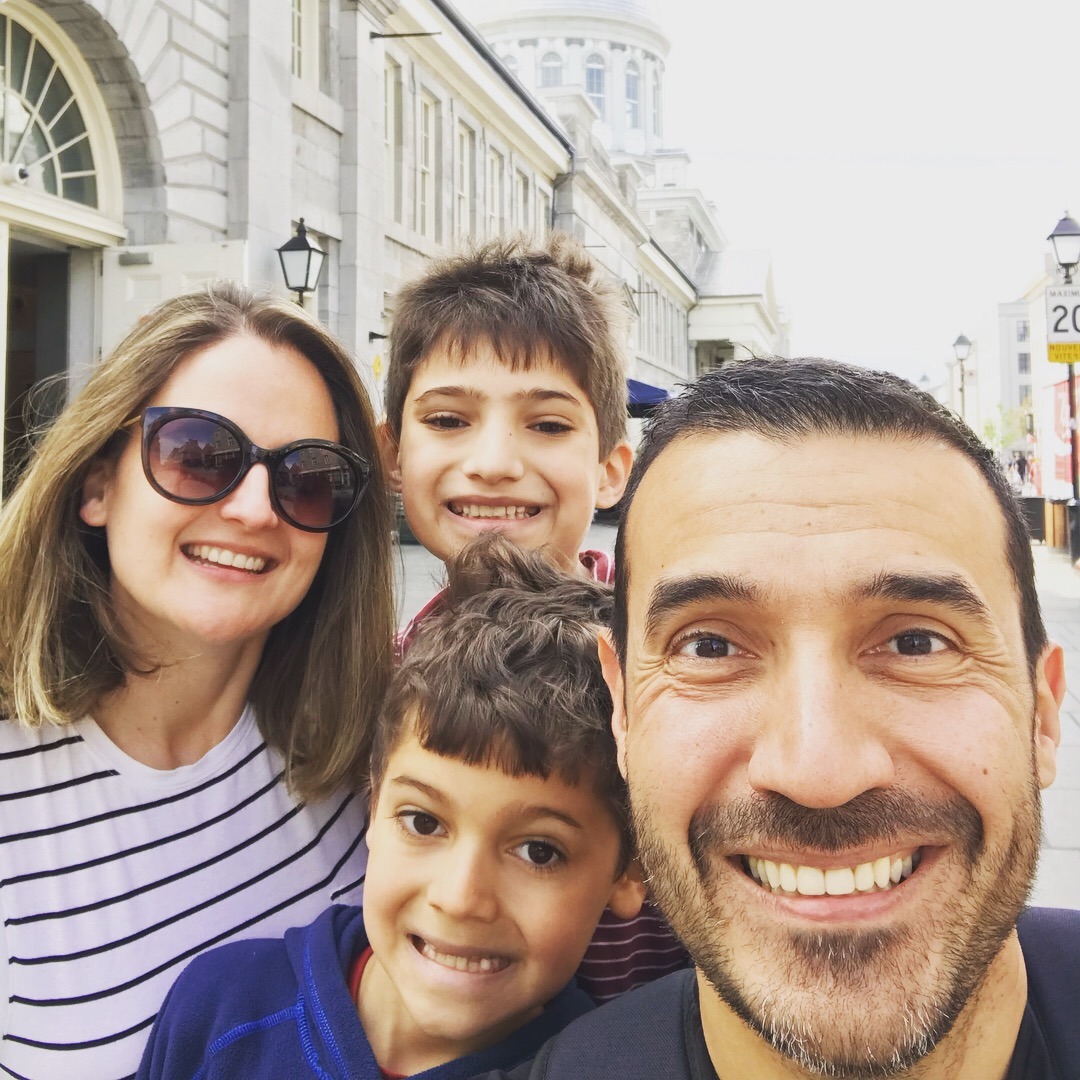 Then we bought passes to an inflatable bouncy house park for an hour. Cost for 2 kids: $30 Canadian. It was pricey, but it was worth it. It gave the kids something really fun to do, after they'd been really patient while we walked all over the city, and it made the day fun for them, too. We've found, when we travel with our kids, that it helps if we keep some part of each day for resting, and have at least one kid-centered thing going on per day. Even if that's running around a park for awhile, it makes the vacation much more fun for our kids. Bonus: we got to sit for an hour and connect to the free WiFi.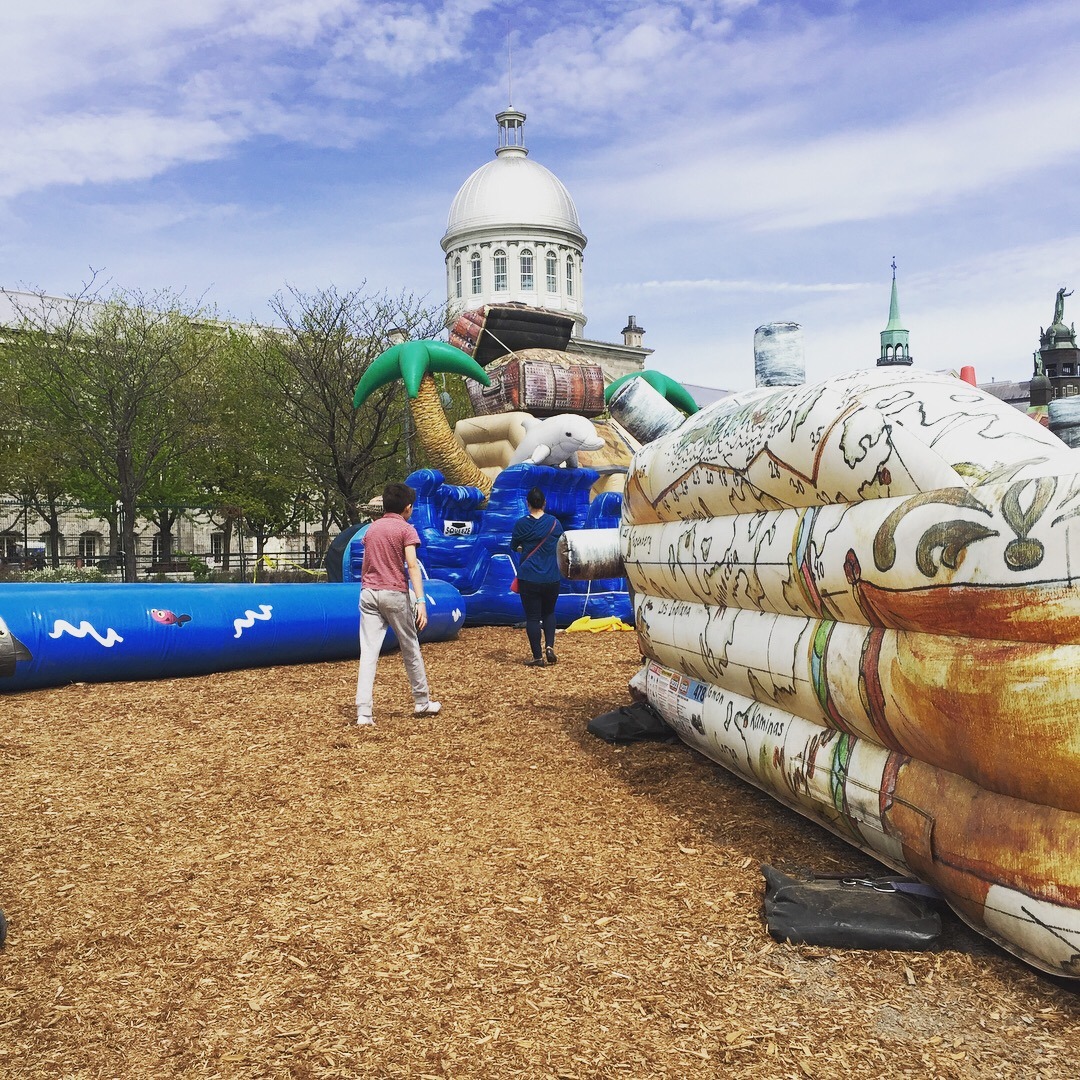 After we'd walked around for a bit more, and decided against the expensive Ferris Wheel ride ($77.80 Canadian for the four of us) we decided to do the slightly less ridiculous paddle boat ride for $28 Canadian. It was fun; it was frustrating. We had a great time. We may debate for the next decade whether it was a defective boat or a defective steerer that made us drive around and around in circle.
I have to show you a picture of this, the first Tesla taxi I've ever seen. Is that cool or what? It drove by too fast for me to jump aboard and take a ride.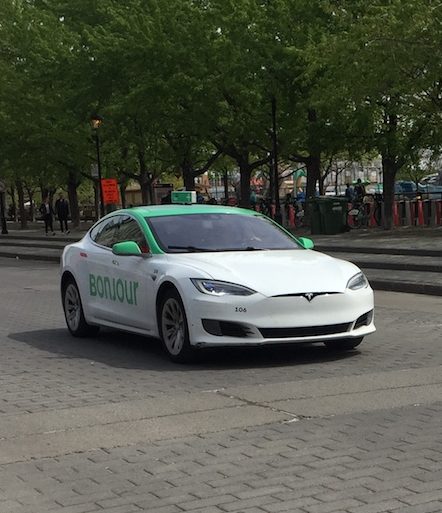 We spent the entire afternoon, which was rainy, back in our apartment. The kids read and played electronics, and the adults did the same. It was a nice downtime after such a busy morning, and it was raining anyway, so we didn't feel like doing much.
Sunday Sightseeing
On Sunday, after we ate more delectable pastries, we checked out of our apartment (it was easy–we just left the keys in our room and headed out to our car). Then, we drove to Parc Mont Royal. The main road up to the top viewpoint was closed, so we drove to the Cemetery. We aimlessly meandered along (can you meander in a car?) the cemetery streets, until we came out the South Entrance. And then, to our absolute shock, we realized we'd driven right to the Chalet, which is the top of Mont Royal, Montreal's namesake mountain. And the skies had cleared for a truly breathtaking view.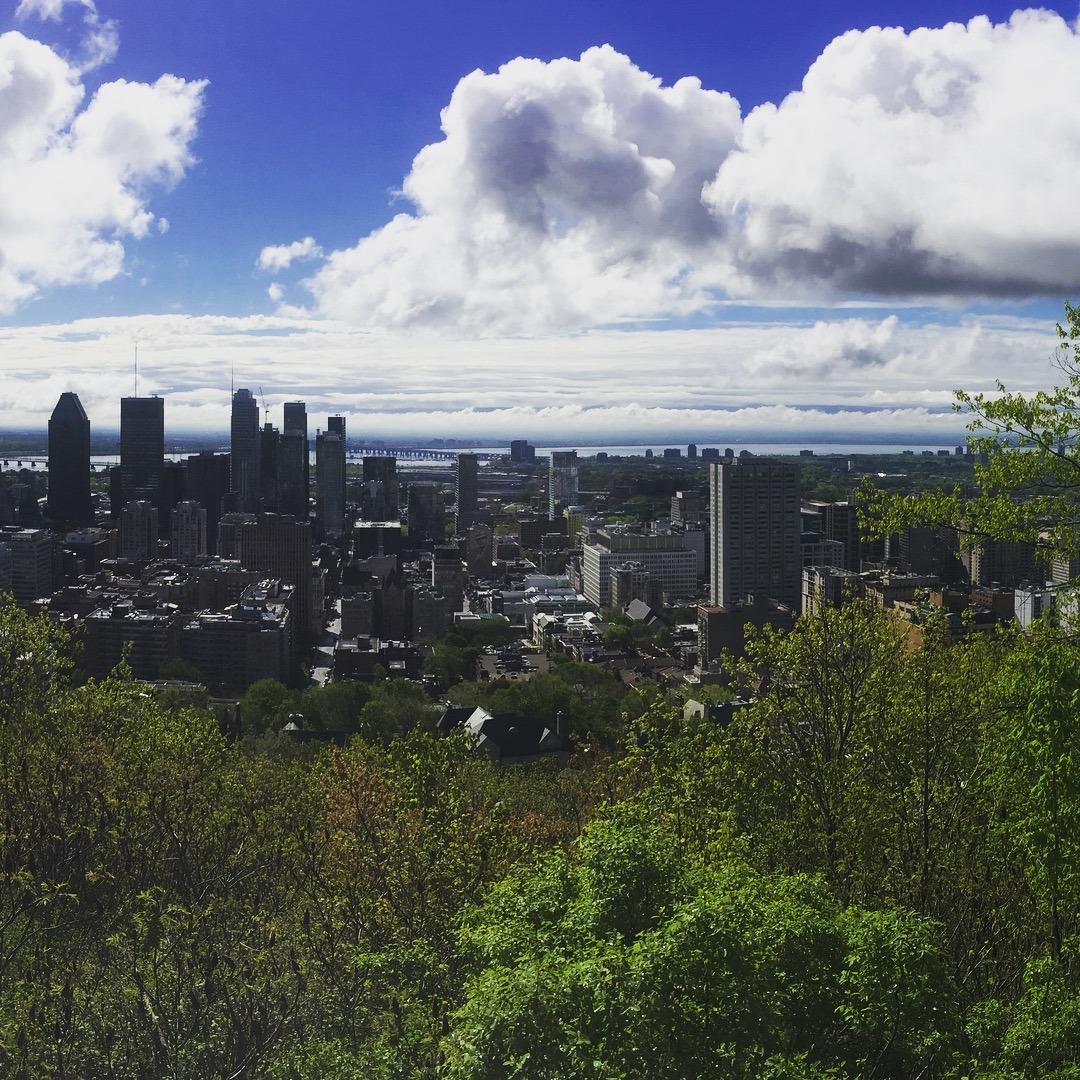 After we wandered around the park for awhile, we headed home. We were tired, but the whole family agreed that it was an awesome trip.
Was it a budget trip? Absolutely not. It was the opposite. In some ways, it's much easier to spend less on vacations where you're there for longer periods of time. Then, you can make food in your kitchen, take time to figure out the less expensive trips, etc. In total, we spent $506.38 (plus around $10 in parking–it's pretty cheap to park in Montreal). That was under the $800 I'd budgeted so I feel good.
Our family's travel philosophy is that we budget a lot for travel because it's something that's important to us, and while we're on vacation we don't pinch pennies (how much should you spend on travel? Read this). We try to make wise money choices beforehand (with rental cars, flights, and hotels), but we buy the things we want to buy while we're there.
Hope you had a great weekend, too. Have you taken any great weekend trips lately?