One thing I've learned about the journey of personal finance is that it's personal. We all have different priorities for our money.
But today, I'm going to argue that everybody who can finagle it should spend money on travel. Whatever you call them–get aways, mini breaks, vacations, holidays–no matter how close or far from home you go, I believe there are major benefits to regular travel.
Our family has been a fan of traveling for a long time. Because, what better way is there to prepare for a life where you can travel anywhere than to travel, well, somewhere? If you're interested in becoming location independent, I recommend making it a priority to take at least one trip or mini-trip per year.
Yes, there is always debt to pay off, emergency funds to fill, and possessions to pare, but the benefits of travel are many. Taking a small percentage of your take-home pay and reserving it for a trip each year, even a brief, close-to-home one, is worth delaying those other goals by a few months.
Mr. ThreeYear and I took a weekend trip to Montreal several years ago, and it was nectar to our traveling souls. We're only three hours away by car from Montreal, so we booked a hotel using our credit card rewards (thank you SPG card), drove up, and spent a fabulous weekend exploring the Museum of Fine Arts, the eponymous city park Mont Royal with the fabulous view of the city (boy were my legs tired after that climb!), and the heart of Old Montreal. We ate delicious ethnic food (including Korean BBQ and Szechuan) and drank lots of cappuccinos. Our trip lasted three days, and cost us about $350, but it reminded us why we love to travel so much and why we're working so hard to become location independent.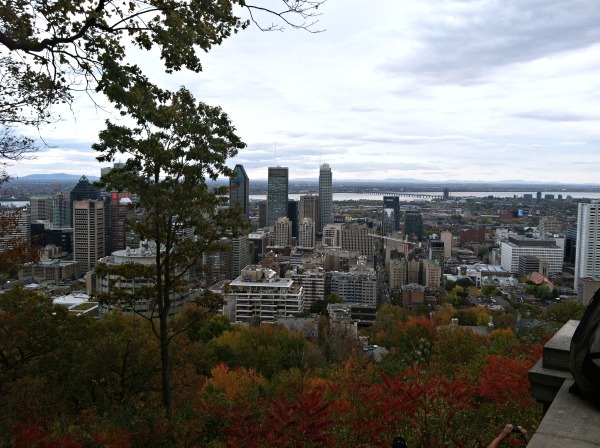 Michelle from Making Sense of Cents recently highlighted a blogger, Penny from Penny and Rich, who spends $53,000 a year on her family of six, with $22,000 of that going to pay back student loans. Even though the family earns so little income that they qualify for federal food assistance, her family makes travel a priority. They set aside a little less than $2500 last year for vacations for their families. Some snarky commenters gave Penny a hard time for spending money on vacation while qualifying for food stamps, but I believe she has her priorities in order. Here's why you should spend money on travel:
Travel Gives You Perspective
When you're stuck in your everyday routine, it's easy to look around you and get frustrated. Maybe you're working hard towards financial independence, but it seems like everyone around you is buying a new car, adding on a finished porch, or going out to eat all the time. Or maybe you, like me, get a bit depressed by the long winters (or summers!) in your part of the country, and would love to see different landscapes, to know that there's more to the world than your small vista.
Traveling, even to somewhere relatively close by, shows you that the world is a lot bigger than you think it is. If we spend a weekend in nearby Boston, I'm always struck by how much hustle-and-bustle there is less than two hours from my front door. When Mr. ThreeYear and I visited Asia last year, one of my most profound "ah-ha" moments was realizing that there was an entire hemisphere of people who knew nothing about what was going on in my side of the world–the Western Hemisphere–and, more importantly, didn't care! There were populations of people I'd never even imagined, with interesting and complex cultures, going about their lives, and I had been absolutely ignorant of them my whole life. And they of me. That might sound depressing, but to me it was enlightening. The world is bigger than me, so, to me, that means my problems aren't as big as I think they are.
Also, when I'm feeling Facebook envy or find myself comparing my family's situation to others who might make more money or have a higher net worth, traveling gives me a more global perspective. As I highlighted in Are You the 1%, if you make more than about $33,000US per year, you're in the global 1% of all income earners in the world. We have a lot more than we think we do. Also, seeing how happy people are who earn and have a lot less than me always gives me the wake-up call I need to start practicing gratitude for what I have.
Travel Makes You Happy
We've all heard that experiences, rather than stuff, bring us the most happiness. The best memories I have are of travel. Rather than getting beaten up and rusty, and losing value, like a car, my travel memories get sweeter as I age.
This year, we had two full weeks of beach vacation with our extended family. Junior ThreeYear and my niece spent hours running around with their trusty sidekick, Oliver (my sister's dog), pretending they were superheroes. Once in a while Oliver would be their evil villain, and they would chase him around while he hopped and barked in delight. I know I'll remember those sweet little people running around the beach house forever. And those memories started the bonds of what I hope will be a lifelong friendship between two intrepid cousins. 
Travel Helps You Grow as a Person
Mr. ThreeYear and I have been after a friend of ours to take his family on an international vacation for years. He has a busy job, and has put off a vacation for many years. But finally, after listening to years of our nagging, he booked a three-week vacation in Europe for his whole family. They are staying in apartments and houses they found on VRBO and AirBnB, and are having an amazing time.
The vacation has allowed the whole family to unplug from the daily grind, and temporarily disconnect from their normal routine. It's giving them time to make memories as a family, and space to allow their minds to wander, dream, and rest.
When Mr. ThreeYear was in South Carolina this April, he purposefully took his work email off his phone and didn't check a single work email for the entire week. He was present with our family. He got to enjoy the sunshine and waves and focus on making memories with his kids. Being able to disconnect your brain is vital to personal growth, because it gives you time and space to self-reflect.
Being immersed in another culture also forces you to rethink everything–even things as mundane as how and what you eat and drink, how you dress, how you communicate. We cannot be complacent when traveling. Since everything is new, we have to consciously think about how we do almost everything.
As Mark Twain said in The Innocents Abroad/Roughing It, 
"Travel is fatal to prejudice, bigotry, and narrow-mindedness, and many of our people need it sorely on these accounts. Broad, wholesome, charitable views of men and things cannot be acquired by vegetating in one little corner of the earth all one's lifetime."
You cannot vegetate in one little corner of the earth your whole life and expect to continue to grow as a person. When you leave the familiar, you're forced to re-examine how you see the world because you have to see it through the lens of another place or culture. I'm always amazed at how alike human beings are, despite different languages, cultures, amounts of education, and upbringing. Despite that sameness, people from different cities, states, and countries have a lot to teach me about humanity when I'm in their home.
Travel Helps You Reach Financial Independence
Say what? Doesn't traveling cost a lot of money? How does it help you reach FI? Here's why: when you're working hard to get out of debt, save up an emergency fund, and save larger and larger parts of your income, it is generally not easy. Lots of times, you have to work at behavior changes that help you on that path (not eating out, spending less on clothes, driving an older car, insourcing cleaning and yard care). For my family, those changes, although now a routine part of our lives, were hard habits to develop. By giving yourself a reward each six months or year, you're reaffirming the power of your new financial habits. Because travel is probably the best bang for your buck you can get in terms of (lasting) happiness, and it's also something of a financial accomplishment, traveling to new places sends your brain powerful signals: this FI stuff is working. 
So how do you go about making travel a part of your yearly goals? Decide on a location, figure out your budget, save for it, research airfare (may I recommend Scott's Cheap Flights for great deals, by the way?), book an AirBnB, and just do it! Bring your whole family if you have one–don't let that stop you. If flights are too expensive, find the coolest place to visit in driving distance and drive!
The truth is, travel isn't as expensive as you might think. Especially if you're willing to travel during off-peak times, you can get killer deals on flights and hotels or you can use travel hacking, like we've done, to get free flights or hotel stays. If you give yourself enough time (six months to a year) to plan, and are patient about when and where you're going, you can keep travel costs low. Another thing we've done in the past is gone to visit friends who live overseas or across the country. Most of the time, they're thrilled to have us crash in their guest room and that saves the cost of lodging. We always return the favor if they want to come to the lake or come skiing. Plus, it's almost always more fun to stay with friends!
Alright, readers, what do you think? Is travel something that can help you achieve financial independence? I'd love to hear what you think!