One thing I've learned about the journey of personal finance is that it's personal. We all have different priorities for our money.
But today, I'm going to argue that everybody who can finagle it should spend money on travel. Whatever you call them–get aways, mini breaks, vacations, holidays–no matter how close or far from home you go, I believe there are major benefits to regular travel.
Our family has been a fan of traveling for a long time. Because, what better way is there to prepare for a life where you can travel anywhere than to travel, well, somewhere? If you're interested in becoming location independent, I recommend making it a priority to take at least one trip or mini-trip per year.
Yes, there is always debt to pay off, emergency funds to fill, and possessions to pare, but the benefits of travel are many. Taking a small percentage of your take-home pay and reserving it for a trip each year, even a brief, close-to-home one, is worth delaying those other goals by a few months.
Mr. ThreeYear and I took a weekend trip to Montreal several years ago, and it was nectar to our traveling souls. We're only three hours away by car from Montreal, so we booked a hotel using our credit card rewards (thank you SPG card), drove up, and spent a fabulous weekend exploring the Museum of Fine Arts, the eponymous city park Mont Royal with the fabulous view of the city (boy were my legs tired after that climb!), and the heart of Old Montreal. We ate delicious ethnic food (including Korean BBQ and Szechuan) and drank lots of cappuccinos. Our trip lasted three days, and cost us about $350, but it reminded us why we love to travel so much and why we're working so hard to become location independent.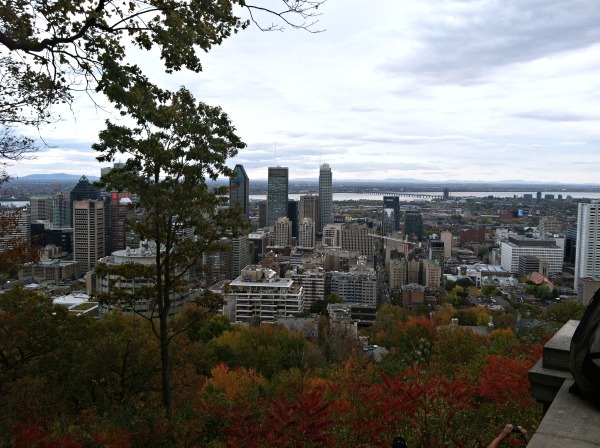 Michelle from Making Sense of Cents recently highlighted a blogger, Penny from Penny and Rich, who spends $53,000 a year on her family of six, with $22,000 of that going to pay back student loans. Even though the family earns so little income that they qualify for federal food assistance, her family makes travel a priority. They set aside a little less than $2500 last year for vacations for their families. Some snarky commenters gave Penny a hard time for spending money on vacation while qualifying for food stamps, but I believe she has her priorities in order. Here's why you should spend money on travel: Continue reading "Why You Should Spend Money on Travel"