Since I've started working full time, I've almost exclusively used grocery services to buy my groceries. What are grocery services? There are several types.
Delivery Services
One type is a delivery service. Some companies, such as Instacart and Shipt, are companies that offer delivery from various stores in your area. You pick out your store, then pick out your groceries on an online app or website.
I've used Instacart extensively, in conjunction with Aldi. I really like it because it's convenient and they bring food right to your door. But it's not cheap.
These delivery companies generally make money in two ways: one, by charging a delivery fee (generally a fixed amount, like $3.99), a service fee (with Instacart, it's 5% of your order), and a tip (this is also a recommended 5% of your order but it's not required). On top of all these fees, the company marks up the cost of the food you buy. So if your potato chips normally cost $.89 per bag at Aldi, you'll pay $.99 through Instacart.
Several times, the buyer has left the receipt in the bag, and I've been able to compare what he or she paid at the store with what Instacart charged me. The difference is usually about $25.
$25?! So why would I ever buy groceries from this service? That's a lot of money!
What I've found is that by having a delivery service, I actually end up buying less than I normally do when I go into the grocery store. Because I'm not physically in the store, I'm not tempted to buy more than what's on my list. Obviously if you've got great self-discipline at the store, this is not an issue you face, but for me, it's helped.
Generally, with delivery services, you can get your groceries within three hours. You order online using the app or website, then select a checkout time. They are one-hour increments, and start at 10am, an hour after Aldi opens. The last check out time is 8-9pm, so it is very convenient for those who work late.
Cost: $25 on top of cheap (Aldi) groceries
Convenience: Groceries to your door in under 3 hours.
Grocery Stores that Deliver
Another service I have used is grocery stores that deliver. This is a very nice service, let me tell you. The only grocery store in our area that currently delivers is Whole Foods, if you have an Amazon Prime membership. Since we've been Amazon Prime members for years, I thought this was something I should explore.
The way I used the service was to go online to Amazon and then click the Whole Foods button at the top. It brought up all the groceries available at Whole Foods that I could order.
Now, it goes without saying that Whole Foods is a ridiculously expensive grocery store, especially if you're used to the prices at Aldi. But, I have found that some of their products are actually really good values, like their large bottle of Extra Virgin Olive Oil at $6.99, and their bulk products, such as lentils. We've also found that their produce tends to be fresher than Aldi's. Their apples are juicier, their blueberries are riper, etc.
If you buy $35 of groceries, the "only" fee that Whole Foods charges, aside from your Amazon Prime membership, is a tip (which is optional). The recommended tip is 5% of your purchase price. Then you can pick a two-hour window where your groceries will be delivered to your door (and set on your doorstep). If you want a one-hour delivery time, or you're buying less than $35 of groceries, the delivery charge is $4, still not bad.
Cost: 5% tip only, but more expensive groceries
Convenience: Groceries to your door in under 3 (or 2, if you pay $5 extra) hours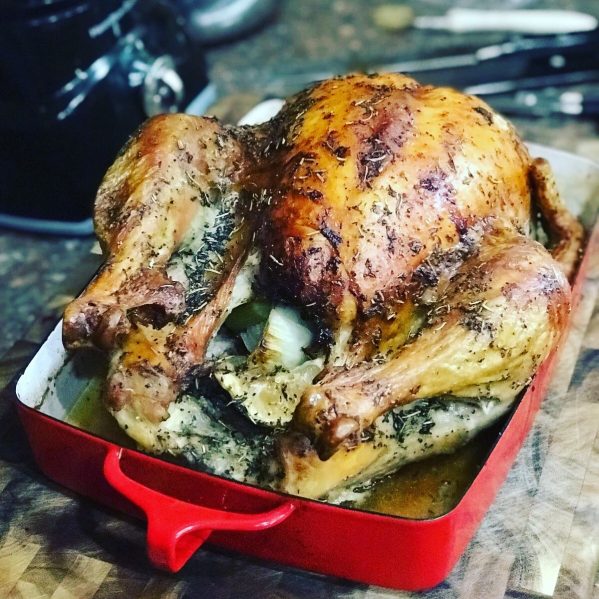 Curbside Pick Up
One option Mr. ThreeYear and I have used frequently is the curbside pickup option. Several grocery stores now have this option, where you can order groceries online and pick them up at the front or side of the store. We have only used the curbside pick up option from Wal-mart.
I hate shopping at Wal-mart. I don't think hate is too strong a word. I'm not one of those people who thinks Wal-mart is a horrible corporation, or the #1 corporate devil, but for me, going inside is one of the seven circles of hell.
However, curbside pickup is great. We order our groceries online, the prices are in-line with Aldi's prices, and then we get a one-hour window of time in which to pick them up, with no additional charges added. No pick-up fee, no tip. And they have a much bigger selection than Aldi.
There are several negatives, though. One is that you generally have to order the groceries much earlier (say, 9am) and then pick up later in the day, because their turnaround time is longer than the grocery delivery services'. You also have to drive to the store and wait to pick up your groceries (we usually wait about 5-10 minutes; it's fast).
Still, we've used Wal-mart's Curbside Pick Up a lot in the last few months.
Cost: $0
Convenience: Groceries in your trunk once you drive to the store and pick them up from the curbside pickup stand. Order time of 5+ hours.
Other Options
There are other ways to get food delivered to your home. We have tried out meal delivery services like Blue Apron and Hello Fresh!, but ultimately decided against them, mainly because of the packaging waste.
In fact, many of the services I mentioned above use a lot more packaging to deliver their products than I would. WholeFoods was especially egregious, given their reputation, putting almost every product we ordered in one of those plastic vegetable bags, even though the groceries themselves were delivered in paper. Wal-mart also gives you all your groceries in those terrible plastic grocery bags.
A Really Detailed Aside about TP
That's one of the reasons we use Amazon Subscribe and Save for a lot of our bulk home products like toilet paper and paper towels. The toilet paper we use comes in a giant cardboard box and each roll is wrapped in paper. One box of TP lasts our family longer than 6 months! Our only problem with our TP is storing it. There is so much!
Ok, I just went to Subscribe and Save to search for the toilet paper and it was no longer there! Whaaa! Here is a link for similar toilet paper. It is $58 for 90 rolls (I paid $49.90 for 80 rolls). The rolls have a lot of toilet paper on them, unlike some rolls you buy in the store. One roll lasts a long time. Rolls are made from 100% recycled fiber.
It may seem like a lot to pay for toilet paper, but since moving in our house, we have had to buy toilet paper once. And we've lived in our house for a year and a half, now. Plus, good for Mama Earth.
Cost: $0 on top of cheap groceries
Convenience: You have to order and wait several days for delivery. Subscribe and Save delivers on a monthly basis so plan ahead for this service.
How Has Grocery Delivery Helped Our Family?
Since I've been working full-time, I'm short on time. And energy, if I'm being honest. So the great thing about grocery delivery is that it eliminates a huge time-lag and mental energy lag. Now, both Mr. ThreeYear and I can order groceries, and then I can, with the push of a button, have them delivered to my door. Worth the cost? For my family, yes, 1000 times yes. I don't see myself going back to shopping in stores. Ahh, the hedonic treadmill at work.
Still, the benefit in terms of my mental health and well-being, plus buying and consuming less food, has been large. No one in my family has even noticed a difference in terms of the food we get. The only complaint I've had is variety when we were just shopping at Aldi. Now that we've mixed up where we get our food, to introduce a bit more variety, everyone seems very happy.
So if you haven't tried grocery delivery, especially if you're short on time, I highly recommend it!