The other day, Mr. ThreeYear and I were driving the boys to meet my sister and her family at our local bowling alley. It was during the hurricane rains, and we were trying to get everyone out of the house for a bit. Junior ThreeYear innocently mentioned that he was hungry, and Mr. ThreeYear said, "Don't worry; they have snacks there." I quickly replied, "I packed snacks for us to eat" and told Mr. ThreeYear, "I've budgeted $50 for this outing. I don't want to go over." (Bowling at this alley costs like $35 without a coupon and then there were the arcade games!).
Mr. ThreeYear got very angry and told me that if he wanted to buy snacks at the bowling alley, he would. That I couldn't nit-pick small purchases like that, and I needed to stop talking about how much we were spending immediately.
Uh-oh. I had inadvertently pushed one of Mr. ThreeYear's financial hot buttons.
What are hot buttons? Well, seems to me that hot buttons are anything that you say or do that causes someone else to immediately get red hot angry. A hot button reaction is usually not commensurate in strength with the statement or action that precedes it. In other words, someone can say or do something relatively benign, but because those things cause emotional triggers, you're going to have a big reaction.
We all have hot button issues, and we all respond to them in different ways.
First, Mr. ThreeYear's hot button.
When he was growing up, Mr. ThreeYear's family was very poor. He grew up in Pinochet-era Chile, when there was a dictator and curfews each night. The economy was stable but not booming. Chile was solidly in the category of third world countries.
His dad had a job at a bank and then left to work with a colleague. That didn't pan out, and he had no job, so he opened a small convenience store at the front of their house. My mother-in-law worked as a teacher at the time, but they didn't have enough money to adequately fund even the basic necessities, like a higher-than-normal electric bill. My mother-in-law washed her dishes in cold water out of necessity, because washing in hot water cost too much.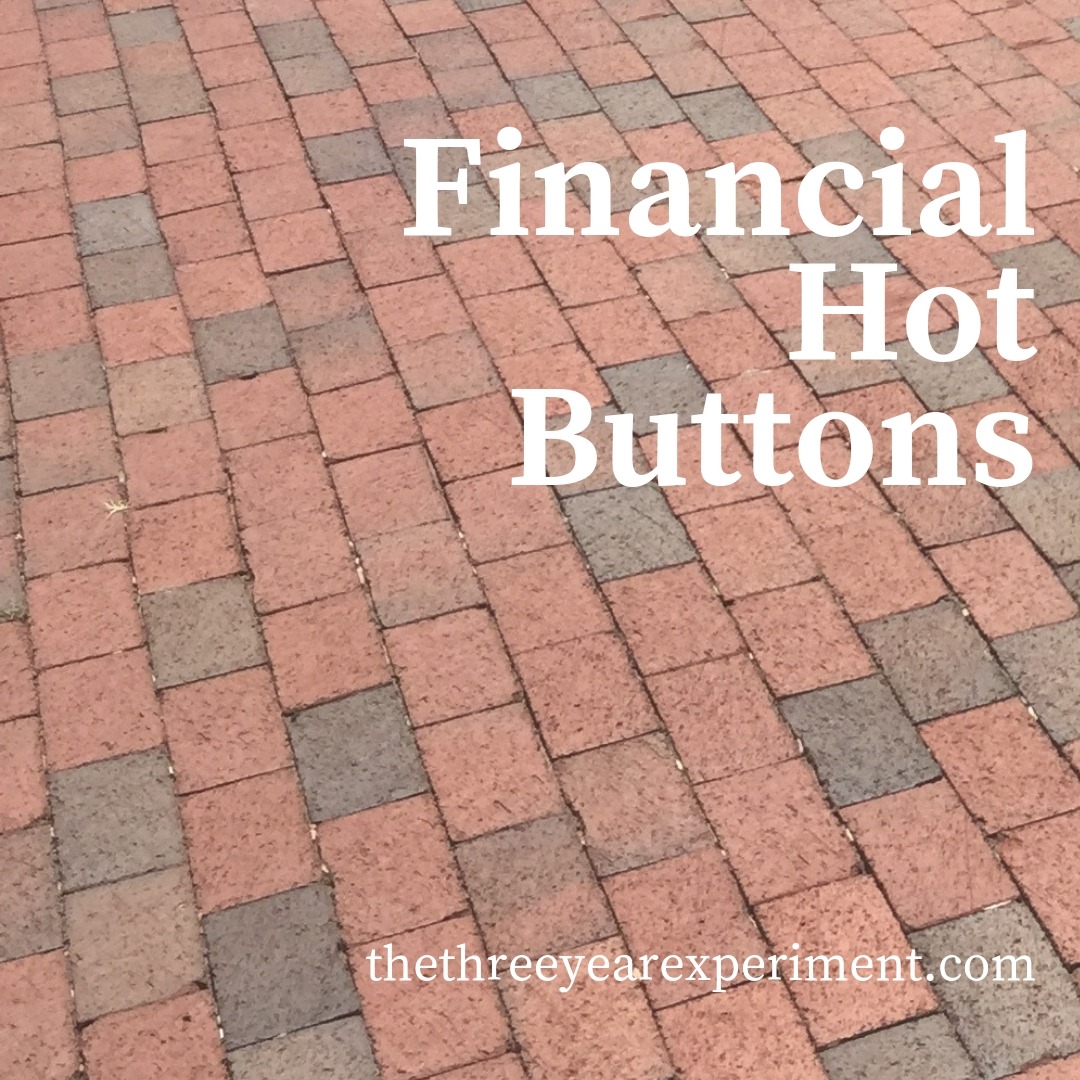 Mr. ThreeYear didn't get to go to bowling alleys growing up. In the rare event that he went to a school carnival, he watched his friends buy snacks and a Coke, but he wasn't allowed to. There just wasn't money for those extras. Once a week, on Sundays, when the family got together for lunch, there was a 1 Liter Coke that everyone (10 people) shared. (Can you imagine sharing a 1 Liter Coke between ten people? I think I can drink a 1 Liter by myself!).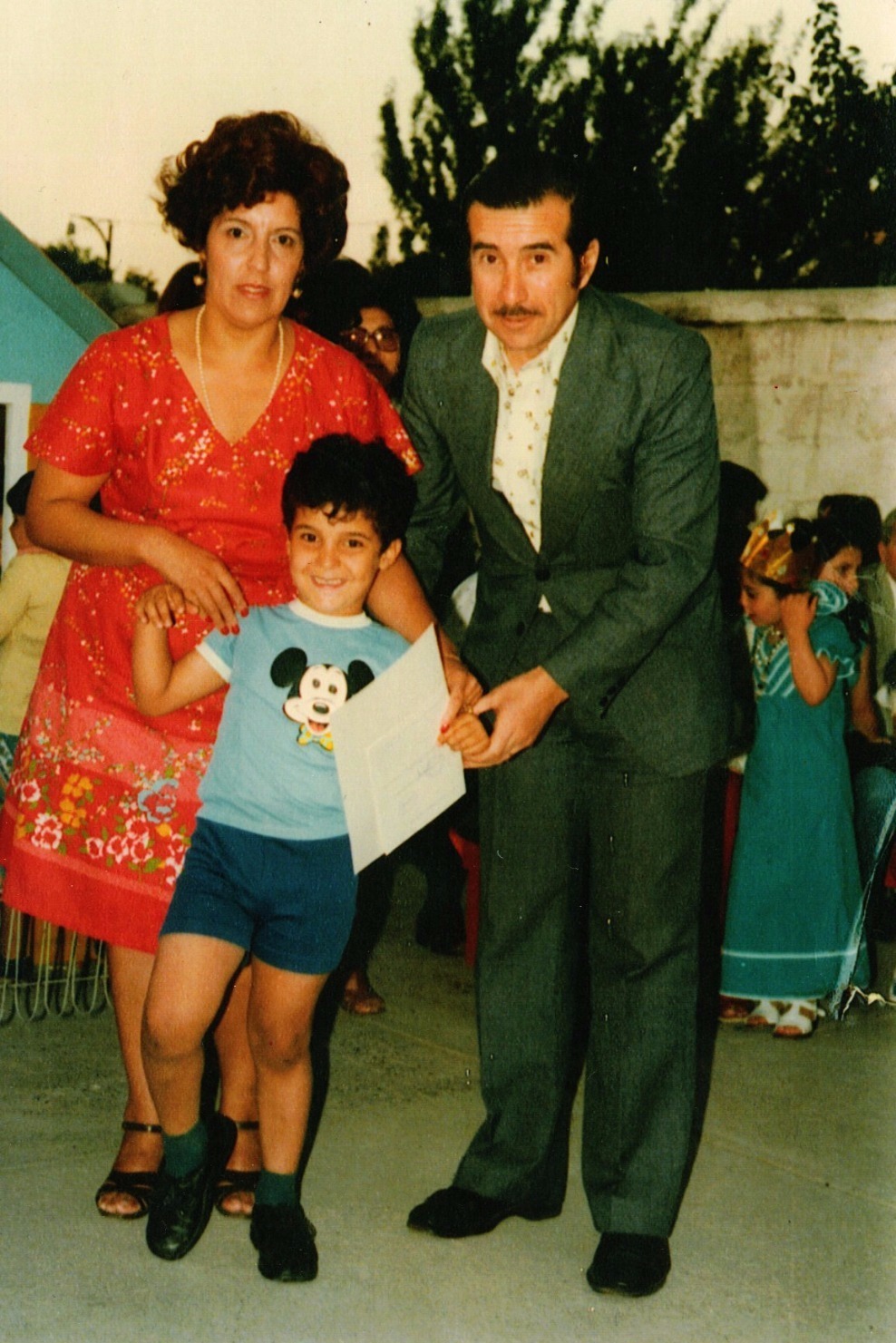 See now why me telling him he couldn't buy popcorn at the bowling alley was a hot button issue? It took him straight back to childhood, to that place of fear and shame.
Okay, back to the car argument. When Mr. ThreeYear told me I needed to stop talking about the budget, he inadvertently pushed one of my hot buttons.
"I am the only one who looks at the budget," I snapped back. "You just buy whatever you want and I am the one that has to shuffle the money and make it work."
My hot button issue.
Because Mr. ThreeYear has some money anxiety, we decided a long time ago that I would take care of the budgeting, saving, and investing, and he would focus on earning the most he could from his job. It generally works out fine. Sometimes, though, especially when our budget changes (like it has recently, with a higher mortgage payment and less money coming in because I'm not working), I feel like I'm always robbing Peter to pay Paul with our budget and not saving as much as I think we can.
I feel like I'm the one frantically steering the ship below deck while everyone else is enjoying the beautiful sunset above board. I know that sounds kind of ridiculous, but since I am the one "in charge" of our spending and saving, I feel a lot of responsibility to get it right and save and invest as much as possible, while also budgeting enough for our family to have fun and build memories and community. So that's one of the reasons, when Mr. ThreeYear told me to stop talking about the budget, that I got so mad.
Our hot buttons duly pushed, we spent the next few minutes arguing progressively louder (in Spanish, for some reason–we always argue in Spanish), with each of us making increasingly ridiculous statements while the boys tried to calm us down from the backseat, "Guys, can you stop arguing now? Please?"
I don't usually open the door to the inner workings of Mr. ThreeYear's and my arguments, but we do occasionally have them. As financially well-off and stable as we currently are, we still can argue about the dumbest topics, because they trigger such strong emotions (and we are both individuals with strong emotions–it's one of the reasons we work so well as a couple).
Yes, we argue, even about money. It's the #1 thing couples argue about. But, over the years, we have worked really hard to understand each other's point of view and figure out ways to work around those hot button issues. Our arguments about money have decreased probably 200% since 2008 when we started paying off debt.
And now, when we argue, we've learned to take a break from talking about it to give each other the chance to remember why the other person got so worked up.
After we got to the bowling alley, we all went in and bowled. Mr. ThreeYear won, we ate the snacks I brought, and we had plenty of money to play arcade games. The argument was forgotten, we literally kissed and made up, and we spent the ride home chatting about the fun we'd had.
The long game
After our fight, I reflected and decided that in the future, I'll budget extra money for snacks when we go out, and I hope Mr. ThreeYear has done the same and decides to let me talk about the budget more.
To Mr. ThreeYear's point, when you're working towards FI as a family, it's important to remember you're playing the long game. While I'd love for us to save 70% of our incomes, I also have to remember that we need to give our kids a life.
We budget for amazing travel opportunities that all four of us will carry for a lifetime, but it's also necessary to budget for the smaller things that get us through the day-to-day.
But to my point, there's balance, too. We can easily blow through $200 at a theme park, or I can go to a little more effort and look for cheaper online tickets and pack a picnic lunch. We can have fun within reason. And sometimes, that means having financial parameters and some limits.
What have we learned?
What's the moral of this story? I honestly don't know. People have conflict, and couples have conflict. There're a lot of feelings around money, and two married people will inevitably have different ideas about what to do with their money, based on how they grew up and their personalities.
Some couples keep completely separate money accounts, like my parents. Some people have different roles around money management, like Mr. ThreeYear and I do. What works for one does not necessarily work for another.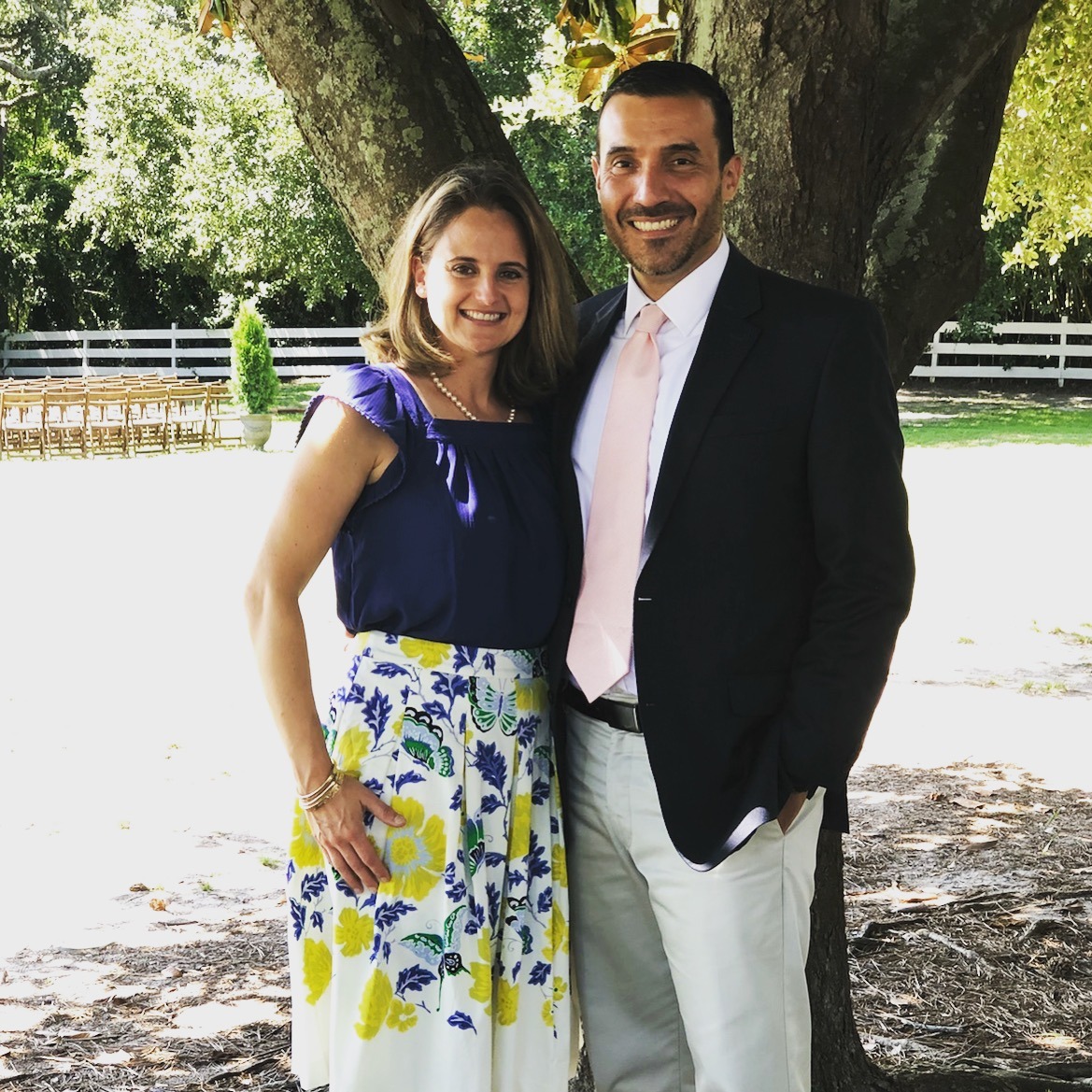 All I know is that we occasionally need to wade through the weeds of our emotions. If we were arguing all the time, that would signal that something was wrong, and we'd need to readjust. As it is, we can reflect on our frustrations and see if they indicate that we need to tweak the way we're currently handling our money.
Because that's real life. Warts and all.