Mr. ThreeYear and I have made plenty of mistakes during our financial journey, but one thing we did right was to start investing early. That boon of investing money early has given us a much higher net worth than we would have otherwise had.
The Early Years
I began to learn about investing in college. Unfortunately, I hadn't yet learned about IRAs and didn't save any of my job earnings. But, I did begin to learn about investing in individual stocks. This was around the time that Scottrade was founded, and my dad began to make individual stock investments. I did a very small amount of research and began to invest some of the money I had in individual stocks, which were mainly blue chips, or well-established companies that paid a higher dividend each year, like Coca-Cola, Johnson & Johnson, and energy companies. I began my portfolio with about $4000 and slowly added to it during college. I did minimal trading and practiced the buy and hold strategy.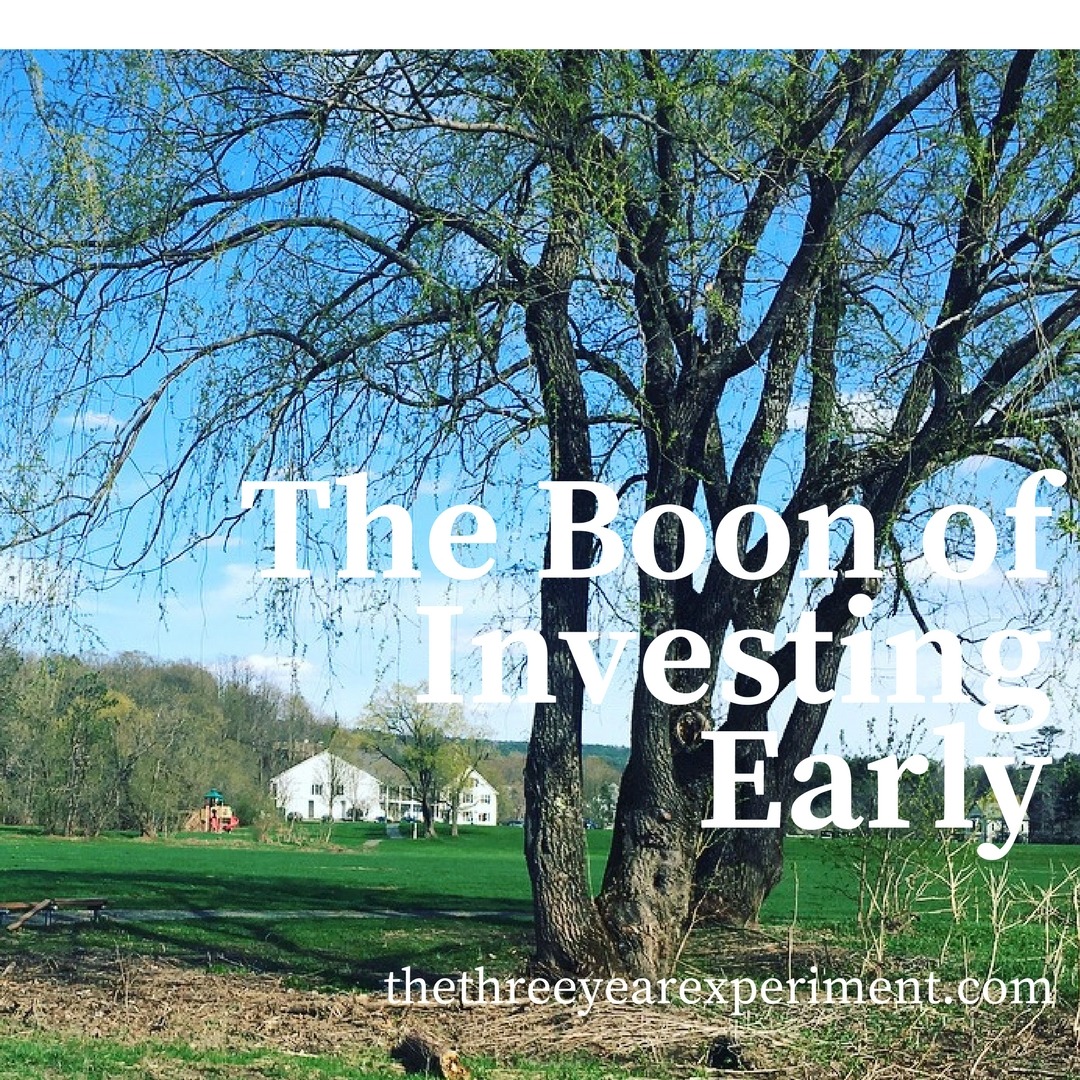 When I graduated from college, I moved to Santiago, Chile, and learned a bit more about institutional investing there.
In Santiago, if you have a steady job, you are required to put 10% of your earnings into a personal retirement account (a bit like the US's 401K system but it's obligatory). You can choose from one of five government-run funds. When I began to work for the Catholic University, I started to contribute to the system and saved 10% of my paycheck for two years. That money is mine and belongs to me. It's still growing in an account there, and if I live in Chile when I retire, I'll be able to take it out and use it to fund my lifestyle. I didn't earn much during my two years with the Catholic University, since salaries are lower there, but because I was 22-24 when I contributed, if I leave it to grow for many years, then I could expect each $1000 contributed to grow to about $11,000 in fifty years with 5% growth, and about $43,000 with an average 8% growth. I don't include this money in our net worth calculations, because I receive no statements about how much I currently have.
The act of contributing to my retirement was an excellent educator, however. I got used to putting a big chunk of my income into a retirement account, and it trained me for life back in the States.
First Jobs in the US
When Mr. ThreeYear and I moved to the US in 2004, he was the first to find a job. He had a 401K, and he began to invest 15% of his income into it. I have no idea why we picked this arbitrary amount, maybe because that was a common number floating around for how much of your salary you should invest. We had very low fixed costs at this time in our lives, as we had two paid-for cars, an apartment that was only $775 per month in rent, and no other debt. But, we made plenty of stupid financial choices as a young, 20-something couple. We spent way too much on eating out, technology, and other sunk costs. We should have been saving for a down-payment for a house, but we didn't. Despite our low cost of living, we racked up credit card debt.
Mr. ThreeYear kept investing in his 401K, though, and when I found a full-time job, I opened an IRA with T. Rowe Price, since I didn't have a 401K. I contributed only $100 per month at first, but I gradually increased that amount and saved more and more. Despite my nascent investing ways, I remember talking my coworker into opening an IRA as well and saving the minimum, which was $50 per month. I showed her charts that compared money invested at 25 with money invested at 45, and how much more we'd have if we began investing now.
That didn't apparently lead me to put larger chunks into my IRA, but the money I contributed slowly added up to $1000, then $2000, then $5000, then $10,000, etc.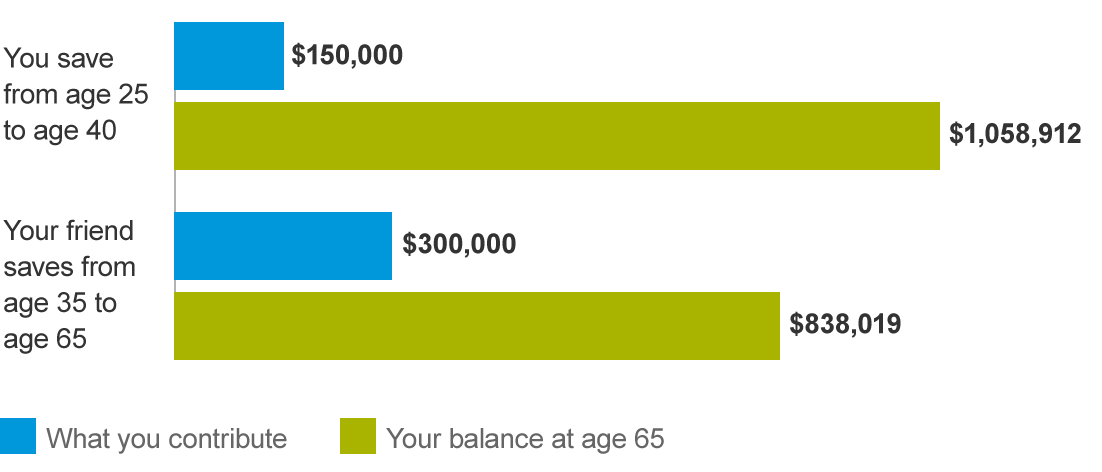 The Big Mistake
Remember that investment account I'd opened with Scottrade in college? At this point in our lives, it had grown to about $12,000. I'd never touched the money while I lived in Chile, but in 2006, Mr. ThreeYear and I decided to buy our first house. Because we'd done such a poor job saving, we had very little in the way of a down payment to put down. We did, however, cash out my Scottrade account and use that $12,000 as part of our downpayment.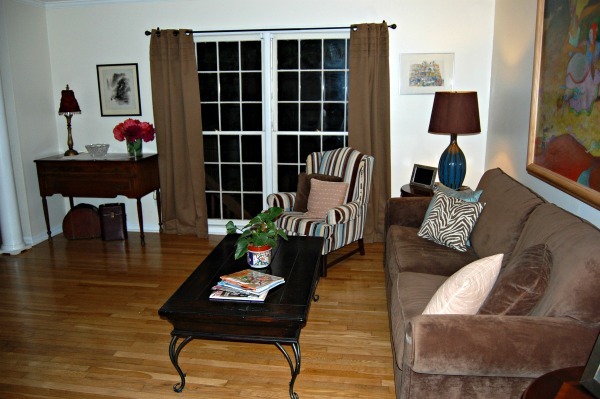 Why was that a big mistake? First off, in hindsight, we weren't financially ready to buy a house. We didn't have enough saved for a downpayment, and we would have been much better off continuing to rent.
Second, it was 2006, which was the top of the real estate bubble. We bought our house at its most inflated price. Of course, we had no idea.
Third, by taking that money out of the market, we lost all future earnings and growth. That money would be worth more like $33,000, if it had earned the average 8.82% interest that the stock market returned from 2006 to 2018. Plus we'd probably have it invested today, meaning it would keep earning interest and growing and doubling for years to come.
We now have a rule: our investment accounts are sacred. We never touch the money in them. Although we know we could take money out as a loan to ourselves if we needed to, we don't even consider that option. We only get so many tax-deferred contributions per year, and we want to take advantage of every last dollar, and never pull that money out of the market. Taking a loan from our 401k or other retirement account would be a huge opportunity cost for our future selves.
Paying Off Debt
In 2008, we stopped contributing to all retirement accounts. We were using the Dave Ramsey debt-payoff method, and he recommends temporarily suspending contributing to retirement until you pay off your debt. Since we had credit card debt we were paying over 10% interest on, this was probably a wise move, but we did lose almost four years of investment gains from July 2008-March 2012. We spent the first eighteen months paying off our debt, and then the next two years saving up for a new house down payment. During the latter two years, we contributed the minimum to Mr. ThreeYear's 401K (6%) in order to get the company match, but we didn't contribute anything else to our retirement or investment accounts.
We sold our Atlanta house in 2010 when we moved to New Hampshire at $30,000 less than we'd paid for it. All of our equity and the $12,000 from my Scottrade account was gone, in a flash. Remember Warren Buffet's investing advice? "Rule No. 1: Never lose money. Rule No. 2: Never forget Rule No. 1." Not only had we lost everything from my first investment "portfolio," we took two years to save up for a down payment before we started investing again.
The Boon Part
Despite that loss, and the loss of investing gains during those four years, our early investing efforts have paid off for us. We rolled the money in our 401K and IRA accounts that we invested from 2004-2010 into a Vanguard IRA and Roth IRA account. Our initial investments have more than doubled and keep growing, contributing to our total net worth. Eventually, those two accounts could be worth almost half a million dollars, if we allow them to grow for another thirty years.
Investing early on, no matter how small those amounts are, gives you more doubling time in the market. And more doubling time means more exponential growth. Remember the story of the penny at the beginning of the month, doubled each day, that turns into over $5 Million at the end of the month? Investing early provides similar exponential growth in its last years.
It's why we'll teach our kids to invest in their IRAs as high schoolers and why I teach investing, as well as English, to my 9th grade English Language Learners. Small amounts, invested over a long time, become jaw-droppingly large amounts.
So do the next generation a favor and encourage them to invest early, no matter how small the amount! If you're in your teens or 20s, go visit Vanguard and get started. If you earn an income, you can contribute to an IRA. Happy investing!