Hello! Welcome to "Location Independent, International Jobs," the Wednesday series where I showcase stories from people who have become location independent, work internationally, and/or continuously travel. I've interviewed all kinds of people who all have slightly different takes on location independence or living internationally. Posts include Steve from Think, Save, Retire,  Pete of Do You Even Blog?, and Mrs. Adventure Rich. 
Guest posters will be sharing how they became (or will become!!) location independent or how they got jobs abroad, but most importantly, they'll share how their lifestyle has positively or negatively affected their finances and how they got to the life they're living now.  
The reason for this series is to showcase people who have already achieved what the ThreeYear family is working towards: location independence and/or securing international jobs. 
Today, I'm thrilled to introduce Jim from Route to Retire. I reached out to Jim when I heard him share his plans to retire to Panama. Jim discovered the idea of FIRE (financial independence/early retirement) a handful of years ago. On regular salaries, he and his wife (Mrs. R2R) worked hard to reach a $1 million net worth in 2017. They're now slated to retire at the end of 2019 (Jim will be 44 years old). They plan to move to Panama (along with their daughter, of course) in 2020 as part of their retirement strategy. 
Can you tell us a little bit about your background? Where you're from, how long married, degrees, kids, ages, etc.
I'm 42, my wife is 40, and we're both from Ohio. I graduated with a degree in Computer Information Systems and my wife with a degree in Child and Family Development.
We met right after I graduated from college – at a bar of all places! It's a little more innocent than it sounds, though. We were both there with mutual friends that introduced us. We hit it off and have been together ever since and we've been married now for over 11 years.
We have a seven-year-old daughter and she's the most amazing kid in the world. She actually recently wrote part of the second most popular post on my blog's site titled "Like Father, Like Daughter…." I love her more than anything and she's really the catalyst for why I want to retire early. It sincerely crushed me that I had to go to work every day shortly after she was born instead of spending those first few years with her.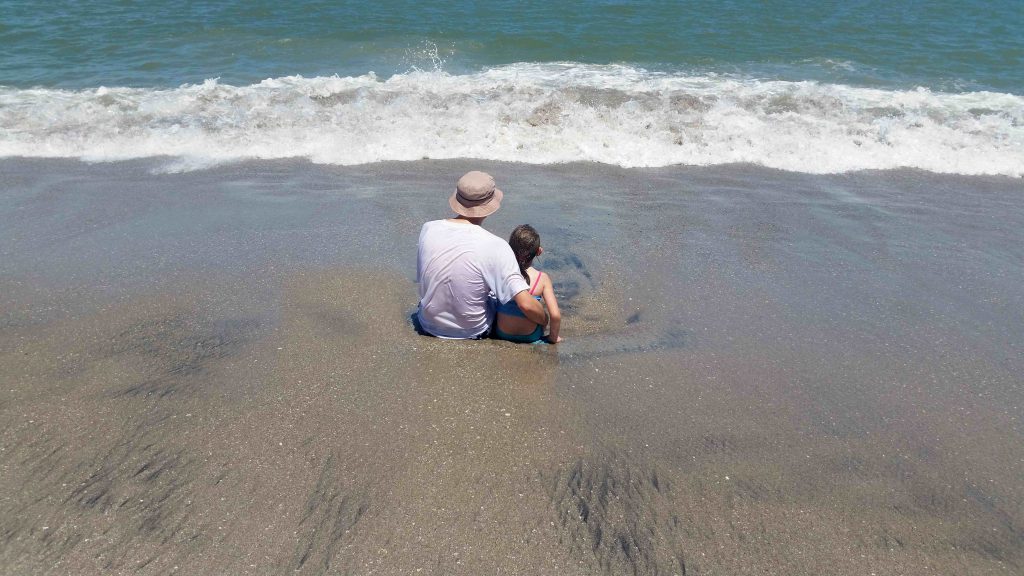 How did you make the decision to move internationally?
I became a little fascinated with the idea of moving to Panama a few years ago. I hate the cold with a passion and, considering we live in Ohio, it's somewhat unavoidable for a number of months every year. We considered moving somewhere south in the U.S. but we just couldn't figure out a place we both liked.
The idea of moving to a place in the tropics started as kind of a joke… until it wasn't. The more I started digging into it, the more excited I was becoming.
Eventually, I had my sights set on Panama. I was enamored with the idea of such a low cost of living (especially health care), great weather, beaches close by, a currency interchangeable with U.S. dollar, and a simpler lifestyle.
Somehow, I was able to convince my wife, brother, and sister-in-law to take a trip down there. Although it was part vacation, it was also a recon mission. We worked our way across about half the country and we purposely didn't go all-inclusive or stay in like hermits. We spent a lot of our time there taking in our surroundings as if we were living there.
My brother and sister-in-law enjoyed the trip but it wasn't their cup of tea to live there. However, my wife and daughter were both on board with it and we decided to move near Boquete, Panama. It's also a community with a lot of English-speaking expats, which definitely doesn't hurt!
The temperature in Boquete is around 75 degrees every day, which is perfect for the day-to-day. Then the beach is less than 45 minutes away from there where the temperature floats into the 80s or 90s. That's so perfect for my picky weather ideals that it makes my head want to explode!
We did the math and figured out financially that we could move there in a couple of years – the summer of 2020. A small part of us is scared of the unknown, but for the most part, we're super excited.
Most folks don't jump at the chance to try something different like this, but we're ready to give it a shot.
What was the process like for you for making the decision/can you summarize your financial independence journey up to this point?
By the time we figured out we were moving to Panama, we were already starting to close in on financial independence. This just helped us move up our FI date since the cost of living is so much lower there. In fact, it looks like it'll actually be almost half the cost of living of our area in Ohio, which is already a very low-cost part of the country. That's crazy, right?
So, when we get there, we'll be financially independent and won't have to work if we don't want to.
How did you decide how much you'd need to save?
We're being very careful with this. We could probably head down there now and be financially independent. But if we decide that we hate it, I don't want to be in a position that we're no longer FI and absolutely need to go back to work again.
So we're saving as if our expenses would be the same or close to what they are currently. In a best-case scenario, we're completely happy and can then live a little more freely while there. But if not, we have the choice to come back to the U.S. without money being a hurdle.
Will you work while there? Will it be a permanent move? How will your daughter go to school?
I started the Route to Retire site in 2015 with the intention of building up a following to be there by the time I quit my job. I've also had my first year of the site making a little money – and I do mean a little – just over $2,000.
The point is, I wanted something to occupy some of my time while retired and that's where my blog comes into play. Although I anticipate the money will continue to grow, it's something I truly enjoy so I don't know that I would call it work.
Other than that, we'll see how things go. We won't need the money, but if either of us finds something we want to do out of enjoyment, we'll do it.
Our plan is to make this a permanent move, but really, you just never know. Maybe my wife or I really don't end up liking it or for some reason, it turns out not to be a good fit for our daughter. If that's the case, we'll look at coming back to the U.S. or even moving to another country. Regardless, sorry cold Ohio winters, you're probably not going to have us living up that direction again!
As far as school goes, we've debated this for a while. I've always wanted to homeschool my daughter – you know, because I like to pretend I know more than everyone else does all the time!
However, we're now starting to lean toward her attending an international school there. She says she wants to try it and it would be a better way to get her immersed in the Panamanian culture. She would have the opportunity to make friends a little more conveniently as well.
As an added bonus, the cost of international schooling is around $2,000 per year versus whatever ridiculous number it would be here in the States.
Why would you recommend this for others? Why would you not recommend this to others?
Like I said before, this was not something that turned out to be in the cards for my brother and sister-in-law. It's a completely different ball game to live in another country, particularly one that's generally considered a third world country.
It's not going to be for everyone. It's a much, much slower pace there. In fact, if you go to a Panamanian restaurant, it could be 10-15 minutes before anyone even comes over to your table. There's strong corruption there… although we argue a little bit about the state of this country right now as well.
There's also a blatant difference in the economic status in general between the Panamanians and the expats. As an American, you're considered rich while the Panamanians are working for next to nothing. Everyone still seems to blend in well together, but it can still be hard to look at the class difference.
In addition, if you aren't retired, most jobs are not going to pay well there. You almost need to go down there with bigger money in hand to live a nice lifestyle.
But, if you look at all the good things a country like this has to offer, it seems to overshadow a lot of these little things.
First of all, if you're retired, who cares how long the service takes – a cold beer will taste just as good 10 minutes later, especially if it's at half the cost of what you'd pay for it here!
Second, the country is amazingly beautiful. It rains almost on a schedule almost every day for a couple hours, but it keeps everything lush and green.
You have amazing landscapes like the mountains of Boquete and the beaches on both coasts.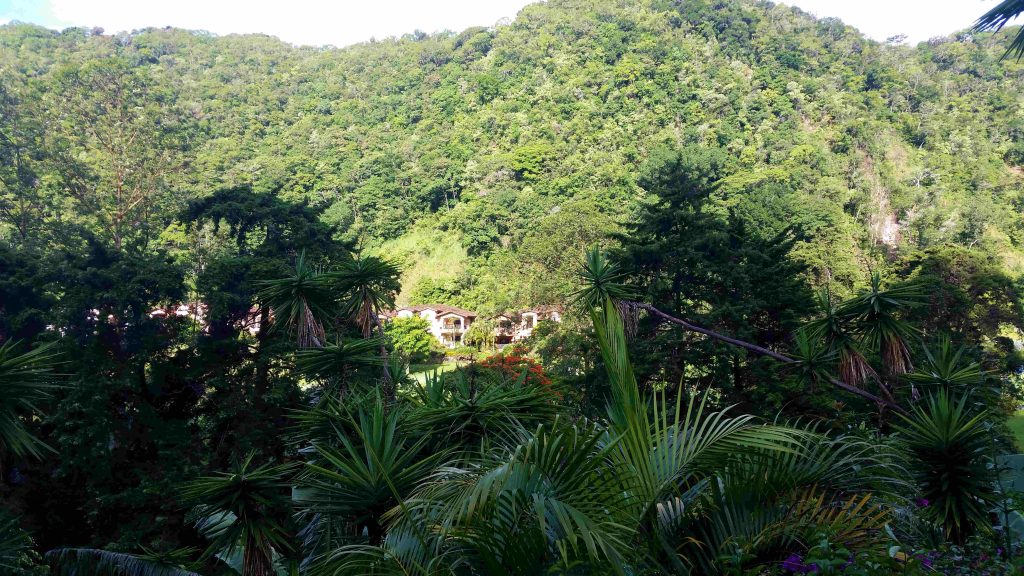 Having a perfect temperature to work and play outside with every single day is awesome. Throw in a beach with a warmer temperature less than 45 minutes away and you have paradise.
There's going to be some things that we love and some things that we don't, but we'd have that wherever we lived.
Moving to another country is definitely not right for everyone, but the way I look at it is if you've ever considered it, why not give it shot? It's better to try it and not like it than to look back in your later years and wonder why you just didn't give it a shot.
How has the decision to live/work internationally positively (or negatively) impacted your finances? (since this is a personal finance blog!).
I was already on the path to financial independence before the idea of moving to Panama took hold. I was looking at a retirement date of around 2025 initially.
Along with some other changes we decided to make to accommodate the move, we brought that down to the end of 2019. We're shaving off over five years of being stuck in the rat race by making this change.
So, yeah – it's definitely impacted our finances positively.
It's funny – Mrs. R2R initially was browsing some Panamanian real estate online a while back and said to me, "Well, the cost of property isn't much cheaper there."
That's when I had to say, "Yeah, but you're looking at beachfront property for the same cost as what we're paying for real estate in Ohio." I'll take that any day!
What are you most excited about? Most scared of?
It's actually kind of a mixed bag of emotions. We're going from working and living here in the U.S. to suddenly retiring and moving to another country. That's a lot of change happening at the same time.
I'm probably most excited about the vision dancing around in my head. I picture having breakfast as a family and helping my daughter off to school in the morning. My wife and I can then go for a walk and just enjoy being outside. We come back and, for a short bit, tend to the garden I plan to have – all the ingredients to make fresh salsa among other things. Then I can spend a few hours working on my blog or one of the books I want to write.
But here's the best part – my daughter comes home from school and I can be with her. I can talk to her and really be 100% available for her. Right now, my stupid 9-5 job takes up my whole day and that makes it hard to balance family time with side hustles and regular chores on the evenings and weekends. After retirement, though, I can focus as much time on her as needed… at least until she becomes a teenager and doesn't want to hang out with us anymore.
The rest of time, we'll have so much we can do. Beach time, nature hikes, exploring the country, and traveling can easily be a good part of all our free time together.
However, I'm definitely scared that my vision won't live up to my expectations or that of my family. Sure, there'll be some things that are going to be different than we expect. However, if things are a total wreck, I'm not looking forward to having to move back to the States.
It's definitely not the end of the world, but it will complicate things somewhat. Our finances would be a little tighter for the first few years and we would need to figure out where we were going to move. Additionally, we'd have to make our daughter change schools again, which I would think would be harder as she gets older.
Anything else important to know?
There are a number of other facets of moving internationally that are important to research and understand. Health care, politics, and the economy are three that come to mind right away. Unfortunately, most of these are big enough that we could discuss them all day.
We've dug into these for our move and also talked to a number of expats during our visit to get there take. I'm comfortable with how health care looks as well as the direction their economy is headed. The political situation is a little bit of a headache with some corruption that keeps rearing its head, but the Panamanians seem to be pushing back very hard lately on getting the crooked politicians out.
On the health care side of things, the doctors train in the U.S., France, and Mexico and the quality is supposedly as good as what you might get here in the U.S. The biggest difference is the health care industry doesn't run their country so costs for medical are just a fraction of what we see here.
In fact, some expats don't even bother with health insurance because of how cheap visits and procedures are there. Considering a lot of folks put off retiring until Medicare kicks in because they can't afford health care otherwise, moving to a country with lower health care costs can actually be a great strategy for early retirees.
Jim's story sparks my travel bug! (Surprise!). There are so many similarities between his family's plan and ours that it made me so excited for the future. Jim and his family are making their dreams a reality!! If you have further questions for him, leave a comment in the Comments Section, or reach out to him at his site, Route to Retire, or on Twitter or Facebook.