Hello! Welcome to "Location Independent, International Jobs," the Wednesday series where I showcase stories from people who have become location independent, work internationally, and/or continuously travel (check out previous stories here, here, here, and here!). Guest posters will be sharing how they became location independent or how they got jobs abroad, but most importantly, they'll share how their lifestyle has positively or negatively affected their finances and how they got to the life they're living now.  
The reason for this series is to showcase people who have already achieved what the ThreeYear family is working towards: location independence and/or securing international jobs. Since we're not sure which route we'll take, we thought we'd hear from people who've already achieved one or the other, so we can learn more.
Today, I'd like to introduce you to Mrs. Adventure Rich, a twenty-something Midwesterner married to Mr. Adventure Rich, a thirty-something handyman. The couple recently had a kid, bought a house and property, and began documenting their journey to financial independence on their blog, Adventure Rich. Mrs. AR gives us tons of great details on how she negotiated a remote position and moved back home to Michigan to be close to her family. Take it away, Mrs. AR! 

Can you tell us a little bit about your background?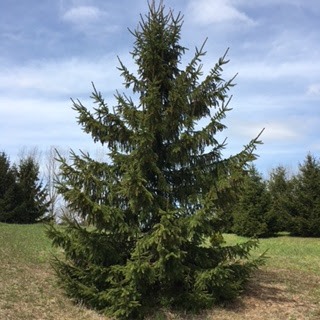 I am originally from northern Michigan.  My parents were small business owners who hustled to grow their outdoor sports goods store, and I was raised with a passions for all things outdoors.  I attended college in southern California where I graduated and headed into a business career based near Los Angeles.  During my first summer working, I "met" (we knew of each other, but never on personal terms) the future Mr. Adventure Rich.  He took me mountain biking on our first date and the rest is history 😉  We got married in 2013 and our son, Adventure Rich Jr.,  arrived in 2015.  In the 2 years of his life, he has developed into a crazy-energetic kiddo whose favorite pastime is challenging us to running races down our driveway (yes, really… I'm a runner and he tires me out!).  
How did you and your family make the decision to become location independent/move internationally?
I am originally from northern Michigan.  My parents were small business owners who hustled to grow their outdoor sports goods store, and I was raised with a passions for all things outdoors.  I attended college in southern California where I graduated and headed into a business career based near Los Angeles.  During my first summer working, I "met" (we knew of each other, but never on personal terms) the future Mr. Adventure Rich.  He took me mountain biking on our first date and the rest is history 😉  We got married in 2013 and our son, Adventure Rich Jr.,  arrived in 2015.  In the 2 years of his life, he has developed into a crazy-energetic kiddo whose favorite pastime is challenging us to running races down our driveway (yes, really… I'm a runner and he tires me out!).  
What was the process like for you?

The company I work for has many Off Premise Workers ("OPW"s), but the organization I am in does not.  I knew that a request for OPW status was an "ask" with no guarantee of an affirmative answer.  It took a bit of courage to broach the subject with my manager and his boss, but I researched, was honest, open, and transparent, and trusted their judgement.  My direct manager really went to bat for me, seeing that a move closer to family would be a very good move work-life balance and job satisfaction-wise.  I owe him so much.  Ultimately, I was granted OPW status and we packed our bags to make our cross-country move.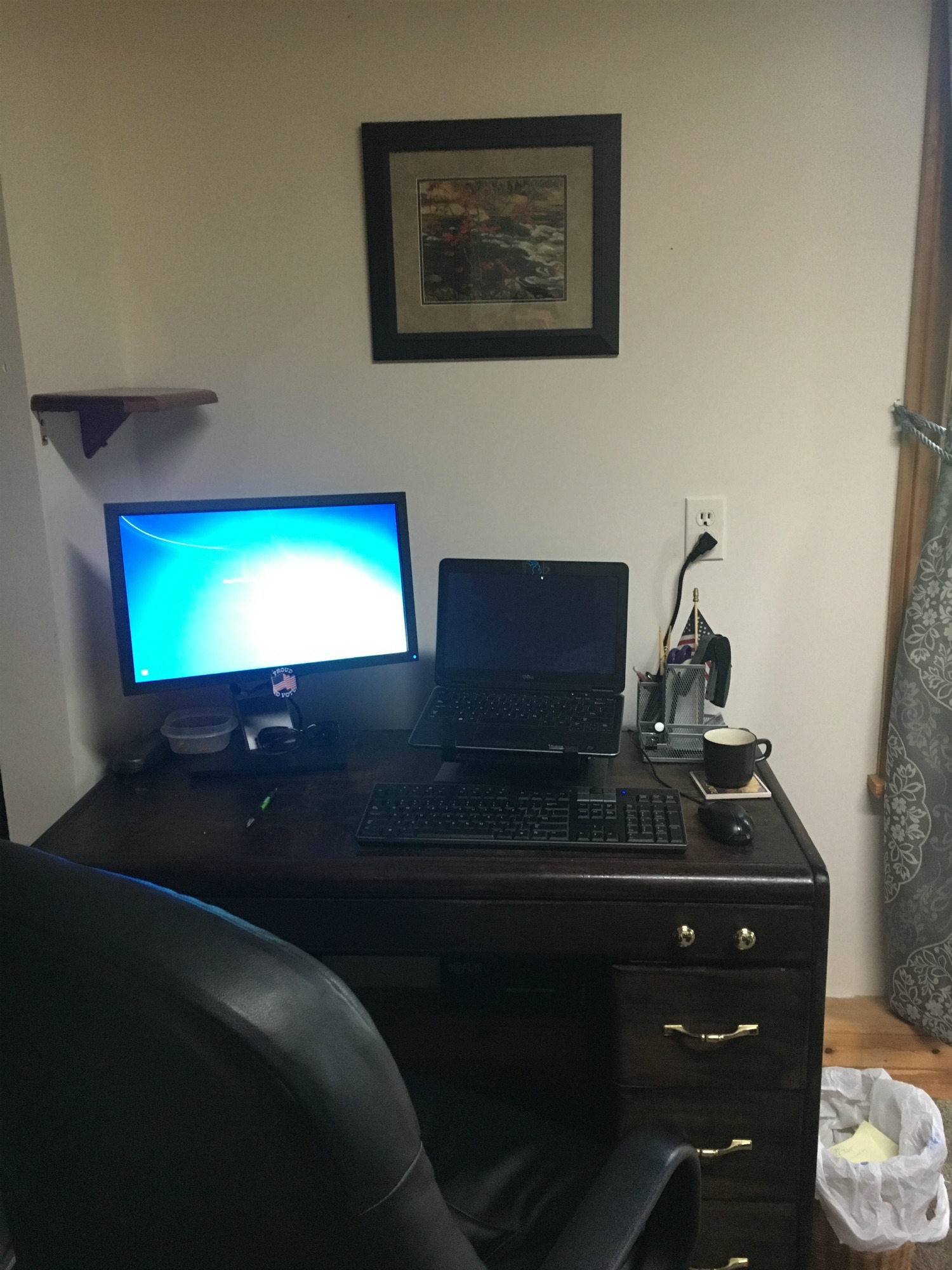 How long did it take? Any unexpected hurdles?
From the time I received approval to our move date was about one month.  It was very busy and a bit chaotic since we were moving across the country, but it went well.  As far as transitioning to the home office environment, that also was relatively easy.  We initially lived with my parents for about 2 months before closing on our new home in Michigan, so there was a bit of an odd time where I was working out of the bedroom we were using in my parents' home.   
Since my employer has many OPWs, there is a whole set up and program in place for transition from an office to a home office.  This was helpful because it meant all the technical/logistics side of the move were taken care of (they shipped my computer, papers and documents from my office desk, set me up with off-premise log-in info, etc.).   
My biggest hurdle was just getting used to working in a solitary environment all day.  I kept to the same schedule (typically ~8am-5pm with some variation each day depending on meetings/non-work schedule) and found it easy to keep on task.  But I would get up to grab another cup of coffee or head to the bathroom and be alone.  No more quick chats or random conversations in the break room.  
Best part of being remote?
I love the flexibility that working remotely affords.  I used to wake up and rush to the car early to try to "beat" (if possible!) the traffic on the 101 Freeway… many times leaving before our son was awake.  Now I can get up, spend time with our son as Mr. Adventure Rich gets ready for work, and help the two of them get out the door (or, if Mr. AR goes to work early at 6am, I get our son to either daycare or my mom's house where she watches him 2x/week).  
I can also be flexible with my own schedule.  I can work 8am-12pm, take a break and workout or run from 12-1pm, then work 1-5/5:30pm.  This allows me to be more available when Mr. AR and our son are back home in the evening!  Similarly, since I no longer have time in office chatting with co-workers or grabbing coffee, I take "coffee breaks" of my own.  I give myself 5-10 minutes to get up, walk around and maybe even throw a load of laundry in or do a few dishes.  The fact that I can get chores done on my break helps me to break up my day and have more time with family at night. 
Another aspect of flexibility is what I call "vacation hacking". When I am on a true vacation, I am on vacation (go away work email!).  But when we visit family or head to a wedding, working remote can help me "hack" my time off.  We will visit my in laws on the East Coast for a week, but I will bring my computer along and work 1-2 days.  That allows us to take a longer trip while taking fewer PTO days.  I still spend time with the family in the morning and evenings and I don't burn all of my days off!
Worst part?
I think there are two primary downsides to working remotely.  One is the social aspect I mentioned above.  I really enjoy being around people, so working remotely can get a little lonely and isolating.  I definitely have to balance it out be "getting out" a few times a week… even if it's just a trip to the gym, grabbing a drink in the evening with Mr. AR, or meeting up with the local track club instead of running on my own.  I also miss the collaboration in the office.  I can easily give my co-workers a call or use technology to virtually meet and brainstorm projects/problems, but it isn't the same as being in office and working together in a conference room!  
The other downside is the temptation to be "constantly on." It is easy to wake up and feel like I should just jump on and reply to a few emails at 6am… even though I really don't need to be "in office" until 8!  Similarly, in the evening, I have to be disciplined about shutting down my computer and "leaving the office."  Otherwise, work will just follow me all evening and encroach on family or personal time.  I have found a few tricks to get around this temptation, but it takes discipline and a bit of stubbornness to say "No, I am off work right now" even though my computer and desk are just a flight of stairs away!
Funniest story?
Oh where to begin???  I have a few good ones. 
Winter Hermit:  This past winter was our first winter in our new home.  I quickly discovered a few areas of improvement, specifically in insolation!  I was trying to save money by keeping the heat down, so I would try to bundle up and just deal with the chill.  Well… on days where it was 5 degrees and windy out, I'd be huddled in my ground floor office with a hat, scarf, coat, ski socks, and slippers with a blanket draped over my lap.  On conference calls, I was convinced folks on the line could hear my teeth chattering! 
Working Mom:  I was part of a large renegotiation with a vendor based on the West Coast this past year.  Being on the Eastern Time Zone, this made for some tricky scheduling.  One day, I had a conference call scheduled at 7 or 8pm ET (4 or 5pm PT).  Mr. Adventure Rich thought he would be home from work but had a last minute emergency he needed to take care of.  This meant I was on this intense legal negotiation with my 18 month old son having the time of his life running around and being very loud!  Thankfully, the folks on the phone humored me and I tried to keep myself on Mute when I wasn't speaking, but I definitely had a few exasperating moments during that call when I would be trying to make a point with my son trying his best to out-vocalize me!  [Laurie: that reminds me of that hilarious BBC video with the poor man whose precocious little girl busted in during a live interview–maybe next time you should record it for YouTube gold!]. 
How have your kids adapted to you working from home?
My transition to working remotely didn't affect AR Jr. too much.  He still is out of the house during the day (either at daycare or with grandma), so his days are similar except that I am around a bit more in the morning/evening 🙂  He also was just over a year old when we moved, so this will likely be his "normal."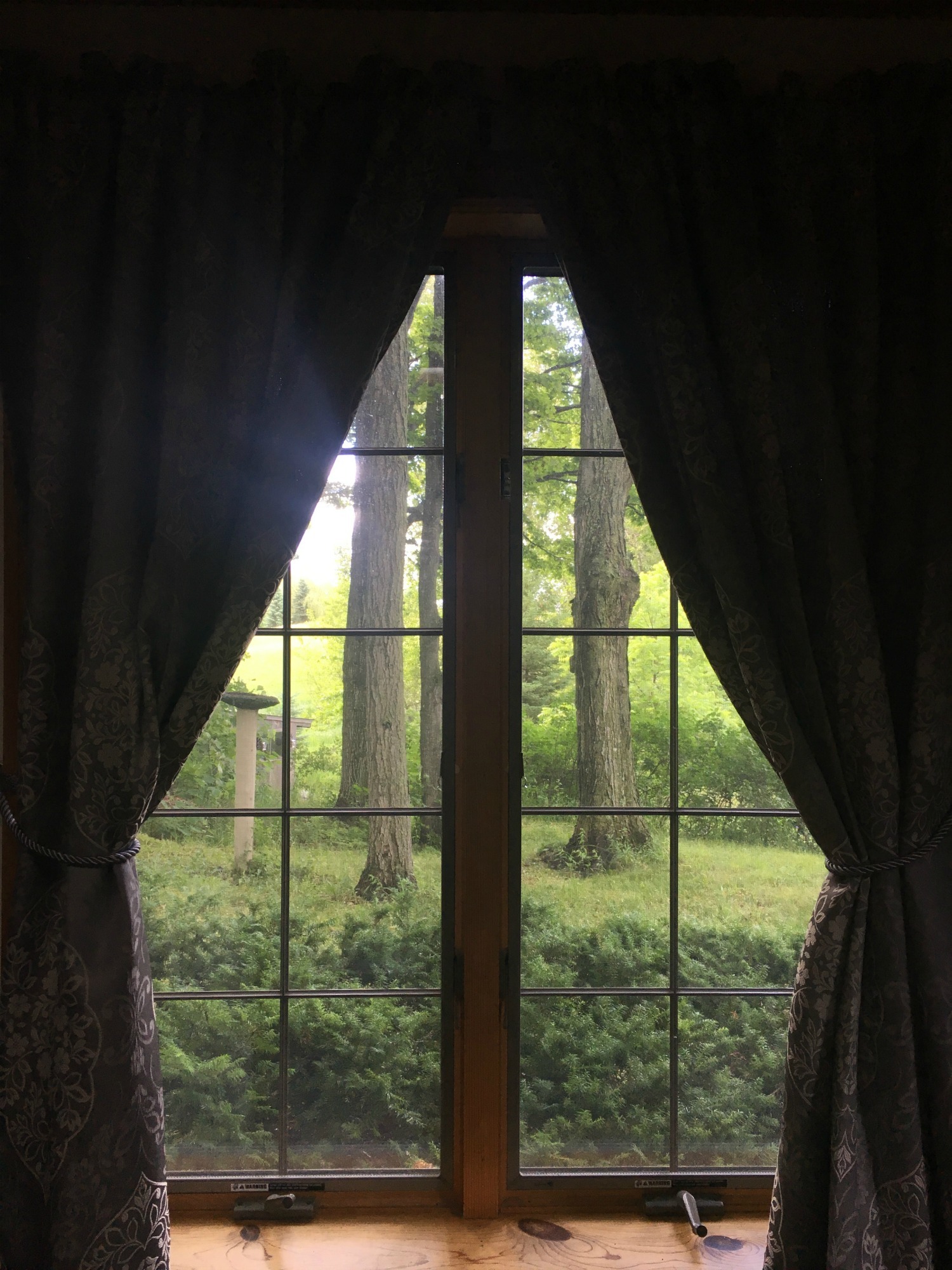 Why would you recommend this for other families? Why would you not recommend this to other families?
The flexibility of working remotely has been a huge blessing on our family, but it has come with its own set of struggles and challenges.   
I would recommend exploring a remote work arrangement if you are a self-starter and willing to be very disciplined with both yourself and your family.  When I am working, I am working.  This means that while I may be able to get a load of laundry done during the day, I am not just hanging out at home and able to vacuum the house.  I need to "go to work" and get my job done!  
Here are a few things I personally felt were "table-stakes" for my success as a remote worker: 
1. A dedicated office space with a door.  I "go to work" each morning. I walk downstairs and into my office, close the door and log into my computer.  I do not work on the couch, in bed or anywhere else in the house.  This helps me to separate work-life from home-life. 
2. Child care for our son.  My job is a full-time+ professional job and I cannot take care of our son while working.  Except for the rare occasion when he is sick and stays home (in which case I try to actually take the day off, but sometimes that is not possible), I do not take care of AR Jr. while working.  There are remote jobs that allow for the flexibility to care for kids and they can be great options for families!  But for my situation, this is a career job that I love and want to continue to pursue, so I need to be dedicated and focus in the same way I would when working from an office.   
3. Support from your team and management.  This applies more to the " full-time career work" (vs. a remote gig or self employment situation), but I needed to know that my company, my leadership and my team were all supportive of my remote work status and willing to work with me as they would anyone else.  I am incredibly fortunate to have this support.  I am given the same responsibility, autonomy and opportunities for high-profile projects as anyone else on our team, and this is very important to me as I work to grow my career.

4. A consistent social outlet.  For me, I combined my need to get out of the house with my desire to keep active.  (Almost) every week, I meet up with a local group of people with common interests or with new friends for a walk or a run.  This allows me to get out of the house and meet other people in our area!  
I would not recommend working remotely if this is the "easy way out" or a way to have a full time job AND watch the kids.  It may work for some folks (and I am in awe of you if it does!) but for me to put a solid 8+ hour day in for my employer, I have to work hard, be disciplined with my time and be "at work"… not half at work and half at home.   
Another downside, as mentioned above, is the isolation.  I spend anywhere from 20-80% of my time talking to people each week and it is still lonely!  If it would be hard for you to focus or even detrimental to your health and wellbeing to be alone all day or have some weeks where you don't leave home for several days at a time, I would consider these factors before jumping in.  There are ways to work around all the hurdles, but I would consider them in advance!   
Again, this is from the perspective of a full-time professional career job.  I believe there may be more flexibility in freelancing/gig work, self-employment, and other remote jobs… but I don't have any experience on this side of the coin so I'm just speaking to what I know 🙂  
How has working remotely positively (or negatively) impacted your finances? (since this is a personal finance blog!).
Ooooh, I think overall positively.  No more work-clothes (save for a few outfits for business travel), no more impromptu co-worker lunches or happy hours, and no more HOURS spent burning gas as I commute an hour+ each way to/from work!  And I am very conscientious about keeping the lights off around the house and the heat down, so there is little impact to our utilities.  On the flip side, Mr. Adventure Rich now has a longer commute and no longer has lunch included (his former employer provided lunch), so we still have to make sure we make his lunch a majority of the time to save on money.  
What are your future plans for your family? Would you ever consider moving abroad? Moving within the country?
Mr. Adventure Rich and I are working to live frugally, live simply and live well.  We are working towards FI (Financial Independence), but we want to develop our passions and take advantage of all that our area and our life has to offer along the way.  To that end, we have a motto in our family, "Always an Adventure".  It reminds us that life can be a rich and exciting adventure, full of meaning and purpose… regardless of the ups and downs, the daily struggles or the hardships along the way.  So we work to live like we are retired in little ways and be "adventuring-along" in some way each and every day.  
And while we admire the jet-setting couples and families who roam the world, Mr. Adventure Rich and I don't desire that life.  Our travel will most likely be focused on visiting friends and family or attending events such as weddings.  But our goal is to "go deep" rather than "go broad".
We live in an area (northern Michigan) that is a vacation spot for so many… why not take advantage of it?!?  There are lakes and rivers to paddle, trails to hike, breweries/wineries/distilleries to enjoy, a foodie town to indulge in, hills to ski and sled in the winter, small towns to explore, and sunsets over Lake Michigan that are to die for… all at our doorstep!  
Another aspect of settling down in northern Michigan and our plan to stay put is a desire to "set deep roots".  We live in an area with a vibrant, active and supportive community.  Mr. Adventure Rich and I would like to be part of that community in a meaningful way.  We are already active in one organization, and we hope to grow our community involvement so that it becomes one of the cornerstones of our life, both pre and post retirement.  
Laurie here! Thank you so much Mrs. Adventure Rich for sharing your story. And also for the very real and honest picture you paint of the positives and negatives of working from home. I think I would also have trouble with the lack of interaction with people–good for you for sticking with your running group. I'm with you–my running friends and I run throughout the winter too (6 degrees has been the coldest we've run in though), but we do it a bit earlier than you–around 6am! Sounds like you guys are in the perfect spot–close to family, in a beautiful place that you love–and working towards FIRE.
If you'd like to contact Mrs. Adventure Rich, make sure to check out her blog, visit her on Twitter, or Facebook! She'll also be answering any questions in the comments section!