We have officially completed (slightly more than) half of the year! We're calling this year, which is Year One of our family's plan to reach location independence, the Year of Good Habits. Each month, I've focused on improving or developing one new habit. Sometimes the habits are directly related to personal finance and sometimes they're related to general self-improvement.  At the end of each month, I have been continuing the last month's habit (or trying to) and adding a new habit in. (May I suggest, however, that you not try to adopt more than one or two per year? Twelve is a lot. This is more an experiment in extremes for our doubling-our-net-worth-in-three-years goal).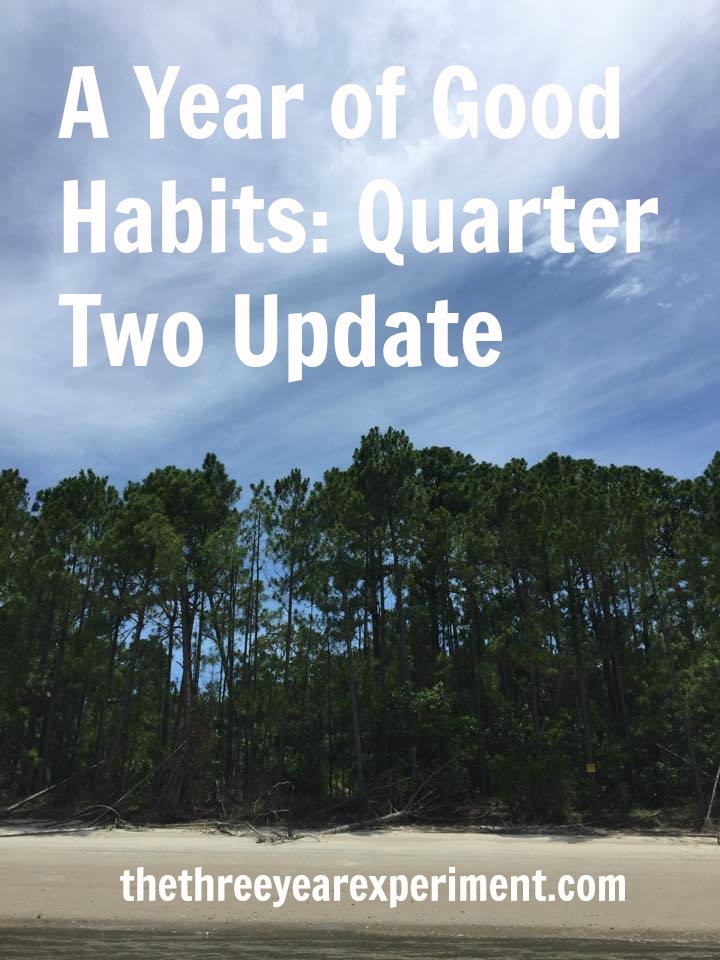 Habits–whether intentional or not–have been proven to be incredibly important. They are routines that are so ingrained into our days that many of them we follow without realizing we do so. In fact, this summer, because we're on a road trip and are out of our daily routine, it's been quite difficult to figure out how to structure our days (luckily I have a few tried-and-true techniques which help a bit). But habits have helped me be more productive, happier, and less frustrated over the years, since I don't have to think about those every day behaviors that I've put on auto-pilot: hanging up my keys on the key rack as I come in the door, writing first thing after I wake up, putting my desk supplies back after I finish using them. Habits have a predictable cycle–cue, behavior, and reward, according to Charles Duhigg, author of The Power of Habit. We experience a cue (seeing the key rack), engage in a behavior (hang up the keys), and experience the expected reward (knowing where the keys are next time I want to drive somewhere).
Experts say the way to change habits is to keep two parts of the cycle the same–the cue and the reward–and change the behavior. Once you've done that, then you've effectively changed the habit. Of course, this is much easier said than done, as I've experienced in my own life. So far this year, I've undertaken six new habits. I wrote an update of the first three in this post. Here's how I've done in Quarter Two.
April
April's habit was instituting workouts after dinner. New Hampshire's long winters make working out through the winter difficult. I ran once or twice a week in December, January, February, and March, for very short distances.When April rolled around, I needed a boost to get me back in motion. Even though exercise doesn't help with finances per se, I'm firmly convinced that developing self-discipline in all parts of my life can help with self-discipline with my finances.
This was a habit that I knew I'd only do for one month. Once the weather got warmer and the snow fully melted, I was outside as much as possible.
Grade: B+. Mr. ThreeYear and I worked out almost every weekday night of the month in April, and during our vacation week in South Carolina, we ran and worked out five of the seven days we were there. This was a good habit to embrace to help me get back in shape enough that longer outdoor runs weren't excruciating. And the best part of exercise for us is the dopamine release. We felt better and were calmer and more relaxed all month. Now, does that mean we'll keep doing it for the rest of the year? Sadly, no. The lazy genes are strong, I'm afraid. But we are running, playing tennis, biking, etc. about three times a week, mostly outside.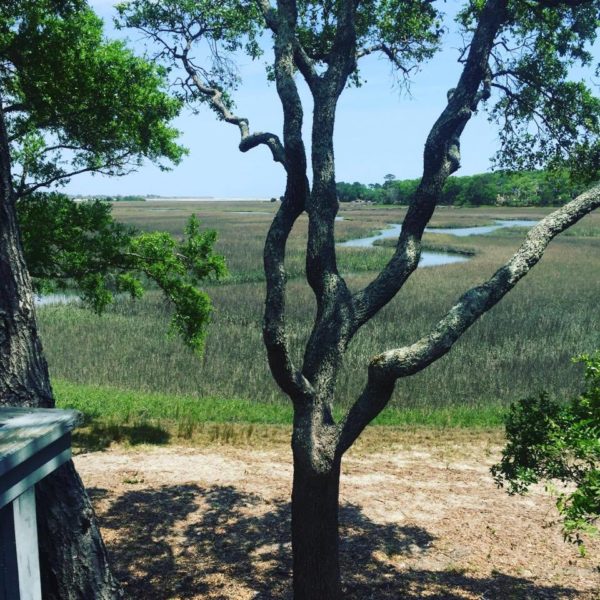 May
Spring was pretty rainy for the ThreeYear household, and I found myself increasingly sitting in a chair, scrolling through social media, and accomplishing absolutely nothing. That was a siren call to lessen my dependence upon social media for entertainment. I moved my iPhone charger to the office, and put it away as soon as I got home, in hopes I would be more present with my fam.
Grade: B. I wish I had been more militant about not looking at my phone after I got home from work, but I definitely did better at limiting my mindless scrolling. One of the best things I did was move my iPad and cell phone to my desk. I moved my son's "old fashioned" alarm clock to my bedside table and used that to wake me up each morning. Then, when I was tucked in to bed at night, I read books (actual hardbacks from the library) instead of catching up on Twitter. That was a very good thing that I've continued.
June
For June, the goal was to eat everything in our fridge and not waste food. I also planned to poke around in the nooks and crannies of our freezer and the recesses of our pantry to find our mystery Ziplocs. Since statistics show that in the US, the food we waste because we either over buy or forget about adds up to about $1600 per family, I wanted to do our part to eat everything we had.
One wrench in our plan was that a friend moved to Texas and gave us all of her leftover condiments and freezer meats that her family couldn't eat, so our freezer ended up more packed than ever. But we worked very hard at eating our leftovers and not wasting. We did slightly better than usual, but we did not eat every. single. thing. in the refrigerator (I had to throw away half a watermelon, some spoiled leftovers, and a couple of mushy squash during the course of the month). We spent $100 less than normal on groceries, so that was good, but I feel like I can do better.
Grade: C+. I am going to continue this experiment when we get back from our road trip in August, to see if we can eat everything in the fridge with no waste. Since we'll have more time at home, I'm going to work on more food prep and planning before going to the grocery store so that we can "feed our compost" as little as possible and keep our grocery bill as low as possible.
And now, drumroll please…
July's Habit: For the month of July (which is half over, I realize!), I'm going to take a page from my dad's book, and track everything I spend by hand. He just bought a ledger and started to write every purchase down. Tracking is a habit that has always brought us so many financial gains, and we track every expenditure electronically through YNAB and Personal Capital. But I love the idea of manually writing down everything we spend for a month.
I have been tracking what I eat (because you can't measure what you don't track and you can't change what you don't measure) and I can also jot my expenses down in the same book. Since the junior ThreeYears and I are currently in South Carolina on a road trip, we aren't spending too much, but it will be interesting to write each expenditure down to see if that brings more awareness. I'm the bigger spender of our family, so if I can make myself become more aware of my own spending habits, our bottom line will benefit.
Hope you're having an excellent summer (or winter, if you're in the Southern Hemisphere). I'd love to hear what you're up to this month!