Hello! Welcome to "Location Independent, International Jobs," the Wednesday series where I showcase stories from people who have become location independent, work internationally, and/or continuously travel (check out previous stories here, here, here, and here!). Guest posters will be sharing how they became location independent or how they got jobs abroad, but most importantly, they'll share how their lifestyle has positively or negatively affected their finances and how they got to the life they're living now.  
The reason for this series is to showcase people who have already achieved what the ThreeYear family is working towards: location independence and/or securing international jobs. Since we're not sure which route we'll take, we thought we'd hear from people who've already achieved one or the other, so we can learn more.
Today, I'd like to introduce you to Kerri, who happens to be… my sister! Not only is she one of the most creative people I've ever met, she and her husband Joel have created an incredible Etsy business making handcrafted leather goods. Their business was recently featured in the Charlotte Observer (they live in the Queen City). About a year and a half ago, the business had grown to the point that Kerri was able to quit her job at a design firm and work full-time from home. I interviewed her last week while I was staying with her for a few days. Here's her inspiring story of entrepreneurship and location independence! 
Can you tell us a little bit about your background?
I was a graphic design major in college. I've always been someone who likes to make things and I've always been crafty. When I was a kid, my definition of playing was making things. [Laurie: Yep. She and I had many a Barbie fashion show, and Kerri created fabulous Barbie outfits out of bits of fabric and ribbon. She also made crazy cool tree houses and forts in the woods]. After college, I got a job with a yearbook design company doing corporate marketing and I worked there for one year. After college, I moved to Milan, Italy, to attend Domus Academy, a prestigious design school, to obtain my masters in design. I'd always wanted to move abroad, and I teamed up with a friend of mine from college to plan a way to get there. I was there for a year and while I was there, I got a crash course in product design and the Italian design process.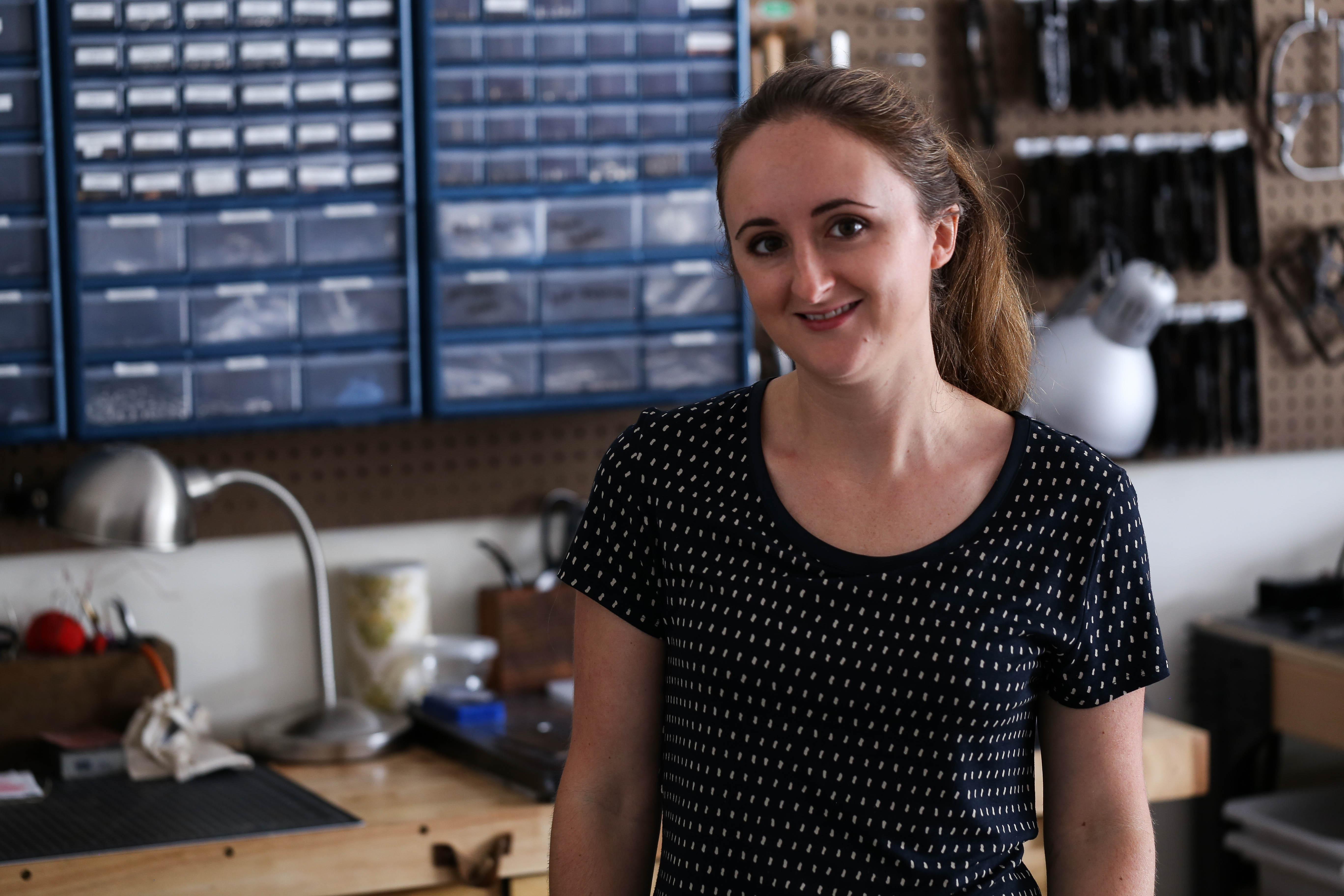 When you think of Italian design, you think of some of the greatest designers in the world. And I was heavily influenced by the Italian way of doing things. They have such an incredible sense of history and craftsmanship there, a strong sense of history and tradition in everything they do. There is always a nod to the past and to the process. That stuck with me, not to mention the leather.
When I got back from Italy, I moved back to Charlotte, where I'd been living before I got my Master's. It was a down economy, so I felt very lucky to get my old job back. It wasn't my dream job, but it was stable design work. Joel, my then-boyfriend, and I had been dating for a few years at that point, and we got married in 2010. We met in college, where he was also a graphic design major. While I was in Italy, he'd gotten a job with Rubbermaid designing their packaging.


How did you become location independent?
Being a sort of creative, Type B person, I found the corporate, working world to be really frustrating, maybe more so than for most people. A 9-to-5 schedule isn't ideal for me, and I found it to be uninspiring. I burned out pretty quickly. When our Etsy business grew to the point where I could transition to full-time, I knew it was a no-brainer.
What was the process like for you?

Joel and I started selling on Etsy as a creative outlet. We were both in corporate jobs at the time and needed a way to express our personal creativity by working with our hands.
One of the frustrating things about being a professional creative is that you're sitting in front of a computer all day. That is oppositional to the creative process and one of the big reasons why creatives burn out. Creatives need to make things by hand, and when you're not able to do that, you suffer.
Some of the first items we made on Etsy were screen printed posters, pillows, and notebooks.
Then, Joel got a watch for Christmas–it was 2013–and he didn't like the band. He decided he wanted to make one himself. He bought some leather and some tools and just did it. With my background in sewing and product design, and his, entrepreneurial spirit, passion, and creative energy, we started making different items out of leather. We started to sell those items on Etsy in January of 2014.
I had just gotten pregnant the month before. That was something that heavily influenced how seriously I took the business, because I saw it as a potential money maker and a way I could supplement our incomes.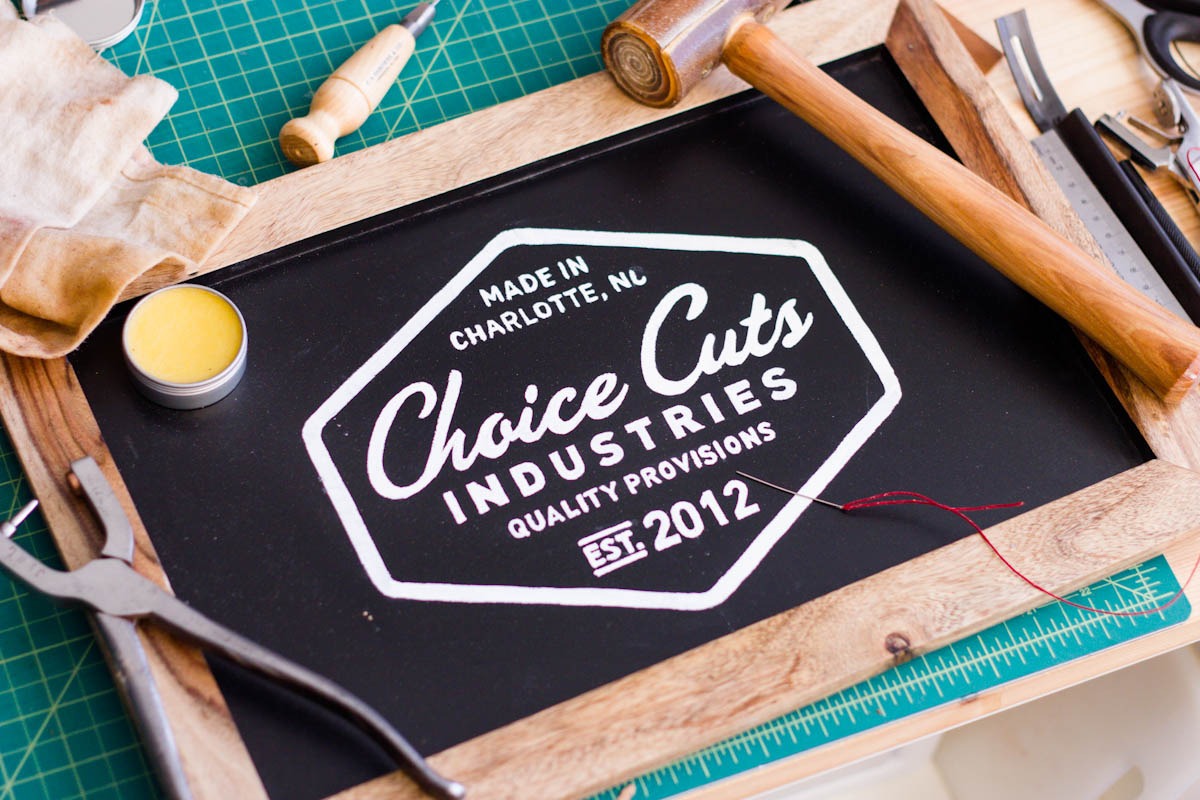 How long did it take? Any unexpected hurdles?
We started selling watch bands, sunglasses cases, and wallets in January and made a few thousand dollars a month in sales, steadily. We saw small growth throughout the first year. We never made more than about four or five thousand dollars a month in gross sales [Laurie: Not bad, for a hobby!]. 
We had our daughter in August, and we used our profits from the business to supplement my income for the first couple of months. At the time, I was working for a local design firm and they had no maternity leave policy.
When Apple came out with the first generation Apple watch, and we started selling Apple watch bands, we began to see explosive growth.
Our sales grew so much that by December, 2015, I was able to quit my design firm job and work full time at home on our Etsy business. I've worked full time at home since then, and our revenue has almost doubled each year. I'm able to set up my leather shop in my house, so theoretically, we could live anywhere [in the US] we wanted, but we love Charlotte and have no plans to move out of the city.
Biggest hurdle?
I think it was more of a mental hurdle–letting go of the security of having an employer. I knew that the risk was there that our business could fail, and also how much money I made was a direct result of how much effort I put into it.
Best part of working from home?
It isn't just that I work from home. It's that I own my own business. I get to be the master and commander of the business [Laurie: it does not surprise me at all that this is her favorite part–no matter how much I tried to boss her around, she always resisted!]. I think in a lot of ways I work harder at this job than I would as an employee. Most of the time, it doesn't feel like work. It feels more like an extension of my life, and something that I'm really passionate about. I don't have to motivate myself to get up out of the bed everyday to go to work. I want to.
Worst part?
The worst part is that my failures aren't just "a bad day at work." It's hard to disconnect who I am as a person from my business, because in a lot of ways it is who I am as a person.
Funniest story?
It's weird that I have a leather workshop on the top floor of my house. There've been a lot of times that I've brought repairmen upstairs to fix things, and they're like, "What is this?" And I have to explain that I have a really weird online business that I do.
Yes, I am a thirty-three-year-old leather worker. That's what I do.
Or, when I meet someone at a dinner party, and they ask what I do for a living. I say, "Well, I own my own business…"
How have your kids adapted to you working from home?
That's the best part. When I had my daughter, that was the kick in the pants. That's when I started to think, "maybe this isn't just a side business. Maybe this is a way for me to take back control of my life."
My experience with motherhood and working changed so much of how I think of working professional women. When I went back to work after I'd had my daughter, I was a new mother, I was pumping. Even though I worked in an office of all women, I was the only mother. I felt like all of my co-workers were at the top of their game, and I was at the very bottom of mine. I was exhausted, I was breastfeeding, I was working full time, and I was coming home at night and trying to run a business after my daughter went to bed. I didn't have five minutes in my day for myself. I remember thinking all the time, "I feel like my life is being held together with Scotch tape" and it felt like any moment, that shitty-quality tape was going to break and everything was going to fall apart.
All of this made me realize that something had to change, that my life wasn't going to get better the ways things currently were.
When I started working full time for myself, I had total control over my schedule. If my daughter got sick or if unexpected things came up, I didn't feel like my life was going to fall apart. I just closed the shop (remotely on Etsy) and took a couple of days off. I was able to set up systems as well to help me manage parenting, my business, and my life.
Now, I feel like I get more sleep. I don't have to spend an hour or two commuting to work every day. I make dinner most nights.
Why would you recommend this for other families? Why would you not recommend this for other families?
Owning your own business changes the way you look at everything. It changes the way you look at your finances, the way you look at the rest of your life. When you work at a traditional 9-to-5 job, a lot of times you get the feeling of relentless monotony. When you own your own business, that change in mentality is like being freed from a cage, especially for somebody who has trouble with time, like me [Laurie: One of our family nicknames for my sister growing up was Pokey Kerri. I think it's in the creative DNA. But let's not get her started on my nicknames!!]. 
If you want to start a business on Etsy, I recommend just trying. It has to be something that lights your fire. If you're passionate about it, you can bet that others will be, too. The other piece of the puzzle is lots and lots of hard work. When we first started this business, it was just a hobby. But when we decided to go for it, there were two solid years of hard, hard work and sacrifice, before the business had grown enough where I could quit my job. Add to that the birth of our daughter and it was pretty intense. It would have been easy to give up at that point, but we love what we do. We decided to push harder and grow our business to the point I could manage it full time. When it became a reality, it was worth every 70-80 hour week.
How has working remotely positively (or negatively) impacted your finances (since this is a personal finance blog!)?
The first year, after I quit my full time job, we made more profits than I was ever able to make in a salary. I don't have to ask for a raise anymore. I just decide I want to do it and figure out how to increase our revenues.
I'm saving a lot of money on gas and clothing. Having one partner in your family who's able to be so flexible they can take on more of the managerial role in the home frees up the other partner to give 100% at their job, so it takes the pressure off Joel that I'm at home. It gives us a quality of life we wouldn't otherwise have.
More than anything, quitting a full time job has given us a better quality of life, which is worth way more than money. We have a vastly superior quality of life than we did when we were two people working full time jobs as employees.
What are your future plans for your family/ your business?
One of the neat things about owning your own business is that you get to decide how big it is. We have a small business but it's revolutionary for our family. While we have small children, I may not want to grow it that much, because that's going to require a lot of time I'm not necessarily willing to give up right now. Eventually, once our children are a bit older, we may decide to expand. Right now, I'm more interested in diversifying my income streams. Being a business owner and choosing to break away from the rat race has opened my mind to that possibility. There are all these other things I can do. I'm exploring those ideas and thinking about ways we can have our money work for us.
Laurie here! This was a fascinating interview for me, because it gave me a chance to hear my sister's insights into running her own, very successful, business. She was also instrumental in me starting this blog, because she is such a believer in creating your own business (as are my parents, who are also entrepreneurs). If you have hard-hitting questions for Kerri about Etsy and how to make it work for you, please ask below. Her business, Choice Cuts, is in the top 10% of Etsy sellers, so she definitely has experience in making an Etsy business work! 
I also highly recommend following Kerri and Joel's Instagram account for beautiful photos of Choice Cuts's custom leather work.