Bankrate recently reported that Americans are saving less, despite low unemployment and rising wages. And it turns out that some regions of the country are not as good at saving. On Wednesday, I wrote about the best places to live in the US. But could where you live impact your ability to reach FI, even subtly? Does where you live really impact how much you can save?
How Much Do You Really Need?
We're talking about emergency savings. The article makes the oft-repeated claim that you should have six months' savings in an emergency fund. First of all, let's think about that claim: who makes it, and who stands to profit from it? Keeping a lot of money tied up in a checking or savings account helps banks because they then have more money to lend out (they must have 10% of the money they lend on hand). But do you really need six months of savings?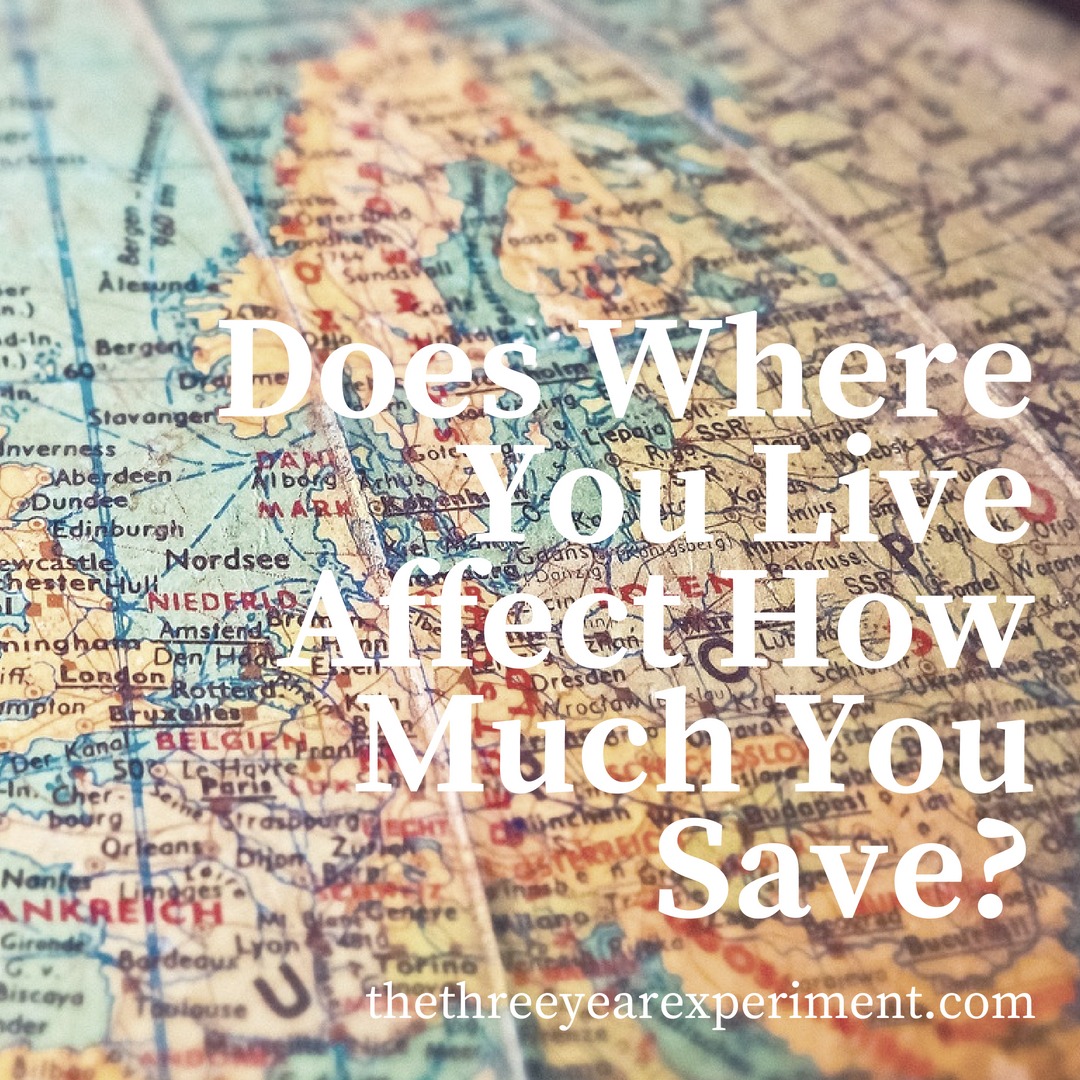 For a better idea of how much money you'll actually need in a savings account given your personal circumstances, take this awesome quiz from Making It Rain. It asks questions about your circumstances and has you tally your total points, for a better recommendation of how many months' savings you really need. Our emergency fund number was 4-6 months because we have stable jobs and more than one income source but we do have kids and a mortgage. Yours may be more, if your job is unstable, or less, if you're single and easily employable.
Who Saves More?
Bloomberg notes:
The Northeast has the highest percentage of Americans who claim to have enough saved to cover six months of bills. The South has the lowest percentage.
I've written before about the countries with the highest savings rates. But this article made me think about regions in the US that make it easier to save.
While living in a high cost of living area definitely contributes to having less disposable income available, savings isn't just a function of income. Consider another statistic from Bloomberg:
Lower-income households are more likely to have no emergency savings, but 27 percent of the lowest-income households have accumulated enough savings to cover at least three months' expenses…  In fact, one in four of the highest-income households either have no emergency savings or just enough to cover fewer than three months' expenses.
So it's not necessarily how much money people are making.
A Culture of Saving
Why do people in the Northeast, where the cost of living is higher, save MORE than their Southern counterparts, where the cost of living is lower? One reason might be because they live in a culture of saving.
I have noticed that saving money is highly valued in the Northeast, especially in New England. Yankees' famous frugality is seen through their practicality: people wear clothing until it wears out, not until it goes out of style. Showy cars are not the thing in New Hampshire. Subarus and Priuses are de rigueur.
Southerners are much more image conscious, and liable to spend money on clothing, a nicer house than they can afford, furniture, or a flashy car.
In the North, it's not expected to have a perfectly decorated house. In the South, your home (and its decorations) are seen as a reflection of you, and how well you're doing, so people tend to spend more on making their homes look nice.
I'm comparing these two regions specifically because they're the two regions of the country I've lived in, but I suspect that people's feelings about what's expected of you culturally influences how much you spend and save.
Just as living in a fancier neighborhood may cause you to spend more on the latest fancy car or gadget that your neighbor has, living in a city, state, or region where you feel pressure to dress or decorate your home a certain way may cause you to inadvertently spend more than you would where there aren't such pressures.
Now, let me just make the point that there's another factor at play, here, which I glossed over: income. Income in the Northeast is much higher than income in the South, where 79% of the poorest counties in the country are located.
It's much easier to save more when you have a higher income, or when you're well on the other side of meeting your daily expenses of course. But living amongst people who encourage you to save is another way to ensure that you spend less, and keep more of the income you make.
It's why the personal finance community is so vibrant. If everyone around you is spending money and racking up debt, you want to find like-minded individuals who share your values, so us personal finance nerds gather online. If you're not into personal finance or saving, though, you're much more likely to be influenced by neighbors, friends, and even perfect strangers.
Do people in your neighborhood drive the latest car? Are their yards immaculate? Do you live in an area where you're expected to dress nicely, color your hair, or wear designer clothes?
Do people in your state regularly stop at Dunkin Donuts or Starbucks for breakfast every morning? Do they wear older clothes? Are people snubbed for driving beater cars?
Your Profession
The people you're surrounded by influence those decisions, for better or for worse. Thomas Stanley, the famous researcher on millionaires, noticed this in professional settings. He wrote that doctors feel pressure to drive nicer cars, because they're doctors, after all. They go to work at the hospital and see all the other luxury sedans and feel pressure to buy one too. Although they make high incomes, they save very little because they consume so much. Bloggers like Physician on Fire are changing that mindset and showing that profession how to achieve FI, but the pressures are still there.
Teachers, on the other hand, tend to be very good at converting income into net worth. Because their fellow teachers tend to drive less expensive cars, bring their lunches to school, and wear the same clothing for years, there isn't the same pressure to show off. People expect teachers to be poor, so it's safe for teachers to fit that mold and save more of their incomes.
Stanley writes:
. . . the average person with a net worth of $1 million or more is a businessman who's lived all his or her adult life in the same town.  He owns a small factory, a chain of stores or a service company.  He has married once and remains married.  He lives in a middle-class neighborhood, next door to people with a fraction of his wealth.  He's a compulsive saver and investor. 
Millionaires understand that when you buy a luxury house, you're also buying a luxury lifestyle-with pressures to redecorate frequently, join the country club, and send your children to private schools.  Your property taxes skyrocket, along with the cost of utilities and insurance, and the prices of nearby services tend to be higher, from grocery stores to dry cleaners.
If you're a teacher, you're probably more likely to live in a middle class neighborhood, surrounded by blue-collar workers and regular, everyday folks. Our neighborhood in Atlanta was like this. It was an older neighborhood with smaller houses, in stark contrast to the McMansion neighborhoods all around it. Our neighbors were literally the millionaires next door. They'd bought their house in 1968 for around $35,000, and lived in it their whole lives. They'd never "upgraded" to a nicer house. They were very frugal and did all the upkeep and repairs themselves. And I'm sure they were worth millions of dollars.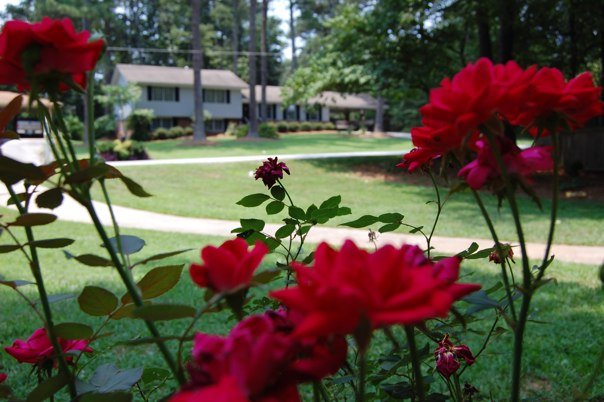 If you're a doctor, you might feel the pressure to live in a fancier neighborhood, where people drive luxury sedans and just put in a pool. Mr. ThreeYear's friend in Chile is living in this type of neighborhood. All the homes are custom-designed and his neighbor had three $100,000+ cars parked in his driveway. Most of the people in the neighborhood sent their kids to a fancy private school. It was a beautiful neighborhood but what will it cost him in keeping up with those spenders over the years?
In the end, if you're determined to be stubbornly counter-culture, you will be. People in this community tend to care less what others think and more about their FI goals. But if you notice people around you having trouble saving, maybe it's the regional culture at work, undermining the idea that saving is important.
Does your region or neighborhood have an influence on how much you're saving, in your opinion? Or is it more personal, and really depend on the individual?