Hi! I missed you last week. First, we had a joint work conference for Mr. ThreeYear, then we spent one day loading the moving truck, then one day cleaning the house, two days traveling from New Hampshire to North Carolina, and one day prepping for our close. By the time you're reading this, we'll be homeowners once again, this time in North Carolina.
I wanted to blog so much but it wasn't happening.
I've never been so tired. Maybe after having the kids. Definitely after having the kids. But man, this is a close second. Moving is hard. Of course, we know it will be amazing once we get moved in and settled down, but for now, not knowing where my pjs are, or Mr. ThreeYear's iPad, or pretty much anything, is disconcerting. Throw a mandatory joint work conference, an 8-year-old birthday party, and a graduate class with tons of work into the mix, and I was fried.
Also, yesterday, my sister thought she'd speed up my transition into North Carolina living, by taking me to a yoga class on someone's back porch in 88 degree weather. Ten minutes into class, there was a puddle of sweat on my mat. And I think (ok, I know!) I belong in the beginner yoga class. These ladies were popping up into headstands on a dime. It's a really good thing there's no picture of that.
If you're just joining, our family of four is on a three-year journey to double our net worth and become location independent. Since we've achieved the latter goal, we'll be primarily focused on the former in each of these reports going forward. Each month, I record our progress on our net worth and our spending. Last year, we increased our net worth by 32% over the year before. This year, we're trying to increase it by more than 65% from where we started in December 2016. Given the wild ride the market's likely to take us on this year, I'm not sure it's doable. But we're going to try.
This month's net worth report will be a little strange. It will take into account the (massive) loss of equity in our net worth from the move. We paid for realtors' fees, closing costs, repairs, the move itself, attorneys' fees, hotel stays, eating out, and the other myriad costs to move. Was it worth it? 100%! We're living our dream of location independence (very firmly in one location, but hey, that's what we want). It is a little hard to write down in black and white, though.
Our Progress
We've reached part of our goal of The Three Year Experiment of location independence this month (woot woot!!), but we haven't reached our net worth goal. So, going forward, I'm going to keep reporting our net worth increases, but I'm going to report spending a little differently. I'm still going to shoot to double our net worth by the end of 2019, and see how we do. But for our spending, I'm going to focus only on types of spending we'll do in retirement. So I'm not going to report our mortgage, because that will be paid off when we reach FI. I am going to report health care costs, because we'll have to pay those.
As of June 30th, our net worth has increased by a total of 42% from our starting point in December of 2016. While we would have loved to report a 50% increase in net worth, since this month is the halfway point of our three year plan to double our net worth and become location independent, we  sold our house last week, which is a very expensive proposition. Today, when we buy our new house, we'll increase our net worth slightly, since we have an "instant equity" situation, but we still won't be back at our May net worth level for a while.
We're taking the long view, though. We're willing to sacrifice the loss of some net worth gains in order to engineer a new lifestyle in our city of choice. We haven't moved in yet, but we're already enjoying riding through our new neighborhood, checking out the pool (there's a pool!), imagining ourselves on the tennis courts (tennis courts!), and watching the cousins play with each other. Oh, and eat. I'm budgeting more for eating out all summer because we have to try out the new restaurants. And takeout! We haven't had takeout (or delivery) in 8 years!
Here's a graph to track our progress:
This is as a percentage of our total goal:
Spending Update
Some of our moving expenses hit this month and some will hit in July. We had double payments for a few utilities since we closed those accounts in New Hampshire. We know that this month and next month will be anomalies on the spending front.
We use YNAB (You Need a Budget) to track our spending and we love it. And we otherwise keep our spending and investing as simple as we can.
JUNE SPENDING:
Housing: $1775. Our last mortgage payment for our New Hampshire house. Going forward, I'm only going to report spending items that will be a representation of our post FI/retirement spending, so this line item will be gone.
Gas: $291.86. We drove  both cars from NH to NC in an epic road trip. Glad that's over!
Auto maintenance: $0. After last month's big auto spending, glad this is a goose egg!
Auto insurance: $0.
Home insurance: $757. We prepaid a year of home insurance for our new NC home. This is the amount we paid after the credit we received from ending our NH policy early.
Groceries: $691.78. Look at us! We stayed in budget! This month we're going to start shopping at Aldi. This is one of the things I've been MOST excited about (really? That? Mr. ThreeYear asks me every time).
Eating Out: $187.50. Most of this was from eating on the road and after we packed up the house and were homeless.
Household goods: $0. Didn't buy in this category. Next month may look different!
Home maintenance: $7.98 Something from Amazon, but I have no idea what.
Entertainment: $7.98. Exactly the same amount as home maintenance? Weird. We bought a movie on iTunes.
Kids' expenses: $524.95. Those expensive kids! End of the year school expenses for school and a fairly expensive birthday party at Sky Zone, a trampoline park. We took 8 little boys there to celebrate Little ThreeYear's 8th birthday in the midst of our move.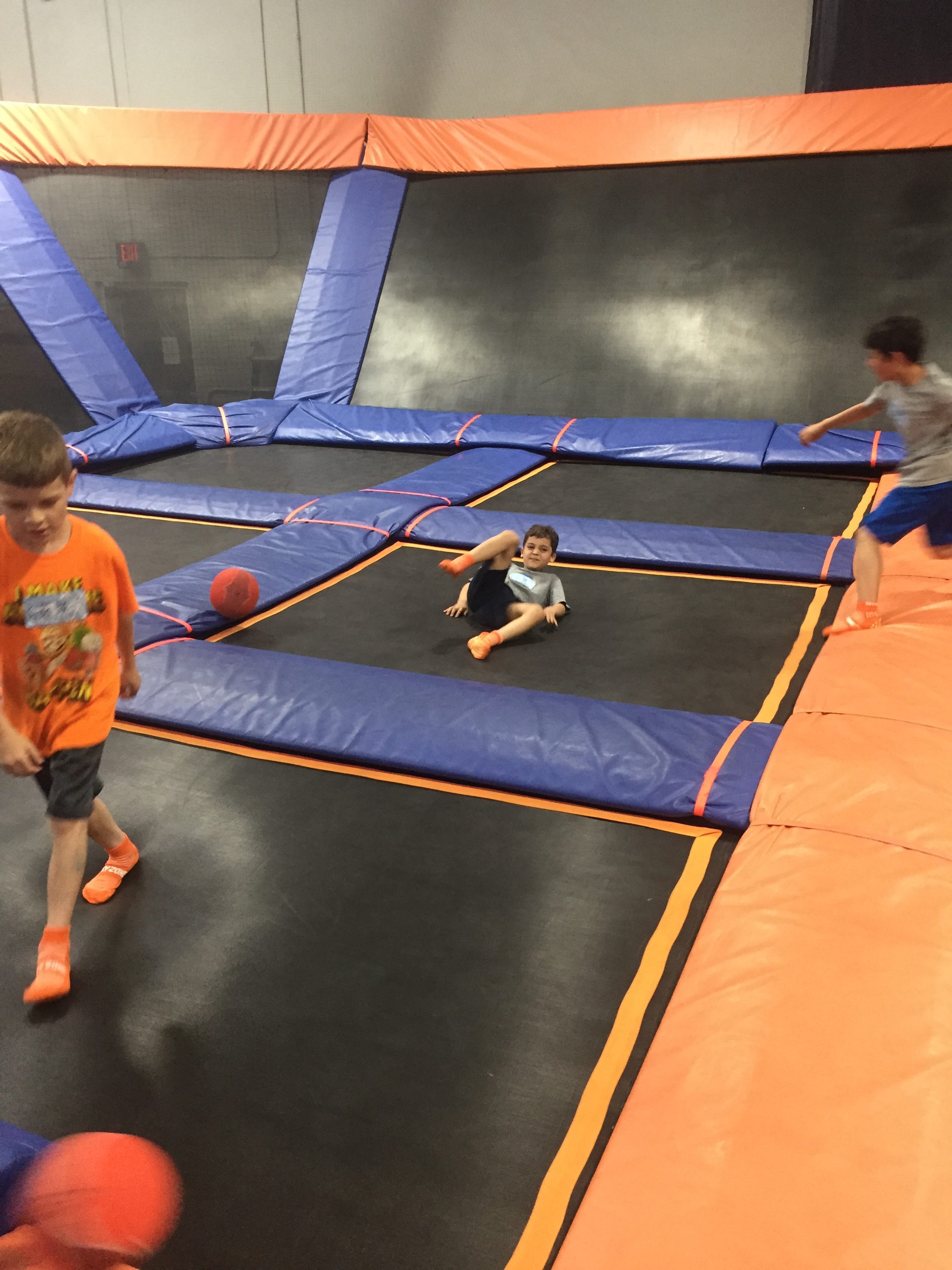 Babysitter: $70. Our neighbor babysat twice for some school meetings I had after school was already out for the kids. They're *almost* old enough to stay home alone for those but not quite.
Mr. ThreeYear's spending: $170.91. Lunches out at work. Last month of that!
Mrs. ThreeYear's spending: $50.02. I took my friend out to lunch, bought ice cream for the kids and me, and bought a coffee.
Propane: $0. Goodbye, propane bill!! I shall not miss you!
Other utilities: $470.19. As I mentioned, several of these are double bills because we ended services. Electricity, internet.
Clothing: $45.75. The majority of this was from my ThredUP box, which I'll report on soon. One pair of new-to-me shoes for $8 from our consignment shop for the work conference, and one face mask for Mr. ThreeYear from TJMaxx (they have the best facial products there by the way).
Medical: $0. Yay.
Moving Expenses: $1738.02. This was the movers' fee from NH, the septic flush, the home inspection for our new house, and packing supplies like tape and moving blankets. We used U-Pack for moving, which I'll report on soon, and they were terrific. We'll pay them when the truck arrives, in July.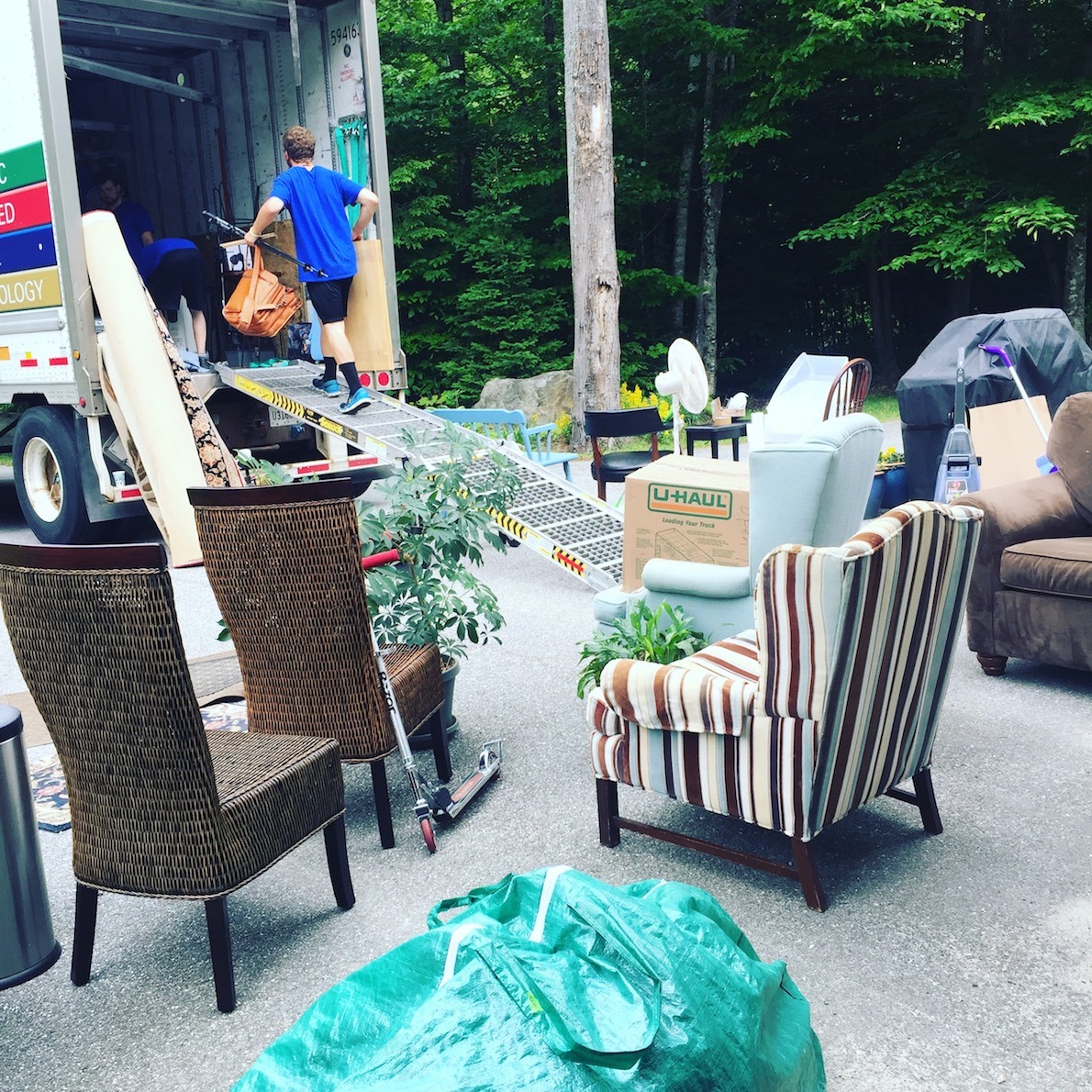 Vacation: $0. We're on a life vacation right now!
Haircare: $132.95. My hairdresser raised her rates for my quarterly cut and color. Going to find a cheaper solution in NC!
Fitness: $0. We have not been working out this month.
Housekeeper: $120. I was so glad our housekeeper came and cleaned the house after we left. It was amazing. That was such a gift because I was so tired after packing.
Subscriptions: $29. Netflix, Spotify, Skype.
Gifts: $147.41. This was a father's day gift and two birthday gifts–both Junior ThreeYear and Little ThreeYear celebrated birthdays at the end of June. A science kit and a Lego kit for the win!
Total: $7218.30
Total without mortgage: $5443.30
Pretty good for a big moving month. Even though our spending levels are higher than some, we have still paid off $38,000 in debt and built a high net worth in less than ten years. We started investing early, worked hard to increase our household income, and currently focus on keeping spending on the Big Three (housing, cars, and food) low. But we're definitely imperfect and spend more than we could. So feel free to point fingers and laugh or sympathize with us from the comfort of your own computer screen.
More News from NC Soon
This morning we're sitting in an attorney's office at closing, undoing our delicious two days of debt free living by buying a new house. I'll be reporting on all the details of our house sale (and how you, too, can sell a house fast!) plus moving tips and summer fun, soon.
Have a great week and I'm so grateful to you for following!