Where do you live? Is it on purpose or by chance? Since we're moving in a few more days, I thought I'd take a look at some of the best places to live in the US (sorry international readers!).
US News and World Reports tallied major metropolitan areas in the US to come up with this list. They used a strong job market, cost of living, quality of life, desirability (whether you want to live there), and migration to rank the cities.
Here are the top ten:
Austin, Texas
Colorado Springs, Colorado
Denver, Colorado
Des Moines, Iowa
Fayetteville, Arkansas
Portland, Oregon
Huntsville, Alabama
Washington, D.C.
Minneapolis/St. Paul, Minnesota
Seattle, Washington
Charlotte, North Carolina, the metro area near where we're moving, ranked #22 on the list.
Charlotte is a region that's equal parts old-fashioned southern charm and high-energy cosmopolitan bustle. You'll still hear "y'all" dropped into casual conversation, but Charlotte is a metro area on the rise, and has its own culture, culinary sophistication and unique feel that's making it a more enticing place for people from all over the world to settle down. …

You'll frequently hear the word "manageable" used to describe Charlotte. Its climate is more manageable than Florida's and its housing prices and living expenses are more manageable than New York City. You can take your family out to eat without spending a fortune, and on the weekends, free events are easy to find.
Austin, the #1 city on the list, boasts outdoor spaces and tons of cultural activities. It's called the "Live Music Capital of the World" because of the many bands that regularly perform there.
We recently visited Portland, Oregon, #6 on the list, and weren't that impressed. Sure, it was a unique city, but we had overcast and rainy days. For us, nice weather is important.
Colorado got two top five cities on the list–Colorado Springs and Denver. Colorado Springs has a low cost of living and low unemployment, plus lots of recreation options. Denver is filled with nature lovers and skiing.
Meanwhile, here are the states with the highest well being scores according to a Gallup-Sharecare poll.
They calculated well-being based on having purpose in your life, a supportive social network, financial security, community, and health and energy.
Here are the top ten states:
South Dakota (64.10)
Vermont (64.09)
Hawaii (63.39)
Minnesota (63.12)
North Dakota (63.06)
Colorado (62.87)
New Hampshire (62.80)
Idaho (62.79)
Utah (62.75)
Montana (62.56)
Interestingly, New Hampshire (the state I currently live in) and Vermont (a state 10 minutes away) rank very high on the list. I can see why–even though I'm moving away from those states, people move here because of the healthy living, no sales or state income tax (in New Hampshire), beautiful outdoor spaces, and thriving communities.
But we're also moving to North Carolina for those same reasons. We're far away from our family, which means our social networks aren't as robust, and it's very hard to build community in the winter time, when people tend to hibernate.
Social Network
For our family, having a strong social network is really important. We're moving not only to be closer to my immediate family members (my sister, parents, and brother) but also to my extended family. We've also found that it hasn't been as easy for us to build a strong social network in New Hampshire. In our neighborhood in Atlanta, we had incredible neighbors and lots of friends. In New Hampshire, we've actually made some very deep friendships, and it will be very sad to leave those friends. But on a daily basis, we don't walk outside and interact with tons of people (part of that is our neighborhood–lots are big and we hardly ever see our neighbors).
I don't know what our social network will look like in Davidson, but we're moving into a neighborhood with walkable streets, houses closer together, and a more "neighborhood" feel so we're hoping we'll increase these daily interactions.
Cost of Living
Your area's cost of living is obviously a huge factor in your happiness there. Do you have to spend a large portion of your income on housing or rent? Is it affordable to go out to eat or buy gas?
In the South, houses, food and gas tend to be more affordable than in New England. However, Davidson, the town we're moving to, is more expensive for housing, because it's a very desirable place to live. But we're looking forward to lower cost of living for groceries (I'm excited about the Aldi), gas, and eating out.
Also, in bigger cities, because there's more competition, things like car repairs tend to be cheaper. There's also a bigger resale market, so it's easier to find nice used furniture, clothes from consignment shops, etc. We're big believers in quality used goods. A lot of our furniture was bought on Craigslist and it's in great condition.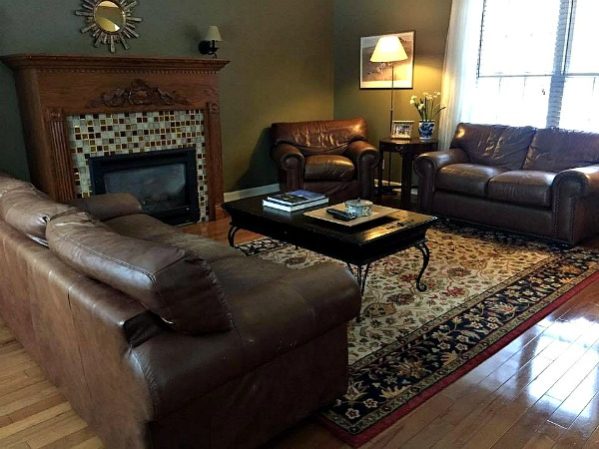 Why buy new if you don't need to? Let someone else eat the cost of depreciation for new items.
Quality of Life
How will life improve if we have a bigger support network? For the past eight years, if we want to go out to eat, we have to get a babysitter. If we need to go out of town for one night, my mom had to fly up to babysit (which was neither cheap nor cost effective–luckily she's super generous and always agreed to come up and bought her own ticket to boot).
It limited what we were able to do, though, because we said no to most events that required an overnight stay or required babysitting.
How will life improve without snowy winters? Before living in New Hampshire, I wouldn't have understood the Game of Thrones mantra, "Winter is coming." Now I do. Winter is something you brace for. It's something you live through. It's a destination. You've officially arrived when the first snow comes, because it doesn't melt for months.
There are good parts, of course. Nothing is as beautiful (and silent) as trees covered in snow in the morning after a snowfall the day before. Skiing is great. Sledding is fun. But I think we'll be happier with the heat.
We've purposefully moved to a town with a big sense of community. On the Fourth of July, the town encourages residents to decorate their bikes and march (ride) in the town parade. On Saturdays, people mill about at the Farmer's Market or play on the town square.
The Inside Stuff
Despite all these external changes, I'm remembering that "wherever I go, there I am." No matter how wonderful a place is to live, ultimately, your happiness is determined by you. I've been realizing, now that summer has come and I have a bit more time to think, that I haven't been allowing myself enough time. I'm rushed in everything I do and that's not cool. This week, despite the move, I've been super calm and patient with Junior and Little ThreeYear (that may change!). We've got time, and aren't on a school schedule, so I'm not hurrying everyone to get ready (one of my least favorite things to do but a big part of my job as a mom).
I'm going to be interested to see how life feels once I don't need to be at work super early two days a week. And now that Mr. ThreeYear isn't rushing out the door.
I'll be sure to keep you posted.
How about you? Do you live in a top-ten area? Do you love where you live or would you change it if you could?