This past weekend, Mr. ThreeYear's sweet tooth was activated. Unfortunately, my emergency supply of cake mix was depleted, so we had to resort to Plan B. "I would love some kuchen right about now," he said.
Kuchen, which originated in Germany, is a delectable cross between a fruit pie and a tart. Let's start with the pronunciation. I know it's tempting, but it's not in fact pronounced like kitchen with a "u"–instead, coo at a hen and you've said it correctly.
The Sweet Origins of Kuchen
In the mid-1800s, the country of Chile passed an immigration law that encouraged Germans and Astro-Hungarians to move to Southern Chile and form colonies. That region of the country was sparsely populated, and the powers that be thoughts that Germans would perhaps feel at home in the Southern regions of the Southern Cone, with its cold temperatures, rivers and lakes, and breathtaking natural beauty. Something like 6,000 families, comprising professionals and artisans, migrated to Southern Chile, bringing with them their delicious kuchen and other delicacies. Kuchen is now enjoyed all over the country.
So, today, as a result of last weekend's experiments, we bring you our very own delicious kuchen recipe, for you and yours. This recipe is adaptable, forgiving, relatively simple, and really, really delicious. Oh, and it's frugal, because it's made relatively easily with whatever you happen to have on hand! Brew a pot of tea, whip up this kuchen, and enjoy. You'll be infinitely glad you did.
Kuchen Recipe:
This makes a delicious pie/tart for 8. Double the recipe to make a giant sheet cake like we did.
For the filling:
Whatever fruit you have on hand. Apples are amazing. We happened to have Granny Smith, and they worked beautifully. You'll need 4 medium or 3 large. For apples, cut paper thin slices of apple. Use a julienne cutter if you have one. You want slices like this:
You can also use strawberries (we had a bunch of almost-gone-bad ones that we used for the second version), frozen blueberries, pears, or canned peaches (very common in Chile). You'll need about 2 cups of fruit. If you have a little more or a little less, no worries. Like I said, this recipe is very forgiving.
Mix the fruit with:
½ cup sugar

A couple of shakes of cinnamon

¼ cup flour. If the fruit is really juicy, add a bit more flour–a tablespoon or two.

Squirt the juice of half a lemon on top so the fruit won't brown.
For the crust:
2 cups of sifted flour. Sift the flour. It's a bit of a hassle,  I know, but it makes the crust so much smoother and more delicious.

On top of the flour drop: ½ teaspoon or salt or so and

1 teaspoon of baking powder
Now, you'll need ½ cup fat to add to the flour mixture. We used ½ stick of butter and ¼ cup of Crisco (vegetable shortening) (125 g total, for you metric followers out there). I loved this mix. The butter added that buttery goodness, and the Crisco made the dough stretchier and less crumbly.
Cut the fat into the flour then mix it with your hands.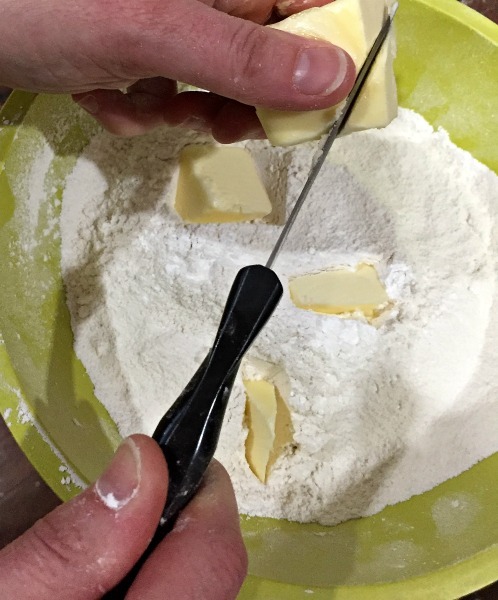 Squish the fat into the flour until the flour is coarse and crumbly. This is the best part!
Add one egg yolk to the mixture and mix it in with your hands.
Now, pour a tablespoon of water at a time into the flour until you get the cookie dough consistency you're looking for. The dough will look like this when it's ready:
Separate one fourth of the dough and put it aside.
If you want a fancy pie, pull out your Springform pan. Wrap the bottom piece in aluminum foil and spread Crisco all over it. Then form the big ball of dough into a disk with your hands, and wedge it into the Springform pan. If you don't have a Springform pan, you can use a pie plate, a small pan, or a big pan if you double the recipe. Make sure to cover it in aluminum foil for easy cleanup AND grease it really well.
Now, spread your fruit on top. Yum. (Squeeze a fair amount of the juice out of your apples first).
Finally, roll out the ¼ dough and cut it into strips. You can lattice the strips on top of the fruit to make a pretty design. If you're feeling way lazy, just crumble up pieces of dough on top of the fruit, like you do with a berry crumble.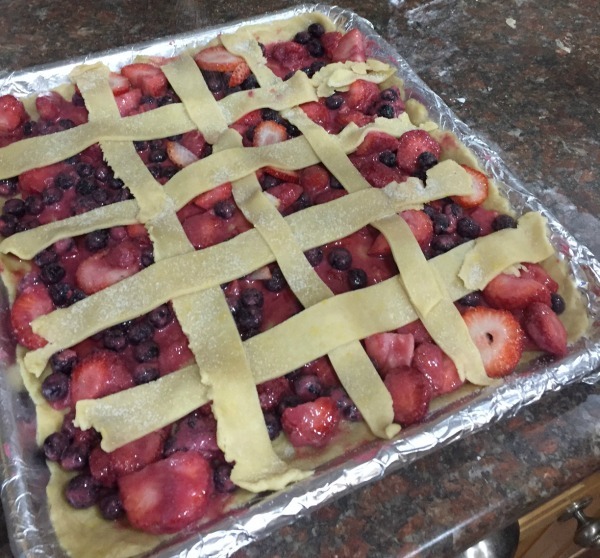 For a final touch, brush the top dough with egg yolk, so it'll turn beautifully brown. Or just sprinkle the top with a little sugar.
Now, put it in a 350 degree F (180 degree C) oven for 45 to 50 minutes. When you pull it out, it'll look something like this: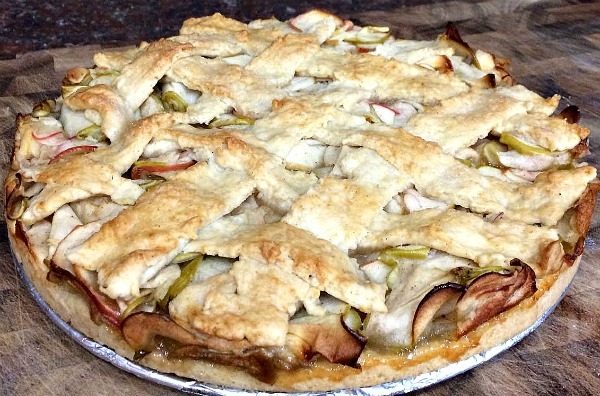 Or this, if you double the recipe:
And it tastes amazing. I mean, so yummy. The fruit is really sweet, and the dough isn't too sweet but is just flaky enough. Perfect weekend afternoon treat.
And there you have it! Chilean kuchen for the win! Happy weekend!