This post contains affiliate links. Please see my full disclosure for more information. Thanks for supporting the blog! 
One of the ways that Mr. ThreeYear and I have been able to succeed over the years is to radically simplify life.
As we get older, life has gotten more complicated. There are more apps you should be using, more activities to choose from, more long-form articles to read, more appointments and check-ups.
And, if you haven't noticed, there's a reason that things are legitimately harder for adults nowadays. With the advent of technology, the burden of completing many of the services that used to be done by others is now on us. We used to have attendants to pump our gas, travel agents to book our flights, telephone operators to connect our calls. But these, and thousands of other tasks, have been shifted to the consumer during the last several generations, leaving us with more to do than ever. Sure, we've saved money in the process, but the result is that we're so busy straining to keep up with the overwhelming amount of small tasks to complete, that it's hard to keep up.
About four years ago, I began to embrace the idea of less. I embraced the KonMari method, getting rid of about 35% of our stuff, including about 30 boxes of books that I'd kept since school, 70% of the kids' toys that were broken or they no longer played with, half of my clothes that I didn't wear, and pictures, mementos, and tchotchkes that didn't serve any particular purpose.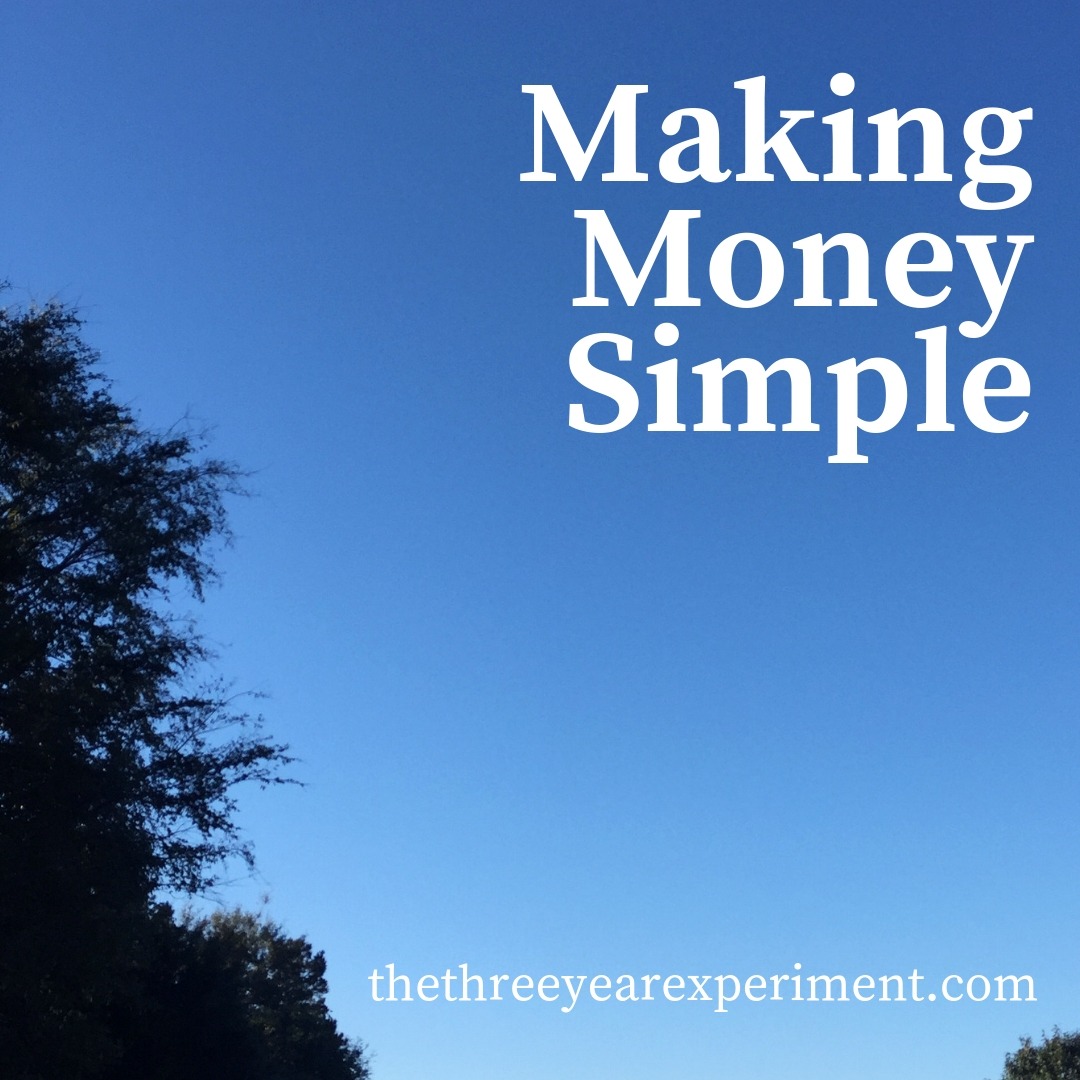 I finally listened to Mr. ThreeYear, who had been urging me to simplify my schedule for years. I stopped volunteering so much. I gradually shed my unpaid roles and responsibilities: goodbye, PTO, goodbye, vacation bible school coordinator position, goodbye, Search Committee for Leadership Upper Valley.
And I said no to some opportunities that were very hard to say no to, like the opportunity to be on the Board of Directors of the non-profit I once worked for.
We decided that the kids should have one activity each. That didn't exactly go as planned, but for most of the year, they had one activity and piano lessons. This year, we're still deciding on each boy's activity, so we have an incredible no after-school activities going on right now. (And it feels so nice).
And we simplified our money. We closed bank accounts that we no longer needed. We rolled our 529s over from the Georgia-based provider we'd used to Vanguard. We eliminated old employer stock accounts we no longer used. We set up automatic drafts to pay our bills, and automatically transferred a certain amount of our money to savings and investment accounts each month.
Every single time I reduce the amount in my life, be it stuff, accounts, or commitments, I feel better. I feel more in-control of my own space and time.
Which brings me to… my fan girl moment.
A few weeks ago, I was at FinCon, the financial bloggers' conference, and I saw a booth that said "Simple Money Magazine." And there, in front of me, was one of my minimalist idols, Joshua Becker.
FinCon gives you the opportunity to meet lots of minor celebrities (they're big celebrities in my world, but there's a chance the average Joe has never heard of them). Joshua Becker has a really popular website and always has something profound to say about living a simple life.
Apart from writing his blog Becoming Minimalist, he's the author of several books including The More of Less, he appears in Minimalism: A Documentary, and he's the founder of Simplify Magazine.
When I started talking to him at the booth, I was reminded of what I recognized again and again at the conference–he's just another person. But one of the nicest, most interested, and genuinely most humble people I got the opportunity to meet.
Also, when I went back the following day, to ask another question, and he greeted me, "Laurie!" and I said, "You remembered my name!!!" (before realizing he'd looked at my name tag), he was very gracious about it. (I have learned, over the years, to laugh at myself, because I am very funny).
And I really appreciated what a high-quality magazine he'd put together, that aligned so well with my values.
Simple AND money? Sign me up!
So I did. And I hope you will too.
Simple Money Magazine
Simple Money Magazine is a quarterly, digital publication that is full of useful, pertinent articles about how to better organize and make sense of your money. Here are a sampling of articles from the first issue:
The Antidote to Money Shame. by Bari Tessler, Financial therapist, mentor coach, author of The Art of Money: A Life-Changing Guide to Financial Happiness.
Separating Your Work, Your Income, and Your Job. by Vicki Robin, Social innovator, writer, and speaker. She is a coauthor, with Joe Dominguez, of the international bestseller Your Money or Your Life.
How to Save Your First $1,000. by Philip Taylor, Founder of FinCon, a nationwide expo for financial influencers.
Mind over Money. by Gary Belsky, Former editor-in-chief of ESPN The Magazine and co-author, with Thomas Gilovich, of Why Smart People Make Big Money Mistakes—and How to Correct Them.
Stop Spoiling Your Kids. by Neale Godfrey., author of Money Doesn't Grow on Trees: A Parent's Guide to Raising Financially Responsible Children, #1 New York Times bestseller on teaching children aged three to twenty about money.
Plus more.
You can get a lifetime subscription to the magazine for $25. That's an incredible deal. BUT, during the month of October, you can pay just $20 for a lifetime subscription AND Simple Money Magazine will give you an extra subscription to give away (Christmas gifts?!).
I've read the first issue and it's great! Plus Joshua chooses amazing authors for his publications. And you get a lifetime subscription PLUS one to give away for just $20! This was a no-brainer to me.
If you're interested in streamlining your finances, I hope this tool helps. I'm really excited about the next issue, which comes out in November!
Happy reading.